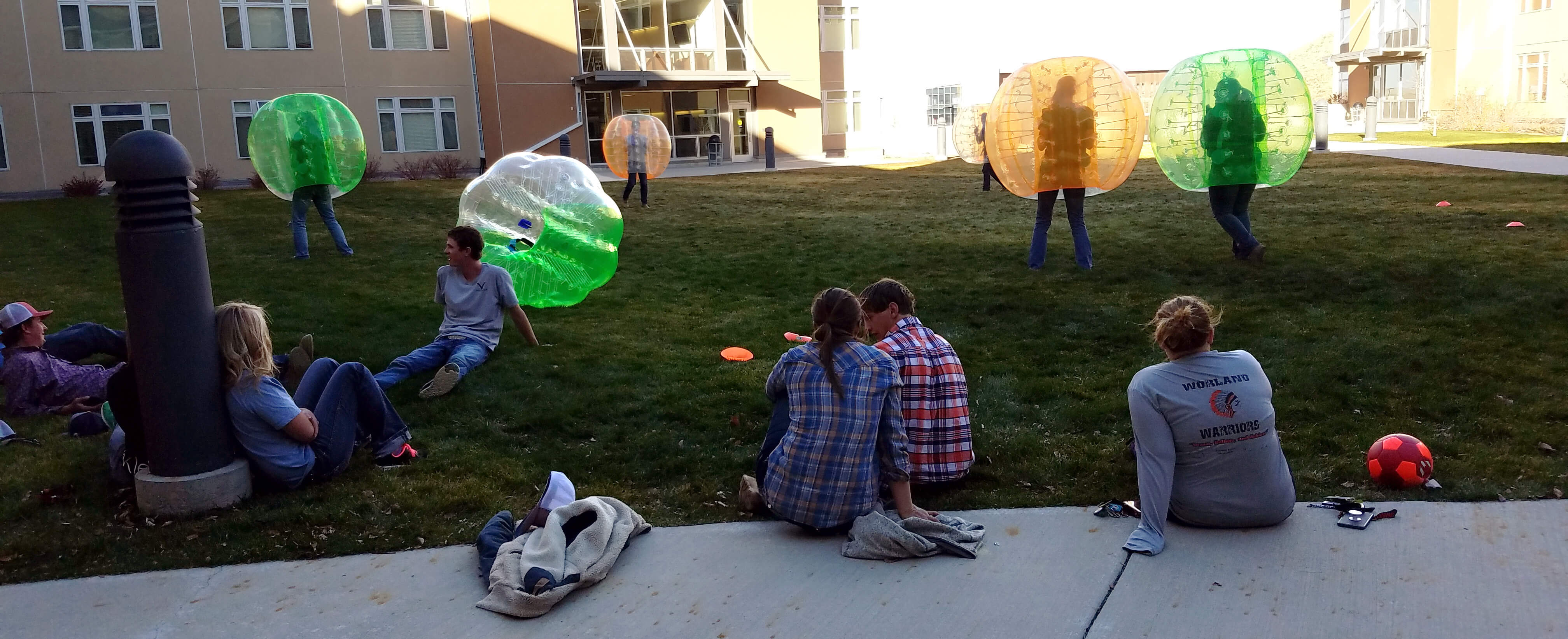 The Student Activities Program at Casper College is geared to the wants and needs of Casper College students, faculty and staff. It is the goal and mission of the Student Activities department to contribute to the holistic vision of Casper College by providing extra curricular activities that help develop a more well rounded student inside and outside of the classroom. The more a student is involved in his or her campus community, the better their campus experience will be thus creating a better quality of life. 
The Student Activities office offers individual, dual, and team intramural sports for male, female and co-rec participation. The intramural activities are fun! You don't have to be skilled to participate. Intramural activities range from traditional sports such as flag football, basketball, and slow-pitch softball to non-traditional sports such as dodgeball, spikeball and bubble soccer. Some activities are scheduled over an extended period (4-5 weeks) while others take place during one or two afternoon/evenings. Most teams play once a week, and contest are scheduled during the late afternoon and evening hours. Throughout the year, Student Activities also brings to you special events like comedians, hypnotists, BBQs, dances, and family fun events for non-traditional students. To get your voice heard on what activities/intramural sports/special events you would like to see on campus stop by UU 405 to speak with our Activities Coordinator.
Student Activities FAQs
Where do I go to sign up my team?
You can either print out the roster sheets and waiver forms from this web site, fill them out and turn them into the activities office, register online at IMLeagues.com  OR.. you can come into the Student Activities office in UU 405 and pick up the forms there.
How many people can I have on a team?
It depends on the sport. Check the info sheets for each sport on this web site and you will find your answer there.
When can I register?
That depends on the sport as well. Most of the registration times are about two weeks from the start date and close the Thursday or Friday before the week of play to allow for league set up and scheduling. Make sure you check the activities schedule on the front page for registration dates. We offer men's, women's and co-rec leagues in most sports.
How will I know when other activities put on by the Student Activities office are going on?
Once again, check the activities schedule, it will have the date, time, location and activity listed out for you. There will also be reminders and fliers for all activities put up throughout campus, on this website and on our Facebook and Twitter pages that will keep you in the loop.
About Intramural Sports
All intramural sports at Casper College are free to current students, faculty, staff and administrators. Alumni and spouses are also eligible to participate for a yearly fee. The intramural program runs just like a city recreation department would. There are registration periods for each sport — during that period, stop by UU 405 to get a registration form. After the period ends, the league will start the following week.
Schedule for Fall Intramurals
Fall Football (Thursdays)
Registration: August 19-30
Starts: Thursday, September 5
Outdoor Soccer (Tuesday)
Registration: August 19-30
Start: Tuesday, September 3
Pool League (Mondays)
Registration: Show up first day in T-Bird Nest, 6 p.m.
Starts: Monday, September 9
Volleyball (Mondays and Tuesdays)
Registration: September 23 – October 16
Starts: Monday, October 21
3v3 Basketball (Wednesdays)
Registration: September 23 – October 16
Special Events
The special events that come from the Office of Student Life are free to all students, faculty, staff and administrators. These events range from nationally renowned entertainment to unstructured get-togethers and everything in between. It is the mission of the office of Student Life to provide leadership and development opportunities for Casper College students through these opportunities. If you have an idea for programming or a co-curricular opportunity, we encourage you to take charge! Contact the student activities coordinator to talk about ideas.
Featured Events
Welcome Week
Welcome Back BBQ — Sunday, August 18, 4-6 p.m. @ Murane Field
Archery Tag — Tuesday, August 20, 3:30-5:30 p.m. @ Murane Field
Comedy Hypnotist Daniel James — Wednesday, August 21, 7 p.m. @ Durham Auditorium
Welcome Week Party — Thursday, August 22, 9 p.m. @ Union/University building, lawn
September
Mentalist Sean Bott — Wednesday, September 4, 8 p.m. @ Durham Auditorium
Swing Dance Night — Thursday, September 19, 7 p.m. @ T-Bird Nest *
Volleyball Home Opener Tailgate — September 27, 5 p.m. @ T-Bird Gym
October
Bingo — Thursday, October 3, 7 p.m. @ T-Bird Nest *
Swing Dance Night — Thursday, October 24, 7 p.m. @ T-Bird Nest *
November
Basketball Home Opener Tailgate — Friday, November 1, 4 p.m. @ T-Bird Gym
December
Pre-finals Holiday Party — Friday, December 6, 8 p.m. @ T-Bird Nest *
Weekly & Monthly Events
Monday Night Football
Every Monday at 6 p.m. @ T-Bird Nest *
Wednesday Night Open Gym for Students
Liesinger (LH) Gym 7-11 p.m. — August 26; September 11, 18, 25; October 2
Weekley NFL Pick-em
16 prizes, week after each week, due by Thursday at 4:30 p.m. @ Union/University building, Rm. 405
 Movie Ticket Giveaway
Last Wednesday, Thursday and Friday of every month — August – November @ Union/University building, Rm. 405
Family Fun Events- Free events for you and your family (must sign up and may have limited availability)
Sunday, September 15 — T-Bird Trek 

September 22-October 22 — Corn Maze

 

Sunday, October 6, 2-4 p.m. — Pottery by You at the Nest

 

Sunday, November. — TBA

 

Sunday, December 1 — Ice skate at the Casper Ice Arena

 
* The T-Bird Nest is open every day, 7-11 p.m.