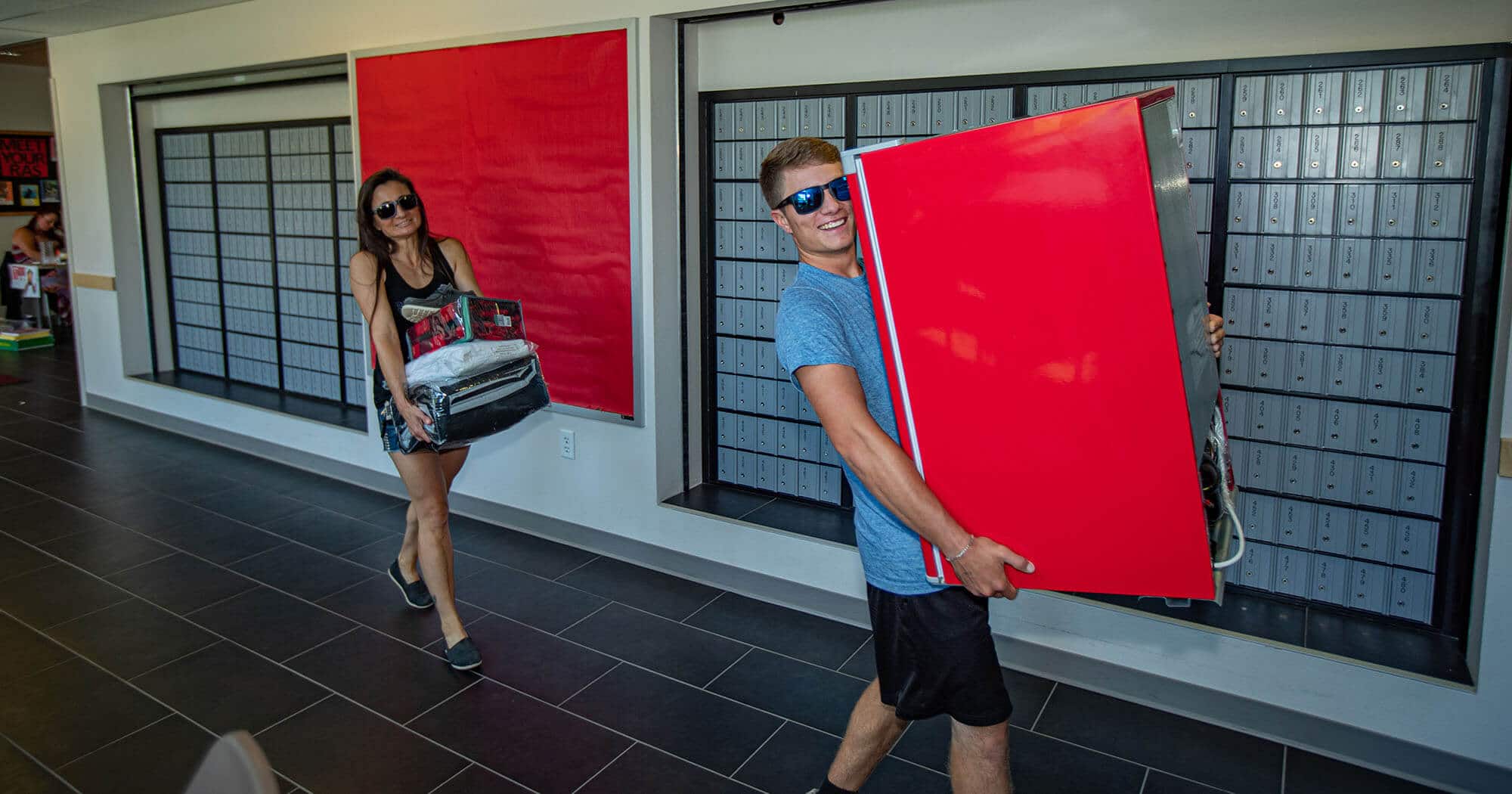 Move-In Days 2023
Residence Hall and Wheeler Terrace
For incoming new Residence Hall and Wheeler Terrace students, move-in days will be Thursday, Aug. 17 and Friday, Aug. 18. Students are able to move in on either of the two listed move-in days.  We recommend moving in between the hours of 9 a.m. – 2 p.m., as these are the times we will have volunteers on-site to assist you with your move-in.
Move-In Video from 2020
Student Life created a video in 2020 outlining the process for move-in days. While the information is based on 2020, most content will still be applicable for 2023. We encourage you to take a look and let us know if you have any specific move-in related questions or concerns. Note that for 2023 we are not assigning move-in windows based on last name. Students may move in on either day in accordance with their schedule and preferences.
Early Arrivals
If you have special circumstances requiring you to move in earlier than Thursday, Aug. 17, please contact the Student Life Office (307-268-2394) to discuss the possibility of an earlier move-in day. Early arrival requests will be approved on a case-by-case basis.
Civic and Thorson Apartments
If you will be moving into the Civic or Thorson Apartments, your lease term will begin on Aug. 1, 2023. Please contact the Student Life Office (307-268-2394) to coordinate details of your move-in.
Move-In Checklist
Prior to moving in, we recommend that you have completed the following items:
Confirm your room assignment. You will be sent an email confirmation when assigned to a room. If you have not received confirmation of a room, please contact the Student Life Office so we can help ensure your assignment is correct.
Coordinate with your roommate. If you did not pick your own roommate, you will be sent contact information for your assigned roommate in late July. We encourage you to reach out to them to coordinate who wants to bring what (for example: you will only need one TV, one mini-fridge, one shower curtain, etc.)
Send your student ID photo. Your student ID card will be the key you use to enter the Residence Hall. We will have your card printed for you, loaded with the correct access, and ready to give to you on move-in day. To be able to do this, you will need to email an acceptable student ID photo to photos@caspercollege.edu. More detailed instructions on how to submit a student ID photo will be emailed to you over the summer.
Set up a payment plan. All students moving into or returning to on-campus housing must either have a payment plan set up or have paid their semester balance in full prior to being able to move into on-campus housing. The exception to this policy are students who have awarded scholarships or financial aid (student loans, Pell Grant, etc.) that will cover the student's entire semester balance. Students who have not yet set up a payment plan will be directed to do so prior to receiving their keys to move in.
Start packing! To help with packing, we have included a suggested list of what to bring below.
Move-In Process
When you arrive on move-in day, you can expect the following steps:
Step One: Arrive in the parking lot. For both Wheeler Terrace and Residence Hall students, the first step is to park in the main Residence Hall parking lot, off of Campus Drive. (Campus Map). A staff member will greet you at the entrance of the lot and assist you in finding a parking space.
Step Two: Payment plan confirmation. Your first stop inside the Residence Hall will be stopping at a table where a staff member will check to see if you are all squared away with your fall payment plan. If you have not yet completed this step, you will be directed to a computer lab to be assisted in completing this step.
Step Three: Register your vehicle. While parking at Casper College is free, all vehicles must be registered with Campus Security. Security will have an officer present at move-in to help you register your vehicle. You are also welcome to register your vehicle ahead of time, using the online form for registering your vehicle at Casper College.
Step Four: Complete an emergency card. At the Residence Hall front desk, an RA will have you fill out an emergency card that will give us important information to reference in the case of an emergency while you live on campus.
Step Five: Get your keys and view your room. After completing your emergency card, an RA will give you your room keys and show you to your room! We will show you where your mailbox is located and once in your room, the RA will review with you the condition of your room, giving you the opportunity to note any damages (wall scuffs, etc.) on your room condition form.
Step Six: Time to move in! After completing the above steps, it will be time for you to move your belongings into your room. Large moving carts will be available for check-out in the Residence Hall lobby area, and volunteers will be available to help you unload your vehicle (if desired). We ask that after unloading, please move your vehicle to another lot on campus to ensure others moving in will have space to park in the main lot.
All Residence Hall students are required to attend a mandatory floor meeting with the students of their particular wing. These meetings will be facilitated by your individual RA and will take place Friday, Aug. 18 at 6 p.m. in the University/Union Building. Specific room locations will be provided to you on move-in day.
What to Bring
Each student in the Residence Hall is provided with a Twin XL bed (which can be lofted to a max height of 60 inches), a night stand, a desk and chair, a 3-drawer dresser, and a closet space with a rod for hanging clothing. Each Residence Hall room includes a private bathroom and sink/vanity area. We recommend bringing the following items:
Bedding for a Twin XL (mattresses are 39″ x 80″)
Mattress topper (many students choose to add a mattress topper to their bed; ensure you purchase the Twin XL size)
Towels
Shower curtain and rings (curtain rod is provided)
Bath mats
Toilet paper
Cleaning supplies (for cleaning your room and bathroom areas; vacuums are available for check-out at the front desk)
Trash can and trash bags (potentially consider one for the living area and one for the bathroom)
Iron (small ironing board is available for check-out at the front desk)
Laundry soap (liquid preferred) and laundry basket
Hangers for clothing
Personal toiletries
Dishes (community kitchens are available for student use; however, dishes and cookware must be stored in student rooms when not in use)
Mini-fridge (4.5 cubic feet or less)
Microwave (800 watts or less)
Coffee pot
Television 
Laptop
Desk lamp
Surge protector/power strip for plugging in multiple items (UL-approved power strips only)
Decorations to personalize your space (we recommend painter's tape and command strips for hanging wall decorations)
What not to bring:
The following items are prohibited in on-campus housing.  For a full list of housing policies, please refer to the Terms and Conditions document for Residence Hall and Wheeler Terrace.
Alcohol and illegal substances (Casper College is a dry campus)
Candles, incense, and wax warmers
Appliances which use an open flame and/or possess an exposed heating element (i.e. hot plates, toasters, etc.)
Toilet tank cleaning tablets (they create water-related issues in our building)
Weapons (pocket knives with blades under 3″ are permitted; firearms can be stored with Campus Security)
Pets (service animals must be pre-approved through Disability Support Services)
Personal wireless routers (these interfere with the campus network)
Nails, screws, pushpins, or other items that damage walls (command strips, painter's tape, and poster putty are recommended)
No decorations, signage, flags, or other items may be displayed in room or apartment windows or placed outside of a student's individual room
Additional furniture (sofas, futons, chairs, etc.) is permitted, but must be approved by Student Life prior to being moved in. We recommend these items be new to avoid potential pest issues.
We are so excited that you will be living with us on campus and want you to have the best possible move-in experience.  If you have any questions or need help, please do not hesitate to call us at 307-268-2394.