The mission of the Tate Geological Museum at Casper College is to provide educational resources to the community, researchers and visitors.  Our position as a regional Earth Science Education Center is maintained by exhibits, educational programs, active collecting and collections preservation.
We are FREE and open to the public.
News and Events:
NEW MEMBER BENEFIT:
Beginning January 1, 2020, our popular Saturday Club will become an exclusive member perk! We are excited about this addition to our membership benefits and hope that it will make communicating with our Saturday club participants easier and more efficient. To become a member, simply click the link below or visit the museum and fill out the form. Family memberships are $36 and run for one full year from the date of purchase.
Harry Potter book night Open House- February 6th from 5:30 to 7:30pm
The Tate Geological Museum at Casper College will host Harry Potter Book Night Thursday, Feb. 6, from 5:30-7:30 p.m. Harry Potter Book Night is free and open to the public.
The Tate, along with other locations around the globe, will be celebrating Harry Potter Book Night with Bloomsbury Publishing plc. "Each year, Bloomsbury encourages book stores, museums, libraries, and other entities to join them in an international book night to celebrate the epic Harry Potter books. This year's book is "Harry Potter and the Goblet of Fire," said Patti Finkle, director of museums.
The book features the Triwizard Tournament as well as dragons. Using that as the basis for the evening's events, the Tate will look at where dragon stories came from — and if they were based on dinosaur bones — as well as the dinosaur Dracorex Hogwartsia. In addition to studying dragons and dinosaurs attendees will also be able to play muggle and wizard games with staff from the Goodstein Foundation Library, learn about owls from Audubon Rockies, gaze through telescopes with the Casper Planetarium, participate in a wizard robe costume contest, make a potion, and enjoy face painting, treats and "pumpkin juice," according to Finkle.
Members' Only Fossil Fish Prep- February 11th from 6 to 8pm
Bring your own or learn on one of the partial fish that we gathered on our Members' Only Outing to Kemmerer this past summer. Experts will walk you through how to prep a fish and how to preserve it once you are finished. You can keep what you prep! Members must RSVP by February 7th at 5:00pm. No walk-ins, please! Call the museum or stop by to reserve your spot. 307-268-2447. Refreshments provided.
Join Today!
 All members receive the bi-monthly newsletter, the Tate Museum Geological Times, invitations to Members Only outings, exclusive access to birthday parties, admittance to our monthly Saturday Club and a 10% discount at the museum gift shop. We have Individual and Family level memberships and all memberships are good for one calendar year.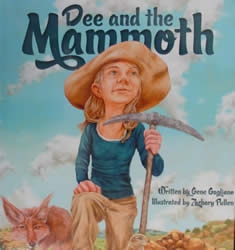 The book sells for $21 in our gift shop. If you can't visit our gift shop, give us a call. 307-268-2447
Wholesale orders can be made by calling the gift shop or mailing the order form to the museum. Download the Form
"Dee and the Mammoth"
by Gene Gagliano, illustrated by Zak Pullen
"Dee and the Mammoth" is a children's book written by Gene Gagliano of Buffalo, WY, and illustrated by Zak Pullen of Casper. It is inspired by the discovery of Dee the Mammoth, but in this story, Dee is a little girl who tells a story about a mammoth through letters from her dad who is working on a mammoth dig. The book also includes a DVD which features an audio version of the book, and a documentary film about the Tate Museum's Dee the Mammoth.