The mission of the Tate Geological Museum at Casper College is to provide educational resources to the community, researchers and visitors.  Our position as a regional Earth Science Education Center is maintained by exhibits, educational programs, active collecting and collections preservation.
We are FREE and open to the public.
News and Events:
Welcome back to school, students!
Join Today!
All members receive the bi-monthly newsletter, the Tate Museum Geological Times, a 10% discount at the museum gift shop, exclusive access for birthday parties and invitations to Members' Only events and field outings. Learn more about Tate Membership.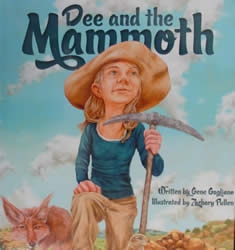 "Dee and the Mammoth"
by Gene Gagliano, illustrated by Zak Pullen
"Dee and the Mammoth" is a children's book written by Gene Gagliano of Buffalo, WY, and illustrated by Zak Pullen of Casper. It is inspired by the discovery of Dee the Mammoth, but in this story, Dee is a little girl who tells a story about a mammoth through letters from her dad who is working on a mammoth dig. The book also includes a DVD which features an audio version of the book, and a documentary film about the Tate Museum's Dee the Mammoth.