The mission of the Tate Geological Museum at Casper College is to provide educational resources to the community, researchers and visitors.  Our position as a regional Earth Science Education Center is maintained by exhibits, educational programs, active collecting and collections preservation.
We are FREE and open to the public.
News and Events:
Our Spring 2021 Lecture Series has been announced and details can be found under the "Lecture Series" tab to the right. Join us on the first Tuesday of the month via Zoom to learn about Cretaceous dinosaurs!
Hello everyone!
The Tate Geological Museum and the Werner Wildlife Museum would like to let you know about a few changes due to Covid-19. Thank you in advance for working with us to protect everyone
We are limiting the number of visitors in the museum to 25 at a time. This includes the staff working in the museum.
The summer hours for both museums will be 10 am to 4 pm Monday through Friday. The Werner will be closed on Saturday and the Tate will be open from 10am to 3pm on Saturday. Closing an hour early each day will allow staff to clean and disinfect the museums.
We are requiring everyone to wear masks out of respect for those staff members with immunocompromised family members and your fellow visitors.
We will have sanitizing stations available at both museums and will encourage everyone to use them before you begin your visit and again at the end.
Both the Dino Den and The Lair are closed until further notice. (I know! I'm sorry!)
Remember to keep 6 feet apart from any visitors who are not in your group and to keep children with you at all times.
We will wipe down surfaces as often as possible, but please try to keep your hands, and your little one's hands, to yourself as much as possible.
We are still not giving tours.
We ask that no large groups (over 8 people) visit the museum.
Pursuant to the Wyoming Department of Health screening guidelines, DO NOT VISIT THE MUSEUMS if you have any of the following symptoms:
Chills
A new or worsening cough not caused by another health condition
New or worsening difficulty breathing not caused by another health condition.
Sore throat.
New or worsening muscle aches not caused by another health condition.
New or worsening headache that is not normal for you and not caused by another health condition.
New loss of sense of taste or smell should stay home.
Stay home until a minimum of 4 days after the fever has broken.
Please stay home if you have tested positive, even if you feel better!
Join Today!
 All members receive the bi-monthly newsletter, the Tate Museum Geological Times, invitations to Members Only outings, exclusive access to birthday parties, admittance to our monthly Saturday Club and a 10% discount at the museum gift shop. We have Individual and Family level memberships and all memberships are good for one calendar year.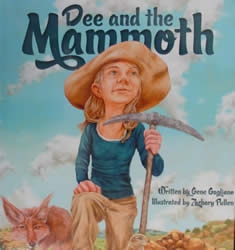 The book sells for $21 in our gift shop. If you can't visit our gift shop, give us a call. 307-268-2447
Wholesale orders can be made by calling the gift shop or mailing the order form to the museum. Download the Form
"Dee and the Mammoth"
by Gene Gagliano, illustrated by Zak Pullen
"Dee and the Mammoth" is a children's book written by Gene Gagliano of Buffalo, WY, and illustrated by Zak Pullen of Casper. It is inspired by the discovery of Dee the Mammoth, but in this story, Dee is a little girl who tells a story about a mammoth through letters from her dad who is working on a mammoth dig. The book also includes a DVD which features an audio version of the book, and a documentary film about the Tate Museum's Dee the Mammoth.