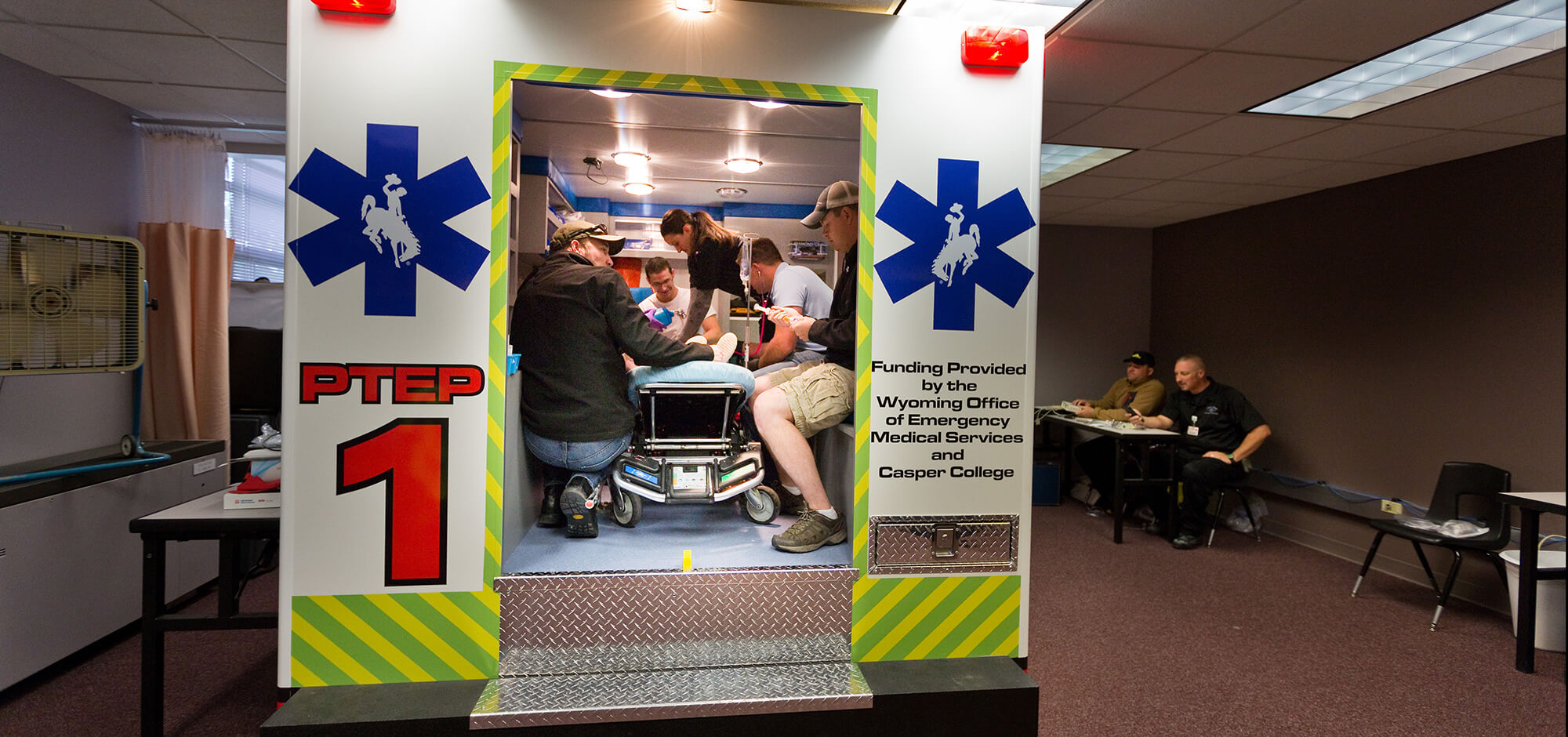 Employment info
Graduates often work at fire departments, EMS companies, dispatch centers, and hospitals. They volunteer with an EMS or fire service. Opportunity also exists in the industrial setting.
Certified paramedics in Wyoming can expect to earn $25,000 to $35,000 a year. Paramedics in the nation's larger cities make up to $48,000.
What are the special admission requirements, if any?
You may have to meet certain pre-requisites separate and in addition to admission to Casper College. Please fill out one of the following applications for the course(s) in which you would like to enroll:
How to get into paramedic school
We accept 12 students into the program every academic year.
The deadline to apply to the program is March 30, 2020.
You must apply for the paramedic technology program separate and in addition to the Casper College admission application. Both the application packet and written interview form must be completed.
Application packet (PDF) – available upon request
Written interview form (Word doc) – available upon request
Community EMS certificate program
Four community EMS courses — designed for currently licensed emergency medical technicians, advanced emergency medical technicians, intermediate emergency medical technicians, and paramedics — are available. More info about community EMS courses.
What courses would I take?
This program is accredited by the Commission on Accreditation of Allied Health Education Programs.
For requirements and more information about this program, view its listing in the academic catalog:
Interested in online learning?
We offer the paramedic technology program in the classroom setting or partially online.
We try to limit the online cohort to six students.
Online students attend class online but are also required to travel to Casper every two to four weeks for lab sessions.
Online students need dependable internet service and a computer capable of streaming.
Preference is given to students who are not located in the Casper area.
To apply for online participation, complete the appropriate information on the application sheet. This application is separate and in addition to the main Casper College admission application.
What is the difference between an "EMT" and a "Paramedic"?
The state of Wyoming has three levels of emergency medical technicians:
EMT-Basic
EMT-Intermediate
EMT-Paramedic
At the basic level, all emergency life-support providers transport patients on an ambulance.
But EMT-Paramedics train in the use of many emergency procedures that other levels of EMTs do not. Also, EMT-Paramedics administer many medications that other technicians are not authorized to administer.
An EMT-Basic course is approximately 160 hours in Wyoming. Basic EMTs provide initial and ongoing assessment and treatment for a patient. Wyoming EMT-Basics are well trained in basic life support. They also care for the trauma or medical patient. Basics assist patients with certain prescribed medications such as breathing inhalers or nitroglycerin. Wyoming EMT-Basics cannot provide invasive treatments.
The next level of EMT is the EMT-Intermediate. In Wyoming, the length of the course is dependent on the intermediate courses taken. Intermediate students must also spend time in the emergency room to start IV access. Students will also hone assessment skill in the emergency room.
Emergency Medical Technician-Paramedic is the highest level of EMT. The classroom time and clinical time required to become a paramedic is at least 1,200 hours. Classroom time is much more in-depth. Students focus on the abnormal physiology of various disease processes. Students look at pharmacology and medication administration. They learn about traumatic injury and medical emergencies. They learn critical thinking involved in caring for the ill or injured person. Students have increased exposure to a variety of emergencies. This also allows students the ability to connect their learning in the classroom and lab.
Why get an associate degree?
The National EMS Management Association (NEMSMA), the National Association of EMS Educators (NAEMSE), and the International Association of Flight and Critical Care Paramedics (IAFCCP) released a joint position paper on the importance in getting your associate degree:
"… the time has come for paramedicine to join the community of health professions that require a college degree. We believe that a two-year associate degree is the appropriate entry level of education for practitioners at the current paramedic level. In addition, we believe that paramedics involved in specialized practice, such as flight paramedics and community paramedics, among others, should be required to complete upper level undergraduate coursework up to and including a bachelor's degree as a prerequisite to specialty certification. These requirements should apply to paramedics entering our profession and we recommend the EMS community within the United States enact such requirements by 2025."
Accreditation details
The Casper College Paramedic Technology Education Program is accredited by the Commission on Accreditation of Allied Health Education Programs (www.caahep.org) upon the recommendation of the Committee on Accreditation of Educational Programs for the Emergency Medical Services Professions (CoAEMSP).
To contact CAAHEP: Commission on Accreditation of Allied Health Education Programs, 1361 Park Street, Clearwater, FL 33756; 727-210-2350; www.caahep.org.
To contact CoAEMSP: 8301 Lakeview Parkway, Suite 111-312, Rowlett, TX 75088; 214-703-8445 (phone); 214-703-8992 (fax); www.coaemsp.org.
Other Resources
Program learning outcomes (PDF)
Students who completed the Casper College Paramedic Technology program in 2017 had an 75% pass rate when completing the National Registry of EMT's written exam. 100% of our 2017 graduates were employed within 6 months, with many of them hired prior to graduation. Of the students starting the program, 71.4% successfully completed the program.