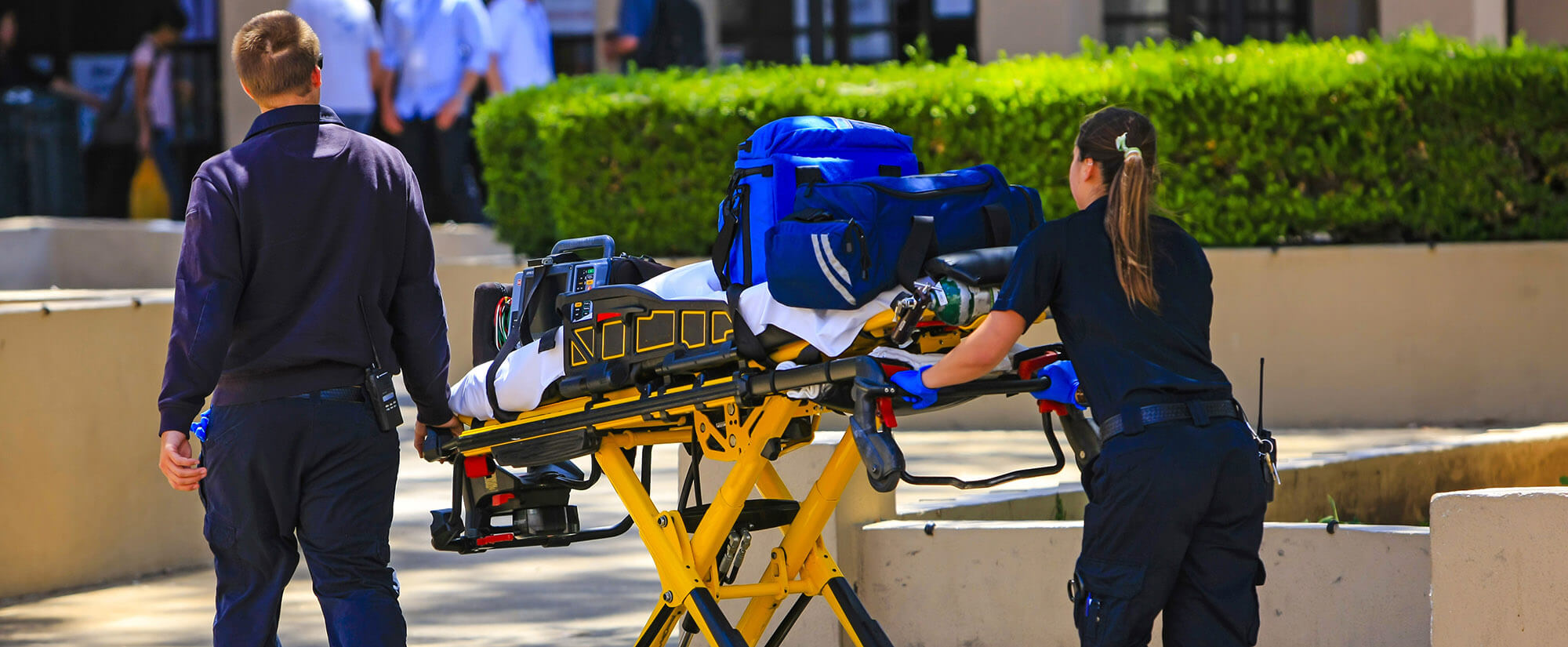 Emergency Medical Services
Casper College offers various educational and training opportunities for careers in emergency medical services:
Emergency medical technician
Advanced emergency medical technician
Intermediate emergency medical technician
Paramedic
Community EMS technician and clinician
What are the features of Casper's programs?
Successful completion of the EMT courses allows graduates to enter into the profession as an entry-level provider.
Or, you can improve your skills and employment opportunities through the advanced EMT, intermediate EMT, paramedic, and/or community EMS courses.
Outcomes
CAAHEP Accredited Paramedic Programs and CoAEMSP Letter of Review (LoR) Programs track and report outcome measures annually to the Committee on Accreditation for the Emergency Medical Services Professions (CoAEMSP).
The most current CoAEMSP Annual Report was for the calendar year 2021.
The most recent success rate for the National Registry of EMT Paramedic/State Cognitive exam was 90%.
The most recent positive placement rate for graduates was 100%. Positive placement is defined by the CoAEMSP as 'Employed full or part-time in a related field and/or continuing his/her education and/or serving in the military'. Positive placement is measured at completion of the program.
The most recent retention rate was a combined 83.3%.
​
Details about the different programs:
What can I do with this training?
Licensure or certification
Once you successfully complete any of the EMS education courses or programs offered, you are eligible to sit for the National Registry of EMT's cognitive and psychomotor exams, other appropriate registry or exam boards, or individual state licensure/certification exams.
Employment info
Once training and licensure exams are successfully completed, there are numerous opportunities for employment or to volunteer locally, regionally or across the country.  95% of our graduates are currently employed in Wyoming, the surrounding states, and as far east as Kansas City, in primary EMS roles, fire service roles, or numerous other opportunities.
What are the special admission requirements, if any?
As with any training or education, there is always a process to get started. You are strongly encouraged to start these processes earlier rather than later to ensure that you can get into the program(s) you want.
For any of the EMS education courses offered at Casper College, you must apply for admission to Casper College as either a degree- or non-degree -seeking student.

If you are considering the paramedic technology A.S. degree or the community EMS clinician certificate, apply as a degree-seeking student so that you have access to apply for financial aid if needed. As a degree-seeking student, you will also need to take the Tailwind exam so that appropriate English and math courses, if necessary, can be scheduled.

If you are a veteran of the U.S. armed forces, make sure you contact the veteran services representative to access veteran resources.
If you think or know that you have a learning disability that requires accommodations, contact learning services to make arrangements.
Specifics about any additional admission requirements for each course or program are listed on each program/course description page.
What is the difference between an "EMT" and a "Paramedic"?
The state of Wyoming has three levels of emergency medical technicians:
EMT-Basic
EMT-Intermediate
EMT-Paramedic
At the basic level, all emergency life-support providers transport patients on an ambulance.
But EMT-Paramedics train in the use of many emergency procedures that other levels of EMTs do not. Also, EMT-Paramedics administer many medications that other technicians are not authorized to administer.
An EMT-Basic course is approximately 160 hours in Wyoming. Basic EMTs provide initial and ongoing assessment and treatment for a patient. Wyoming EMT-Basics are well trained in basic life support. They also care for the trauma or medical patient. Basics assist patients with certain prescribed medications such as breathing inhalers or nitroglycerin. Wyoming EMT-Basics cannot provide invasive treatments.
The next level of EMT is the EMT-Intermediate. In Wyoming, the length of the course is dependent on the intermediate courses taken. Intermediate students must also spend time in the emergency room to start IV access. Students will also hone assessment skill in the emergency room.
Emergency Medical Technician-Paramedic is the highest level of EMT. The classroom time and clinical time required to become a paramedic is at least 1,200 hours. Classroom time is much more in-depth. Students focus on the abnormal physiology of various disease processes. Students look at pharmacology and medication administration. They learn about traumatic injury and medical emergencies. They learn critical thinking involved in caring for the ill or injured person. Students have increased exposure to a variety of emergencies. This also allows students the ability to connect their learning in the classroom and lab.
You may also be interested in…
Other programs related to: