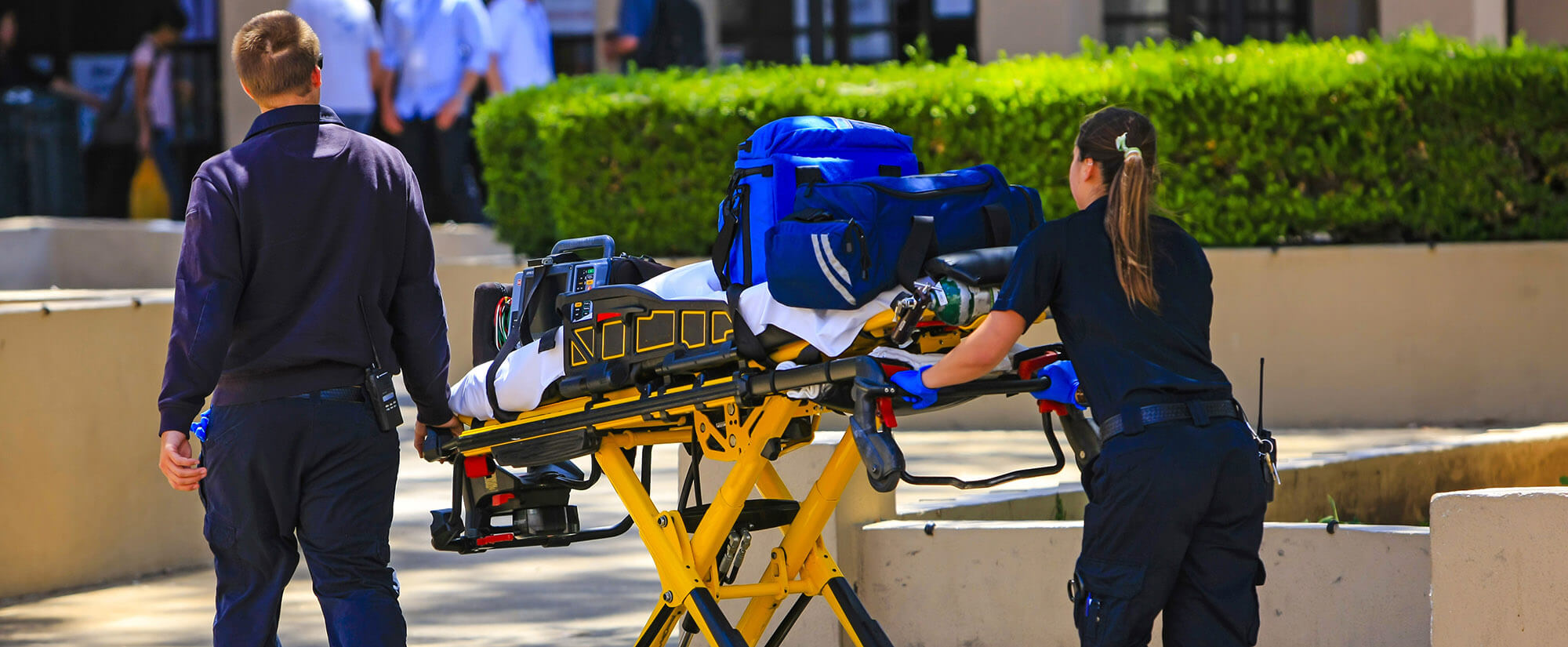 Emergency Medical Services
Casper College offers various educational and training opportunities for careers in prehospital emergency medical services
Emergency Medical Technician.
Advanced Emergency Medical Technician.
Wyoming Intermediate Emergency Medical Technician.
Paramedic.
Community EMS Technician and Clinician.
What are the features of Casper's programs?
Successful completion of any of our programs allows the graduate to work at their level of certification as an entry-level provider.
Students are encouraged to continue their education to become an advanced-level provider.
Accreditation details
The Casper College Paramedic Technology Education Program is accredited by the Commission on Accreditation of Allied Health Education Programs, caahep.org, upon the recommendation of the Committee on Accreditation of Educational Programs for the Emergency Medical Services Professions — CoAEMSP.
To contact CAAHEP: Commission on Accreditation of Allied Health Education Programs, 1361 Park Street, Clearwater, FL 33756; 727-210-2350; caahep.org.
To contact CoAEMSP: 8301 Lakeview Parkway, Suite 111-312, Rowlett, TX 75088; 214-703-8445, phone; 214-703-8992, fax; website, coaemsp.org.
​
Outcomes
CAAHEP Accredited Paramedic Programs and CoAEMSP Letter of Review programs track and report outcome measures annually to the Committee on Accreditation for the Emergency Medical Services Professions.
The most current CoAEMSP Annual Report was for the calendar year 2021.
The most recent success rate for the National Registry of EMT Paramedic/State Cognitive exam was 90%.
The most recent positive placement rate for graduates was 100%. The CoAEMSP defines positive placement as "Employed full or part-time in a related field and/or continuing his/her education and/or serving in the military." Positive placement is measured at the completion of the program.
The most recent retention rate was a combined 83.3%.
*There was an error on the 2021 Annual Report. The amended most recent success rate for the National Registry of EMT Paramedic/State Cognitive Exam was 77.8%. This error has been reported to CoAEMSP.
​
What can I do with this training?
Licensure or certification
After successful completion of our EMS education courses, student candidates are eligible to sit for the appropriate registry cognitive exam and/or psychomotor exam.
Employment information
Following completion of the appropriate registry cognitive and/or psychomotor exam, professionals have numerous opportunities for employment, including but not limited to primary EMS, fire service roles, or working within a hospital. Most students enjoy working within Wyoming; however, professionals are able to work nationally.
What are the special admission requirements, if any?
In line with most professions, there is always a starting point. Candidates are encouraged to start working toward their desired program early to increase their chances of admission to the program.

For all EMS education courses offered at Casper College, you must apply for admission to Casper College as either a degree- or nondegree-seeking student.

Candidates considering the A.S. Paramedic Technology degree and/or the Community EMS Clinician certificate should apply as degree-seeking students. This will allow students to have access to financial aid if needed.
Degree-seeking candidates will need to take an entrance exam for English and Math Courses — if their ACT/SAT scores exceed two years.

If you are a veteran of the U.S. armed forces, contact the veteran services representative to access veteran resources.
If you think or know that you have a learning disability that requires accommodations, please contact disability support services.
What is the difference between an EMT and a Paramedic?
The state of Wyoming has five levels of prehospital emergency medical providers:
Emergency Medical Technician, EMT.
Advanced Emergency Medical Technician, A-EMT.
Wyoming Intermediate Emergency Medical Technician, I-EMT.
Paramedic.
Community Emergency Medical Services Provider Clinician / Technician, CEMS.
At the base level of understanding, all prehospital providers provide patient care in various settings. Patients are then transported via ambulance to a receiving facility as needed.
Paramedics train in the use of many emergency medications and procedures that other levels of prehospital providers do not.
An EMT course is approximately 160 hours between didactic information and clinical time. EMTs provide basic life support for medical and/or trauma patients. Providers may assist with specific prescribed medications as approved by local protocols. The Wyoming EMT is not permitted to provide invasive treatments to patients.
An A-EMT course is approximately 180 hours between didactic information and clinical time. The AEMT will focus on continued patient care from the EMT level while incorporating limited advanced treatment and care. Limited advanced treatment allows for enhanced patient care during a critical incident.
An I-EMT course is approximately 160 hours between didactic information and clinical time. The IEMT is a Wyoming-specific licensure level that allows the AEMT to incorporate more knowledge, skills and interventions into their clinical care. The IEMT is designed to enhance provider knowledge and skills in areas where EMS has not yet transitioned to the paramedic level of care.
A Paramedic is the highest level of provider. This course is currently two years or four traditional semesters. Students will spend over 1,400 hours learning between didactics and clinical rotations. Students focus on various topics, including but not limited to abnormal physiology of diseases, in-depth pharmacology, and medical and/or traumatic emergencies.
The CEMS provider is a new resource that will work to fill critical gaps in our communities' health care systems. Many of these gaps lie within the underserved communities or chronically ill that either lack access to appropriate care or need additional help. Certified community EMS providers work to assist patients in navigating health care challenges, overcoming barriers, and establishing ties within their community. CEMS is broken into two different specialties, the technician and the clinician.
Still unsure which course may be for you? Follow this simple question to help determine where to start:
Do you currently have an EMT certification?
If yes, you are eligible to apply to the AEMT, IEMT, or paramedic course. Advanced-level courses are for working professionals.
If no, you must first take the EMT course. After successfully completing all registry-specific cognitive and/or psychomotor exams, candidates may apply for advanced-level courses if desired.
Details about the different programs:
How are these courses taught?
These courses are taught as traditional in-person courses or hybrid courses where indicated.
You may also be interested in…
Other programs related to: