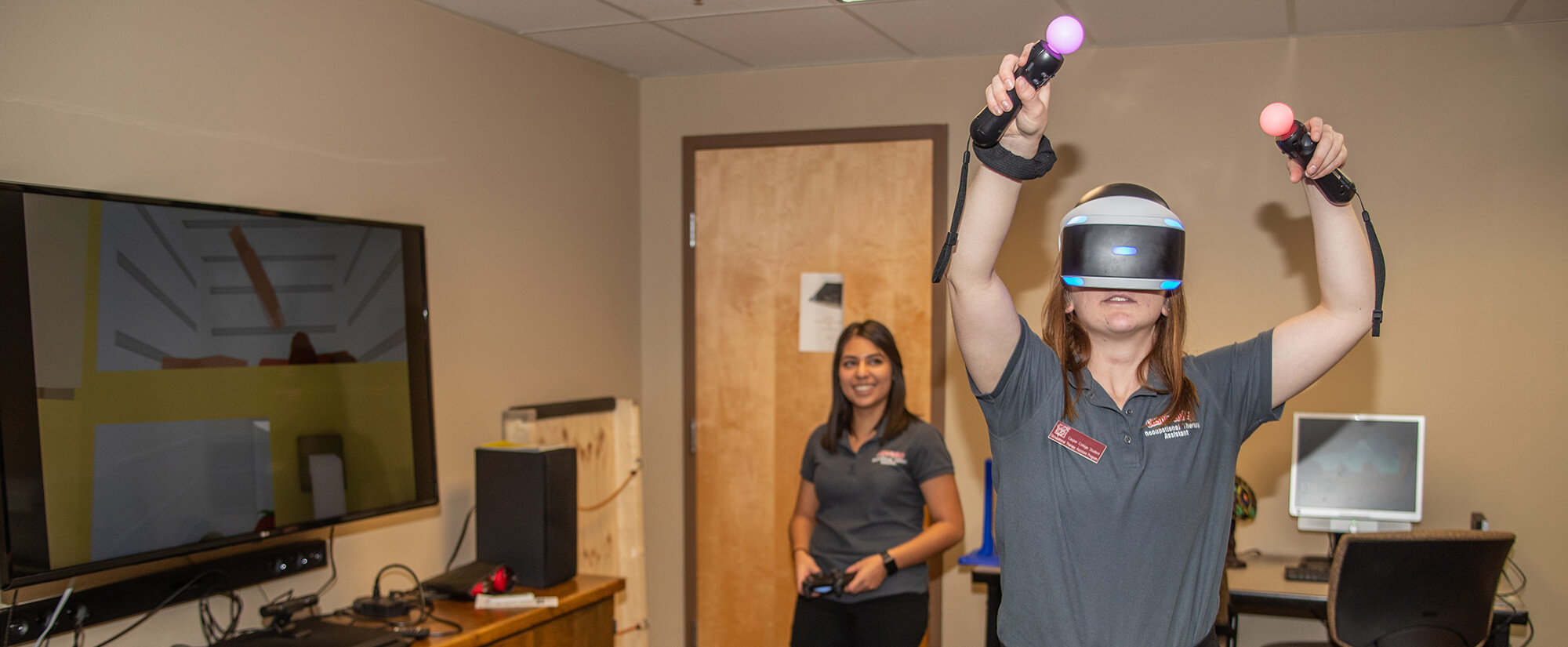 Occupational Therapy Assistant (OTA)
Employment info
The occupational therapy assistant program is an associate of science degree major designed to prepare students to obtain employment as a Certified Occupational Therapy Assistant (COTA); or a related field.
Occupational Therapy Assistants work in a wide variety of settings, however, they are primarily employed in hospitals, skilled nursing facilities, rehabilitation hospitals, community programs and public schools. Our graduates enjoy a high percentage of employability within months after graduation. Over 85% of our graduates are currently employed as COTAs.
The salary for entry level OTAs in this area (Wyoming, Montana, Nebraska) is usually $25-33 per hour.
What are the costs associated with this program?
Below are the estimated semester-by-semester costs for students in the Casper College occupational therapy assistant program. Note: This assumes the in-state tuition rate; not out-of-state or WUE. Fees are subject to change. Housing, meals, and fieldwork costs are not included.
Semester
Tuition
Student fee
Books and supplies
Sub-Total
Fall Year 1
$2,446
$758
$2,905
$6,109
Spring Year 1
$2,162
$485
$524
$3,171
Summer Year 1
$959
$75
$480
$1,514
Fall Year 2
$2,025
$103
$567
$2,695
Spring Year 2
$2,436
$60
$647
$3,143
Summer Year 2
$822
$0
$0
$822 (Students are off campus during this time, completing their level II fieldwork rotations.)
Total
$17,454
Are there any financial aid opportunities or scholarships available?
Yes. Many Casper College students receive financial assistance each year through grants, loans, work study opportunities and scholarships or a combination of these. Find out more about financial aid opportunities, scholarships and grants on our Cost and Financial Aid page.
What are the special admission requirements, if any?
Students are provisionally accepted during their first fall semester. Then, at the beginning of the second semester, interviews are conducted and the available slots are filled. If the number of applicants exceeds the 24 available spaces students may be placed on a waiting list. The program requires completion of 76 semester hours. The last semester is spent working under the supervision of a practicing therapist for two 8-week sessions.
What courses would I take?
For requirements and more information about this program, view its listing in the academic catalog:
Accreditation
The Occupational Therapy Assistant program began offering class in 1996 and graduated its first class in 1997. Initial accreditation was obtained in 1997.
National Board for Certification in Occupational Therapy (NBCOT) Casper College Occupational Therapy Assistant Program Pass Rates.
Feedback from fieldwork sites and employers indicated the graduates are well prepared for the positions they have been hired to work. The Casper College Occupational Therapy Assistant program is accredited by the Accreditation Council for Occupational Therapy Education (ACOTE) of the American Occupational Therapy Association (AOTA), located at 6116 Executive Boulevard, Suite 200, North Bethesda, MD 20852-4929. The AOTA's phone number and website are 301-652-AOTA (2682),  www.acoteonline.org.
NOTE: To ensure that occupational therapy practitioners meet ethical and professional standards prior to entering the profession, all applicants for initial certification are required to provide information and documentation related to any illegal, unethical or incompetent behavior. Persons with a felony history may not be eligible to sit for the certification examination. When you apply to write the certification examination with the National Board of Certification of Occupational Therapy, you will be asked to answer questions related to the topic of felonies. For further information on these limitations, you can contact NBCOT at:
Graduation Rate
Graduation Rate's 2022-2020 (last three years)
Entered/Graduated: 32/19
Graduation Rate:  59%
Graduation Year = 2022
Students entering/graduating = 11/6
Graduation rate = 55%
Number of students taking NBCOT exam in year of graduation = 10
NBCOT pass rates = 100%
Graduation Year = 2021
Students entering/graduating = 11/6
Graduation rate = 55%
Number of students taking NBCOT exam in year of graduation = 7
NBCOT pass rates = 100%
Graduation Year = 2020
Students entering/graduating = 10/7
Graduation rate = 70%
Number of students taking NBCOT exam in year of graduation = 2
NBCOT pass rates = 100%
Program outcomes
The Occupational Therapy Assistant program will graduate students who are able to:
Demonstrate adaptation and mastery over academic challenges as demonstrated by successfully completing their education at the associate level to earn their Associate of Science degree, in Occupational Therapy Assistant.
Demonstrate mastery of academic and experiential learning and apply this knowledge to successfully pass the National Board of Certification of Occupational Therapy exam.
Demonstrate professionalism and life-long learning by obtaining and maintaining licensure in the state of Wyoming and/or their chosen state of practice.
Demonstrate integrity and professionalism while following American Occupational Therapy Association's Code of Ethics, which is essential to work as a generalist occupational therapy assistant.
Appreciate and implement evidence-based practice through client centered, occupation-based activities when serving the needs of a person, population and community.
 Are self-directed, adaptive, and holistic generalist practitioners.
Are lifelong learners and demonstrate stewardship to the occupational therapy  profession, populations served, and their communities.
You may also be interested in…
These other programs:
Other Certificates offered include:

This is separate of the degree path