James Reeb, Civil Rights Martyr: A Granddaughter Remembers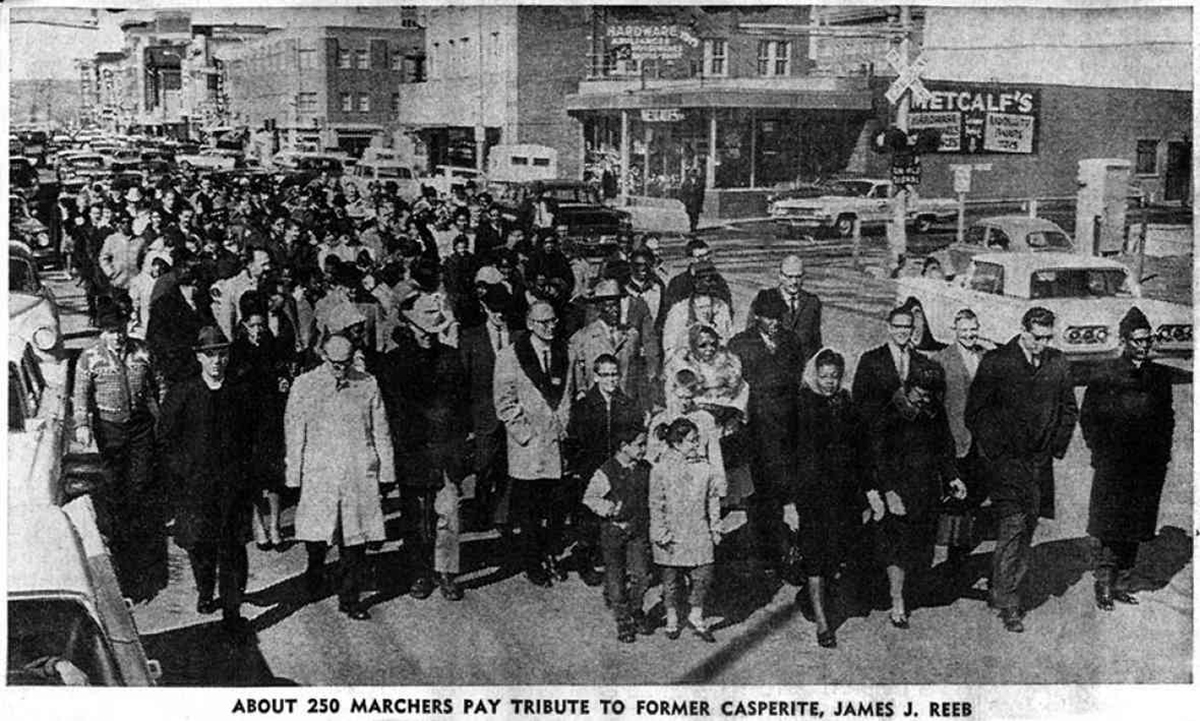 In a 1965 Casper Morning Star archive photo, people marched in a memorial for James Reeb.
People rarely connect Casper, Wyoming, with the Civil Rights movement of the 1950s and 1960s, but they couldn't be more wrong. Fifty years ago this past March, lives were forever changed in Casper, in Selma, Alabama, and across the United States. A Casper family lost their son, father, and husband. The world gained a martyr and history was forever written.
My grandfather, James Joseph (Reeb) Rape was born January 1, 1927, in Wichita, Kansas to Harry and Mae (Reeb) Rape. Rape was the Anglicized last name of Reeb, however the family reverted back to Reeb soon after James was ordained. James was a very sick child and his early years were challenging. A debilitating battle with rheumatic fever forced much of his childhood to be spent laying flat on his back in bed to take pressure off his heart and lungs. Because of this, he had a frail frame and what some would say an awkward appearance when paired with thick glasses and slightly crossed eyes. His mother, having recognized his perceived physical disadvantages, was determined that he be given every opportunity to excel personally, religiously, and within his education — and so he did.
The unstable economy and dwindling job market in Kansas led the family to Casper, Wyoming, in 1942. Harry began working at Western Oil & Tool Manufacturing Co. (WOTCO) now known as Westech. James began his sophomore year at Natrona County High School (NCHS) in September 1942. His teachers and fellow classmates knew him as Jim and recall him as being a passionate, morally committed, well spoken, and above all, courteous young man. It was obvious that he had a knack for debate, often finding himself against the majority defending his beliefs. Many of these discussions were on local issues in Casper such as the poor community and welfare of the people. While at NCHS James quickly rose up the ranks within the ROTC and assisted with multiple youth groups.
As young as 15, James found himself drawn to the ministry. He'd often be found filling in for local ministers on Sundays. He found his home within the church, discovering he had the capability to lead where he felt fully accepted. He was a familiar face within the churches of Winter Memorial in North Casper and the First Presbyterian Church near Casper's City Park. He was also instrumental in the Casper Boys' Club, a group dedicated to directing some of Casper's young male population, many of which were minorities and with delinquent backgrounds.
He graduated in 1945 and soon after joined the U.S. Army where he served in California and Alaska before returning home in the winter of 1946. That previous year, Wyoming's first junior college, later to be known as Casper College, was established and located on the third floor at NCHS. James enrolled in classes using his GI Bill to attend. During this time he met a beautiful young woman, a senior named Marie Deason. She would later become his wife.
In 1947, James enrolled at St. Olaf College, a Lutheran school in Northfield, Minnesota. His goal was to become a minister himself. To be taken more seriously, he opted to legally change his last name from Rape to Reeb. Two years later he and Marie were married in Casper.
In the fall of 1950, James began his studies at Princeton University majoring in theology. Summers were spent back in Wyoming where he enjoyed camping, hiking, and fossil hunting just outside Douglas. In 1952, my father John was born.
After graduation from Princeton and the years that followed, James and Marie welcomed three more children: Karen, Anne and Steven. During that time he served as chaplain at the Philadelphia General Hospital where he dedicated much of his time to poor African American patients, ensuring they received necessary medical care as well as chapel services. This was followed by a youth director position at the local inner city YMCA where he abolished the racial quota system, implemented integrated busing, and created multiple family and youth organizations to set kids and their parents on the right track.
Social ministry became a passion for James. In 1959, the family moved to Washington, D.C. where he accepted the associate minister position at All Souls Church, again focusing on community development within blighted areas of the city.
In 1964, James moved his family to Roxbury, a ghetto neighborhood in Boston. He held a position with the American Friends Service Committee and worked on equalizing housing codes for the poor African American and Hispanic neighborhoods. The Reeb family was one of a few white families in Roxbury. The eldest children attended the local schools, as James had wanted it. He could not preach or create change if he himself did not experience the disadvantages.
On Sunday night, March 7, 1965, James and Marie watched the 11 p.m. news showcasing the Bloody Sunday attacks from earlier that day. Hundreds, the majority of them African Americans, attempted to peacefully march across the Edmund Pettus Bridge to Montgomery, Alabama, 50 miles away. They were brutally beaten by Alabama State Troopers.
The following day, Dr. Martin Luther King, Jr. summoned for clergy around the nation to respond and come to Selma to support their efforts in establishing equal voting rights. James received this message and after discussing it with Marie, he arrived in Selma the following morning. Without police protection the marchers were led to the far side of the Edmund Pettus Bridge again, where they knelt, prayed, and returned to the church headquarters. Dr. King there urged marchers to stay and participate again the following day when protection was to be provided. James was to travel home that afternoon, but decided to stay one more night.
That evening, he joined two fellow ministers, Clark Olsen and Orloff Miller, for dinner. Upon leaving the cafe, they were approached by four white men, one carrying a club who swung and hit James in the head. Olsen and Miller were kicked and beaten but were able to assist James off the ground to seek help. Four hours had passed before they were able to get him into a Birmingham Hospital, 90 miles away. No one had been willing to assist in getting him there, not even the police. A skull fracture and blood clot ended the life of James Reeb two days later. His face was now the center of a national outcry and media storm, with his name printed on the front page of every newspaper across the United States.
A few days after his passing, President Lyndon B. Johnson introduced the 1965 Voting Rights Act to Congress, citing the loss of "this good man, a man of God." On March 15, Dr. King led a march of 3,500 people in honor of James, laying a wreath on the footsteps of the courthouse in Selma. Later that evening he provided a eulogy for James.
A large memorial service at All Souls Church was also held in Washington, D.C. where nearly 15,000 people came to pay their respects including Vice President Hubert Humphrey and Senator Edward Kennedy. After the memorial services, Marie and the children moved back to Casper. A small march of 250 people was also held in Casper and ended with a eulogy at NCHS. At his request years earlier, James was cremated and his remains were spread over the Shirley Basin just south of Casper, Wyoming.
Three of the four men who attacked James and his fellow ministers were acquitted by an all white jury in 90 minutes, even with substantial evidence proving their guilt. The memorials continued for James including a Broadway show featuring a multitude of celebrities. Countless monuments are displayed around the U.S. and yearly remembrance ceremonies still take place today.
This past January, the movie "Selma" was released which featured a portion of James' story. A small park in North Casper that was dedicated in his name in the mid-70s still exists along with a James Reeb scholarship at Casper College.
Fifty years have passed and history is mourned and celebrated. This past March, the entire Reeb family, including his wife, children, grandchildren and great-grandchildren returned to Selma to participate in the 50th Anniversary of Bloody Sunday and the death of their own James Reeb. The family paid tribute to various martyrs of the movement, enjoyed the company of Clark Olsen and Orloff Miller, and marched fully across the Edmund Pettus Bridge, something James was never able to complete.
This story originally appeared in the Summer 2015 issue of Footprints.
Subscribe
If you enjoyed this story, receive more just like it: