A Fulfilled Life: An Oral History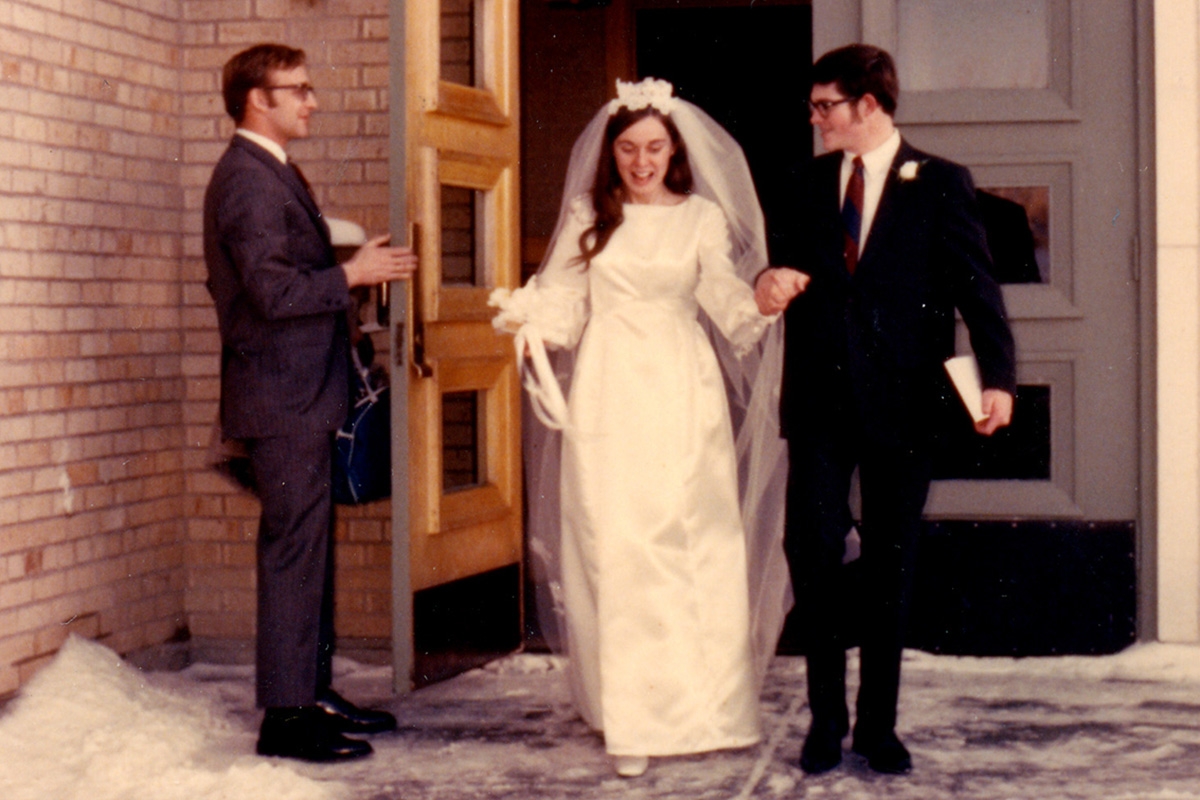 Carleen and Bob Grossman leaving the church after their wedding.
I was born in Casper, Wyoming, at Natrona County Memorial Hospital during the blizzard of '49! I was told that when I was born my father walked two miles to the hospital each day in blizzard conditions so that he could see me and my mother; by the time we were released from the hospital, the weather cleared and he was able to bring us home in a taxi!
Growing up in Casper, grandparents on both sides of the family would either come to visit our house or we would drive to visit them at my mother's parents' Wyoming ranch near Kaycee, Wyoming. I remember my maternal grandfather telling about the famous Dull Knife Indian Battlefield across from the ranch house and also about how Butch Cassidy frequented the area. Aunts and uncles from Montana, California, Colorado, and Utah were persons we saw often either in Wyoming or on their own turf.
My father always took an interest in genealogy so when I was in 6th grade he had genealogical research done for the Cole family. It was discovered that we were related to the outlaw, Jesse James. This research sparked my mother to do research on her family; she discovered our relationship to Oliver Wolcott who signed the Declaration of Independence and to Amelia Earhart. This research was humorously brought up at many of our holiday family dinners when my father would ask relatives which side of the table they wanted to sit on – the outlaw side or the other side!
I was born with a nasty hemangioma tumor on the side of my face. After my birth it began to grow and disfigure my face and frequently bleed. In those days hemangiomas were treated with radiation. So, during the first year of my life my mother flew frequently with me to Denver to have the tumor treated.  I remember my mother telling me she used to hold me in her arms and cry while traveling back and forth for my treatments. However, it all turned out well and I was only left with a circular scar on my face where the tumor used to be.
When I was 5 or 6 years old, I had my first friend ever! She was the neighbor's granddaughter and was the child of a wealthy, Casper oilman and cattle rancher. Her parents appreciated her playing with me because it helped expose her to how other people lived; so they would bring her to her grandmother's house frequently so that we could play together. It was the reverse side of the coin for me, I got to see how the more affluent people lived. Our friendship grew and became extremely strong. We still, as of today, keep in touch and are 
good friends.
At Jefferson School, I made friends with schoolmates and Brownie Scouts. During my teen years at Dean Morgan Junior High School and Natrona County High School, I began to blossom. I became more assured and had more friends in school and in Job's Daughters, a masonic organization. Ninth grade earth science teachers Beecher Strube and Dana Van Burgh ('64) shaped and influenced my life the most. And I am still best of friends with them both, as is my husband. We telephone and even visit them in Wyoming whenever possible. During the 1980s, before they retired, they made multiple visits to our Maryland home. These two teachers are my heroes.
Travel was a integral part of our family life. By the time I was in my senior year of high school, my parents had taken us vacationing to all the states in the western half of the U.S. plus Canada and Mexico. That was quite an accomplishment for a blue collar family whose father worked as an in-plant truck driver at the Casper Standard Oil Refinery and whose mother was a housewife who did baby sitting in our home to earn extra income. My mother's extra income from babysitting put both my sister and me through four years of college to earn bachelor degrees. My mother, who wanted to go to college and never had the opportunity, had promised herself that her daughters would be able to do that, and she saw to it!
For fun my family would go for Sunday drives to Alcova, Pathfinder Dam, Goose Egg Ranch, and Casper Mountain. These outings with my father, mother, and sister usually would be in our Uncle Ray Cole's car. My father drove and Uncle Ray would relax in the backseat smoking a big, smelly cigar. Uncle Ray was like a grandfather to me and I adored him in spite of the smelly cigars. I was also involved in Job's Daughters, church, ice skating, and snowshoeing or skiing at Uncle Tom Cole's cabin on Casper Mountain.
After graduating from high school, I attended Casper College with much academic and social success.
I loved my experiences there (CC) and it helped to launch my career as a teacher. 

Learning was fun and gave me much more confidence. When I first started Casper College, one of the things that made a big impression on me was getting to be with older people as some of my classmates; this was truly a broadening of my horizons.
My education was extremely important for me. I went straight through four years of college, my first two at Casper College and my last two at the University of Wyoming. I married Robert Grossman, and then entered UW graduate school to earn a Master's Degree in Education with a minor in English. Bob was and still is the kindest, most caring, gentle, and intelligent man I had and have ever known.
Fresh out of graduate school we moved to Ellicott City, Maryland, where I obtained a job teaching English at Howard Community College, in Columbia, Maryland. My teaching was extremely rewarding and satisfying and the most important thing about it was that it stretched me to continue to learn for the next 34 years that I taught at the college.
My greatest accomplishment was a book-publishing project that I designed for my college students at Howard Community College. Each student wrote a children's book under my guidance and the entire class had the opportunity to become published authors through a publisher. This experience was the highlight of my career. I watched my students grow throughout this process.
Retirement was perfectly timed for me, because I knew it could not get any better. I had just won an excellence in teaching award and published a children's book about the childhood of Amelia Earhart and gotten to attend several fully paid conferences related to my kudos. Now during my retirement in Pennsylvania, I devote time to writing a book review column for a local newspaper and helping my husband in developing a nature preserve for hikers and photographers.
At this point in my life, I feel very fulfilled. I have had a wonderful married life of 43 years with the best man in the world. Together for our recreation, we have been able to travel to many countries in the world.
I have had a tremendous career of teaching embellished by my creation of a book project for my students, a perfect retirement in a gorgeous mountain home on 23 acres in Central Pennsylvania, which has also expanded into developing our 41 acre nature preserve, and all the time making new and wonderful friendships.
The Oral History Project
by Vince Crolla, Director Western History Center
Several years ago, the Casper College Western History Center, Center for Excellence, Tate Geological Museum, and interested faculty and students, formed a cooperative to gather oral histories from the members of our community. The collection recently hit number 130 and we are thrilled with our progress to date. We intend to continue expanding this collection in the years to come, creating a valuable and enduring resource for the oral history of Casper.
The mission of the cooperative is not only to record these histories, but to preserve, transcribe, and make them freely available to interested people. To that end, we have partnered with Tom Rea, editor of Wyohistory.org, to place the audio files and transcriptions online alongside other oral histories from all over the state of Wyoming.
One of the first steps undertaken by the cooperative was constructing a list of potential interviewees. This resulted in almost 200 names. We have since interviewed people such as former Casper College Presidents Lloyd Loftin and LeRoy Strausner, Casper Mayors Bob Pettigrew and Kenyne Schlager, and Governor Mike Sullivan. Western History Center volunteer Dana Van Burgh has been instrumental to the project, conducting a majority of the interviews and encouraging Carleen Grossman and others to share their stories. Other volunteers and student workers have done a fantastic job on the often difficult and always time consuming task of transcription.
This project is made possible by dedicated volunteers and staff. We are always looking for people interested in conducting interviews, working on transcriptions, or suggesting interviewees. Please contact Vince Crolla or Rhiannon Cady at wyoref@caspercollege.edu or 307-268-2680 if you are interested in getting involved.
This story originally appeared in the Winter 2015 issue of Footprints.
Subscribe
If you enjoyed this story, receive more just like it: