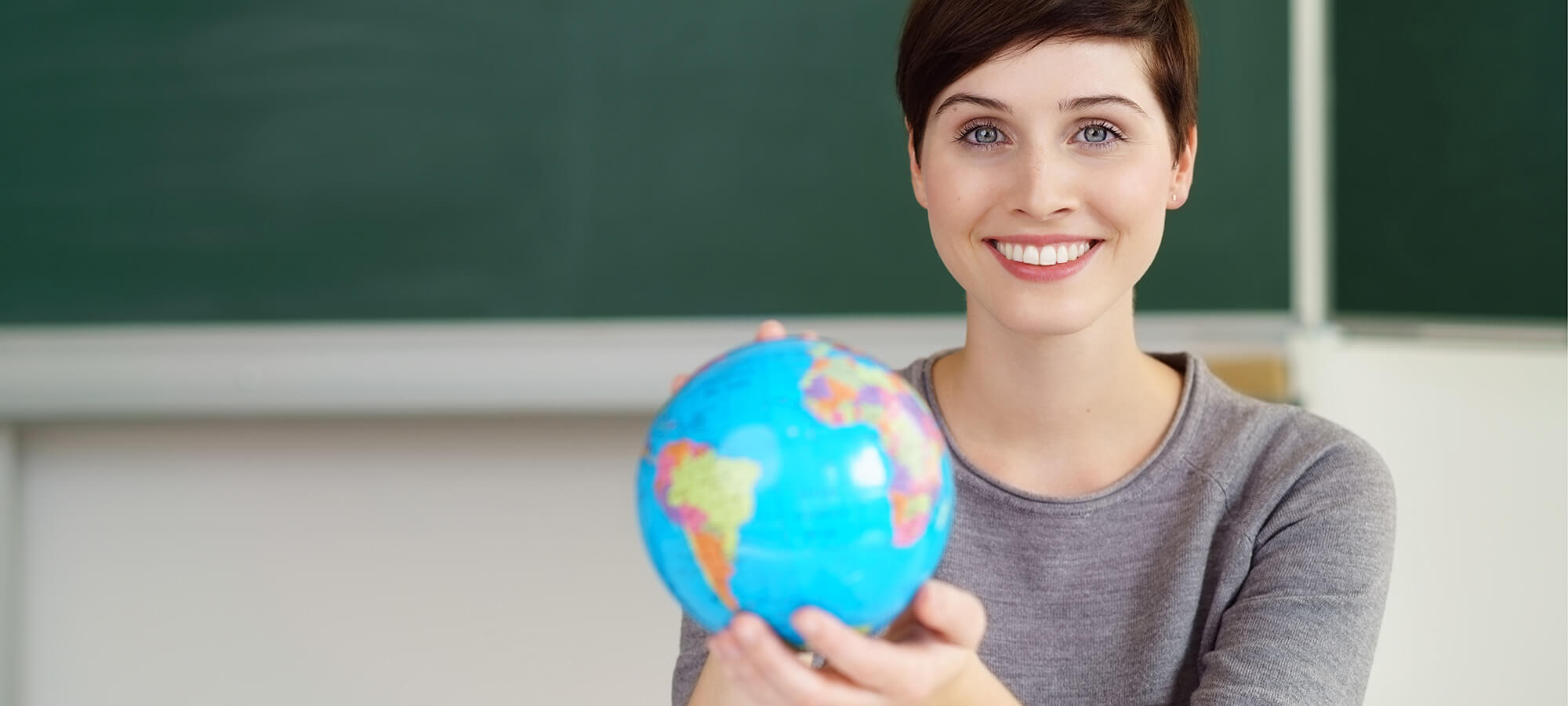 ​The Casper College Department of World Languages facilitates student success in language acquisition and cultural competency through classes and activities so that students flourish in a diverse global society.
What are the features of Casper's program?
In addition to beginning and intermediate language courses in German, French, Russian and Spanish; the department regularly offers opportunities for short term study-abroad experiences. These trips are focused on cultural awareness and improving students' target language skills (basic skills are a prerequisite).
In recent years instructors have traveled with students to Mexico, Germany/Czech Republic, and France/Martinique!
French
"Prof. Ewing does an excellent job at using creative ways to teach French. The hands-on activities, skits, story writing, and games make learning a foreign language fun."
–a French 1010 student
"This class is great for class discussion, applying the practical knowledge we have been learning every semester, and being self-motivated to study and learn outside of class with the wide variety of homework assignments."
–a French 2040 student
"The Instructor was very patient. The nearly total immersion teaching style of this class was most effective. Enjoyed that the instructor included some linguistic history as well, and of course the singing was fun."
–a French 1010 student
"Though this course was challenging, it was very enjoyable. The activities and exercises helped me learn the language in a very practical way. I enjoyed this class very much."
–a French 1020 student
Fun facts
France has the world's 5th largest economy after the U.S., China, Japan, and Germany.
(As measured by Gross Domestic Product, 2012 statistics from the International Monetary Fund.)
There are 29 countries that use French as an official language: 5 in Europe, 21 in Africa, 2 in North America, and 1 in Oceania. In three additional countries (Algeria, Morocco, Tunisia) French is used extensively and spoken by a majority of the population, but does not have official status.
There are approximately 250 million French-speakers around the world.
French is one of the six official languages of the United Nations.
French nouns (people, places, things, concepts) are all "gendered." That is to say, they are all either masculine or feminine!
The city of Québec in Canada was founded in 1608, 12 years before the pilgrims landed at Plymouth! Québec is Canada's 2nd largest French-speaking city after Montréal.
France receives more international travelers than any other country in the world (83 million visitors a year, which is more than the country's population!)
France has three départements in the Americas: Martinique, Guadeloupe (islands in the Caribbean), and Guyane (on the South American continent, Guyane is the size of South Carolina, or about 1/3 the size of Wyoming). Like our "states," French départements have their own capitals but send representatives to the central government in Paris and have the same currency, school system, and healthcare as all other départements. In this way, Martinique, Guadeloupe and Guyane are much like Hawaii and Alaska for France!
28.3% of English words come from French! (according to a computerised survey of about 80,000 words in the old Shorter Oxford Dictionary, 3rd ed., published in Ordered Profusion by Thomas Finkenstaedt and Dieter Wolff).
France is shaped like a hexagon.
The Eiffel Tower was built as a temporary exhibit for the 1889 World's Fair.
The Louvre in Paris is the world's most visited museum and contains priceless works of art like the Mona Lisa and the Venus de Milo. It began its
existence as a fortress about 900 years ago and visitors can still see the old castle ramparts in the museum's basement.
German
"The different activities kept my interest! I didn't usually feel put on the spot but included. I feel that out of all my classes this is the one I've learned the most from…"
– a German 1010 student
"Herr Ewing is the epitome of a perfect instructor. He balances the class unfathomably well with challenge, engagement, practicality and enjoyment. My German speaking, writing, and reading capabilities are more fluent than ever…"
–a German 2030 student
"This class was very well prepared. Each lesson was well thought out and explained. The course material was challenging, but very well put together. GREAT instructor."
–a German 1010 student
"Herr Ewing finds a way to bring the class material to your level while at the same time making you reach past your comfort zone. He's a very patient instructor that truly does love what he does, and it shows greatly in his classes. He is more than willing to work with you on your assignments if you're struggling. I can honestly say that even though I have to get up early for his class I never leave feeling like I've wasted my morning, in fact I always leave wanting more. Herr Ewing has been probably the best instructor I've had here at CC, and that's saying something in that most instructors I have had at CC have been incredible! The only thing I am disappointed about is that I am graduating this semester and may not be able to continue on to the next level of German with him, but if the chance arises I would not hesitate to do it!"
–a German 1020 student
Fun facts
Germany has the world's 4th largest economy after the U.S., China, and Japan.
(As measured by Gross Domestic Product, 2012 statistics from the International Monetary Fund.)
There are six countries that use German as an official language: Germany, Austria, Switzerland, Luxembourg, Liechtenstein, and Belgium.
There are approximately 120 million German-speakers in the world.
German is the most widely spoken native language in the European Union.
Germany has about 80 million people and is about the size of the state of Montana
(which has 1 million people, for comparison).
Of Germany's 80 million people, about 16 million are of foreign/immigrant descent (first and second generation, including mixed heritage and ethnic German repatriates and their descendants). People of Turkish descent are the largest minority group and make up 4-5% of the country's population.
German-Americans are the largest ancestry group in Wyoming; 25.9% of Wyomingites have German heritage. German was the top reported ancestry group in 23 U.S. states in the 2000 census.
German is one of the only world languages that still capitalizes all nouns, all the time—even in the middle of a sentence!
German nouns (people, places, things, concepts) are all "gendered." That is to say, they are all either masculine, feminine, or neutral!
The German alphabet has 30 letters (all of the "regular" 26, plus ä, ö, ü, and ß).
There are many dialects of German! Generally, "Low German" is a group of dialects often used in the northern part of the country (low in altitude), whereas "High German" dialects are from the geographically central/southern and more mountainous parts of the country.
The longest German word that has been published is "Donaudampfschiffahrtselektrizitätenhauptbetriebswerkbauunterbeamtengesellschaft." It conveys a lot of information in those 79 letters; the English translation takes 111 characters (counting letters and spaces): "Association for subordinate officials of the head office management of the Danube steamboat electrical services." This word is not used in everyday speech! According to the 1995 Guinness Book of World Records, the longest German word in everyday usage is Rechtsschutzversicherungsgesellschaften at 39 letters. English needs 36 characters to say the same thing: ("legal protection insurance companies").
Thirteen German speaking people have won the Nobel Prize in literature: Theodor Mommsen, Rudolf Christoph Eucken, Paul von Heyse, Gerhart Hauptmann, Carl Spitteler, Thomas Mann, Nelly Sachs, Hermann Hesse, Heinrich Böll, Elias Canetti, Günter Grass, Elfriede Jelinek and Herta Müller.
Germany has had 29 Nobel laureates in chemistry, more than any other country except the USA. There have also been 25 German Nobel laureates in physics, again, more than any other country except the USA.
Japanese
Fun facts
Japan has the world's 3rd largest economy after the U.S. and China.
(As measured by Gross Domestic Product, 2012 statistics from the International Monetary Fund.)
There are approximately 130 million Japanese-speakers in the world.
Japan has about 127 million people and is about the size of the state of Montana (which has 1 million people, for comparison).
The nation of Japan is made up of 6,852 islands.
Japan has an emperor who is the symbol of the state and of the unity of the people, but the Prime Minister handles most political duties.
Mount Fuji is Japan's highest mountain at 12,388 ft. It is an active volcano only 60 miles from Tokyo that last erupted in 1707-08.
2010 statistics indicate that there are 1.3 million Americans with Japanese heritage.
The word anime (アニメ)is the Japanese pronunciation of the English word "animation."
The anime market for the United States alone is worth approximately $4.35 billion, according to the Japan External Trade Organization.
Japan has the highest life expectancy in the world. The average Japanese person can expect to live 83 years—for Japanese women, it's 86! For comparison, average life expectancy in the U.S. is 79. The worldwide average is about 68 (World Health Organization, 2013).
Japanese has three writing systems: katakana is an alphabet for loanwords and words of foreign origin, hiragana is an alphabet used for Japanese words and grammatical particles, and kanji is a character-based writing system that draws from Chinese and is used to write many common words.
Tokyo is the world's largest city with over 37 million inhabitants!
Tokyo, the capital of Japan, will host the 2020 Olympic Games. The city last hosted the Games in 1964.
In 1912, the people of Japan sent 3,020 cherry trees to the United States as a gift of friendship. These trees still stand near the Jefferson Memorial in central Washington D.C. The blossoming of the cherry trees in Spring is a much-anticipated event every year.
Japanese people love American food: there are McDonald's, KFC, and SUBWAY everywhere in Japan. Many Japanese eat KFC fried chicken at Christmas.
Japanese use more trains and subways than cars. There are 10,000 train stations in Japan, and every train arrives and departs exactly on time!
At a "100 yen shop" (one-dollar shop) in Japan, you can buy anything you need: office supplies, kitchenware, books, flowers, cloths, cosmetics, foods, headphone, toys…etc!
Audio assets
Russian
Fun facts
Russia is the largest country in the world, in terms of land area.
Russia borders 14 countries: Norway, Finland, Estonia, Latvia, Lithuania, Poland, Belarus, Ukraine, Georgia, Azerbaijan, Kazakhstan, China, Mongolia, and North Korea.
About 100 languages (besides Russian) are used across the country; Ukrainian and Belarusian are Russian's closest linguistic relatives.
Russia is located across 9 time zones.
Its population is around 143 million.
The Russian language is one of the official languages of the United Nations.
There are 33 letters in the Russian Alphabet: 10 vowels, 21 consonants, and 2 signs (ь, ъ).
The Russian language is an official language in Russia, Belarus, Moldova, Kazakhstan, Kyrgyzstan and Tajikistan, and is widely spoken in the Ukraine.
There are approximately 150 million Russian-speakers in the world.
The official residence of the Russian president is the Kremlin in Moscow. The word Kremlin means "fortress."
The executive power is split between the President and the Prime Minister, but the President is more dominant. The legislature is composed of the Federal Assembly: the State Duma – the lower house, and the Federation Council – the upper house.
Russia is one of 5 permanent members of the UN Security Council, along with the US, UK, China and France.
Lake Baikal is the largest freshwater lake in the world. It reaches 1642 metres (5,387 feet) in depth.
Mount Elbrus is the highest mountain in Russia (and Europe), it reaches a height of 5642 metres (18,510 feet).
Russia's Volga River is the longest in Europe, with a length of around 3690 kilometres (2293 miles).
Russia produces a large amount of renewable energy thanks to its well-developed hydropower stations.
The country has the world's largest natural gas reserves, the 8th largest oil reserves, and the second largest coal reserves.
The Trans-Siberian railway from Moscow to Vladivostok on the Pacific coast is the world's longest railway (5800 miles long).
The closest point between Russia and the United States is only 4 km.
The Tsar Kolokol bell is the largest bell in the world, with a height of 6.14 meters and a weight of 223 tons. It is located on the grounds of Kremlin of Moscow.
The Tsar Cannon is (according to the Guinness Book of Records) the largest piece of artillery by caliber in the world and is a major tourist attraction on the grounds of the Moscow Kremlin.
Russian language is the language of some well-known writers : Pushkin, Tolstoy, Dostoyevsky, Chekhov, Sholohov.
Russia has a free education system and free health care for all its citizens.
Moscow has the largest number of billionaire residents in the world and is the second most expensive city in the world.
Approximately 3.13 million Americans trace their ancestry to Russia.
Chemist Dmitry Mendeleev invented the Periodic table of modern chemistry.
Yury Gagarin was the first man to orbit the earth in a spacecraft.
Soviet engineer Hovhannes (Ivan) Abgari Adamian was one of the founders of color television.
Audio assets
Spanish
"The course was fun, exciting and kept me interested the entire duration of the class. I'd encourage others to take it too."
–a Spanish 1020 student
"This was a great course. As a student it is very difficult for me to learn a language, but the instructor was amazing at his job. I will be talking this instructor again in the next level class."
–a Spanish 1010 student
"Mr. Atkins has incredible enthusiasm for the Spanish language and culture. He relates vocabulary and class activities to real scenarios from his travels and experiences."
–a Spanish 2030 student
"This course has been very effective in helping me to better understand Spanish and I would recommend it to anyone hoping to gain a higher knowledge of Spanish."
–a Spanish 2030 student
"Instructor was always open to questions and developed a positive atmosphere for learning."
–a Spanish 1020 student
American Sign Language
This is now a separate degree! Learn more about the ASL degree.
What are the special admission requirements, if any?
There are no pre-reqs for this program.
Students who continue with a language previously studied should register for the courses corresponding to their level of proficiency. Contact the Casper College Department of World Languages for help with placement.
Credit by Examination (CLEP) – Students who qualify may earn credit by examination in the elementary and intermediate language courses.  To obtain credit by examination, students must contact the Student Success Center at 307-268-2089.
What courses would I take?
For requirements and more information about this program, view its listing in the academic catalog:
Interested in online learning?
A portion of the courses in this program may be available online. Learn more about online programs and courses at Casper College.
You may also be interested in…
Other programs related to: