Requests for services can be made by using the online request form. Requests are scheduled for production based on the current production schedule and in accordance with the Casper College policy on Internal and External Communications. 
Log in using your Active Directory credentials. For new requests, remember to select "PR Request" from the Request Type drop-down menu.
Web Help Desk is the central project management system for Public Relations.
The system greatly improves our ability to schedule and manage projects.
As a client, you will have access to your requests and be able to track their progress online.
Web Help Desk enhances communication by automatically generating messages and updates to you via email at critical points in the process.
PR staff will send you updates, questions, and proofs via email and all you have to do is reply as you normally would.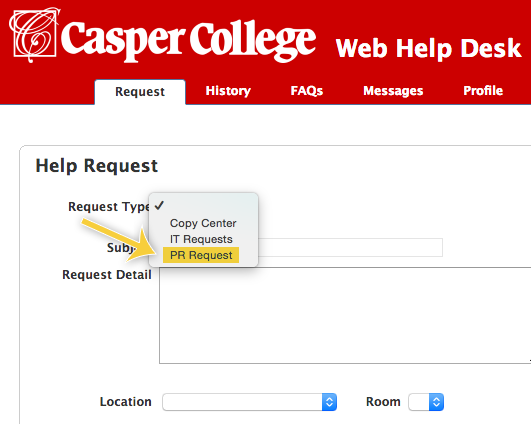 Some important considerations:
Lead Time: Allow enough time for your project to be planned, coordinated, designed, produced and distributed. The more complexity, including the need for professional photographs, will require more time involved in finishing the project. If you need help understanding timing and complexity, request a marketing consultation using the electronic form.

Target Audience and Goal: What is your strategy? Be specific about your audience and their needs. Include your goal(s) for the project and what your intended outcome is to be.

Model Release Form: A signed release form is required for all materials used by Casper College for promotional purposes and created by individuals that are not CC employees or are protected otherwise by copyright and/or trademark. If a student is to be identified in a photograph, then a signed release form is needed from that student. Media-Model Release Policy and Form.

Use of the CC logos: Public Relations will assist in the coordination of the logo and its use including customized design needs.

CC Style and Graphics Standards Manual: Public Relations will only release communication materials that adhere to the CC Style and Graphics Standards.

Media Relations: Public Relations will coordinate all requests of the media. This is to insure that they get the support they need for a good story and related content may be shared with them.

See our FAQs for more information.