Tom Parks named new Casper College Men's Basketball Head Coach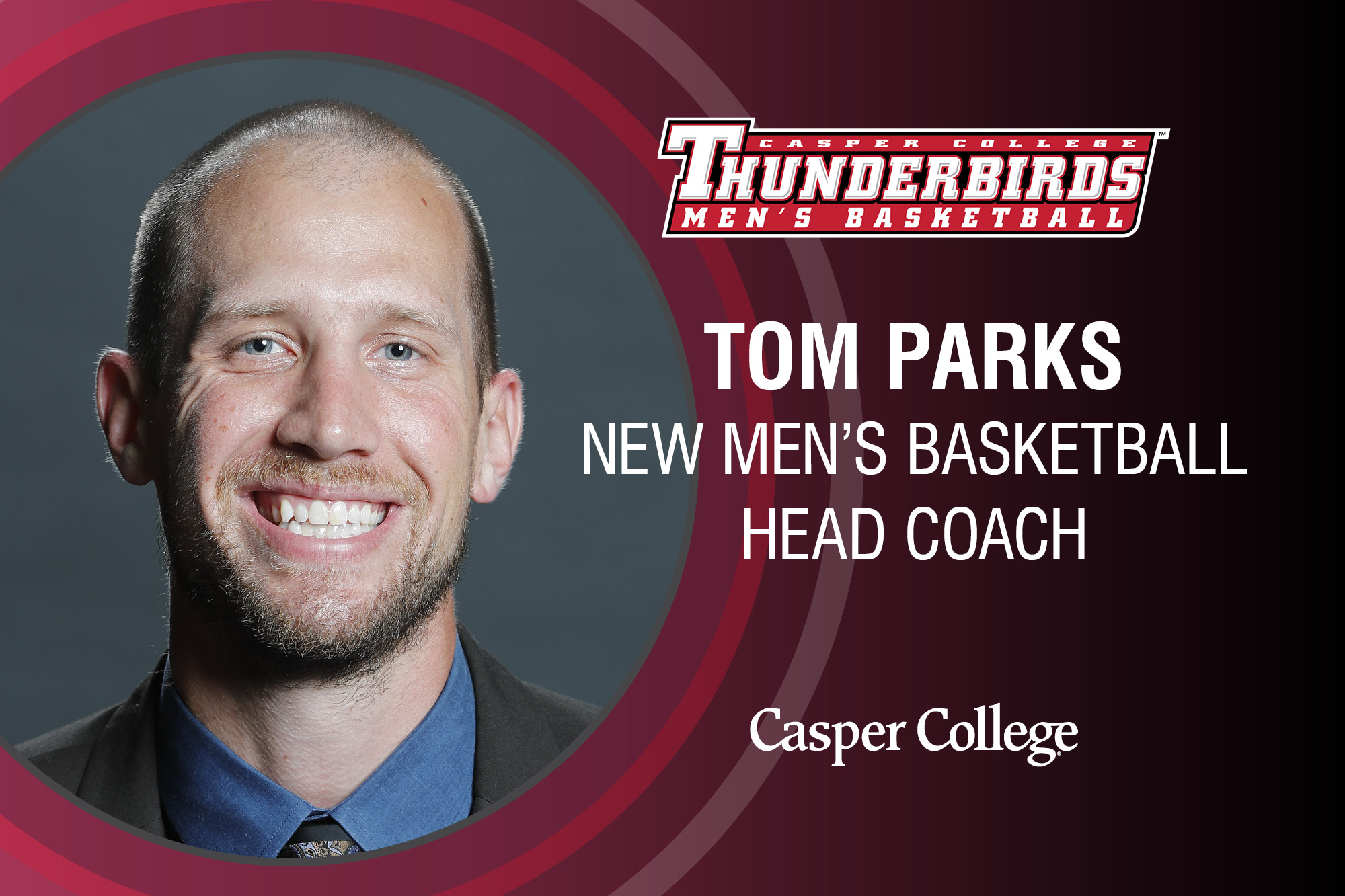 Casper College announced today that Tom Parks was named the new men's basketball head coach for the Thunderbirds going into the 2023-24 season. Parks replaces Shaun Gutting, who will step down at the end of the 2023 academic year to pursue other coaching opportunities.
"I'm extremely honored and grateful for the opportunity to lead the Casper College Men's Basketball program. This position has been a dream for our family since I started my coaching career," said Parks.
As the next head coach of the Thunderbirds, Parks emphasized his goals for the future: "I will not only cultivate the traditions that have been laid out before me, but I also want to expand and develop the Casper College Men's Basketball program into the best junior college program in the country."
"We are thrilled to be able to bring a coach of Tom's caliber to Casper College. We believe he will continue to build on the successes created under Shaun during his tenure as head coach," said Paul Marble, athletic director.
Parks will leave his head coaching job at the State College of Florida, a position he took in June 2018. During his four years with the Manatees, a Division I school that plays in Region VIII, he led the team to 72 NJCAA DI wins in his five years compared to 22 wins in the previous five years. "I have been fortunate to turn around one of the most struggling programs in the toughest regions of junior college basketball," Parks said.
The SCF Manatees also had the highest team GPA in two decades. "From graduating 100% of my student-athletes as a head coach to an average GPA of 3.0, to coaching the recipient of the Hal Chasey Award in 2020, to Ivy League Schools recruitment, to my own high achievements in the classroom, the importance of education is monumental," noted Parks.
Parks began his coaching career as a graduate assistant for the legendary coach Don Meyer during his senior year at Northern State University. After graduation, he spent the next nine months traveling to 15 countries … "for education and cultural experience." In August 2014, he became the associate head coach for the Sheridan College Generals. He left the Generals in May 2017 to become the assistant men's basketball coach at Eastern Florida State College, a position he held for one year before becoming head coach at State College of Florida.
Parks played prep basketball at Cheyenne Central High School and was one of the top players in the state. While at CCHS, Parks led his team to the 2006 state championship game and was awarded first-team all-state honors.
Following high school, he played prep school basketball at Air Force Academy Prep. Despite earning an appointment to the Air Force Academy, Parks decided to attend Sheridan College for his freshman year of eligibility. During his time playing for the Generals, the team was ranked in the NJCCA Top 25 for the majority of the year and posted a 24-9 record. As a starter, Parks averaged 14 points and 6 rebounds per game. He was also the team captain. In one year, Parks earned an Associate of Arts degree.
He then attended Youngstown State University, where he was a two-year starter, team captain, ranked top 10 in school history for 3-point field goal percentage, set the school record for single-game 3-point field goal percentage, ranked in the top five for 3-point percentage in the NCAA DI Horizon League play, and averaged 7 points and 3 rebounds per game for the Penguins. He graduated from Youngstown with a Bachelor of Science in business administration.
His final stop as a collegiate player was at Northern State University, where he was team captain, a starter who averaged 12 points per game and 5 rebounds per game and was the Miles Brand Award Winner. Before returning to Northern State University to finish graduate school, Parks spent one year playing professionally in Spain for Globalcaja Basket Quitanar. He graduated from Northern with his Master of Education in sport performance and leadership.
"Casper College and the surrounding community of Casper, Wyoming, is a very special place filled with so much support for Thunderbird Athletics," said Parks. "Growing up in Wyoming, I can't wait to come home and connect with all the supporters and win over some new ones," he said.
Subscribe
If you enjoyed this story, receive more just like it: