Exciting concert brings KWHS, NCHS, and CC chamber orchestras together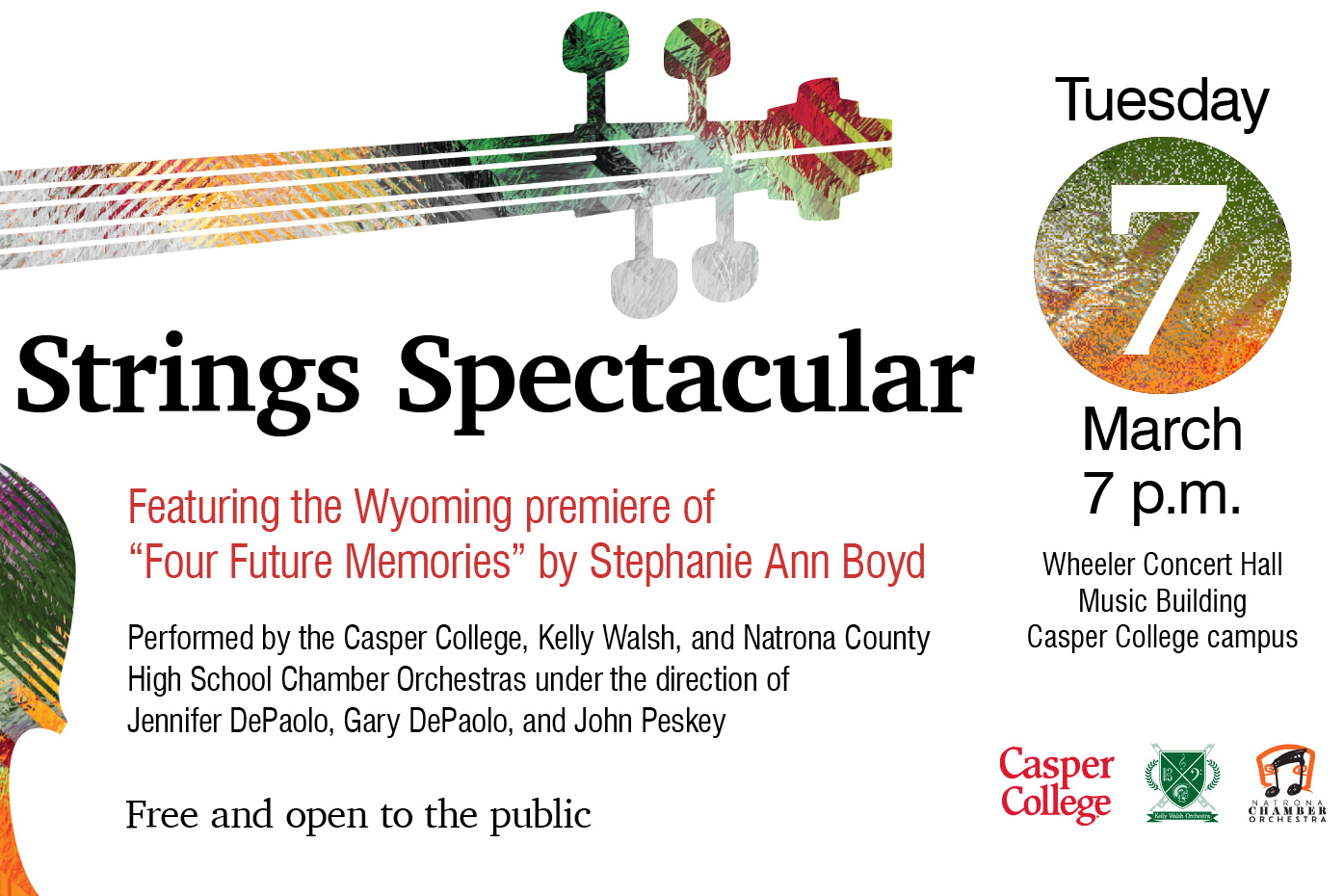 A concert featuring the chamber orchestras from Kelly Walsh and Natrona County high schools and Casper College will join in concert on Tuesday, March 7, at 7 p.m. The concert is free and open to all.
"The CC Chamber Orchestra is hosting both local high school chamber orchestras. There will be 50 of the best student string players in Casper sharing the stage during this concert," said Jennifer DePaolo, string instructor and director of the Casper College Chamber Orchestra.
The evening will begin with the CC Chamber Orchestra performing Antonio Vivaldi's "La Primavera." The performance will feature soloists Evan Whipple on violin and Samuel Snyder on cello. The chamber orchestra will conclude with "Theme and Variations for String Orchestra, Op. 97″ by Aleksandr Glazunov.
The CC Chamber Orchestra will be joined by the KW and NC chamber orchestras to perform Heinrich Biber's "Battalia." Soloists for this performance will feature Whipple and Snyder, as well as Michael Vitanza on violin and Arlon Miller on viola, who are also Casper College orchestra members. Gary DePaolo, KWHS Chamber Orchestra director, will conduct the orchestras.
The concert will conclude with the Wyoming Premiere of "Four Future Memories" by Stephanie Ann Boyd, a Manhattan-based American composer. The performance will again feature all three orchestras and will be under the direction of Jennifer DePaolo. "Four Future Memories" was commissioned by youth ensembles from all over the United States as part of the 50 State String Orchestra Project. "The orchestra worked with her in mid-February in a virtual clinic and interacted with the composer, asking her specific questions about the composition and her life as a composer," noted Jennifer DePaolo.
"With 'Four Future Memories,' I've merged three worlds I love so much: the worlds of literature, of music, and of time in my own way, creating a set of short stories for string orchestra about the memories we may have someday in the distant future," said Boyd.
The Wheeler Concert Hall is located in the Music Building on the Casper College campus.
Subscribe
If you enjoyed this story, receive more just like it: