Spring 2022 Dean's Honor Roll at Casper College announced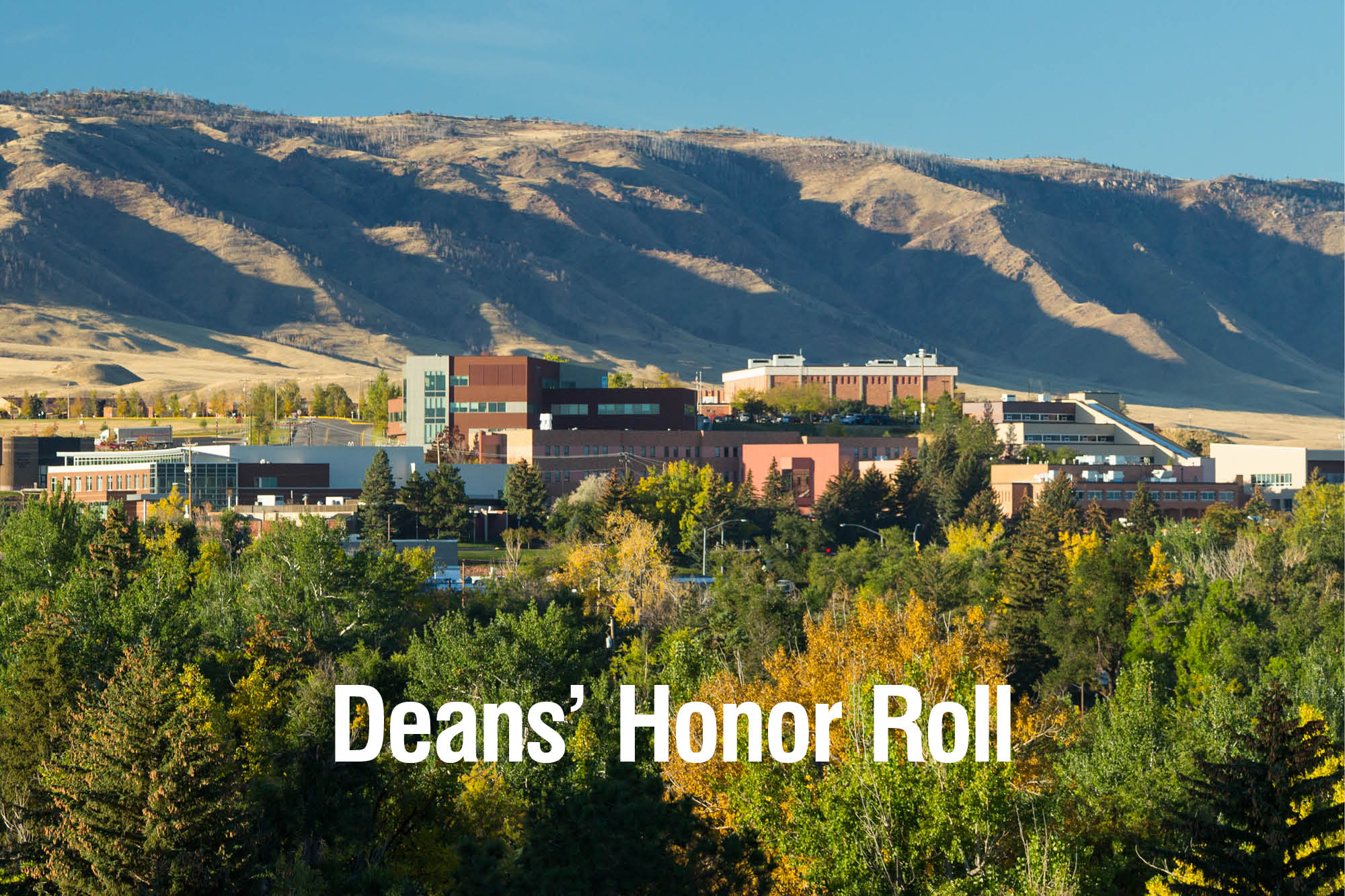 Casper College officials have released the names of the 399 students who made the Dean's Honor Roll at Casper College for the 2022 spring semester. To qualify for the award, a student must have a semester GPA of 3.5 or better. The recognition is for part-time degree-seeking students, those taking six to 11 credit hours per semester, and nondegree-seeking full-time students taking a minimum of 12 credit hours.
Students named to Casper College's Dean's Honor Roll, ordered according to their hometowns, follow. Wyoming students are listed first, followed by students with out-of-state hometowns listed alphabetically by state, then hometown. Finally, international students are listed by their home country.
Wyoming
Alcova: Alysa Bentley.
Bar Nunn: Brandi Bale, Sarah Brown, Shannon Colgan, Makena Foster, Cortnie Hardee, Sydney Holder, Kayla King, Caitlin Logan, Kindle Meek, Keenan Morgan, Stephen Myers, Madison Olson, Chance Watson, and Rachel Wright.
Big Piney: Courtney Meisner and Phuong Oleyar.
Buffalo: Demi Dobbin.
Casper: Christina Adams, Sierra Adams, Mersedees Adamson, Mason Agor, Laney Allen, Madalyn Amole, Kennedy Anderson, Kirk Anderson, Tayah Appel Zachary Archuleta, Hernan Arias-Ruiz, Sarah Austin, Robert Back, Stephanie Barella, Katilyn Beasley, Rachel Beaver, Matthew Beavers, Dylan Bennett, Natalie Benson, Dennis Bergren, Kendalynn Berray, William Brockley Jr., Bailey Bruce, Amanda Buckert, Britta Bushur, Haylee Ann Campbell, Megan Capellas, Christopher Castaner, Fredrick Catchpole, Jacqueline Chimo, ReAnn Christensen, Brenda Claney, Camillia Cockrell, Gina Colaw, Kayla Colburn, Tobee Collins, Chelsea Collver, Catherine Conway, Audrea Cooper, Tiffani Cooper, Megan Cormier, Tara Crane, Jessica Crutchfield, Kathleen Davis, Shaylinn Davis, Kathy Davison, Clarissa De La Torre, Joseph Degraw, Jenelle Desuno, Olivia Devore, Beau Donelan, Kaitlin Dooling, Jody Downs, Tayler Dukart, Joshua Dupree, Jeremy Duran, Kassandra Dutro, Shannon Ellis, Landri Engelke, Taylor Few, Ky Fike, Adam Flack, Abigail Flesvig, Ciara Gage, Thomas Galey, Alexander Garrett, Justin Garriott, Wilmer Gay, Brendan Genthner, Peyton Geuke, Emily Ghaffari, Haley Graham, Krystiana Graham, Riley Graham, Lucas Greene, Abbey Greenwood, Stephanie Gritter, Alicia Guerrero, Molly Guerriero, Quincy Gundersen, Bailee Hanson, Emma Haptonstall, Madison Hardy, Bronwyn Harstad, Mia Hawkins, Valerie Hedlund, Georgina Herrera-Machuca, Desiree Hesse, Courtney Hoffman, Keith Hoffman, Destiny Holden, Austin Hoover, Kayskaye Howard, Anna Hoyt, Caleb Isais, Yolanda Isaldo, Stephanie Jacobsen, Travis Jenkins, Elizabeth Jensen, Paxton Jensen, Nichole Johner, Shelby Johnson, Andrew Kalus, Carli Kalus, Haily Kalus, Wyatt Kammerer, Alexis Ker, Paityn Kindel, Finley Klinger, Donald Klyce, Jennifer Knifer, Brian Koerperich, Amanda Kunz, Berlyn Lammers, Jaclyn Landess, Cynthia Landon, Angela Lariviere, Sara Leach, Leslie LeClair, Chace Lemmon, Emily Linaman, Aaron Linard, Eliza Liska, Hailey Litzinger, Stephany Lopez, Hailey Lucero, Athne Machdane, Marek Madariaga, Haley Madsen, Lauren Mahoney, Isaak Mamot, Danielle Martensen, Hailey Martin, Ava Martinez, James May, Isabella McClellan, Kiffany McClun, Bella McManus, Roger McPherson, Kaleb McQuain, Emmy Miller, Matalin Mohr, Morgan Moller, Emily Morford, Connie Morgan, Paige Muller, Robert Nelson, Tiffany Nguyen, Mahala Nicholas, Colter Nichols, Bryan Noel, Roobens Noel, Katie Nowicki, Cassandra Ocana, Ryan Opitz, Mercedes Ortega, Avy Overstreet, Tyler Pacheco, Shauna Palmer, Kristie Parkhill, Jamie Patsie, Sirinoot Patton, Gregory Paulsen, Caleigh Peak, McKennah Percy, Tory Perritt, Serina Perry, Nathaniel Pfeifer, Parker Phillips, Jacob Pique, Riley Plum Shailey Politte, Erin Potter, Kirsten Prosenick, Christopher Putter, Carter Quin, Eric Rafuse, Drew Rasmussen, Ashton Regnier, Briley Reichenbach, Laura Requena, Mary Revell, William Rice, Adara Riffel, Alyssa Robinson, Amy Sale, Ruth Santistevan, Samuel Sapp, Gabriella Sasser, Sydney Schadegg, Abigail Schaible, Lark Schooner, Natalie Schults, Sarah Scoggin, Lindsey Scott, Marie Scott, Shari Shaw, Raven Shelton, McKenzie Shrum, Deborah Shutts, Katie Sittner, BreAnna Skinner, Kaci Skrukrud, Natasha Slack, Nicole Slagle, Taylor Smith, Makenzie Snow, Brianna Sonsoucie, Joel Sorensen, Kyleigh Sorensen, Kylie Spangler, Mercedes Spenneberg, Maycie Stack, Jessica Starr, Ashley Steffen, Ashlie Stephens, Tanesia Sternhagen, Ben Stevens, Mary-Virginia Stevens, Crystal Stewart, Andrew Stiller, Jasper Sullivan, Tabitha Tarasoff, Max Tasche, Hannah Taulealea, Diana Thomas, Zeth Thomas, Sophia True, Taylor Tucker, Heather Tyler, Noah Ujvary, Alexandra Vasquez, Emma Von Osterheldt, Qi Wang, Charlotte Ward, Christopher Warner, Benjamin Watts, Hannah Weader, Branden Wells, Cassandra Wilhelm, Ashley Williams, Garrett Williams, Erin Wirrenga, Thelma Woodall, Kaden Woods, William Wright, Jessica Wyman, and Tsvetonka Ybarra.
Cheyenne: Jacob Bitner, Timothy Bostrom, Hannah Brin, Bradley Buchmeier, Janda Casey, Emily Havel, Qarus Hernandez, Karen Higgins, Matthew Kopcho, Trevor Langer, Jesse McIrvin, Logan Mohr, Shay Petty, Angel Reed, Amy Shuckburgh, Morgan Taylor, Jordan Tomlinson, Isaac Vigil, and Nicolle Wagner.
Cora: Wyatt Choate.
Douglas: Nicholas Fenner, Nadine Haberman, Caleb Holscher, Revea Kirk, Lauren Pooley, Paul Rich, Patricia White, and Preston Yates.
Evansville: Kaitlyn Birkle, Chavely Cruz Cardenas, Tatiana Durgin-Brown, Cresta Jennings, Joshua Kroeker, Shantel Luero, Briahnna Manning, Jackie Martin, Megan Muhlenbruch, Karen Sandoval, Joshua Schilling, Kaylin Sell, Andrea Swenson, Laura Thomas, and Izabelle Zimmerman.
Farson: Julie Goodwin.
Gillette: Erin Burris, Audrey Caldwell, Alison Clarke, Shane Copps, Carlene Landrey, and Benjamin Manning.
Glenrock: Stephanie Bean, Tamara Beer, Caleb Bunce, Judith Colling, Ty Makris, Shayna Marcum, Nicole Scheman, Morgan Schwindt, Dusty Stoddard, Treyton Thornock, and Shyla Whalen.
Greybull: Renee Chambers and Brenna Stanley.
Hulett: Emma Jay.
Jackson: Ellen Ewankow and Matthew McGee.
Kaycee: Michelle Chapman and Crosby Taylor.
Kemmerer: Alexis Krall.
Lander: Yowkung Feng.
Lusk: Cassandra Matney.
Lyman: Jake Young.
Midwest: Kendell Smith.
Mills: Thatiana Argueta, Trysten Condelario, Damond Cottrell, Audrianna Fernandez, Theresa Fullerton, Zachery Obendorf, Derek Reents, Patricia Reynolds, Ronald Roberts, Rimma Scott, and Kenneth Vroman.
Newcastle Isabel Nissen.
Pavillion: Andrew Gosnell.
Powell: Brianna Benefiel, Lisa Pettengill, and Benjamin Wetzel.
Ranchester: Tory Music.
Rawlins: Brian Halpain and Anthony Shebley.
Riverton: Kaelob Smith and Jody Treheame.
Rock Springs: Alek Anderson and Thomas Hafner.
Saratoga: Lydia Smith.
Sheridan: Arden Clute, Tiffanee Harris, Nathan Motsick, and Sasha Rollins.
Sundance: Nevada Gill.
Thayne: Ceri Chapple.
Thermopolis: Patricia Capell and Lisha Xiahou.
Wheatland: Madeline Craver.
Wilson: Thomas Cranston.
Wolf: Angelina Caster.
Wright: Diana Treto.
United States
Arizona
Gold Canyon: Alaynha Aiello.
California
Chula Vista: Jaci Taffolla.
Northridge: Jason Broswell.
Colorado
Arvada: Julia Gautsch.
Centennial: Steven Hindman.
Greeley: Kaylee Dougherty.
Severance: Dylan Wood.
Windsor: Sierra Clark.
Connecticut
Portland: Wendy Rawlings.
Idaho
Caldwell: Desiree Gray-Mefferd.
Illinois
Topeka: Emma Stewart.
Montana
Broadus: Kesa Copps.
East Helena: Mariah Norstrom.
Whitehall: Kassidy Dunagen.
Nebraska
Broken Bow: Leslie Wistisen.
Callaway: Samuel Cool.
Chadron: Krysta Dawson.
New York
Mount Vision: Connor Kane.
South Dakota
Belle Fourche: Emily Hoard.
Hermosa: Whitley Heitsch.
Spearfish: Loren Timmer.
Texas
Avinger: Jennifer Foster.
Washington
Goldendale: Lene Riggers.
International
Zambia: Limpo Mukelabai.
Subscribe
If you enjoyed this story, receive more just like it: