2022 spring President's Honor Roll at Casper College announced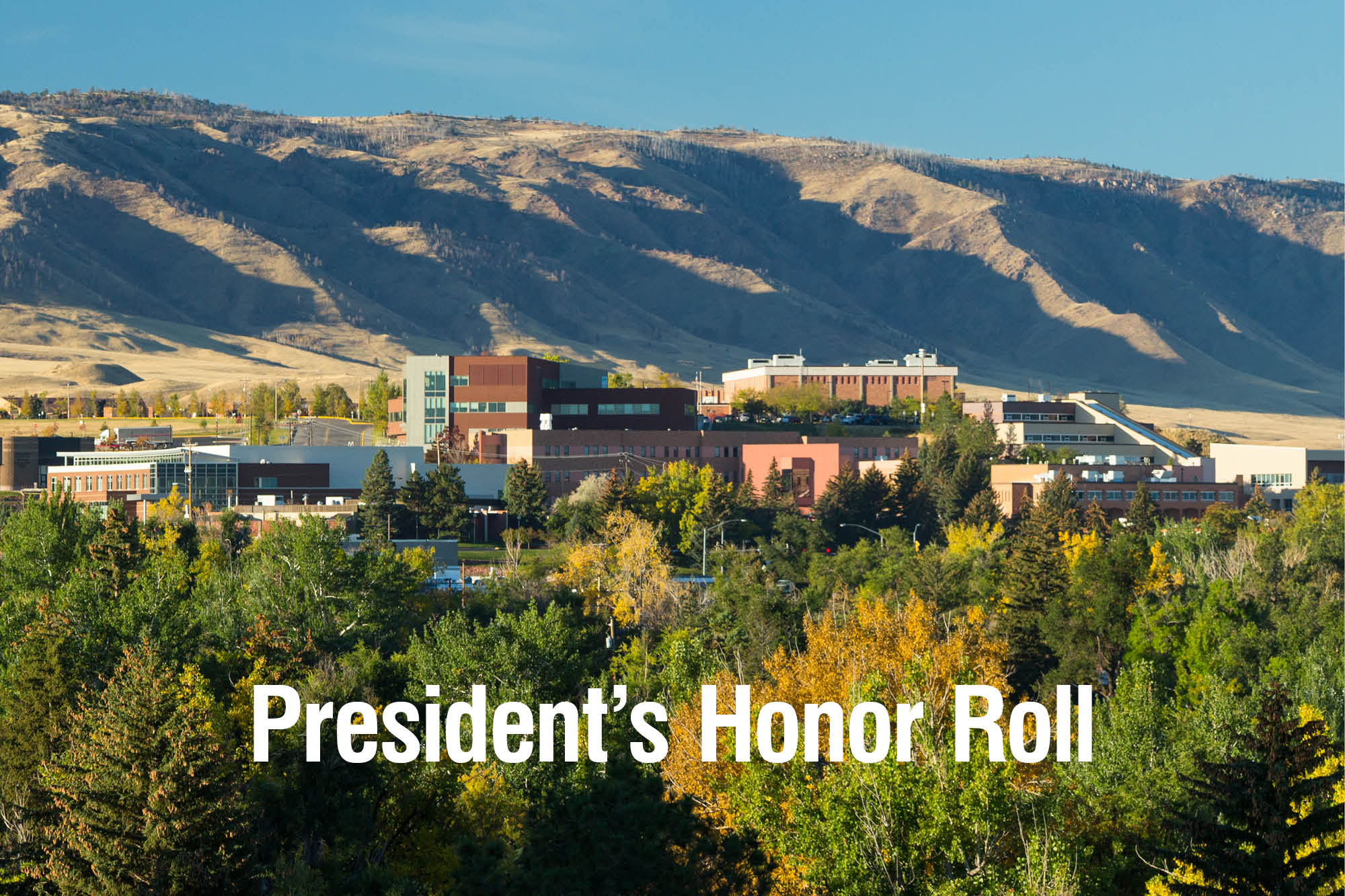 College officials have released the names of the 489 students who made the President's Honor Roll at Casper College for the 2022 spring semester. To qualify, a student must take at least 12 credit hours and receive a GPA of 3.5 or better.
Students named to Casper College's President's Honor Roll, ordered according to their hometowns, follow. Wyoming students are listed first, followed by students with out-of-state hometowns listed alphabetically by state, then hometown. Finally, international students are listed by home country and hometown.
Wyoming
Afton: Kaylee Tomko.
Arvada: Cole Sorenson.
Bar Nunn: Makala Bryan, Stephanie Dahlke, Daniel Garbutt, Gabriel Heuer, Zachary Houghtaling, Joyce Pearson, Emrie Rodrick, and John Watts.
Basin: Aspen Thomas.
Buffalo: Riley Fowler and McKinley Kessler.
Casper: Lavina Alderette, Julia Alexander, Maya Altland, Skye Anderson, Kaysia Armijo, Jaden Arner, Wyatt Atkinson, Hannah Baldwin, Candance Barnes, Braden Barr, Laney Bartels, Mylen Bearden, Kelsey Bennett, Hayley Berg, Cody Best, Jordan Bila, Carissa Bjorklund, Lysander Blackbird, Abby Boatman, Julia Borrmann, Nathaniel Bouley, Jennifer Box, Chloe Brimmer, Nathaniel Britt, Kassidy Brooks, Braden Brost, Alexander Brown, Ethan Brown, Hailey Brown, William Brown, Ellyce Brownell, Justin Bruntmyer, Wayne Burk, Bowlden Butterfield, Brooklyn Calkin, Allyson Cardine, Krista Carstensen, Reegan Chadderdon, Kylie Chase, Kyle Christensen, Hannah Cole-Centner, Brysen Collier, Shawn Condelario, Jessica Cordova, Joshua Corr, Journey Corra, Ashley Cotton, Jessica Cowen, Joshua Crimm, Dawn Custard, Madilyn Davenport, Rebecca Davis, Tyler Davis, Cody DeCook, Kai Deere, Avery Delaney, Aspen DeLano, Sarah Denton, Cole DiDonato, Emmanuel Dosch, Megan Duong, Alexis Dvarishkis, Hunter Dyer, Destiny Edwards, Jackson Elliott, Peter Fahey, Annelise Fandal, Zoee Ferguson, Grant Fern, William Fielder, Kaitlin Flower, Aaron Forshee, Jonathon Franklin, Cody Fritz, Evelyn Gagner, Haley Gibson, Brittna Green, Alaina Griffee, Megan Griffin, Mason Hall, Britnee Hansen, Caroline Hansen, Owen Hansen, Kelsy Harnsberger, Amber Harris, Ty Hebbert, Christopher Hedges, Lauren Heili, Krista Helm, Sophia Henley, Jessica Henman, Taylor Hensley, Breanna Henze, Oscar Herrera, Garth Hickey, Dylan Hickes, Alexandra Hodgins, Karley Hoelscher, Rebecca Holden, Alexis Hone, Emma Hume, Morgan Jackson, Carson Johnson, Dyllan Johnson, Kayla Jones, Elizabeth Kalus, Emma Kellick, David Kelly, Leslie Kelly, Kristan Kenyon, Kristopher Kernahan, Angela Kerr, Erica Ketchum, Eun Seon Kim, Joel Kirchner, Jordan Kline, Braden Kozola, Josia Kull, Mikaeli Lacey, Sara Lamb, Katlyn Lane, John Larson, Marissa Leist, Aubrieana Leonard, Wynter Lewis, Kayla Likes, Taylor Lindemann, Arianna Lindquist, Kady Locke, Ryan Loghry, Kimberley Long, Fredy Lopez Lopez, Catlyn Lubenow, Cassandra Lutterman, Jose Maldonado-Soto, Emerald Maniscalco, Jared Martin, Rita Mata, Robert Mathis, Davion McAdam, William McCain, Jesse McCormick, Maverick McIntyre, Megan McNeil, Benjamin Means, Ana Merchant, Rachel Merchant, Annabelle Mesecher, Ari Michelena, Jacey Miller, Joshua Monhollen, Alexei Moreno, Bryce Muller, Jason Myhre, Zachary Nagy, Alexander Nartey, Lydia Neal, Christopher Nichols, Annabelle Nicholson, Elizabeth O'Brien, Sydney Oliver, Kaitlyn O'Malley, Diego Ordonez, Kathleen O'Rourke, Samuel Orr, Merav Oshri, Macey Parmely, Erica Pasley, Talynn Paterson, Brennen Pearson, Clark Pearson, Lane Pedersen, Bailey Perkins, Carter Peverley, Timothy Pike, Natalie Plumlee, Joshua Potter, Braden Praska, Kalina Proudfoot, Justin Quan, Brittney Racki, Ryli Ramberg, Jaelyn Ramirez, Siera Randolph, Tiffany Rayner, Jordyn Reed, Quillan Reed, Orion Remington, Zachary Renz, Race Rittenour, Sydney Rizzi, Kate Robertson, Jennifer Robinson, Elise Robles, Ethan Romango, Noelle Romer, Mindy Roney, Cassandra Rook, Quincy Roszel, Haley Ruckle, Travis Rudd, Macy Sale, Suzanne Sanford, Nathaniel Sausedo, Zach Schaff, Shelby Schauss, Zachary Schlotman, Cayley Schreckengost, Emma Scott, Sarah Scott, Shannan Sellmer, Teyonna Sharp, Conner Shipper, Joshua Sieving, Brittany Silva, Marcus Simpson, Kacela Skiles, Melonie Skovard, Sara Sleep, Sydney Smith, Samuel Snyder, Giovanny Solis-Rodriguez, Hope Sonnesyn, Calvin Speth, Destinee Spurlin, Michael Stack, Andrew Staker, Jennifer Steffenhagen, Quennie Steffens, Faith Steinberg, Abigail Stiefvater, Matthew Stokes, Hannah Stone, Kade Stoner, Dashon Straub-Crawford, Alexis Sulzle, Natasha Suwisanto, Andrew Swain, Mary Teague, Zachary Tenney, Amanda Teske, Elayna Thorsell, Elias Trevizo, Shelby Trott, Rachelle Trujillo, Britten Vangorder, Ellie Vaughn, Maxwell von Gunten, Angela Wallace, William Wallace, Matthew Walter, Justin Webb, Ellie Weibel, Joshua Weickum Aspen Wester, Michael Whetter, Catelyn White, Roibbie White, Markie Whitney, Abigail Wilcox, Maisy Wilkinson, Shawna Williams, Brooklyn Wistisen, Dillon Witcher, Liza Womack, Hope Wood, Kyle Woodruff, Violet Wright, Cael Yeigh, and Anastasia Zettl.
Cheyenne: AnnaMarie Bailey, John Blomstedt, Sarah McDonough, Sara Pilch, Jayden Roccaforte, Bruno Roma, Jesus Sanchez, and Hannah Schwechler.
Douglas: Amanda Roberts, Calvin Rule, Emily Skeen, Brandon Sorg, Kamdynn Townsend, and Cordell Viergets.
Encampment: Dalton Peterson.
Etna: Quenten Barney and Robert Choma.
Evansville: Paige Asmus, Levi Crawford, Devin Jaques, Tesla McConnaughey, Jackson McLean, Ragin Mosteller, Nolan Nachbar, Chloe Riley, Shaelea Spargur, Lilian Storer, and Sara Weekley.
Farson: Carson Jones and Colby Jones.
Fort Laramie: Kayla Ransom.
Gillette: Tyzer Isenberger, Savannah Kramer, Ethan Lock Grace Roswadovski, and Cole Wallem.
Glenrock: Andrew Albrandt, Logan Downs, Alexandra East, Brook Eldred, April Hiser, Casey Sebesta, and Jadon Williams.
Green River: Drew Gibson.
Greybull: Felipe Gaytan and Braeden Tracy.
Hudson: Olivia Finney.
Hulett: Dalton Butler and Jhett Letellier.
Kaycee: Jade Maya and Kade Neville.
Kinnear: Shelly Warren.
La Barge: Paige Nielson.
Lander: Keely-Ann Bailey, Micaiah Dolence, Napoleon Hart, Jacqueline Hutson, and Bethany Miller.
Laramie: Laura Smith and Alexsandra Watkins.
Leiter: Ashlynn Fennema.
Lusk: Julie Bukowski.
Medicine Bow: Adam Barron.
Mills: Jared Anthony, Leayah Argueta, Justin Barry, Hunter Coleman, Chase Cook, Kelsey Cox, Zephaniah Filer, Katalin Gonzales, Kayla Haley, EdwinJay Harvey, Jessica Isaacs, Araynne Meacham, Alyssa Meskel, Salomon Pardo, Sierra Quinn, Jeccika Ruebelmann, Kellee Schuerman, and Jacob Summers.
Newcastle: Grace Coy and Hailey Wehri.
Pavillion: Tierra Price.
Pinedale: Megan Anspach, Rylee Helm, Kylee Neubauer, and Michael Vitanza.
Powell: Aryn Downs and Abigail Landwehr.
Ranchester: Izabella Carbert.
Rawlins: Madelynn Kulmus, Austin Martinez, Kassidy Morales, and James Weber.
Riverton: Seth Agee, Brodie Bates, Diana Christensen, Kodi Christensen, and Christopher House Veach.
Rolling Hills: Hart Dority, Abigail Nunez, and Rebecca Schmidt.
Saratoga: Heather Wallace.
Sheridan: Edward Shannon, Ashley Thompson, and Alyie Williamson.
Shoshoni: Sky Lefforge and Cheyenne Thompson.
Thermopolis: Audrey Axtell, Marshall Channel, Russell Ferree, Dakota Leonhardt, Daniel Leonhardt, and Mya McKie.
Torrington: Carly Keller and Audrey Perry.
Veteran: Jadyn Hall and Bodie Herring.
Wheatland: Elizabeth Crowley.
Worland: Elizabeth Bankert, Jacob Barrett, Katie Baumstarck, Kylie Black, Jade Hefenieder, Payton Julson, Ajiah Montoya, Gabriel Scheuerman, Regan Schmeltzer, Ashley Schriber, and Dani Warner.
Wright: Teresa Meza.
Wyarno: Cian Ahern.
Out of state
California
Corona: August Wagner.
Folsom: Weston Kennedy.
Colorado
Aurora: Devon Chescoe.
Brighton: Skylar Lange.
Denver: Adora Bradley.
Elbert: Olivia Lay.
Fort Collins: Faye Engels.
Fowler: Kaley Pieper.
Hudson: Evan Sluder.
Meeker: Kasey Rosendahl.
Florida
Davenport: Rosalinda Gonzalez.
Punta Gorda: Kurt Edwards.
Georgia
Cleveland: Audrey Hildebran.
Waycross: Kaylee Stewart.
Idaho
Filer: Madison Henry.
Kunda: Cassidy Madrid.
Rexburg: Danae Speth.
Illinois
Calumet City: Rashaun Agee
Indiana
Montpelier: Edwin Pluimer.
Pittsboro: Elizabeth Burger.
Michigan
Flat Rock: Olivia Barnes.
South Branch: Danielle Crowder.
Minnesota
Farmington: Hayley Juntunen.
Stillwater: Jaeden McFarland.
Missouri:
Marshall: Blayne Vogel.
Ste. Geneviève: Lindsey Naeger.
Montana
Baker: Olivia Gunderson.
Bozeman: Melissa Fuller.
Fort Benton: Jonna McCullough.
Harlowton: Jason Todhunter.
Miles City: Libby Twitchell.
Shawmut: Mesa Butler.
Nebraska
Gothenburg: Savannah Peterson.
Harrison: Kalen Lotton.
Hay Springs: Jaiden Anderson.
Lakeside: Braydon Wilson.
Ogallala: Tamera Moorhead.
Nevada
Pahrump: Madelyn Souza.
New Hampshire
Canaan: Levi Saulnier.
North Dakota
Beulah: Jacob Klaudt.
Velva: Sadie Dinwiddie.
Pennsylvania
Halifax: Ashley Dobbin.
Valencia: Laura Gamble.
South Carolina
Patrick: Timmons Byrd.
South Dakota
Faith: Ariah Engel.
Oelrichs: Zane Cope.
Rapid City: Christopher Bauer.
Redig: Abby Fox.
Spearfish: Renee Addington and Lucas Brist.
Texas
De Berry: Catelyn McCardle.
Utah
Layton: Brielle Valentine.
Riverton: Kyrie Alldredge and Adi Jada Suguturaga.
Washington
Kennewick: Kirsten Ramer.
International
Australia
Ewan Gordon.
Brazil
Sao Paolo: Milena Quaresma Franzini
Canada
Kale Hughson and Jules Smyth.
Quebec City: Alexis Lamontagne.
Cape Verde
Praia: Joseana Vaz.
Columbia
Santiago De Cali: Jose Alvarez Esquivel.
Italy
Pergine Valsugana: Giulia Santuari.
Netherlands
Ursem: Jesper van Halderen
Portugal
Antonio Costeira de Almeida
South Africa
Johannesburg: Keanu Jardim.
Spain
Barcelona: Riki Soto Tsubota.
Bellreguard, Valencia: Esperanza Morales Lopez.
Matadepera: Mariona Cos Morales.
Pego, Alicante: Sandra Frau Garcia.
Sweden
Stockholm: Celina Arnlund.
United Kingdom
Barry, Wales: Jack Pascoe
Subscribe
If you enjoyed this story, receive more just like it: