Casper College receives large donation from SME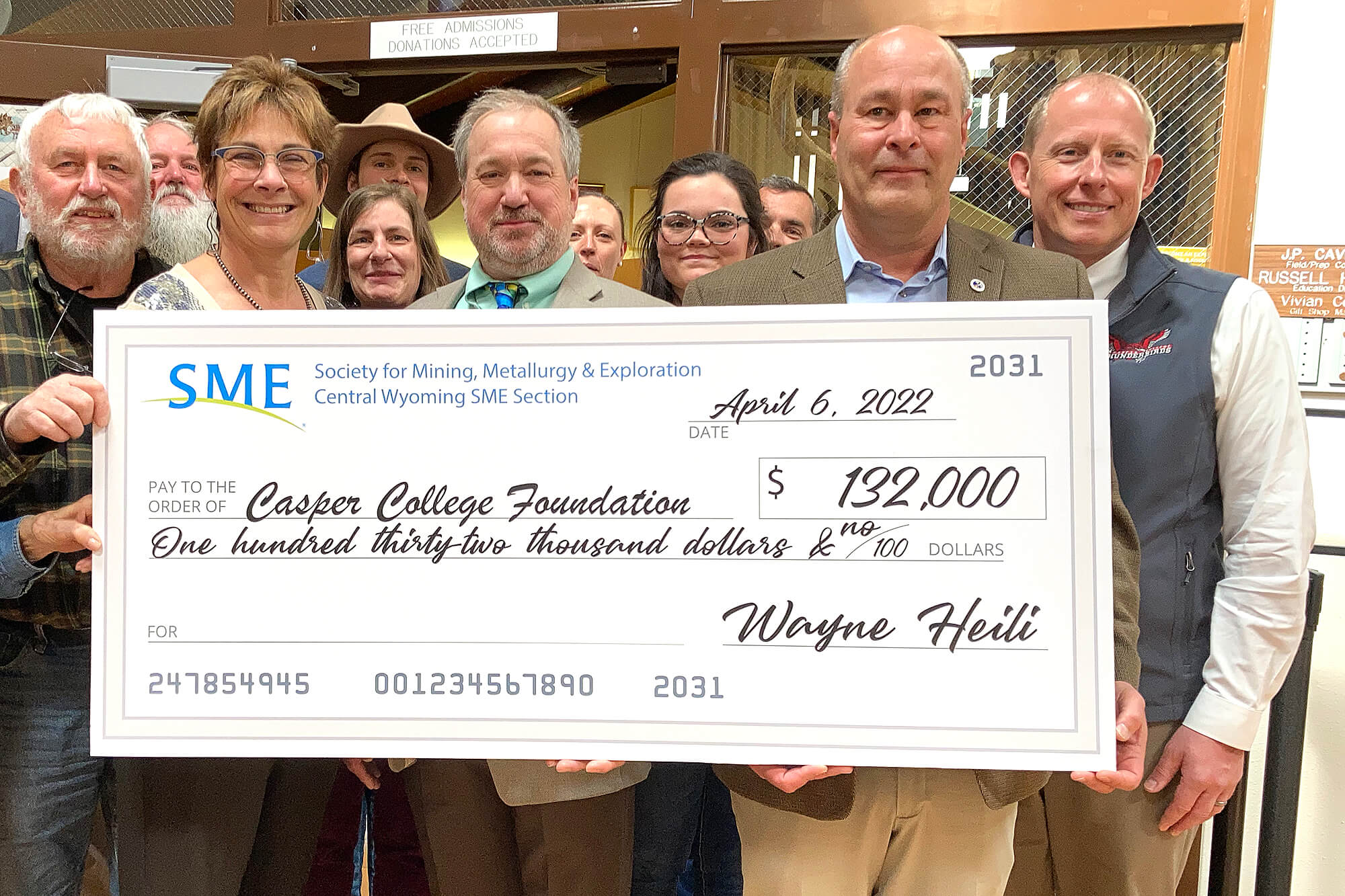 Smiling faces all around as Casper College Foundation Director Denise Bressler (l) holds a giant check for $132,000 donated by the Society for Mining, Metallurgy, and Exploration Central Wyoming Section. Standing next to Bressler (l-r) are Casper College President Darren Divine, Treasurer of the Central Wyoming SME Section Wayne Heili, and Casper College Vice President of Academic Affairs Brandon Kosine. (Casper College photo/Lisa S. Icenogle)
The Central Wyoming Section of the Society of Mining, Metallurgy and Exploration, SME, recently donated $132,000 to Casper College.
According to Jeff Sun, geographic information systems instructor, the funds will be used to purchase much-needed equipment for the GIS and geology departments at Casper College and fund a part-time position at the Tate Geological Museum. The person hired for the Tate will help the museum create a program to showcase the value of mining to students and the community through guest speakers and field trips.
The equipment will include classroom equipment, four small drones, one large drone, one drone camera, and a drone LiDAR camera costing $30,000. LiDAR stands for Light Detection And Ranging. "When used with a large drone, the LiDAR camera shoots down a radar signal that is then shot back up to the camera. We can build 3D images of the area and create 3D maps with this technology," said Sun. The technology will be a new feature of the GIS department at Casper College.
The donation will also be used to fund additional student workers and purchase drilling supplies to continue to map the Wyoming impact crater field under the direction of Kent Sundell, geology instructor. "Thanks to this donation, our students will learn on the best equipment and see the importance of mining as an industry and as a possible career path," Sun noted.
"It is only with the partnership of organizations such as SME, Casper College can continue to offer new and exciting opportunities to our students to have hands-on experience with the latest technologies in their field," noted Casper College President Darren Divine.
"Our membership is excited about this opportunity to further our objectives in promoting the value of careers in the mineral extraction industry by supporting Casper College to strengthen their geology and geography program offerings. Having modern educational tools will help the college generate graduates that are capable of meeting the challenges of a technologically advanced mining industry," said Dayton Lewis, chairman of the Central Wyoming SME Section.
"The members of the Central Wyoming Section of SME have been actively promoting mining-related career paths for Wyoming-based students with our …  scholarship programs. … Many of those students have attended Casper College at the start of their academic careers," noted Wayne Heili (hi-LEE), treasurer of the Central Wyoming SME Section.
Subscribe
If you enjoyed this story, receive more just like it: