Talkin' T-Birds crowned national champions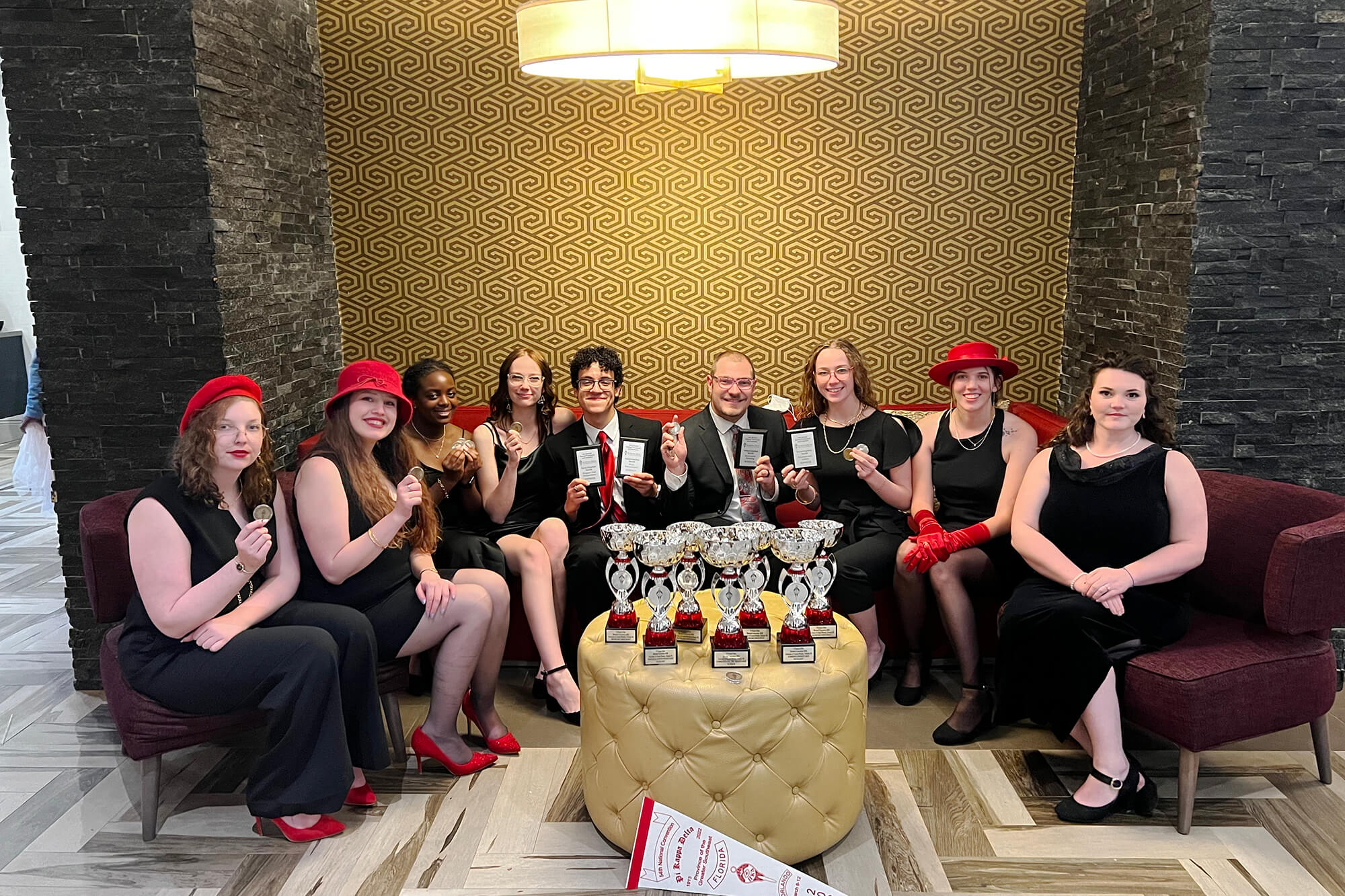 The Casper College "Talkin' T-Birds" Forensics team poses with the many awards won by the team; the new Pi Kappa Delta Community College National Champions. Pictured (l-r) Shelby Davis, Emma Kellick, Pearl Taylor, Emma Rudell, Jayden Roccaforte, Brax Allen-Sambrano, Markie Whitney, Alex Walters, and Violet Wright. (Casper College photo)
The Casper College Forensics team, known as the Talkin' T-Birds, are the new Pi Kappa Delta Community College National Champions.
Thanks to strong individual and team performances, the team took the prize at the recently held Pi Kappa Delta National Tournament and Conference hosted by the University of Central Florida in Orlando, Florida. According to Doug Hall, director of forensics, 69 teams were at the tournament with over 1500 entries.
"The CC Forensics team is effectively the tournament champion. We accumulated enough points to place eighth as a team out of 69 schools based on this system. We also outscored the next closest community college by 44 points to earn the Top Superior, or national champions, among community colleges," said Hall. The Talkin' T-Birds ranked as excellent overall and in individual events.
"Being the Top Community College at a prestigious national tournament such as Pi Kappa Delta is a momentous achievement. Assistant forensics coach Ethan Fife and I are very proud of them," said Hall. "Our students have worked incredibly hard for eight months to prepare for this national tournament, and to see that work rewarded is why we do what we do," he added.
The tournament was the first large face-to-face tournament the team has participated in for more than two years. The preliminary ranks were accumulated instead of ranking first, second, third, etc., and competitors were ranked either excellent, superior, or top superior in each event. "They give awards to the top 30%. The first 20% are excellent, the top 10% are superior, and the lowest accumulated receives top superior," said Hall. "The students were incredible over the course of a very tiring three to four days of competition."
In impromptu speaking, Shelby Davis, Newcastle, and Emma Kellick, Casper, took excellent while Brax Allen-Sambrano, Casper, took superior.
In informative speaking, Kellick took excellent and Alex Walters, Rapid City, South Dakota, placed superior.
Pearl Taylor, Box Elder, South Dakota, and Allen-Sambrano received excellent in prose, and Jayden Roccaforte, Cheyenne, received superior.
Roccaforte and Emma Rudell, Cheyenne, received excellent in duo while Walters received excellent in persuasion.
In program oral interpretation, Allen-Sambrano, Taylor, and Rudell took excellent, and Roccaforte received superior.
Markie Whitney, Newcastle, received an excellent in speech to entertain and International Public Debate Association speaker, a superior in communication analysis, and took the showcase award for communication analysis.
Taylor received excellent in poetry and received a showcase award in poetry. Other showcase award winners were Rudell and Roccaforte for duo interpretation.
The team will complete its 2021-2022 season at the Phi Rho Pi National Tournament held April 4-9 in Saint Charles, Missouri.
Subscribe
If you enjoyed this story, receive more just like it: