Medal of Honor recipient to speak at college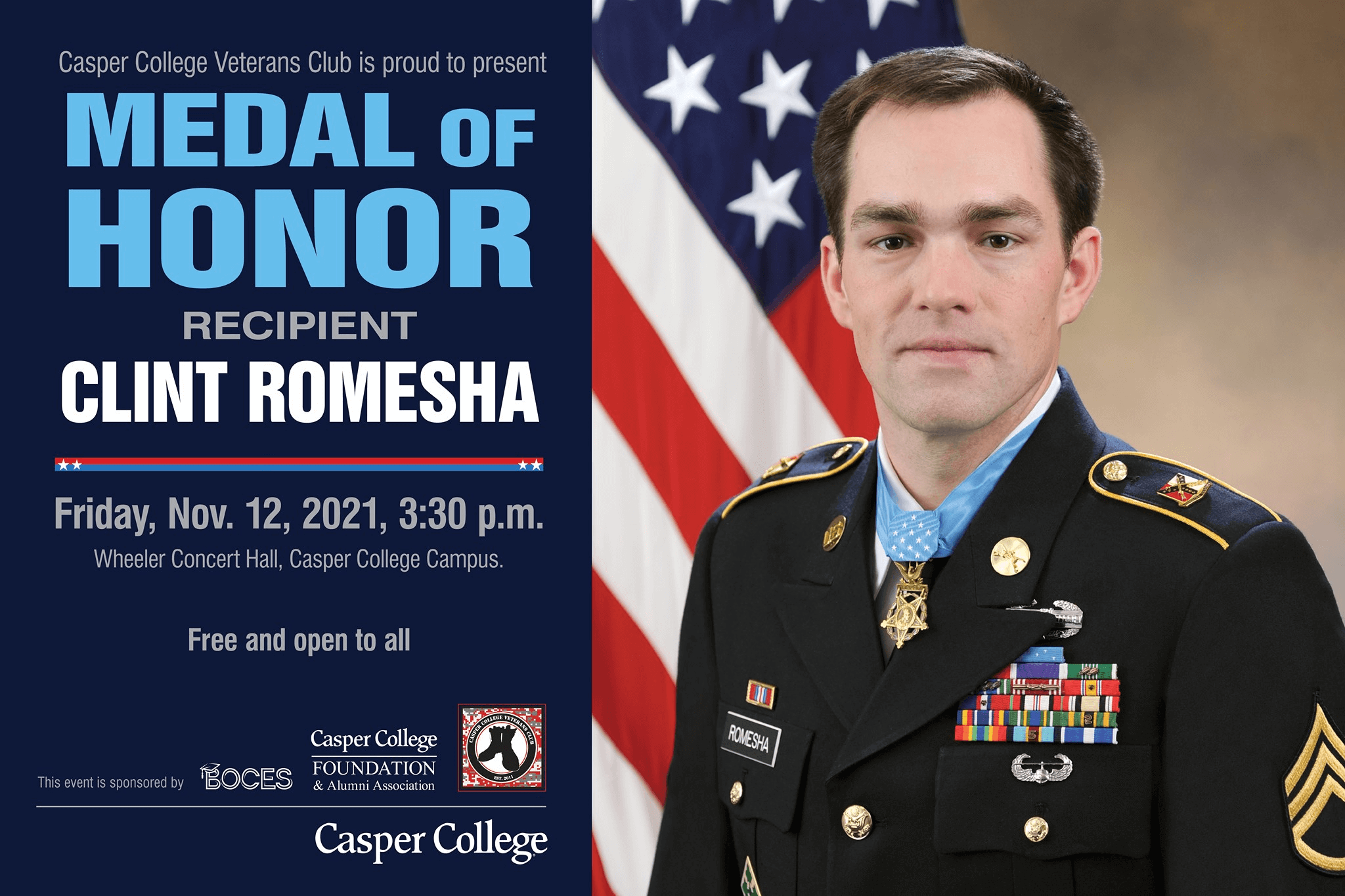 Medal of Honor recipient Clint Romesha will speak at Casper College at noon Friday, Nov. 12, as part of the school's "Veterans Appreciation Week."
According to Nick Whipps, veteran and military student services coordinator, the Casper College Veterans Club decided to have former Staff Sergeant Romesha give a presentation because he embodies service, sacrifice, and gallantry. "It is not often that we get an opportunity to host a Medal of Honor recipient. Everyone who attends will be impressed and moved by Staff Sgt. Romesha's story," said Whipps.
According to Romesha's biography, he enlisted in the U.S. Army in September 1999. After many deployments, including to Germany, Kosovo, and South Korea, Romesha was deployed to Afghanistan for Operation Enduring Freedom. His unit was assigned to Combat Outpost Keating, a remote outpost in a valley surrounded by steep mountains.
According to a report published by United States Army Historian Richard S. Lowry, Taliban fighters launched a coordinated attack on the outpost from three sides Oct. 3, 2009. The Taliban captured the outpost's ammunition depot. Approximately 300 Taliban fighters participated in the attack armed with a recoilless rifle, rocket-propelled grenades, mortars, machine guns, and small arms. The Taliban fighters heavily outnumbered the International Security Assistance Force presence of about 85 U.S. Army, Afghan National Army, and Latvian Army soldiers. During the battle, 35 Afghan soldiers abandoned their positions. The fierce and costly battle would later be known as the Battle of Kamdesh.
The U.S. Army noted that "Romesha's efforts (in the Battle of Kamdesh) enabled Bravo Troop, 3d Squadron, 61st Cavalry Regiment, to regroup and fight off a force that greatly outnumbered them, according to reports. At the time, he was a section leader with Bravo Troop, which was part of the 4th Brigade Combat Team, 4th Infantry Division, in Afghanistan."
Romesha's presentation is free and open to the public and sponsored by the Board of Cooperative Educational Services and the Casper College Foundation and Alumni Association. His presentation will take place in the Wheeler Concert Hall, located in the Music Building on the Casper College campus. For more information, contact Whipps at 307-268-2510.
Subscribe
If you enjoyed this story, receive more just like it: