Woman of grace and generosity, 2021 Distinguished Alumnus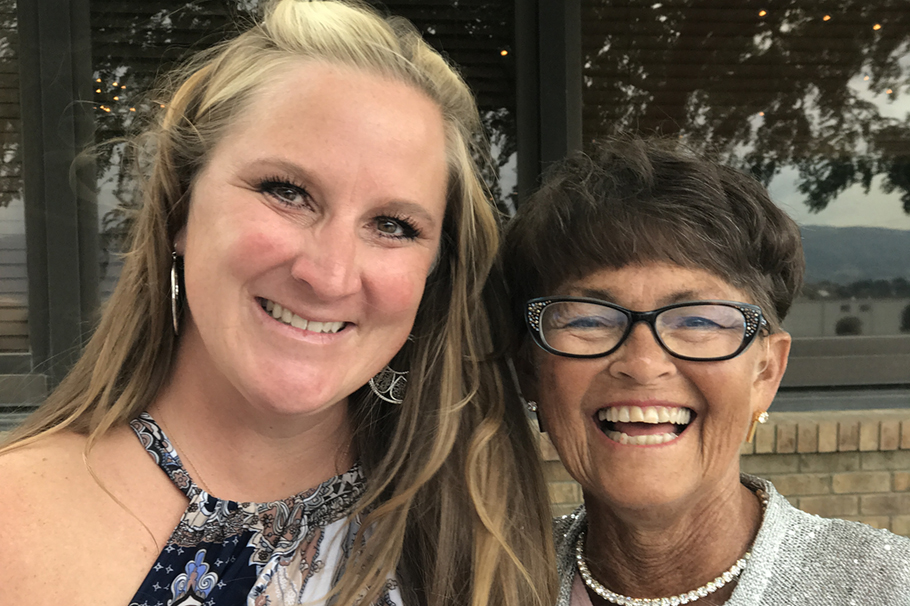 Susan "Susie" Kay (Warburton) McMurry (AS, '63) has a smile that can light up the darkest of rooms and a generosity of spirit matched by few others. Susie McMurry is the 2021 Casper College Alumni Association's Distinguished Alumni.
Born in Casper, Susie was raised in Elk Mountain and Hanna, Wyoming, graduating from her Hanna High School class of 24 in 1961. Two years later, she would graduate from Casper College with an Associate of Science in education. A Bachelor of Science in education from the University of Wyoming followed.
She began her teaching career in Casper. Colleagues remember her as genuinely friendly, kind, and caring. Those three traits, along with that smile, have served her well through a lifetime of heartfelt generosity through her own personal time volunteering with various organizations and through the foundation that she and her late husband, Neil "Mick" McMurry, created. Susie McMurry is the embodiment of the word altruistic.
Susie met her husband, who she always called "Mickey," on a blind date set up by her aunt and uncle. Mick showed up that night in his red corvette. But when he arrived at the door, Susie was hesitant. Her roommate answered the door instead. She took one look at Mick and told Susie that she would be happy to take her place if she didn't want to go.
Susie went on that date. The year was 1972, and she was a first-grade teacher at Cresthill Elementary School. Eighteen months later, on December 21, 1973, the two got married in Glenrock, Wyoming. "I can honestly say I loved Mickey from the time I knew him, and I think Mickey loved me from the time he knew me," she said told a Casper Star-Tribune reporter shortly after Mick McMurry's death in 2015.
When Susie first met Mick, he was in business with his brother Vic in a road construction company they had started in 1970. According to Susie, the two brothers " … worked all the time." In 1976, Susie left teaching to be a mother to their first adopted daughter, Trudi. Trudi was four-days old when Susie and Mick took her into their lives and hearts. During summers, Susie would sometimes head to Mick's highway construction projects, where she and Trudi would camp nearby.
Susie and Mick became foster parents in 1979, and over nearly 30 years, fostered hundreds of children. Their second daughter Jillian was from the foster program, and their granddaughter Alaceia (Lou) was first fostered by them before being adopted by Trudi.
While taking care of her children, fostering others, and being the wife of Mick McMurry, Susie was also busy volunteering in the Casper community. While her girls were still small, her volunteering began with the Casper Service League.
In 1988 the brothers dissolved their business, and Mick started Nerd Gas in 1996. He was successful in the oil and gas business, and that success allowed him and Susie to create the McMurry Foundation in 1998. The foundation was helped even more when he partnered with John Martin, and the two later sold McMurry Oil Company in 2000 and McMurry Energy Company in 2001. Through their development of both the Jonah Field and Pinedale Anticline and subsequent sales, the two became multimillionaires.
In its first year of existence, the foundation awarded $108,315 to a variety of causes. They came up with the foundation's tag line "Paying It Forward" from the 2000 film "Pay It Forward." The steps involved in applying for a grant from the McMurry Foundation were intentionally created to be easy to follow, and there were broad categories to choose from. As Susie said in 2002, "We don't want to make it difficult. We want to make people feel comfortable and uninhibited. We consciously made (the categories) broad because we didn't want to miss an opportunity of giving. We want to give (these awards) joyfully." And joyfully, the awards have been given through the McMurry Foundation. And joyfully, Susie has given of her time to a variety of causes in Natrona County.
Nearly two decades ago, she joined the Boys & Girls Clubs of Central Wyoming board. Soon, she was leading the multi-million-dollar fund-raising drive to construct a new club. With Susie in the lead, it was no surprise when the McMurry Foundation announced a gift of $1 million for the new building, 25% of the funding needed. The new 34,000 square foot facility opened in August 2004. And it didn't stop there. In 2019, the foundation provided a large donation to upgrade the club's technology center.
Susie has been a longtime volunteer at Wyoming Medical Center and, through the McMurry Foundation, a donor. More than 30 years ago, she began the Gentle Hands Program at the hospital with Gail Kennah and Ellie Ellobgen. The program offers nonmedical support to patients and families at WMC. For many years, it was the norm for both patients and their families to see Susie at the hospital, where until recently, she volunteered several hours a day, clocking 850 hours in the first eight months of 2019 alone. She also served on the WMC Foundation board, was a Masterson Place committee member, and was a volunteer for the Angels Cancer Care, helping to provide dinners to Masterson Place guests once a month. For all her service to the hospital, she was a recipient of the President's Lifetime Achievement Award.
At Casper College, the McMurry Foundation provided $1 million to the remodeling and expansion efforts for the Gertrude Krampert Theatre. Half of the million went to the extensive upgrade of the theater's largest performance stage, now known as the Mick and Susie McMurry Stage. In 2014 the foundation donated $500,000 to construct a plaza and open space outside the front doors of the Casper College Student Union and University of Wyoming at Casper building.
Susie also was a founding member of CASA — Court Appointed Special Advocates for Children of Natrona County. A strong woman of faith, she is an active and longtime member of St. Patrick's Catholic Church and was on the steering committee that oversaw the creation of St. Anthony's Tri-Parish School.
In its first 15 years alone, the foundation awarded nearly $50 million and since then has awarded millions more. The above merely scratches the surface of the generosity of both the McMurry Foundation and Susie herself. In the years following the 15-year anniversary, the foundation, with her guidance, has continued to generously fund a variety of projects that have helped to improve not only Casper but the state itself. At the same time, Susie has continued to volunteer her time and service.
Susie McMurry will be presented with the Distinguished Alumni Award Friday, May 14, during commencement.
The Distinguished Alumni Award winners are nominated by their peers and chosen by the Casper College Alumni Association board of directors.
Subscribe
If you enjoyed this story, receive more just like it: