2020 fall President's Honor Roll at Casper College announced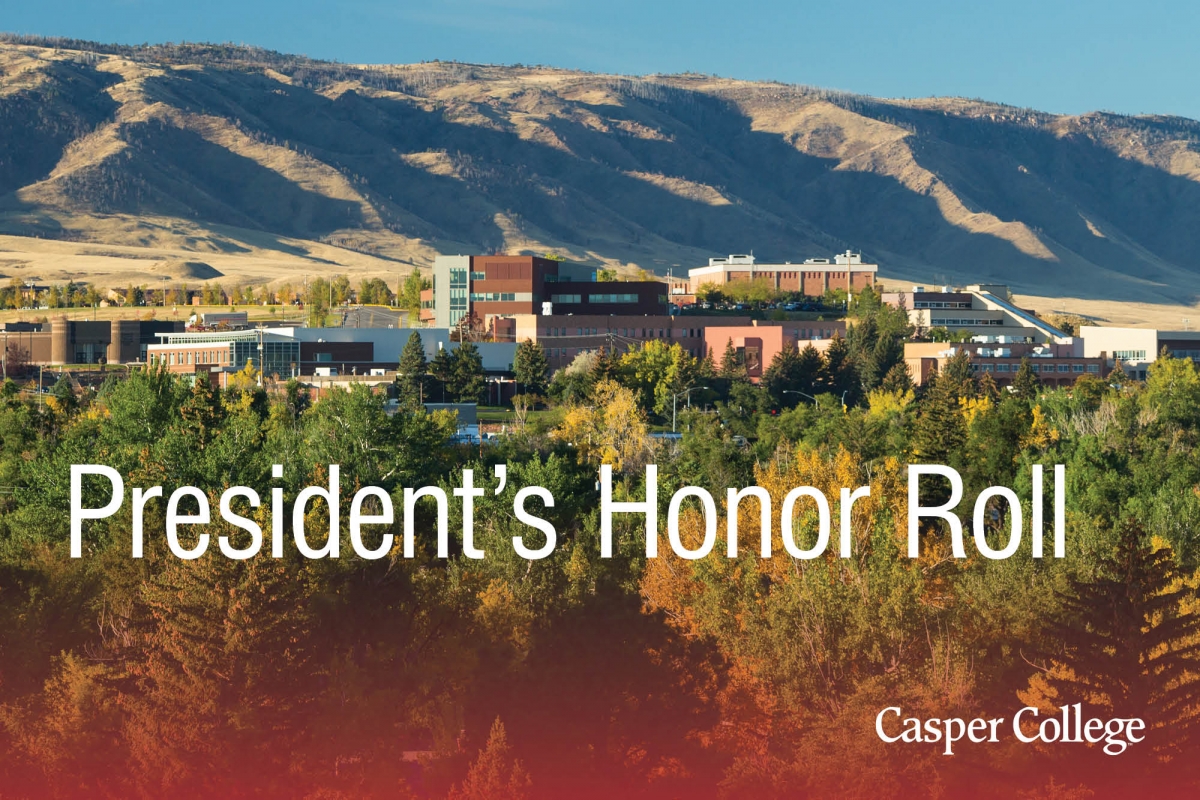 College officials have released the names of the 475 students who made the President's Honor Roll at Casper College for the 2020 fall semester. To qualify, a student must take at least 12 hours and receive a GPA of 3.5 or better.
Students named to Casper College's President's Honor Roll, ordered according to their hometowns, follow. Wyoming students are listed first, followed by students with out-of-state hometowns listed alphabetically by state, then hometown. Finally, international students are listed by home country and hometown.
Wyoming
Afton: Kaylee Burgess.
Alcova: Alysa Bentley and Dustin Smart.
Baggs: Tyler Englehart.
Bar Nunn: Damen Brewer, Gabriel Heuer, Sydney Holder, Zachary Houghtaling, Caitlin Logan, Candice Lugibihl, RhiAnna Mahoney, Jeniffer Middleton, and Ann Miller.
Basin: Ana Tharp.
Casper: Brooke Abbott, Christina Adams, Alaynha Aiello, Whitney Anderson, Jaden Amer, Maria Arnold, Clayton Atkinson, Griffin Bailey, Yavette Bailey, Jennifer Baldwin, Tatianna Baldwin, Stephanie Barella, Kelley Barker, Ashley Barkley, Cadance Barnes, Carolee Bates, Alexandra Bath, Katie Bays, Mylen Bearden, Katilyn Beasley, Emery Bemis, Taylor Berg, Margaret Biskup, Sarah Blanton, Abigayle Bledsoe, Lawrence Boahen, Channing Bohnet, Kaytlin Booth, Emily Bradley, Grace Brauburger, Wes Bray, Nathaniel Britt, Colin Brooks, Ethan Brown, Wanda Browning, Emma Brummer, Kelsi Burd, Michael Burk, Marcela Caballero, Brooklynn Calkin, Sarah Cameron, Caitlyn Capps, Izabelle Cardenas, Kane Carlson, Aiden Carnahan, Brian Carpenter, Amber Chadwick, Ian Champion, Savanna Christensen, Kahner Christopherson, Annelise Clark, Whisper Cloward, Jamie Cody, David Coleman, Leighum Coleman, Ender Collins, Katie Collins, Julia Conte, Rebekah Conway, Clinton Cook, Sasha Cook, Katelyn Cooper, Jessica Cordova, Sienna Cortez, Mariha-Ann Cothren, Linda Cox, Sheridan Cox, Meghan Cramer, Troy Crump, Chloe D'Arcy, Lainey Deacon, Taylor Delaney, Aspen DeLano, Laura Delano, Rachel DeMaere, Camillo DePaolo, Joseph Desuno, Jacob Dickinson, Avery Doane, Lesley Doney, Stevin Dow, Kassandra Dutro, Alexis Dvarishkis, Christopher Edmunds, Haley Ellingson, Wylee Esau, Victoria Etuk, Lane Fanto, Gillen Faxon, Kyera Fernandez, Connor Ficken, Madison Fiedler, William Fielder, Marci Florence, Jennifer Foster, Hayden Fox, Jonathon Franklin, Sean Franklin, Breanna Fredrickson, Megan Gardiner, Alexa Garfield, Gabrielle Garris, James Gerhart, Haley Gibson, Hannah Gilliland, Madison Gillum, Michael Gremp, Alaina Griffee, Megan Griffin, Gavin Grochowski, Jasmin Guarin, Kaylee Hanisch, Britnee Hansen, Kelsey Hamsberger, Molly Harshman, Sienna Hawk, Matthew Hays, Dean He, Lauren Heili, Lyle Hepworth, Jacob Hernandez, Desiree Hesse, Joel Hilde, Bryce Hindman, Kaitlan Hinton, Destiny Holden, Skylar Holmquist, Annicka Hoover, Rhonda Hoppa, Owen Horning, Taylor Howe, Saaj Hull, Stetson Hutmacher, Mickale Ireland, Elizabeth Jensen, Megan Jensen, Enrique Jimenez, Hallie Jimenez, Kellan Johnson, Rachel Johnson, Isabelle Jones, Sarah King, Kristin Klaahsen, Chelsie Klone, Emily Kruse, Shaney Kruse, Mikaeli Lacey, Turner Lack, Laura Lance, Katlyn Lane, Mackenzie Laufer, Sara Leach, Hee Lin Lee, Lance Lenhart, Carrie Leyva, Eliza Liska, Faith Lockwood, Nathaniel Loepp, Cameron Logan, Ryan Loghry, Hannah Long, Kimberley Long, Fredy Lopez Lopez, Maria Lopez, Stephen Lovato, Tristan Loyd, Isabel Lucio, Jennifer Ly, Sarah Ly, Hunter Lyman, Anthony MacMillian, Elizabeth Malone, Hailey Martin, Jackie Martin, Jared Martin, Peter Mayfield, Taylor McCabe, Roger McPherson, Hope Melton, Alexia Mendez, Sye Meyer, Emmy Miller, John Miller, Cameron Moore, Kimberly Moran, Alexei Moreno, Connie Morgan, Tamara Morrison, Paige Muller, Parker Munsey, Christian Murphy, Alexis Muszynski, Skyler Nelson, Annabelle Nicholson, Julia Nielsen, Kaitlyn O'Malley, Brook Ostrander, Kayla Ostrem, Alijandro Parra, Lucas Patton, Timothy Pike, Valeria Pirela, Lauren Podjun, Robert Pryde, McKinzy Quiroz, Jaelyn Ramirez, Melissa Reilly, Rachel Retherford, Grace Ritchie, Race Rittenour, Corey Rizzi, Kelsie Roach, Kate Robertson, Morgan Robertson, Mindy Roney, Travis Rudd, Braxton Sambrano, Samuel Sapp, John Schoenwolf, Rebekah Sechrist, Lauren Shaffer, Cindee Shepherd, Kaylie Short, Haylie Sienkiewicz, Louis Sierra, Theresa Simpson, Regann Sipe, Haleigh Skiles, Melonie Skovgard, Sara Sleep, Randy Sletten, Serri Smith, Jarrod Snider, Ryan Snyder, Joel Sorensen, Ryan Sorensen, Kylie Spangler, Logan Spiegelberg, Maycie Stack, Michael Stack, Robyn Stack, Andrew Staker, Garret Steinert, Hannah Stone, Nicole Stovall, Kylie Sullivan, Miriam Sutphin, Andrew Swain, Matthew Tabor, Jesse Taylor, Zachary Tenney, Zeth Thomas, Shelby Trott, Alyssa Trujillo, Rachelle Trujillo, Siri Ullery, Erin Valentin, Alexandra Vincent, Emma Von Osterheldt, Angela Wallace, Heather Walock, Michael Walock, Qi Wang, Brandon Wassink, Justin Webb, Catelyn White, Robbie White, Breanne Wilkinson, Maisy Wilkinson, Tea Jean Williams, Ezra Wingfield, Brooklyn Wistisen, Liza Womack, Kyle Woodruff, Violet Wright, Diana Yanez, and Matthew Yarger.
Cheyenne: Dallas Baker, Emily Byrd, Meagan Vanbuskirk, and Giulia Vernati.
Chugwater: Amanda Cook.
Cody: Charles Polley.
Douglas: Denali Bergquist, Justus Calliham, Abbie Cornett, Joseph Miller, Tristin Munsinger, Lauren Pooley, Andres Robles, Joslynn Sauer, Lainey Smith, Brandon Sorg, Victor Wimmer, and George Wortham.
Dubois: Matthew Codevilla and Aaron Mountain.
Evanston: Jeffrey Ungerman.
Evansville: Franki Brower, Kaycee Gurkin, Brooke Johnson, Haley Keith, Elizabel Macias, Briahnna Manning, Tesla McConnaughey, Benny Ortiz, Chloe Riley, and Keith Rouse.
Farson: Amanda Weaver.
Fort Bridger: Aileen Bugas.
Gillette: Cheyanne Aalbers, Marissa Chatfield, Colleen Collins, Dylan Cornelius, Matthew Devries, Abbey Greenwood, Rebecca Haskins, Laci Parish, Isabelle Schlautmann, Diane Simurdak, and Landon Suchor.
Glendo: Colton Roark.
Glenrock: Corbin Blanton, Dalton Davies, Jennifer Hendrickson, Elika Lavender, Cameron Magee, Ty Makris, Brooke Moore, Shayna Perez, Morgan Schwindt, Shyla Whalen, and Archer Young.
Green River: McKinzie Buggy, Drew Gibson, Travis Kloepper, and Sean Rauert.
Greybull: Sadie Harper and Braeden Tracy.
Guernsey: Dominick Ibarra.
Hulett: Dalton Butler, Emma Jay, and Mikka Rogers.
Jackson: Kevin Tzompa.
Kemmerer: Alexis Krall.
La Barge: Paige Nielson.
Lander: Kolbie Erickson and Aspen Thomas.
Laramie: Kenzie Beyer and Roland Wookey.
Leiter: Ashlynn Fennema.
Manville: Timothy Ross.
Meeteetse: Bethany Taylor.
Mills: Angela Coleman, Damond Cottrell, Kelsey Cox, Jazmyne Giffrow, Amber Guseman, EdwinJay Harvey, Tasha McEvoy, Tyler Parke, and Sariah St. Clair.
Newcastle: Daytona Bennett, Grace Coy, Shelby Davis, Kaylee Sweet, and Markie Whitney.
Pavillion: Tierra Price.
Pine Bluffs: Kammie Ragsdale.
Pinedale: Megan Anspach and Kodie Egle.
Powell: Rylee Ramsey.
Rawlins: Sadie Forney, DeNae Schoel, and Stacey Smith.
Riverton: Kodi Christensen, Cassandra Looper, and Tamira Marshall.
Rock Springs: Jordan Brooks and Brandy Dewar.
Rolling Hills: Cory Amirault and Brody Cathcart.
Rozet: Kandace Lumbardy.
Saratoga: Richard Seahorn.
Sheridan: Allison Arndt and Edward Shannon.
Shoshoni: Jason Thoren.
Smoot: Olivia Muir.
Thermopolis: Spencer Axtell, Mya Holman, Lauren Reed, and Jaden Schierkolk.
Upton: Jamison Nistler.
Wheatland: Elizabeth Crowley, Emily Morford, and Matthew Wilhelm.
Worland: Jonathan Anderson, Karla Gaytan, Carlos Pacheco, and Elizabeth Voss.
Wright: Teresa Meza, Zachary Reade, and Jessica Reyes Castro.
Out of state
Arkansas
Eielson AFB: Kelsey Lavender.
Wasilla: Ashley Green.
California
Folsom: Weston Kennedy.
Oroville: Catelyn McCardle.
Colorado
Black Hawk: Jakob Duncan.
Brighton: Skylar Lange.
Firestone: Gavin Self and Thomas Wallace.
Meeker: San Delana Riebold and Tevin Secrest-Pelloni.
Northglenn: Ryker Chavez.
Washington D.C.
Michelle Metcalf.
Hawaii
Ewa Beach: Brynne Hopeau-Lampitoc.
Waianae: Shealyn Oili.
Illinois
Amboy: George McCaffrey.
Indiana
Pittsboro: Elizabeth Burger.
Louisiana
Bossier City: Danielle Brack.
Montana
Joliet: Tysa Oswald.
Nebraska
Bartley: Logan Greenlee.
Burwell: Emily Knust.
Crawford: Jake Sellman.
Gothenburg: Savannah Peterson.
Harrison: Kalen Lotton.
Lakeside: Shanna Bailey.
Mitchell: Cody Fosket.
New Hampshire
Hollis: Kate Ryder.
Nevada
Spring Creek: Anthony Barnes.
Ohio
Millersburg: Taylor Feikert.
Pennsylvania
Halifax: Ashley Dobbin
Middletown: Sophia Bertovic.
South Carolina
Society Hill: Timmons McElveen.
South Dakota
Dupree: Sidni Ferguson.
Edgemont: Kaylen Stearns.
Hermosa: Whitley Heitsch.
Rapid City: Christopher Bauer.
Texas
Holland: Garrett Kurtz.
Utah
Heber City: Sydney Hiatt.
Santaquin: Shelby Nelson.
South Jordan: Adi Jada Suguturaga and Hannah Thompson.
Washington
Clarkston: Anna Aarstad.
International
Australia
Melbourne: Emily Achter.
Canada
Nanton, Alberta: Carter Sandberg
Roblin, Manitoba: Jules Smyth.
Columbia
Santiago De Cali: Jose Alvarez Esquivel.
Denmark
Vaerloese: Sofie Hauge.
France
Mont-de-Marsan: Kevin Tauzia.
Georgia
Tbilisi: Natalia Otkhmezuri
Italy
Pergine Valsugana: Giulia Santuari.
Vervò Di Predaia, Trento: Matteo Conci.
Montenegro
Danilovgrad: Marija Bakic.
New Zealand:
Te Aroha: Dejaan Schuler.
Serbia:
Trstenik: Jana Gilic.
South Africa
Johannesburg: Keanu Jardim.
Spain
Bellreguard, Valencia: Esperanza Morales Lopez.
Subscribe
If you enjoyed this story, receive more just like it: