Casper College Western History Center
The Western History Center at Casper College is an institutional archives that maintains and provides access to materials documenting the life of Casper College and unique records related to Natrona County. Many of these Natrona County records reflect an aspect of Wyoming or Western History.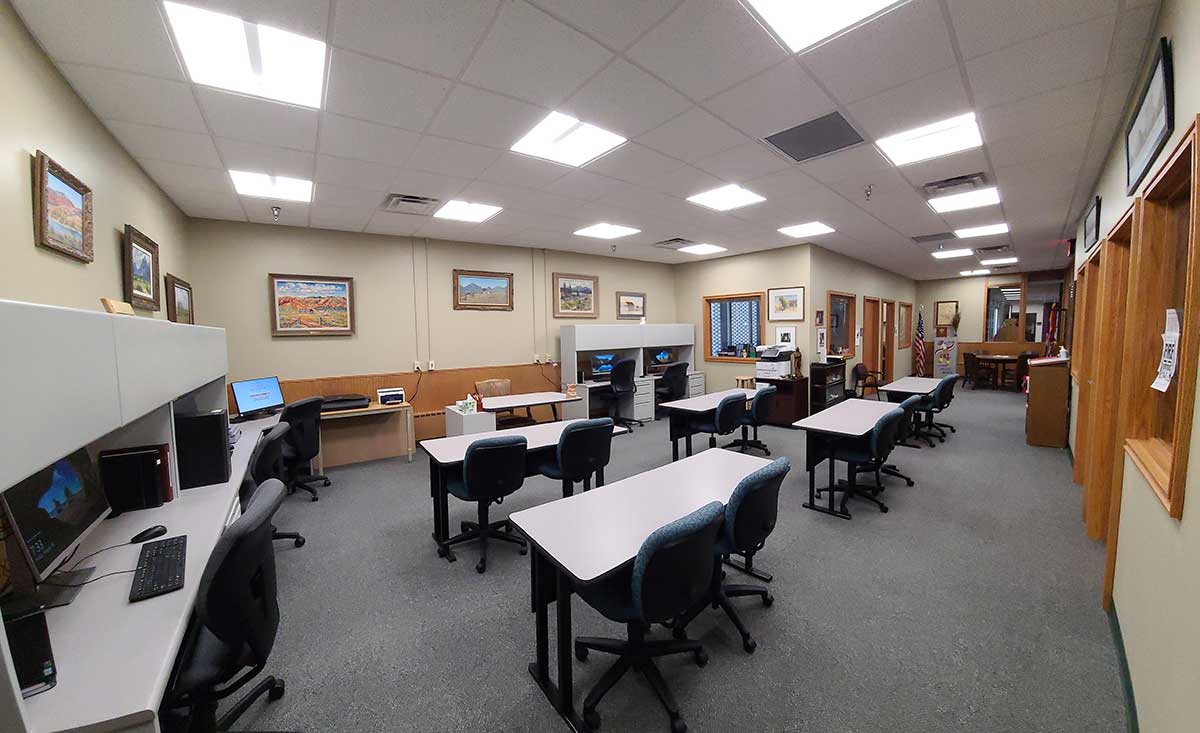 Comprised of archives and special collections, materials support the instructional, institutional and individual needs of students, faculty, staff and external users near and far. The repository is in the process of being organized and described according to two separate but interrelated archival units:
 Casper College Archives
 Natrona County Archives, also referred to as Special Collections
Online finding aids are published on ArchivesSpace. Please use our Research Request Form to help us identify material you are looking for. Though you may hear back from us sooner, please allow 2-3 days for a response.
Be sure to check out the Western History Center's Digital Repository. This digital repository contains archives and records of Casper College as well as digital collections related to its special collections.
Instructional Services:
Use of Archives and Special Collections in relation to coursework can offer unique learning opportunities for students.  The Archivist & Librarian is available to offer instructional services for all UW and UW-C courses wishing to engage with primary source literacy. Instructional services for K-12 classes are by appointment.
Please use our Reproduction Request Form for non-self service reproduction requests.
Collecting Policy 
Collect, maintain and make accessible representative and unique sources of information about Casper College and Natrona County that support the academic mission and success of students, faculty, and staff as well as further the institution's connection to the people of Natrona County and beyond.
Activities supported by Archives and Special Collections include but are not limited to:
Accessing institutional knowledge and memory for administrative research or other projects, programs, events or celebrations. 

Conducting academic, professional or self-directed research in the pursuit of academic coursework, continuing education, and lifelong learning. 

Maintaining an awareness of how archival collections and the relationships between them can be used to define, gain insight, and understand histories, issues and topics of continuing importance to society.
Featured from the Casper College Archives:
 Expression Literary and Arts Magazine
This searchable digital collection consists of Casper College student submissions to Expression, a publication of original work from a variety of genres, including but not limited to stories, essays, poems, screenplays, paintings, drawings, graphic designs, sculpture, jewelry design, costume design, architecture design, musical scores, and musical recordings.
 A  searchable digital collection of the Casper College Student Newspaper.
Casper Junior College Information and History Series
This collection contains Dale Stiles' awards, correspondence, and material related to Casper College Rodeo and the National Intercollegiate Rodeo. Researchers will also find scanned newspaper clippings, and photographs. Stiles was an Agriculture instructor and Rodeo Coach at Casper College. He hosted the College's first rodeo team, which was the first rodeo team to be fielded by a junior college. During his career, Stiles coached Joe Alexander and Dave Brock among others.
Jack Greenley Collection of Photographs and Papers
This collection consists of Casper College photographs taken by Jack Greenley. Subjects of the photographs include Casper College athletics, campus dances, events, and the Talisman sculpture commissioned by Ida Goodstein. Researchers will find a display of Casper College spirit in this collection. Also included are a few folders of papers collected and used by Greenley.
Featured From Special Collections:
Brotherhood of Railroad Trainmen, Burlington System Records
This record group contains addresses, circulars, and newsletters issued by the Railroad Commission and its Presidents. Researchers will also find documentation of investigations, of claims paid and appealed, as well as seniority lists for enginemen and trainmen. There are gaps in this record group.
The Frances Seely Webb Collection contains over 1,400 photographs, correspondence, handwritten research notes, the proof copy of Webb's book, Casper's First Homes, and a series of scrapbooks. Materials document Casper and Natrona County buildings, cultural institutions, homes, and society from 1890-1978. Webb was a Society and Women's editor for the Casper Star Tribune.  In addition to the above are items originally collected by Boney Earnest, a frontiersman and former member of the Natrona County Historical Society.
This collection contains Louie Strohecker's letters home during WWII, including letters from when Louie was a German prisoner of war. A donation of film negatives are documented as being accessioned along with Louie's letters, but their current location is unknown. The following note was taken from the Casper College Foundation's Donor Stories webpage: "Louie was a WWII veteran who was captured by the Germans and was later liberated. After the war, he came to Wyoming and was one of Casper Country Club's first caretakers. He saved enough money to buy some land and became a successful rancher west of Casper. His ranch is still in operation and owned by his heirs."
This collection contains material on the Michie Family. In particular, researchers will find information on John Fremont Michie, his parents, Tera Crum Michie and other family members. There are two addresses in this collection. One from John Fremont Michie on the dedication of the Fair Grounds Building and one on Casper vs. Casper, given at a meeting of the State Chapter of the Daughters of the American Revolution. There are also multiple autobiographies and related material.
Weather Service Office Station #74 Records
This collection contains a profile of Weather  Service Office Station #74 in Casper, WY. This profile includes a written history of the Station, which opened in December 1939, as well as numerous photographs of the Station and its staff. In addition to the Station Profile, researchers will find annual records, meteorological summaries, weather surface observations, and climatological data.