Casper College Western History Center
Yesterday, Today, Tomorrow
The Western History Center is located in and is part of the Casper College Library. It serves as an institutional archives and special collections that preserves and provides access to materials that document the life and mission of Casper College as well as unique records related to Natrona County. Many of the repository's special collections reflect an aspect of Wyoming or Western History. The repository shares and seeks to complement the Mission of the Goodstein Foundation Library by making its archives and special collections accessible to all. Students are encouraged to visit the repository and utilize its resources up to and including pursuing available work study positions, internships, and/or service-learning projects.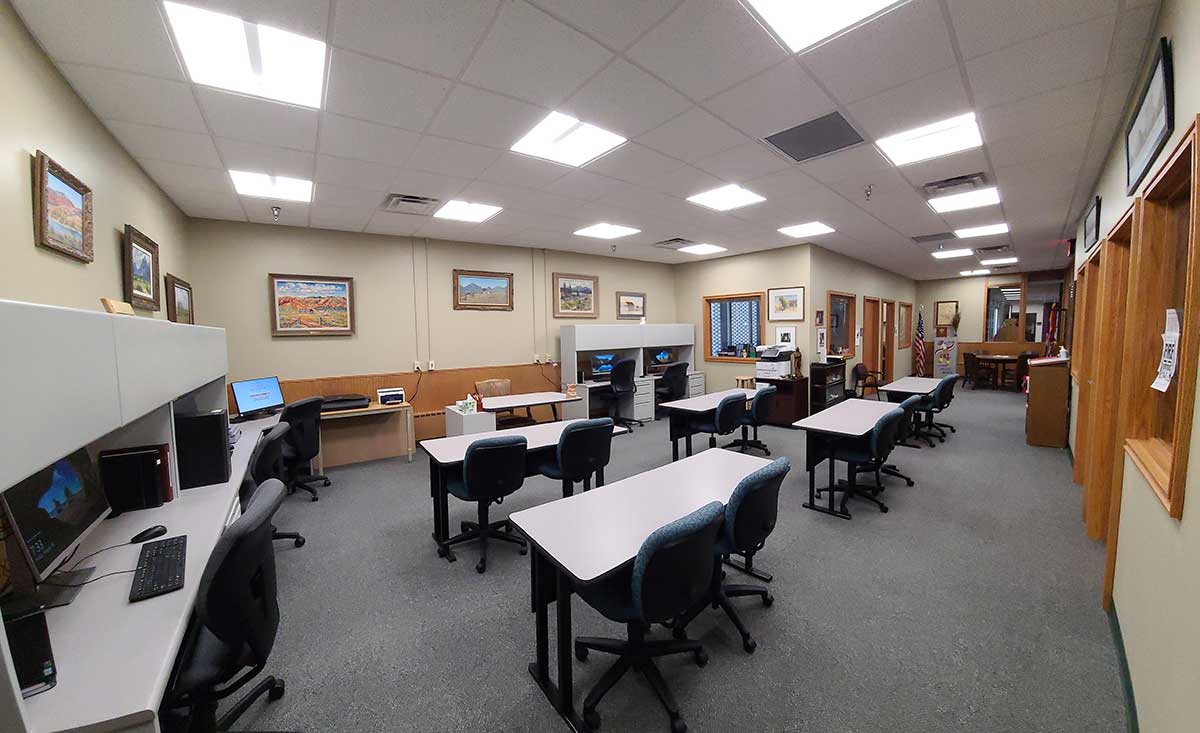 Comprised of archives and special collections, materials support the instructional, institutional and individual needs of students, faculty, staff and external users near and far. The repository is in the process of being organized and described according to two separate but interrelated archival units:
 Casper College Archives
 Special Collections
Visit our Collections Guide and our Digital Collections. These pages can be used to find information on and access the digital archives of Casper College and its special collections.
Please use our Research Request Form to help us identify material you are looking for. Though you may hear back from us sooner, please allow 2-3 days for a response.
Statement Regarding Potentially Harmful Content or Language
The repository acknowledges the existence of potentially harmful content and language in its collections and finding aids. While the repository strives to approach managing and providing access to relevant information with respect to both the creators and users of archival and special collection material, repository staff do not alter or censor the contents of holdings so that their context is not lost.
Instructional Services:
Use of Archives and Special Collections in relation to coursework can offer unique learning opportunities for students.  The Archivist & Librarian is available to offer instructional services for all UW and UW-C courses wishing to engage with primary source literacy. Instructional services for K-12 classes are by appointment.
Please use our Reproduction Request Form for non-self service reproduction requests.
Collecting Policy 
Collect, maintain and make accessible representative and unique sources of information about Casper College and Natrona County that support the academic mission and success of students, faculty, and staff as well as further the institution's connection to the people of Natrona County and beyond.
Activities supported by Archives and Special Collections include but are not limited to:
Accessing institutional knowledge and memory for administrative research or other projects, programs, events or celebrations. 

Conducting academic, professional or self-directed research in the pursuit of academic coursework, continuing education, and lifelong learning. 

Maintaining an awareness of how archival collections and the relationships between them can be used to define, gain insight, and understand histories, issues and topics of continuing importance to society.
On-site Research:
The research room is open from Monday through Thursday, 11:00 am until 4:30 pm. Researchers will need to complete an on-site researcher registration form before material will be brought out from storage. Repository staff will direct you to available research tools, will share potentially useful research strategies, and will provide any guidance they can on the nature and scope of materials that may meet your research needs.
Please fill in and submit the following on-site research request form. Repository staff will confirm the time and date of your intended research appointment.
No Results Found
The page you requested could not be found. Try refining your search, or use the navigation above to locate the post.