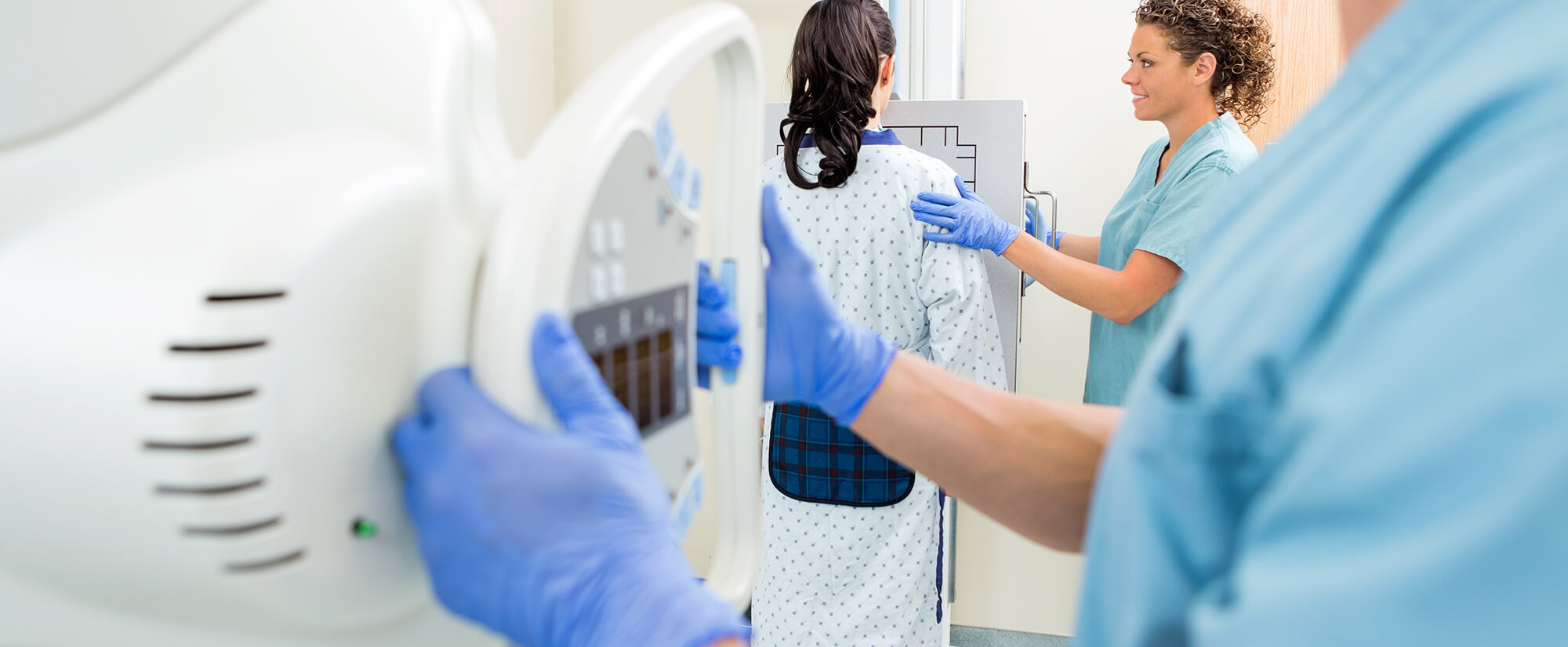 Attending your dream university starts right here at CC
A transfer agreement is available for this degree. Students who choose CC for their first two years of college are prepared to transfer and finish their degrees anywhere in the world. Learn how you can earn a bachelor's, master's, or even your doctorate through one of our university partnerships with schools from across the country.
We have entered into an articulation agreement with Boise State University wherein they have agreed to take all of our required courses in transfer. However, Boise State requires some additional coursework that we do not require of our graduates. To enter their Imaging Sciences program, you will need to successfully complete the following courses: STAT 2050 or 2070; COMM 1030; 3-4 credits of Humanities; and 3-4 credits of additional Science (Natural, Physical, or Applied). Unfortunately, because these credits are not required for completion at Casper College, they are not eligible for financial aid through our institution. However, if you take them while you are taking 12 other Casper College credits, you can spread the cost out over your time here. Doing this will minimize the financial impact these additional credits will have.
Employment info
After completion of the two-year degree, graduates may choose to specialize in several areas such as ultrasound, magnetic resonance imaging, CT, nuclear medicine, mammography, radiation therapy, management, education or cardiovascular/interventional imaging.
According to the US Department of Labor, Bureau of Labor Statistics, employment of radiologic technologist is expected to increase by about 15% faster than the average for all occupations from 2006 to 2016. That means that radiography is a great career choice. Our graduates receive numerous job offers every year. The national mean salary is approximately $50,000 per year. Salaries will vary by location and job.
What are the special admission requirements, if any?
For info about applying to the program, read our Radiography program admissions guide. A maximum of 18 students are admitted each year. Once accepted into the program you will begin in May and span 24 months of continuous education (including summer semesters).
Students must have completed the following courses at the time of application
ENGL 1010 English Composition I
MATH 1400 Pre-Calculus Algebra
ZOO 2040/2041 Human Anatomy / Lab
ZOO 2110 Human Physiology
RDTK 1500 Introduction to Radiography
HLTK 1200 Medical Terminology
Applications and deadline details
Apply to Casper College as a degree seeking student.
Have taken the courses listed above.
Have a cumulative GPA of 2.5 or better.
Attend a Radiography Information Session in November.
Submit the completed Radiography Program application for admission by January 5.
Include two letters of recommendation with the letter of application.
Include transcripts from college coursework with the letter of application.
For info about applying to the program, read our Radiography program admissions guide
What courses would I take?
This program is accredited by the Joint Review Committee on Education in Radiologic Technology.
For requirements and more information about this program, view its listing in the academic catalog:
Why is JRCERT accreditation important to students?

This program is fully accredited by the Joint Review Committee on Education in Radiologic Technology, with an 8-year accreditation award. Accreditation will be audited in 2024. For more information contact JRCERT, 20 N. Wacker Dr., Suite 2850, Chicago, IL 60606-3182 or www.jrcert.org. Phone: 312-704-5300.
Joint Review Committee on Education in Radiologic Technology (JRCERT) educational standards are developed and accepted by professionals in the radiologic sciences.
JRCERT is the only organization recognized by the US Department of Education to evaluate and accredit education programs in radiography and radiation therapy, which includes magnetic resonance and medical dosimetry.
JRCERT accreditation demonstrates that a program adheres to the national educational standards that will provide you with the knowledge, skills, and attributes through didactic and clinical education you need for entry into your chosen profession and to practice your profession anywhere in the United States.
Graduation from a JRCERT accredited program assures that you will be eligible to practice in all 50 states.
In some states, only graduates of JRCERT-accredited programs are eligible for licensure or certification. Graduation from a JRCERT-accredited program assures that you will be eligible to practice in all 50 states.
Enrollment in a program accredited by the JRCERT can enhance your eligibility for scholarships and other funding from government and private agencies.
Program Mission
The Associates of Science Radiography Program at Casper College provides education to produce competent medical radiographers eligible for immediate employment or advanced education, by offering high quality educational and clinical experiences.
Casper College Radiography Program Goals and Outcomes:

I. Clinical Performance and Competence
Students will produce high quality images by possessing the knowledge, clinical application, radiation safety practices and patient care skills needed to meet the needs of the radiography community as entry level radiographers.
Outcomes:
A. Students will apply proper principles of radiation protection in regard to patient, self and others.
B. Students will utilize knowledge of anatomy, positioning, and physiology to demonstrate proper structures on the IR
C. Student will demonstrate a working knowledge of appropriate patient care skills for radiographic procedures.
II. Problem Solving and Clinical Thinking
Students will demonstrate sound problem solving and critical thinking skills necessary to function effectively in the clinical setting.
Outcomes:
A. Student will demonstrate the ability to compensate for varying patient conditions.
B. Student will be able to, while critiquing images identify and initiate changes needed to produce a quality image.
III. Communication

Students will communicate effectively with patients, peers, and other members of the healthcare team. Through effective communication students will function as a productive member of the healthcare team.
Outcomes:
A. The student will provide effective patient education techniques for various imaging procedures through efficient communication skills.
B. The student will communicate effectively with their peers and other health care professionals.
IV. Professional Growth and Development

Students will understand the purpose and importance of professional values, ethics, continuing education, leadership and lifelong learning.
Outcomes:
A. The student will demonstrate an appropriate professional work ethic in the clinical setting.
B. The student will demonstrate continued professional growth after graduation.
V. Program Effectiveness

Graduates will fulfill the needs of the health care community. The program will provide the community with graduates who are able to function as an active member of the health care team.
Outcomes:
A. Students will complete the program.
B. Graduates will pass the ARRT examination on the 1st attempt.
C. Graduates who are seeking employment will find jobs within 6 months post-graduation.
D. Graduates will indicate satisfaction that the program adequately prepared them for the profession as an entry level radiographer.
E. Employers will indicate satisfaction that graduates of the program where adequately prepared as entry level radiographers.
Casper College Radiography Program Student Outcomes
Upon completion of the Associate of Science degree radiography program, the graduate will be able to/will:
Synthesize and apply knowledge from the biological, physical and radiographic sciences to provide humanistic patient care;
Perform radiographic skills in a manner safe to the patient, other health team members, and self within the professional scope of practice.
Adapt radiographic positioning skills to various body habiti;
Adapt radiographic tecnique to various pathological conditions;
Adapt radiographic tecnique to accommodate different machines and/or equipment;
Collaborate with other members of the health team and supervise others less skilled in the technical aspects of radiography;
Critique images for accuracy of positioning and technique to meet the satisfaction of the radiologist;
Administer diagnostic radiation so as to minimize radiation exposure to the patient, other health professionals and self;
Demonstrate responsibility for continued personal and professional growth and education;
Pursue an advanced degree in radiography, should he or she so desire;
Effectively utilize communication skills within the health care setting;
Utilize skills to successfully incorporate critical thinking and problem solving skills within the health care setting;
Learn more effectively by attending an on campus lab that was adequate, and contributed to the effective learning used in the clinical setting;
Provide adequate patient care and management skills during radiographic procedures;
Practice within the profession's ethical and legal boundaries to meet the needs of the patient and health care community.
You may also be interested in…
Other programs related to: