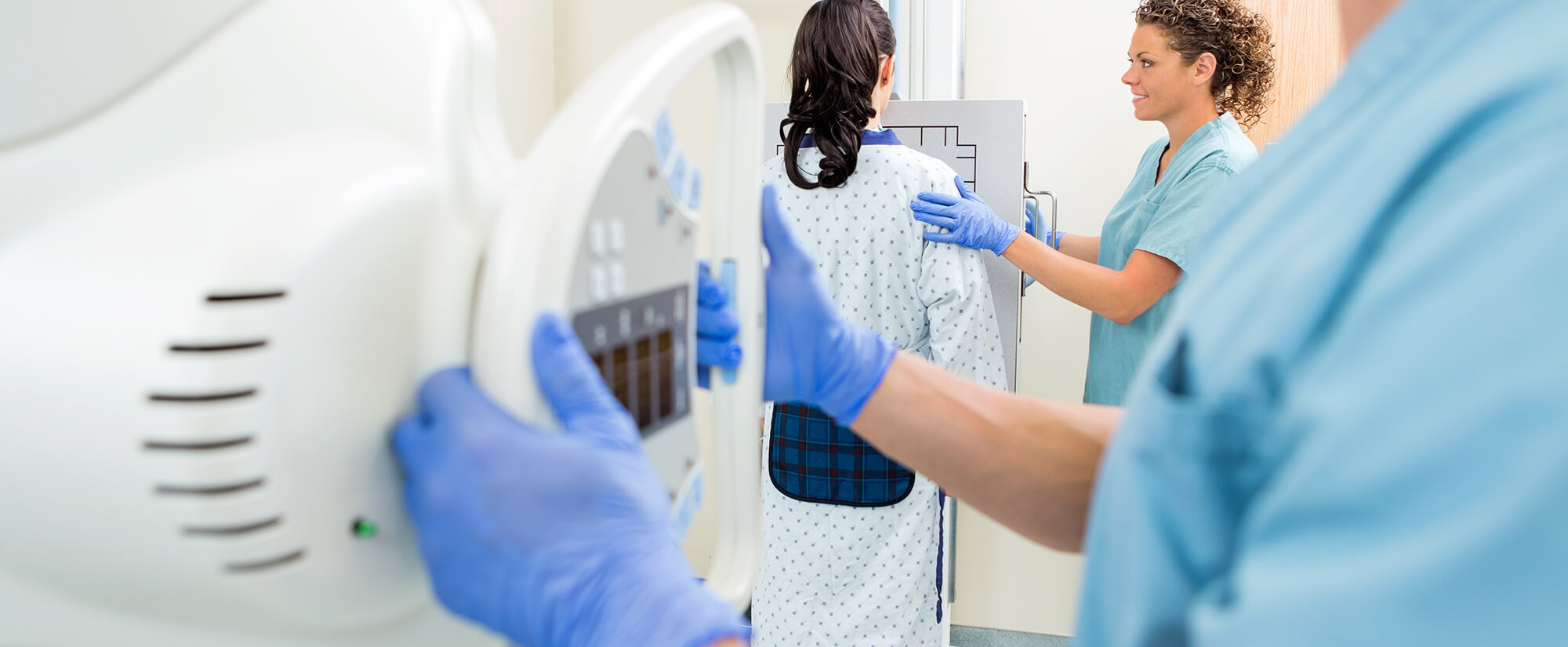 Employment info
After completion of the two-year degree, graduates may choose to specialize in several areas such as ultrasound, magnetic resonance imaging, CT, nuclear medicine, mammography, radiation therapy, management, education or cardiovascular/interventional imaging.
According to the US Department of Labor, Bureau of Labor Statistics, employment of radiologic technologist is expected to increase by about 15% faster than the average for all occupations from 2006 to 2016. That means that radiography is a great career choice. Our graduates receive numerous job offers every year. The national mean salary is approximately $50,000 per year. Salaries will vary by location and job.
What are the special admission requirements, if any?
For info about applying to the program, read our Radiography program admissions guide (PDF). A maximum of 20 students are admitted each year. Once accepted into the program you will begin in May and span 24 months of continuous education (including summer semesters).
Students must have completed the following courses or be enrolled at the time of application. Midterm grades will be used in the application ranking process if the student has not completed the course by February 15th of the year applying.
ENGL 1010 English Composition I
MATH 1400 Pre-Calculus Algebra
ZOO 2040/2041 Human Anatomy / Lab or
ZOO 2110 Human Physiology
RDTK 1500 Introduction to Radiography
HLTK 1200 Medical Terminology
Applications and deadline details
Apply to Casper College as a degree seeking student.
Have taken or be enrolled in the courses listed above.
Have a cumulative GPA of 2.3 or better.
Attend a Radiopgrahy Information Session in November.
Submit the completed Radiography Program application for admission by February 15.
Include two letters of recommendation with the letter of application.
Send transcripts from college coursework to the Program Director.
What courses would I take?
For requirements and more information about this program, view its listing in the academic catalog:
Why is JRCERT accreditation important to students?
Joint Review Committee on Education in Radiologic Technology (JRCERT) educational standards are developed and accepted by professionals in the radiologic sciences.
JRCERT is the only organization recognized by the US Department of Education to evaluate and accredit education programs in radiography and radiation therapy, which includes magnetic resonance and medical dosimetry.
JRCERT accreditation demonstrates that a program adheres to the national educational standards that will provide you with the knowledge, skills, and attributes through didactic and clinical education you need for entry into your chosen profession and to practice your profession anywhere in the United States.
Graduation from a JRCERT accredited program assures that you will be eligible to practice in all 50 states.
In some states, only graduates of JRCERT-accredited programs are eligible for licensure or certification. Graduation from a JRCERT-accredited program assures that you will be eligible to practice in all 50 states.
Enrollment in a program accredited by the JRCERT can enhance your eligibility for scholarships and other funding from government and private agencies.
For more information on the JRCERT go to JRCERT.org.
You may also be interested in…
Other programs related to: