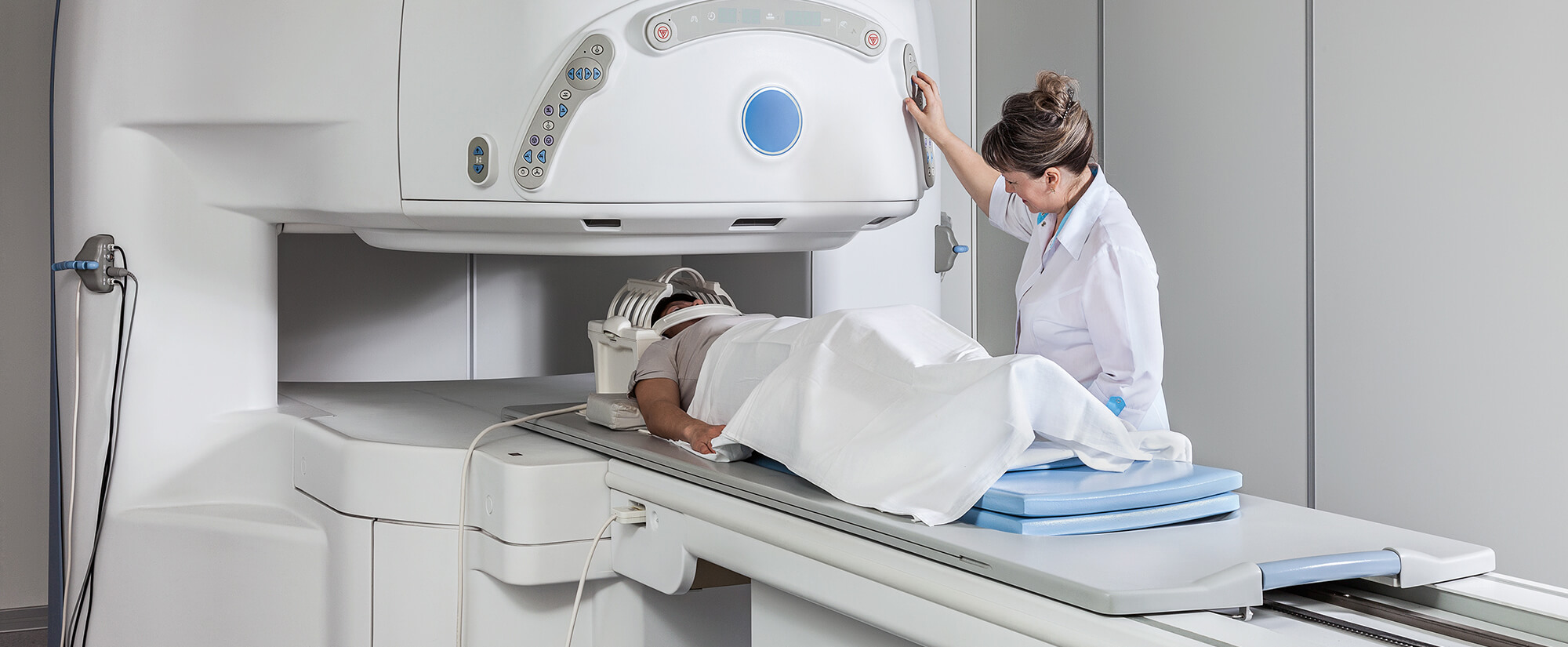 Magnetic Resonance Imaging (MRI)
Employment info
Graduates of our program work in a variety of settings including hospitals, private clinics, mobile imaging and research centers. In addition, there are many opportunities for further education in specialty areas such as ultrasound, magnetic resonance imaging, nuclear medicine, mammography, radiation therapy, education, and cardiovascular/interventional imaging.
What are the special admission requirements, if any?
A maximum of 20 students are admitted each year. Once accepted into the program you will begin in April with Introduction to Radiologic Technology, which is an online course. Classes on campus begin in mid-May and span 24 months of continuous education (including summer semesters).
In order to be eligible to apply to the program, a student must have the following completed:
Apply to Casper College as a degree seeking student.
Have taken or be enrolled in the following courses at the time of application. Midterm grades will be used in the application ranking process if the student has not completed the course by February 15th of the year applying.

ENGL 1010 – English Composition I
MATH 1400 – Pre-Calculus Algebra
ZOO 2040/2041 – Human Anatomy / Lab or
ZOO 2110 – Human Physiology
HLTK 0950 – Basic Life Support
HLTK 1200 – Medical Terminology

Have a cumulative GPA of 2.3 or better.
Have observed in a radiology department for a minimum of 8 hours and completed the program observation form and questions.
Must have a current CPR card for Healthcare Providers.
Complete and return the Radiography Program application for admission along with the observation form and questions by February 15.
Include two letters of recommendation with the letter of application.
Send transcripts from college coursework to the Program Director.
Program admission requirement details
Certificate Requirements: Must be a registered Radiologic Technologist (radiographer or radiation therapist): Registered Nuclear Medicine Technologist (ARRT or NMTCB); or be registry eligible.
Background check and drug/alcohol policy
Students enrolled in any of the health science programs will participate in clinical experiences in a variety of agencies. Prior to participating in the clinical experiences, students will be subject to that agency's requirements for a background check, drug testing and/or drug abuse prevention policies. Students are then subject to the random drug testing policy of that agency.
Following graduation, several of the state and/or national licensing or certification (registry) boards, including the American Registry of Radiologic Technologists (ARRT), may refuse to allow a graduate to sit for the required exam or issue a license or certification to a person who has a prior felony conviction or proven history of drug or alcohol abuse. Applicants to whom this applies should consult the program director for further information.
Clinical accessibility policy
The radiology program uses a variety of health-care agencies in the community for clinical experience for the students. If you have been employed in one or more of the agencies and are not eligible for rehire as an employee, the agency may not permit you to participate in the essential clinical component of the program.
Please contact the human resources department of the affected agency and request documentation that states the agency position on your participation in the clinical component of the program. If you receive a negative response from the agency, you are automatically ineligible to apply. A response indicating you will be permitted to attend clinicals in the agency will be given to the program director prior to the selection process for admission to the program. If you are unable to fulfill clinical requirements due to a previous employer issue and have not complied with the above, you could be dismissed from the program.
What courses would I take?
For requirements and more information about this program, view its listing in the academic catalog:
You may also be interested in…
These related programs: