Seven cowboys from CC rodeo team head to CNFR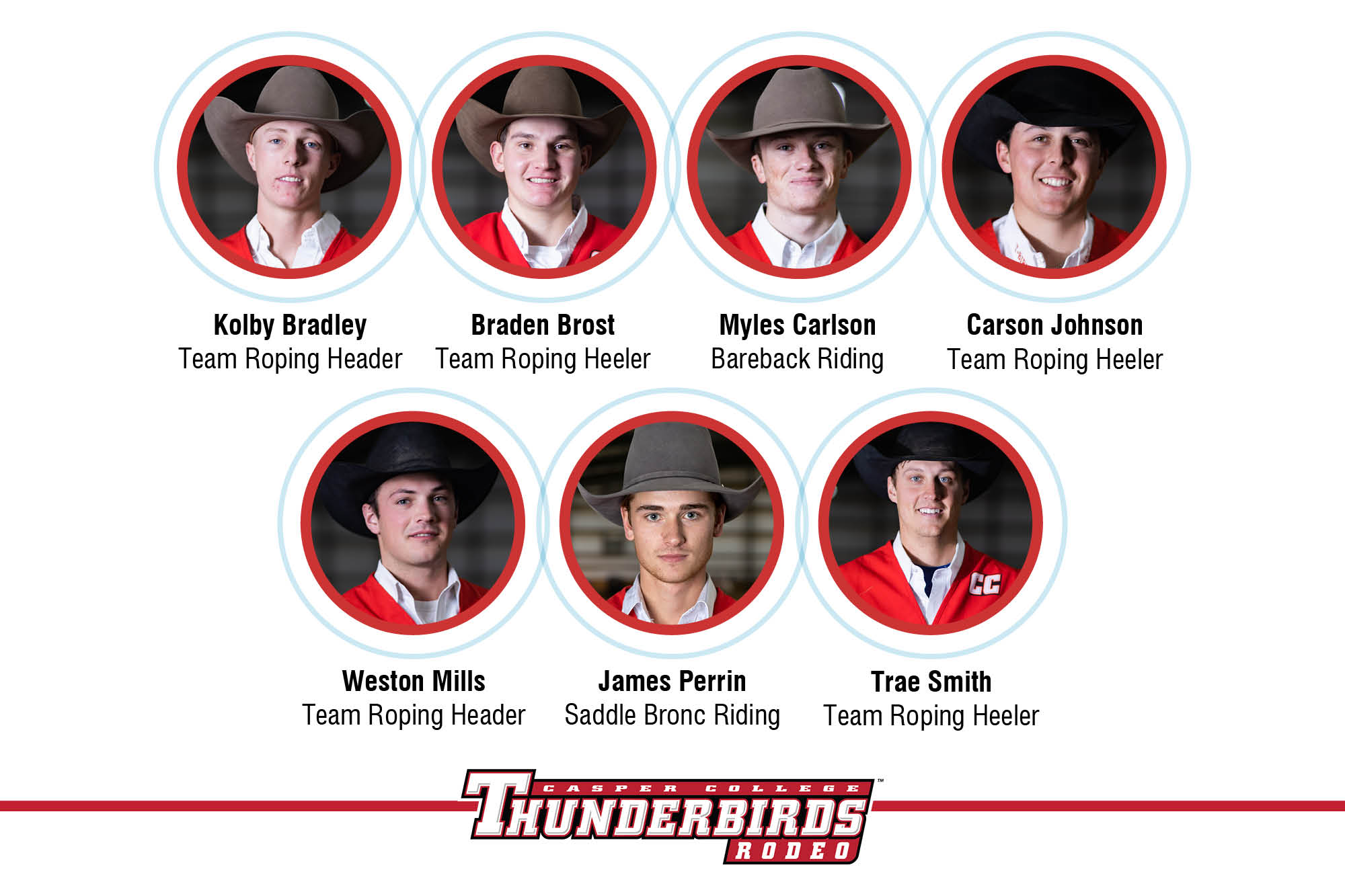 Seven cowboys from Casper College are heading to the College National Finals Rodeo after a successful season taking second place in the Central Rocky Mountain Region. In the CNFR, only the top two schools in each of the National Intercollegiate Rodeo Association's 11 regions can send full six-man and four-woman teams to the year-end CNFR. However, the top three scorers in each event can also be sent to the CNFR to compete for their school.
The seven athletes from the Casper College Men's Rodeo team who qualified to compete in this year's CNFR at the Ford Wyoming Center are:
Sophomore Braden Brost from Consul, Saskatchewan, Canada, in team roping with Kolby Bradley. This is Brost's second year qualifying for the CNFR. "He was in the running last year to be the national champ in team roping, and I expect it again this year," said Head Coach Jhett Johnson. "He is a very talented heeler with a great work ethic," Johnson added.
Freshman James Perrin is from Maple Creek, Saskatchewan, Canada, and competes in saddle bronc. In his first appearance at the CNFR, Perrin is also the only freshman male to qualify for the CNFR out of the Central Rocky Mountain Region. "I have high hopes for him at the CNFR. He is one of the most talented saddle bronc riders to come to Casper College," Johnson said.
Senior Weston Mills from Gillette will also compete in team roping with Trae Smith. Said Johnson of the first-time CNFR qualifier, "He has a great work ethic and is one of the most competitive people you will ever meet."
Senior Trae Smith competes as a heeler alongside his team roping partner Mills. The senior from Georgetown, Idaho, is making his fourth trip to the CNFR. "He's done well at the CNFR in the past and is one of the up-and-coming Pro Rodeo Cowboys Association heelers," Johnson said.
Kolby Bradley is a senior from Big Piney and a first-time qualifier for the CNFR. Bradley competes in team roping with Brost. "This cowboy takes care of business and is one of the most solid headers in the game," said Johnson.
Myles Carlson is a sophomore from Evanston and took first place in the Central Rocky Mountain Region in bareback riding this year. A second-time qualifier to the CNFR, "He is already making a name in the PRCA as a bareback rider. I expect huge things from him at the CNFR," Johnson said.
Carson Johnson, a junior from Casper, is a third-time CNFR qualifier and a past CNFR Team Roping Champion when he won in his freshman season with Casper College team member and older brother Kellan in 2021. Kellan has since graduated from Casper College, and Carson is now competing with team roping header Bodie Mattson who attends the University of Wyoming. Carson and Mattson took first place in team roping in the Central Rocky Mountain Region this year. Speaking of his son, Carson, Jhett said, "I am looking for huge results from this cowboy at the CNFR."
All participants will have three opportunities to score points at the CNFR. The top 12 qualified contestants in each event and the top 12 teams in the team roping event will compete in the CNFR finals on Saturday, June 17.
​
Subscribe
If you enjoyed this story, receive more just like it: