2022 fall President's Honor Roll at Casper College announced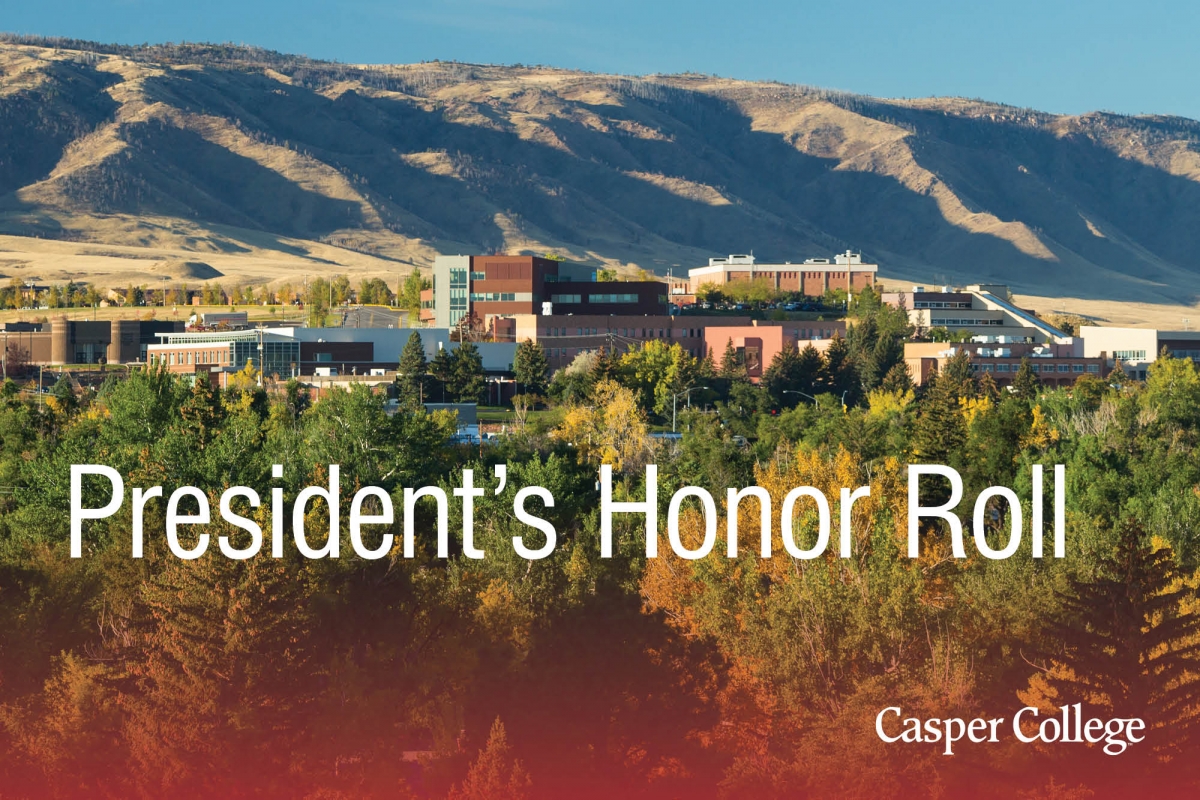 Casper College officials have released the names of the 483 students who made the President's Honor Roll at Casper College for the 2022 fall semester. To qualify, a student must take at least 12 credit hours and receive a GPA of 3.5 or better.
Students named to Casper College's President's Honor Roll, ordered according to their hometowns, follow. Wyoming students are listed first, followed by students with out-of-state hometowns listed alphabetically by state, then hometown. Finally, international students are listed by home country and hometown.
Wyoming
Alcova: Joshua Adrianos.
Arvada: Cole Sorenson.
Baggs: Kelsey Arnell, Katelynn Englehart, and Cylee Matheson.
Bar Nunn: Danielle Busch, Stephanie Jensen, Keenan Morgan, Joyce Pearson, Victoria Triplett, and John Watts.
Basin: Eva Stone.
Buffalo: Kale Benton, Danica Boyce, McKinley Kessler, Kylee Seymour, and Olivia Zink.
Casper: Mathew Ahrndt, Parker Albert, Caden Allaire, Koren Anderson, Makenzie Anderson, Tessa Angeli, Kaysia Armijo, Ernest Armstrong, Jonas Armstrong, Wyatt Atkinson, Adrian Baca, Hannah Baldwin, Cadance Barnes, Allea Baughan, Daytona Bennett, Dennis Bergren, Cody Best, Austin Birkle, Joely Blom, Kaytlin Booth, Aaron Bowen, Chris Bowers, Alexandria Bight, Kassidy Brooks, Braden Brost, Alexander Brown, Hailey Brown, William Brown, Justin Bruntmyer, Kaden Brush, Arianne Burback, Wayne Burk, Phoenix Burt, Brandi Byrnes Andrew Canchola, Allyson Cardine, Krista Carstensen, Ella Cassity, Kylie Chase, Kyle Christensen, MaKena Clemens, Gina Colaw, Angelena Coleman, Paula Condelario, Clinton Cook, Tyler Cooper, Anastasia Corbett, Journey Corra, Michael Costello, Ashley Cotton, Joshua Crimm, Toni Cutter, Amina Dalil, Rebecca Davis, Tyler Davis, Paighten Dedic, Reona Deleon, Sarah Denton, Miranda Dickinson, Wyatt Dockendorf, Stevin Dow, Tracy Duffield, Emily Dundas, Megan Duong, Katelyn Dutton, William Eastin, Katie Eddington, Destiny Edwards, Matt Ellison, Landri Engelke, Holly Ericson, Jenna Farley, Kenneth Feliciano, Taylor Few, Katelynn Fleming, Kaitlin Flower, Tabatha Funderburk, Charisma Gallagher, Mariah Geis, Emily Ghaffari, Riley Graham, Lucas Greene, Michael Gremp, Garrett Grochowski, Rylee Guest, Valentin Guillen, Amanda Guthrie, Edward Hageman, Mason Hall, Nichol Hall, Caroline Hansen, Owen Hansen, Amber Harris, Bronwyn Harstad, Reese Hart, Kimberly Hartsoch, Kaden Hatfield, Adrianna Hays, Ty Hebbert, Brady Heide, Sierra Heide, Lauren Heili, Krista Helm, Emma Henry, Breanna Henze, Dylan Hicks, Hayden Hollinger, Jessica Hopkins, Macey Howell, Rayna Januska, Michelle Jarvis, Lyndi Jensen, Nichole Johner, Dyllan Johnson, Howard Jorns, Elizabeth Kalus, Marissa Kampa, Korven Kaufmann, Kristopher Kernahan, Angela Kerr, Eun Seon Kim, Devon King, Jordan Kline, Kaily Koch, Braden Kozola, Josiah Kull, Mikaeli Lacey, Kaitlin LaFave, John Larson, Sky Lefforge, Christina Legerski, Arianna Lindquist, Sarah Ly, Aden MacDonald, Marek Madariaga, Emerald Maniscalco, Jared Martin, Ava Martinez, Kory Masco, Rita Mata, Robert Mathis, Christa Mazur, Emily McOmie, Bailey Menzel, Rachel Merchant, Annabelle Mesecher, Arie Michelena, Taeron Miller, Parker Mooren, Loa Muller, Ashley Neal, Robert Nelson, Zoe Neville, Noah Oliver, Kathleen O'Rourke, Samuel Orr, Avy Overstreet, Roman Overstreet, Kristie Parkhill, Mariah Parks, Macey Parmely, Erica Pasley, Mercedes Pearson, Lane Pedersen, Samantha Phillips, Natalie Plumlee, Kara Plummer, Joshua Potter, Kirsten Prosenick, Kalina Proudfoot, Justin Quan, Brittney Racki, Owen Ray, Tabitha Rhoades, Sean Richards, Ethan Romango, Noelle Romer, Cassandra Rook, Haley Ruckle, Madison Saine, Sarah Sanders, Suzanne Sanford, Nathaniel Sausedo, Cayley Schreckengost, Emily Scott, Emma Scott, Jake Sears, Conner Shipper, Brittany Silva, Tomie Simms, Katie Sittner, Kacela Skiles, Melonie Skovgard, Desirae Smith, Ryan Snyder, Samuel Snyder, Giovanny Solis-Rodriguez, Danae Speth, Destinee Spurlin, Conner Stafford, Andrew Staker, Rachel Stevens, Abigail Stiefvater, Hannah Stone, Andrianna Sutton, Natasha Suwisanto, Mary Teague, Tana Teichert, Isaiah Timbers, Marc Torres, Elias Trevizo, Hannah Trumbull, Heather Tyler, Britten Vangorder, Dempsey Vanwormer, Kenia Varela, Alexandra Vasquez, Remington Wagner, Lyric Wall, Matthew Walter, Justin Webb, Bethany Wheeler, Catelyn White, Alona Wilkerson, Aleigha Williams, Garrett Williams, Kelly Wills, Lyrik Wilson, Paige Wilson, Dillon Witcher, Aubreanna Wolfe, Jayden Wright, and Anastasia Zettl.
Cheyenne: Sienna Gomez, Caitlin Grenfell, Logan Mohr, Kaedence Perron, Jayden Roccaforte, Tanner Spallina, Allison Stacey, and Cameron Sutton.
Douglas: Aspen Edwards, Jayden Gremm, Monica Henrie, Amber Hight, Joslin Igo, Rylee May, Garet Porter, Ethan Redfern, Trinity Rich, Calvin Rule, Jordyn Serfoss, Cordell Viergets, Karissa Walsh, Andriana Westover, and Elaina Westover.
Encampment: Dalton Peterson.
Etna: Robert Choma.
Evansville: Paige Asmus, Lindsey Bermejo, Kaleb Borud, Hannah Danford, Tatiana Durgin-Brown, Damin Grussendorf, Jonathan Nachbar, and Cari Pruismann.
Farson: Carson Jones, Colby Jones, and Cree Jones.
Fort Bridger: Kassadee Lym.
Fort Laramie: Kayla Ransom.
Gillette: Nathan Appledorn, Erin Burris, Olivia Clyde, Joshua Knutson, William Lock, Kelly Vandamme, and Cole Wallem.
Glendo: Kloe Huseas and Nolan Smialek.
Glenrock: Andrew Albrandt, Kayleen Harris, Vera Lacey, Brooke Moore, Andrik Moreno, Amanda Rutzer, Alison Tesdall, and Charles Whalen.
Green River: Allison Kloepper and Jacquelyn Vasquera.
Greybull: Abigail Keisel.
Hulett: Dalton Butler.
Kaycee: Jade Maya and Kade Neville.
La Barge: Paige Nielson.
Lander: Nakiya Beddoes, Emma Goetz, and Carlito Gonzales.
Laramie: Laura Smith.
Lingle: Dally Wilkins.
Lovell: Kaylee Stewart.
Lusk: Julie Bukowski, Bryce Goodwin, and Dalton McDaniel.
Lyman: Brooklyn Busskohl, Katelynn Condos, and Ryker Tysver.
Manderson: Oscar Martinez.
Midwest: Samantha McMurray.
Mills: Justin Barry, Kerry Carr, Shaedon Kennedy, Samantha Linde, Salomon Pardo, Alicia Pattan, Sierra Quinn, Patricia Reynolds, Kellee Schuerman, and Lisa Smout.
Newcastle: Hailey Wehri.
Pavillion: Tierra Price.
Pinedale: Madison Allen, Aspyn Green, Rylee Helm, and Tatum Kunard.
Powell: Aryn Downs and Averee Johnson.
Ranchester: Katie Balthazor.
Rawlins: Ella Kassandra Eco, Madelynn Kulmus, Zoe Law, Austin Martinez, and Henry Smith.
Riverton: Abigail Lipson, Abrielle Santee, Makayla Seely, Bradon Veach, and Shayla Wiggins.
Rock Springs: Alek Anderson, Amber Faigl, Brandy Hardin, Jenny Largent, Estrella Lopez Bandin, Jaxon Snarr, and Keian Willingham.
Rolling Hills: Hart Dority and Jordyn Renquist.
Rozet: Nora Shober.
Saratoga: Heather Wallace.
Sheridan: Arden Clute and Alex Edwards.
Thayne: Mia Hutchinson.
Thermopolis: Austin Barral, Marshall Channel, Russell Ferree, Sequoia Fishbaugh, Rebekah Johnson, Dakota Leonhardt, and Daniel Leonhardt.
Veteran: Bodie Herring.
Wheatland: Ned Hageman.
Worland: Jacob Barrett, Katie Baumstarck, Koby Busch, Jade Hefenieder, Payton Julson, Benjamin Lloyd, Katherine Martinson, Gabriel Scheuerman, Regan Schmeltzer, and Dillon Wolf.
Wright: Zachary Reade and Jessica Reyes Castro.
Wyarno: Cian Ahern.
Out of state
California
Northridge: Jason Broswell.
Colorado
Aurora: Devon Chescoe.
Boulder: Tyler Laceby and Kyler Rabourn.
Fort Collins: Faye Engels and Caprice Rickbeil.
Fowler: Kaley Pieper.
Frederick: Isabella Coronado.
Hudson: Evan Sluder.
Hugo: Olivia Lay.
Kersey: Roan Weil and Rowdy Weil.
Meeker: Kasey Rosendahl.
Florida
Milton: Lindsey Jacobson.
Spring Hill: Holly Bruffey.
Hawaii
Kekaha: Raelee Samio.
Idaho
Kunda: Cassidy Madrid.
Illinois
Cowden: Haley Bartels.
Kentucky
Georgetown: Jakarri Avery.
Michigan
New Hudson: Olivia Barnes.
Minnesota
Farmington: Hayley Juntunen.
Stillwater: Jaeden McFarland.
Missouri:
Ste. Geneviève: Lindsey Naeger.
Mississippi
Florence: Jonibeth Bridges.
Montana
Cascade: Jessy Barger.
Helena: Donna Dehennis.
Miles City: Clay Helm.
Shawmut: Mesa Butler.
Sidney: Rowan Ellingson.
Toston: Wade Leachman.
Townsend: Kadyn Braaten.
Nebraska
Atkinson: Jaden Mathis.
Chadron: Jacie Coupens.
Crofton: Jayden Jordan.
Hay Springs: McKenzi Pieper.
Hyannis: Kaylee Davis.
Mitchell: Othaniel Banks and Bernadette Pieper.
Morrill: Isaiah Waite and Jessica Wilkinson.
Scottsbluff: John Blomstedt.
Valentine: Hayes Hammond.
Wood Lake: Tagg Buechle.
Pennsylvania
Hershey: Lucas Reid.
Hummelstown: Renee Addington.
Nevada
Las Vegas: Kadyn Hydar.
Pahrump: Madelyn Souza.
Reno: Hailey Lattin.
North Carolina
Morganton: Rae Mann.
North Dakota
Beulah: Jacob Klaudt.
South Dakota
Hermosa: Jayden Carrier.
Redig: Abby Fox.
Spearfish: Renee Addington, Michael Anderson, Lucas Brist, and McKinsey Jerrel.
Sturgis: Clinton Donaldson.
Tennessee
Crossville: Coleman Lehoullier.
Texas
Big Spring: Nestor Dyachok.
Katy: Kelsi Sweet.
New Waverly: James Marsh.
Utah
Bountiful: Emily Kessler.
Edra: Zackary Rees.
Heber City: Sydney Hiatt.
Layton: Brielle Valentine.
Lindon: Amanda McDonald.
Murray: Travian Lyman.
Pleasant View: Grace Conner.
Provo: Celeste Flake.
Saratoga Springs: Alexander Glover.
South Jordan: Alexis Jennings.
Washington
Asotin: Lacee Sanford.
International
Australia
Buderim: Ewan Gordon and Lewis Gordon.
Port Lincoln, South Australia: Meaza Otto.
Belgium
Brussels: Jules Foll.
Brazil
Sao Paolo: Milena Quaresma Franzini
Chili
Concepcion: Martin Fernandez Lopez.
Columbia
Santiago De Cali: Jose Alvarez Esquivel.
Germany
Pinneberg: Mads Huegel.
Japan
Tokyo: Yuto Hatayama.
Netherlands
Ursem: Jesper van Halderen
Serbia
Belgrade: Katarina Vulic.
South Africa
Johannesburg: Keanu Jardim.
Spain
Barcelona: Claudia Garrido Tribaldos and Riki Soto Tsubota.
Matadepera, Barcelona: Mariona Cos-Morales.
Pego, Alicante: Sandra Frau Garcia.
Tarragona: Irene Fernandez de Caleya Miquel.
Sweden
Stockholm: Celina Arnlund.
United Kingdom
London: Brandon Gasper.
Subscribe
If you enjoyed this story, receive more just like it: