Music of the Masters to perform Vivaldi's 'Summer'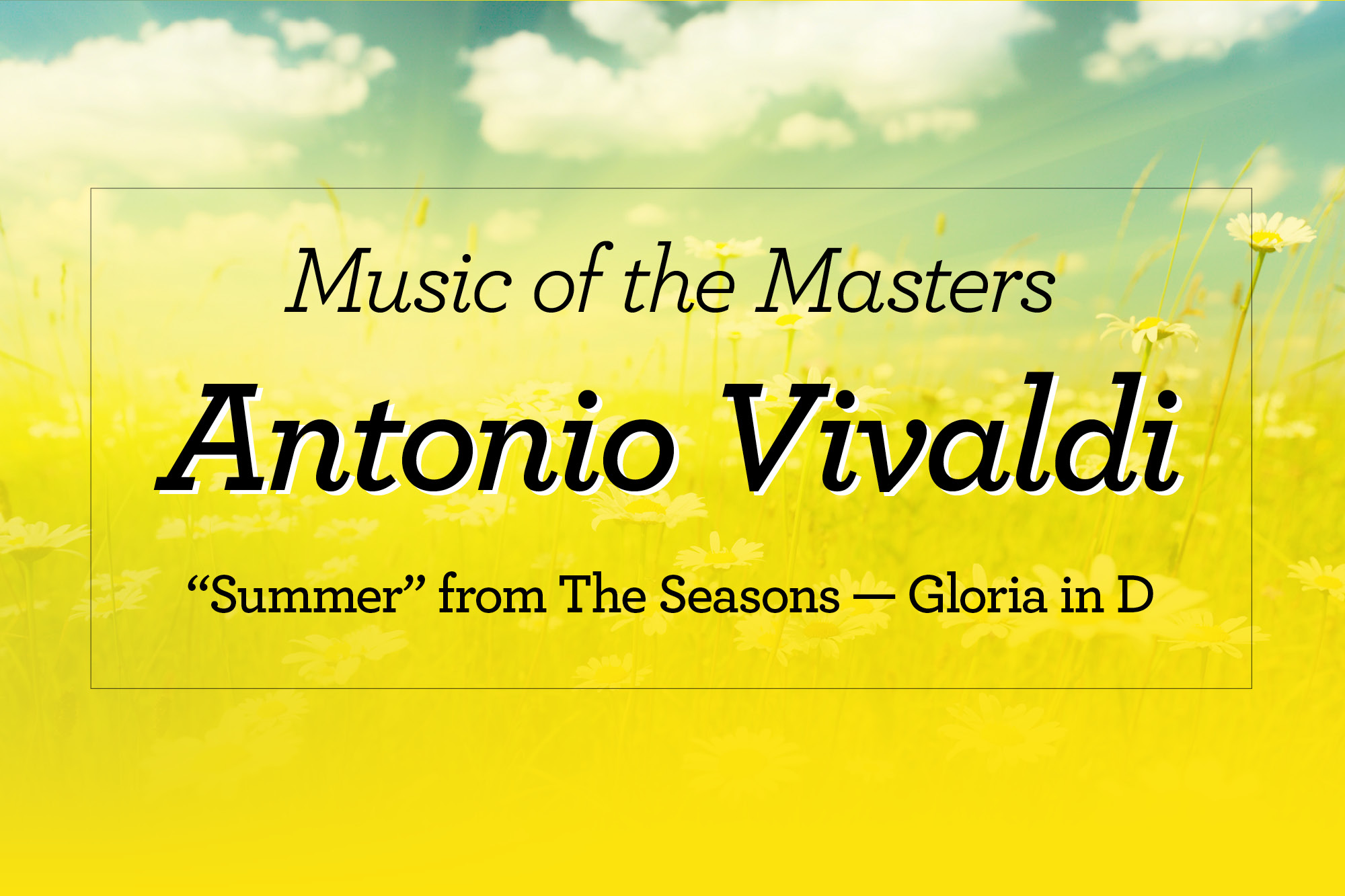 Antonio Vivaldi's "Summer" from "The Seasons" and "Gloria in D" highlight this year's Music of the Masters concert. The concert will be on Sunday, April 30, at 3 p.m. with a pre-concert lecture at 2 p.m.
The concert will feature the talents of the Casper College Chamber Singers, Collegiate Chorale, and the Chamber Orchestra. "Choral and orchestral music is rarely if ever, performed at community colleges, so it is a unique experience we are proud to give our students and the Casper community," said Zachary Vreeman, DMA and choral conductor.
According to Vreeman, Vivaldi is a great writer of instrumental concertos from the mature baroque period in music history. Because the theme for the concert is "Summer," Vreeman noted that the concert would feature more of Vivaldi's music. The choir will be used for Vivaldi's most often performed choral and orchestral work, "Gloria in D-Major."
"Joining the 'Gloria' and the fourth 'Seasons' concerto to complete the program, the CC Chamber Orchestra will perform an additional concerto by Vivaldi, and continuing the summer theme, the CC Chamber Singers will join the orchestra and soloists for a hymn of praise to the sun, excerpted from the summer portion of 'The Seasons,' the oratorio by Franz Joseph Haydn," Vreeman said.
The orchestra, under the direction of Jennifer DePaolo, will feature Michael Vitanza, violin soloist, on the second piece. Haydn's composition will feature soprano Veronica Turner, tenor Ty Hebbert, and baritone Soren Engstrom. Featured soloists for "Gloria in D-Major" include Donald Williams on trumpet and Paula Flynn on continuo, while the featured singers include sopranos Danica Boyce, Katie Baumstarck, and Eun Seon Kim, and altos Mala Stagg and Jossilyn Miller.
The CC Chamber Orchestra is comprised of David Clark, John Larson, Rachel Merchant, Linsey Thomason, Michael Vitanza, and Evan Whipple on violin; Gary DePaolo, Arlon Miller and Karen Wohlfeld on viola; Madison Attaway, Samuel Snyder, and Lyndi Jensen on cello; and Riley Graham on bass.
The CC Chamber Singers include soprano Katie Baumstarck, Danica Boyce, and Indianna Covington; altos Adora Bradley, Jossilyn Miller, and Cassie Seilaff; tenors James Chappelow, Samuel Orr, and Jeremy Rich; basses Cole Cooper, Mark Heward, and Joshua Knutson.
The CC Collegiate Chorale includes sopranos Katie Baumstarck, Danica Boyce, Izabelle Cardenas, Indianna Covington, and Eun Seon Kim; altos Adora Bradley, Jennie Box, Audrea Cooper, Jossilyn Miller, Rachael Payne, and Mala Stagg; tenors Ty Hebbert and Lukas Johnson; and basses Soren Engstrom and Samuel Orr.
The concert and pre-concert lecture are free and open to the public and will occur in Wheeler Concert Hall, located in the Music Building on the Casper College campus.
Subscribe
If you enjoyed this story, receive more just like it: