2023 Commitment to Excellence: Janet de Vries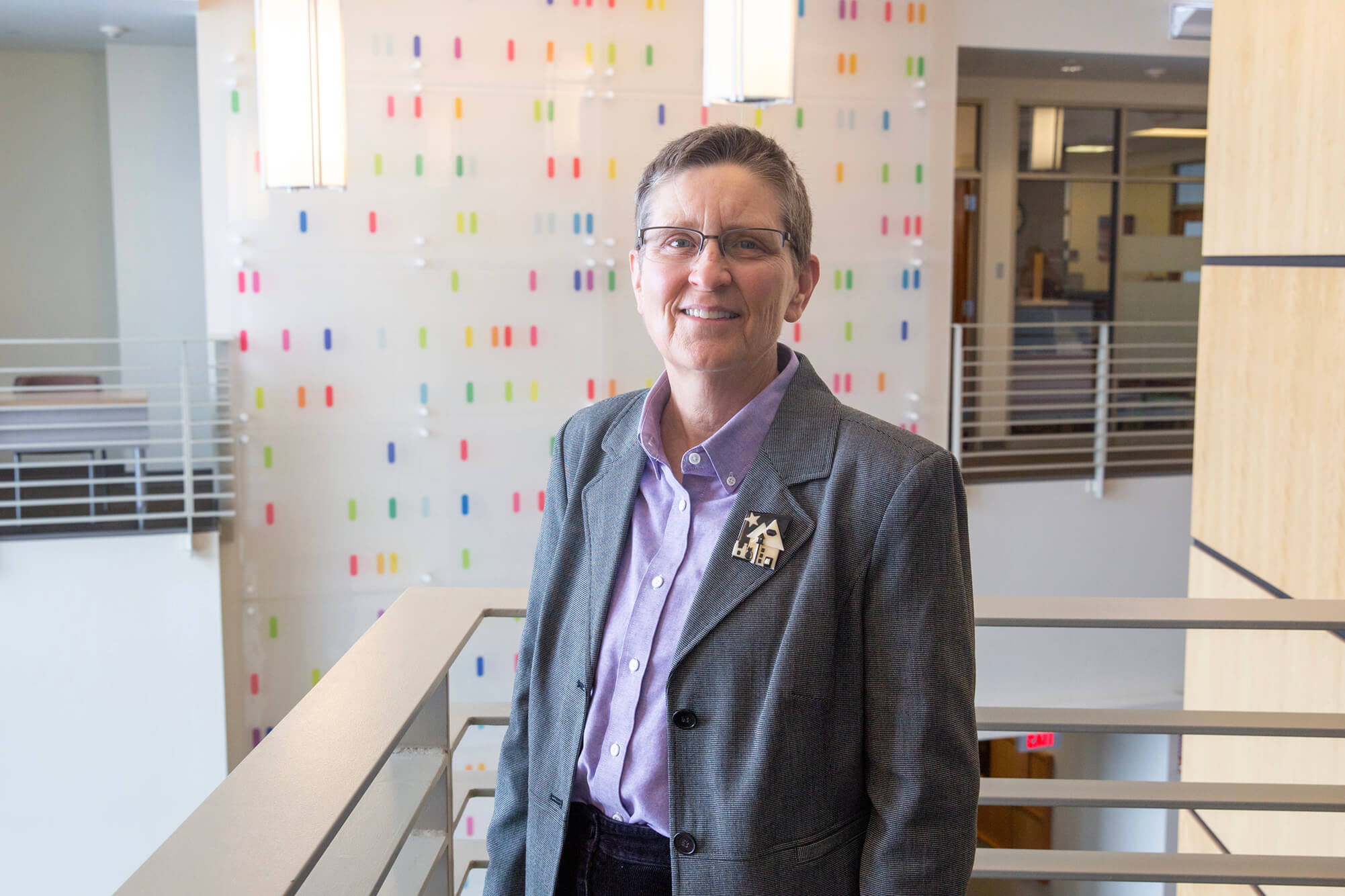 (Casper College photo/Eric Valdez)
Janet de Vries has been selected to receive the Casper College Alumni Association's 2023 Commitment to Excellence award.
Born and raised in Ohio, de Vries first discovered Wyoming on a Girl Scout camping trip in 1972. "That's when I fell in love with Wyoming and decided I would move here when I grew up," she said.
De Vries earned her bachelor's in geology from the University of Akron, Ohio. She then went to Utah State University for her master's in geology.
"Coincidentally, my bachelor's geology field camp was based at Casper College. When that course finished, I stayed, worked in the oil field for one year, earned my master's in geology at Utah State University, and returned to Casper for my first professional job," de Vries recalled.
The year was 1982 when de Vries started working for Dwight's Hotline Energy Reports in Casper. In 1989, she decided to change careers. "When the oil industry provided me with the opportunity to change careers in 1989, I pursued a career working with people," de Vries said.
Her decision to work helping people also meant earning a new degree, and in 1995 de Vries graduated from the University of Wyoming with her master's degree in education with a concentration in higher education student affairs. Her thesis: "Career Guidance and Development Functions at Wyoming Community Colleges."
While working on her UW degree, de Vries worked in a variety of jobs helping people with job placement, training, and coaching. The hard work paid off when she was hired as the school-to-work coordinator at Casper College in 1995. A year later, she became a career specialist, and a year later, she was named the director of career services and then director of student success services. After a successful and rewarding tenure of 21 years, de Vries retired from Casper College in 2016 and was honored with the recognition of director emeritus, student success services.
"When I was asked, 'What do you do?' my answer was, 'I give people hope. When they come to my office in career services/student success, they are usually confused. Through career counseling, I help them identify good matches for their educational, career, and life goals.' I could often tell if we were successful by the look in their eyes. Time and time again, I felt like I had performed a miracle," de Vries said.
While at Casper College, de Vries received her Master Career Counselor, National Certified Counselor, and Licensed Professional Counselor certifications. Some of her recognitions and honors include Woman of Distinction in 1997, the Wyoming Counseling Association Outstanding Service Award in 2004, Casper College Outstanding Administrator in 2006, the Casper Social Change Committee Community Appreciation Award in 2010, the Wyoming Counseling Association Outstanding Service Award in 2015, and the Wyoming Counseling Association Teresa Wallace Lifetime Professional Service Award in 2021.
"Oftentimes, we have no idea of the impact one conversation can make on a person's life," said de Vries. "I have been fortunate during my years of employment at Casper College, and since my retirement seven years ago, to have people thank me for the help and guidance I gave them. It is truly an honor to be nominated and selected for the 2023 Commitment to Excellence award."
de Vries will be presented with the Casper College Alumni Association's Commitment to Excellence award during the 2023 commencement ceremonies Friday, May 12.
The Casper College Alumni Association established the Commitment to Excellence award in 1991 to honor those who have given exemplary service to and have made a significant difference in the growth and development of Casper College.
Subscribe
If you enjoyed this story, receive more just like it: