Gunnare reaches historic 500 wins in coaching career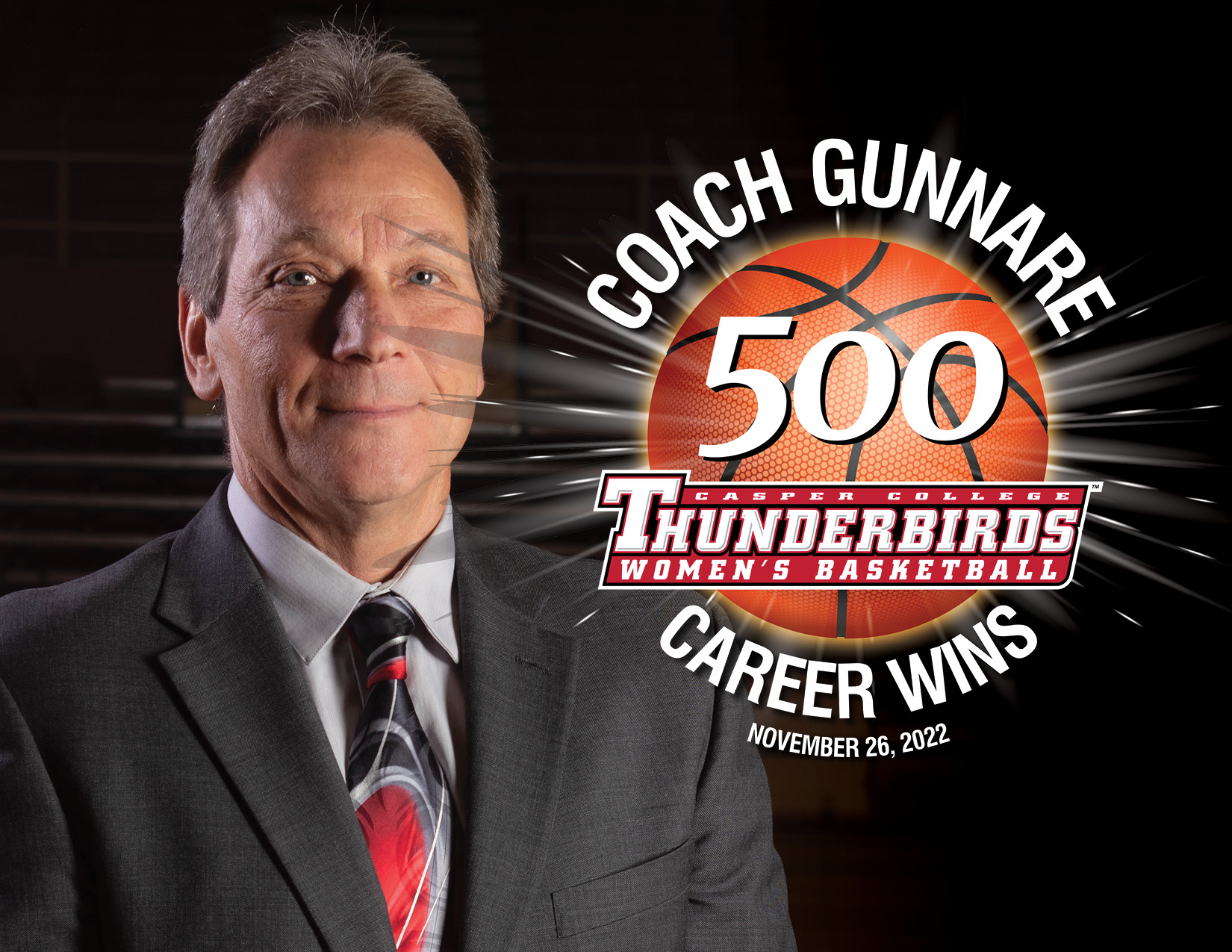 Casper College Lady T-Bird Basketball Head Coach Dwight Gunnare hit a historic milestone when he reached his 500th win as a college coach.
The 500th win occurred during an away game where the T-Birds prevailed over the Lake Region State College Royals 70-64 on Nov. 26, 2022.
Assistant Head Coach Nate Macy put together the surprise celebration held immediately after the women's game against the Eastern Wyoming College Lady Lancers. Gunnare was entirely taken by surprise and, in typical Gunnare fashion, was low-key about his success as a college basketball coach. As of this writing, Gunnare has 387 wins as a coach at Casper College. With those 387 wins, Gunnare is the all-time winningest coach at CC.
In addition to the surprise, Macy managed to get over 50 former players to send video greetings to Gunnare. Those greetings were turned into one video, which Gunnare watched with delight and sincere heartfelt thanks. "I love my job because I get to know tremendous individuals," said Gunnare. The video can be found here.
The current season marks the 15th season that Gunnare has coached at Casper College and his 41st overall. Over his 40-year career, he has received 25 coach-of-the-year recognitions and was inducted into the Black Hills State University Coaching Hall of Fame in 2015.
Gunnare's 14 Thunderbird teams have averaged 26.1 wins per year and have won five Region IX championships since he arrived in Wyoming. This year's team is currently ranked 19th in the nation and holds a record of 19-3, 2-0, before tonight's game against the Lancers.
Subscribe
If you enjoyed this story, receive more just like it: