Deaf magician to entertain at Sign Fest 2023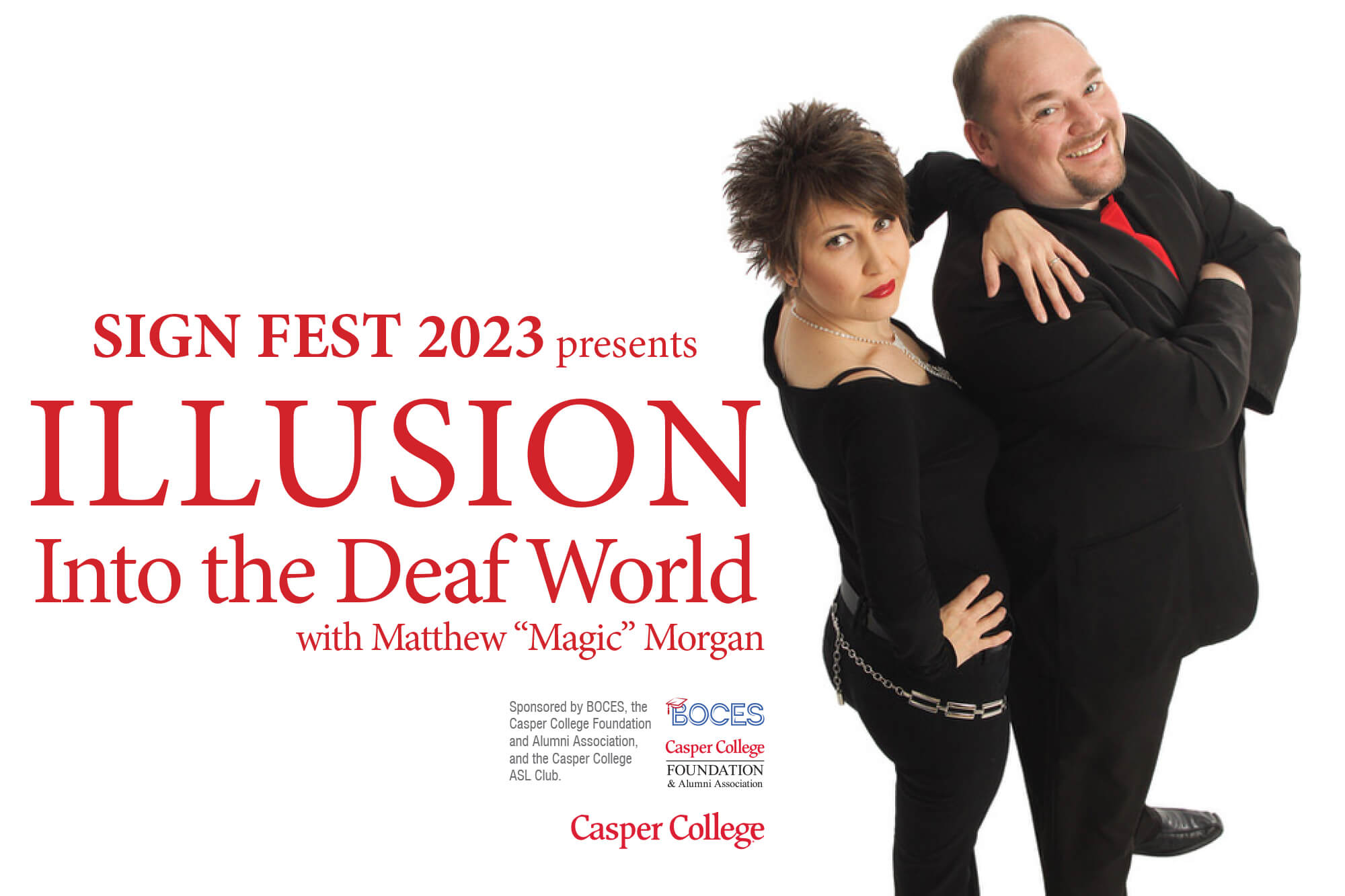 Magician Matthew "Magic" Morgan and Liliana will present a magic show titled "Illusion Into the Deaf World" in the Wheeler Concert Hall on Friday, Feb. 24, at 6:30 p.m. The family-friendly performance will take place in the Wheeler Concert Hall. The show is part of the Seventh Annual Sign Fest at Casper College, Feb. 22-24.
According to Gail Schenfisch, American Sign Language instructor, the three-day event will provide students and the community with opportunities to experience American Sign Language, its culture, and its rich diversity. "Learning a new language affords students the opportunity to know there is more in the world than what they see in their own backyard. Language acquisition helps students to become global citizens and be more compassionate toward their fellow human beings," said Schenfisch.
According to their website, those attending the event should "Prepare for eye-popping illusions, dazzling balloon twisters, stunts with live animals, and seemingly impossible tricks in an unusual and incredible display of magic when award-winning magicians Magic Morgan and Liliana take the stage. Try solving some of their magical mysteries as they bring a smile to your face with their mind-boggling performance."
Morgan started performing magic when he was 6 years old after learning a coin trick from his grandfather. When he was 11, he got paid to perform at a church, his first paid magic performance. Morgan has performed in all 50 states and 32 countries. He has served as the president of the U.S. Deaf Magicians Society and World Deaf Magicians.
Liliana was born in Russia. She started learning magic when she was 20 years old and now teaches Russian Sign Language. At one of Morgan's performances in Russia, they met and eventually married.
"Illusion Into the Deaf World" is family-friendly, free, and open to the public. An American Sign Language interpreter will be provided for hearing guests. The magic show is made possible through support from the Casper College Foundation and Alumni Association, the Board of Cooperative Educational Services, and the Casper College ASL Club.
The Wheeler Concert Hall is located in the Music Building on the Casper College campus.
Subscribe
If you enjoyed this story, receive more just like it: