Dean Morgan and Casper College bands in concert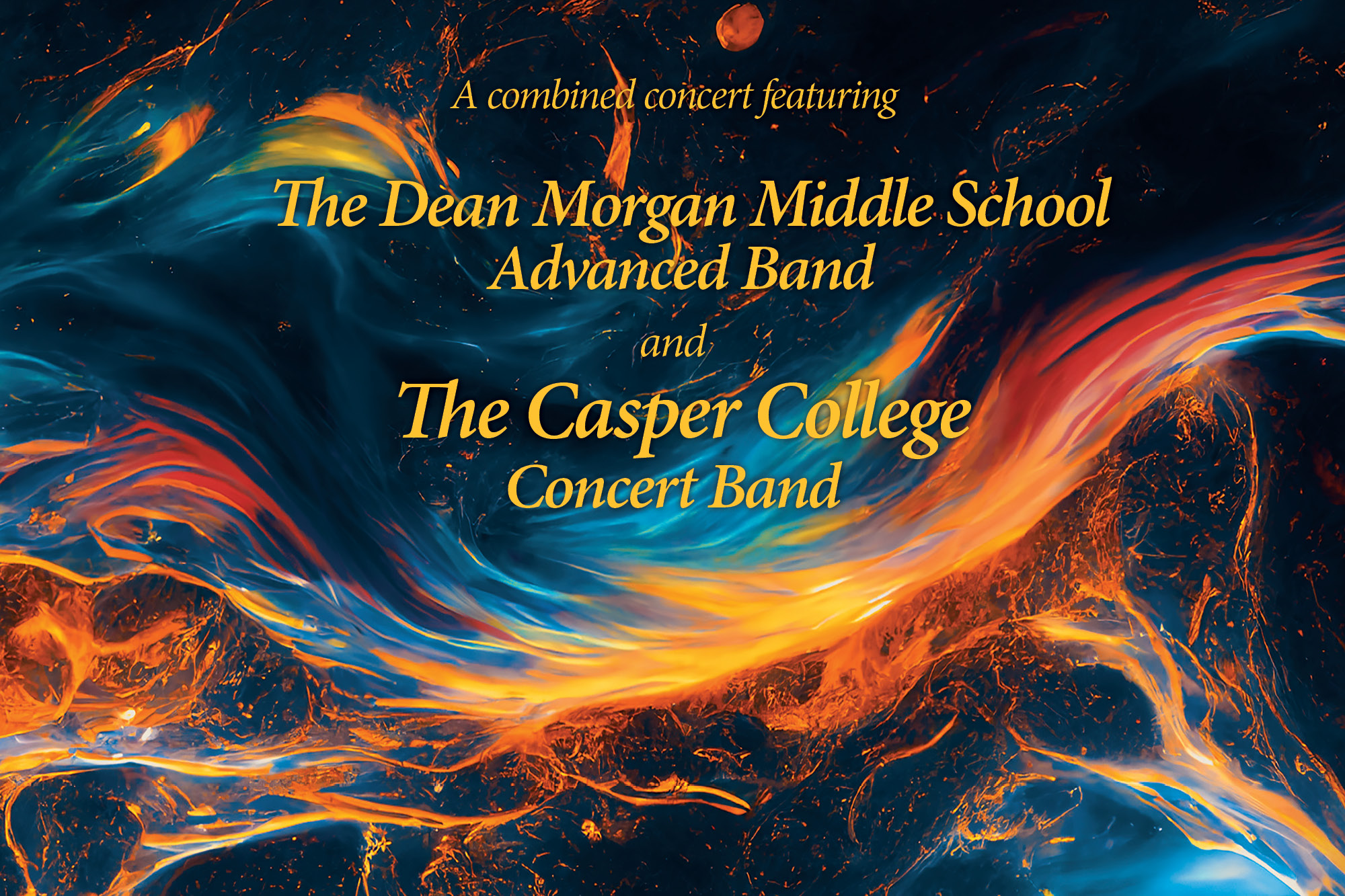 The Dean Morgan Middle School Advanced Band and the Casper College Concert Band will be in concert on Friday, Nov. 18, at 7 p.m. in the Wheeler Concert Hall.
"The concert is intended to inspire young people who may have an interest in band music to start playing or who may have left band music and need a gentle push to return or have always enjoyed it," said Joshua R. Mietz, DMA.
The two bands together will perform two pieces, one from William Whiting and the other from Robert W. Smith.
The Dean Morgan band will perform "Dancing Snakes" and Suzanne Vega's "Centuries."
The Casper College band, under the direction of Mietz, will perform John Phillip Sousa's "The Liberty Bell" and "The Thunderer," James Horner's "Music from Apollo 13," and Vincent Persichetti's "Divertimento for Band, Op. 42."
"We are hoping to inspire our young musicians to keep playing and our older musicians to mentor the younger ones," Mietz noted.
The concert is free and open to all. The Wheeler Concert Hall is located in the Music Building on the Casper College campus.
Members of the Dean Morgan Middle School Advanced Band under the direction of Toby Clouser are Lilly Beaugureau, Tristan Blackford, Kinzlee Daniels, and Kim Surles, flute; Mady McCullough and Roxy Helfrick, clarinet; Preston Castle, bass clarinet; Garrett Murphy and Chance Murphy, alto saxophone; Nathan Gruner, Leafa Hummel Kirkland, and Haleigh Zeidler, tenor saxophone; Dakaeyla Alexander, baritone saxophone; Mia Pekuri and Nico Jimenez, trumpet; Izzey Lloyd and Mikal Irriberry, trombone; and Kaden Coleman, Gabe Fish, Sayden Green, Quinnton Huss, and Logan Lehman-Salmans, percussion.
Members of the College College Band include Jenna Farley and Delores Thornton, flute; Dan Spangler, Tre Weant, and Lana Page, clarinet; Giselle Moreno, bass clarinet; Kimi Winckler, alto saxophone; Richard Turner and Mala Stagg, bassoon; Virginia Hazen, Haley Graham, and Sabrina Hamner, horn; Blaize Wenger, Marc Heward, Eternity Thunder-Tophia, Steve Johnston, and Sean Franklin, trumpet; Isaac Vreeman and Jeremy Rich, trombone; Titus Vreeman, euphonium; Zachary Vreeman, tuba; Walker Wyckoff and Riley Graham, bass; Chayse Wilson, Joshua Knutson, and Jack Larson, percussion; and Travian Lyman, piano.
Subscribe
If you enjoyed this story, receive more just like it: