2022-2023 theater and dance season promises to be exciting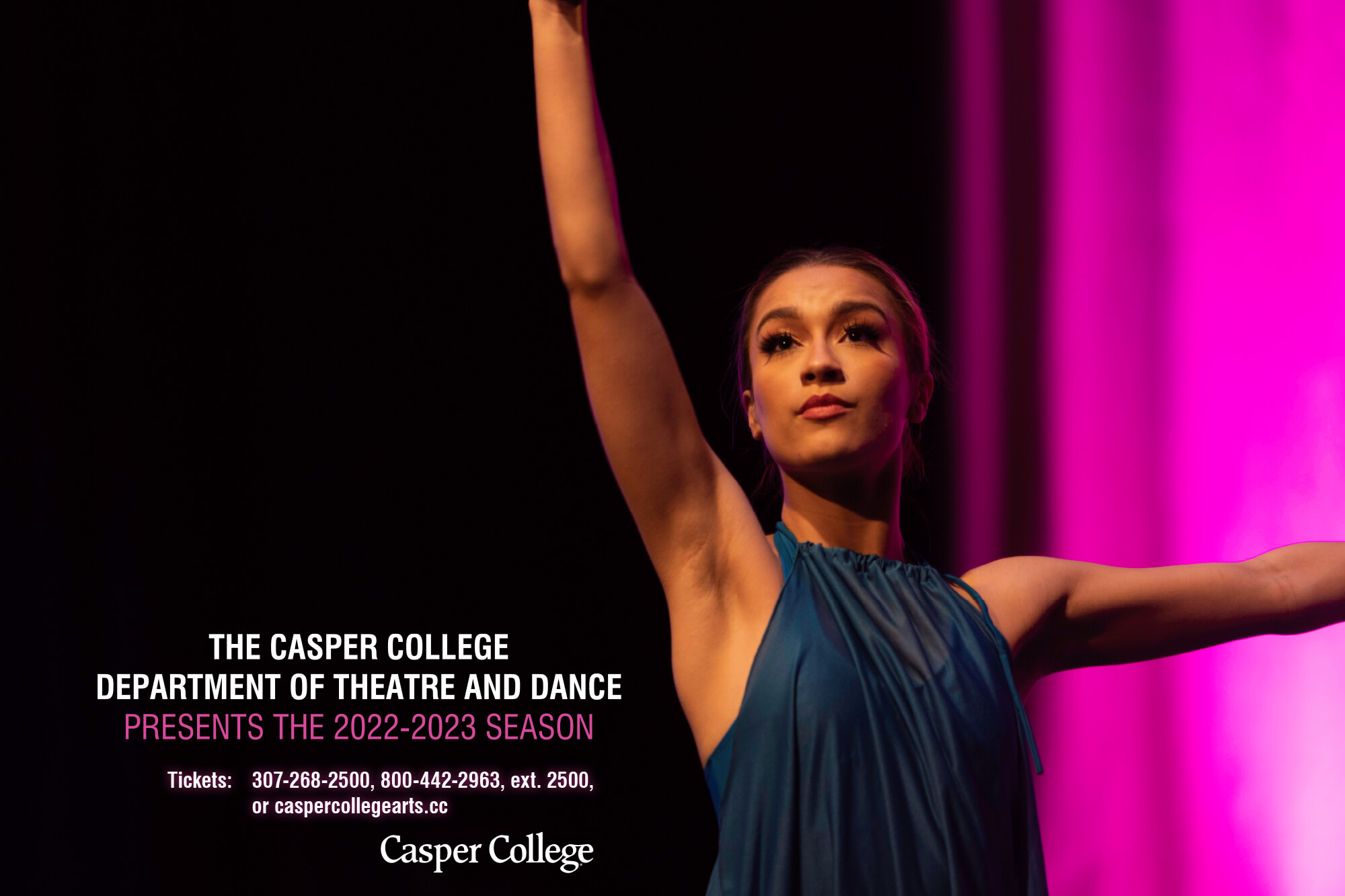 "I am very excited for our upcoming season," said Chontelle Gray regarding the 2022-2023 theater and dance season at Casper College. The season will consist of three "wonderful" plays and an original dance production.
In October, Rogers and Hammerstein's Broadway musical "Cinderella" will fill the Mick and Susie McMurry Stage with magic and song. Directed by Richard Burk, the show will feature choreography by new dance instructor Amy Fitzsimmons, musical direction by Nathan Baker, "magical" costumes by Darrell Wagner, scenery designed by Gray, and technical direction by Kristen Zabriskie. "It is going to be a beautiful production for the whole family. It will be a magical production, and I am excited about it," said Gray, scenic and lighting design instructor and academic chair for the music, theatre and dance departments. "Cinderella" will run Oct. 13-15 and 20-22.
The second production, "An O Henry Christmas," according to Gray, will be " … a great kick-off to the holiday season." Based on the works of O. Henry, the actors will perform several of the author's warm and sentimental stories, including "Gift of the Magi" and "Last Leaf." Gray, who served as a member of the production team on the original production, which premiered in Los Angeles at the California Repertory Company, will direct. At the same time, Burk will design the scenery, Zabriskie will handle the technical direction, and Wagner will create the costumes. "An O. Henry Christmas" will run December 1-3 and 8-10.
Coinciding with the 2023 Casper College Humanities Festival will be Jodi Youmans-Jones' original dance production, "circlesWEshare." "This piece looks at the connections between people and the circular links within our communities and our spiritual heritage. It is an exploration of the connections and the circles that tie us to one another," Gray said. According to Gray, a professional guest artist to design scenery and lights for the production will be hired to help " … create a truly magical evening of dance."
The dance concert will run February 23-25 and March 2-4. Joining Youmans-Jones on the production of "circlesWEshare" will be Wagner with costumes and Zabriskie with technical direction.
The final production for the season will be Shakespeare's "Midsummer Night's Dream" on April 20-22 and 27-29. The play will take place in the more intimate setting of the Thomas H. Empey Theatre. Known as one of Shakespeare's most frequently produced comedies, the faculty and staff " … are planning a beautiful collaborative experience … that will be both a visual and aural expression of this story of love and dreams. We are focusing on the dream aspect in this production and the magic of experiencing a dream together," noted Gray.
"This promises to be a lovely season of magic and hopes and dreams (and will) celebrate the bonds and connections we share through magic, community, and dreaming of a better future together," said Gray.
Tickets for all productions can be purchased two weeks before the first show date by phone at 307-268-2500 or toll-free at 800-442-2963, ext. 2500 or in person at the box office, which is open Monday-Friday from 11 a.m.-5 p.m. Tickets for each performance are $12 for adults and $10 for students aged 5 to 18.
Subscribe
If you enjoyed this story, receive more just like it: