Four Lady T-Birds sign to universities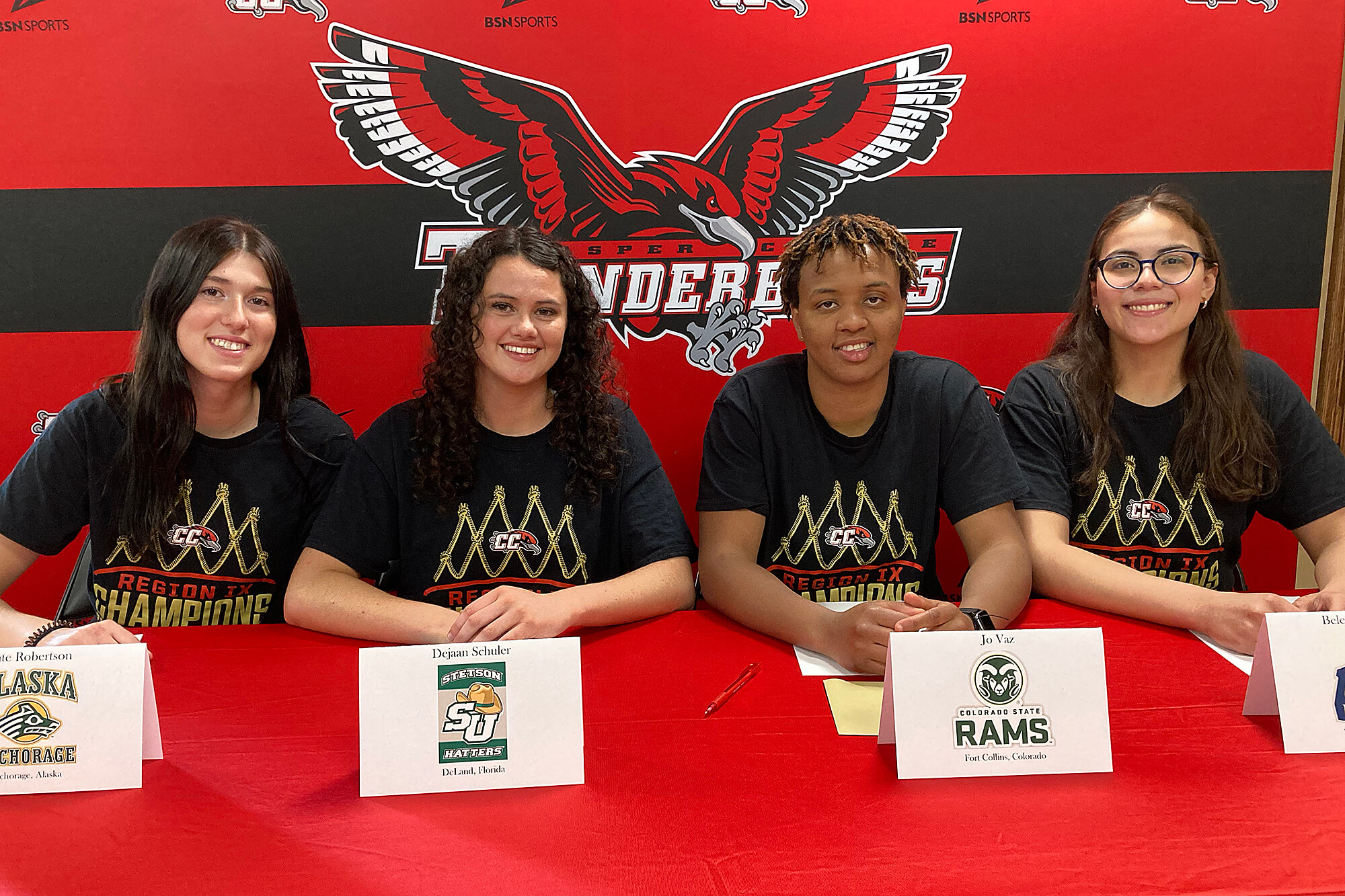 Four Casper College Lady T-Birds signed their letters of intent to play basketball at the next level. Pictured l-r: Kate Robertson, Dejaan Schuler, Joseana "Jo" Vaz, and Esperanza Belen Morales-Lopez. (Casper College photo/Lisa S. Icenogle)
Four sophomore women's basketball players are saying goodbye to Casper College and hello to basketball careers at the university level.
Dejaan Schuler will play next season for the Stetson University Lady Hatters in Deland, Florida. Schuler finished her career at Casper College, shooting 39% from beyond the 3-point arc, the sixth-highest in program history. Last season the Hatters went 20-12 for the season under head coach Lynn Bria. The DI Hatters play in the ASUN Conference.
Joseana "Jo" Vaz will play for the DI Colorado State University Lady Rams in the Mountain West Conference. During her two years at Casper College, she received several honors, including being named twice as an All-Region IX player, a 2022 selection to the All-Region IX Tournament team, and a 2022 All-American Honorable mention honors. Last season under head coach Ryun Williams, the Lady Rams went 21-12, including a win over the Wyoming Cowgirls in the Mountain West Tournament. CSU is located in Fort Collins, Colorado.
Esperanza Belen Morales-Lopez is heading to the University of New Hampshire in Durham, New Hampshire. Morales-Lopez was a 2021 Academic All-American and was selected to the 2022 All-Region IX Tournament team. The DI Wildcats play in the American East Conference under head coach Kelsey Hogan.
Natrona County High School standout Kate Robertson will play for the University of Alaska-Anchorage. During her two years as a Lady T-Bird, Robertson was named a 2021 Academic All-American and was selected for the 2022 All-Region team and 2022 All-Region IX Tournament team. The DII Seawolves compete in the Great Northwest Athletic Conference and last season were 20-7 under head coach Ryan McCarthy.
The four Lady Thunderbirds had a remarkable two years at Casper College and helped the team to compile an overall record of 50-7. The team also became two-time North Sub-Region Championship winners with a 20-0 conference record, won the 2022 Region IX Women's Basketball Tournament, and made two appearances at the NJCAA national tournament. According to Dwight Gunnare, the 2021-2022 team is also poised to finish in the top 20 in team GPA.
"I have thoroughly enjoyed coaching our sophomore class," said Gunnare, head coach. "They have accomplished so much during their two years at Casper College, both athletically and academically. I am very proud of them, and I am extremely confident that they will continue to be successful at their next university and beyond," he added.
Subscribe
If you enjoyed this story, receive more just like it: