2022 Commitment to Excellence: Barbara Crews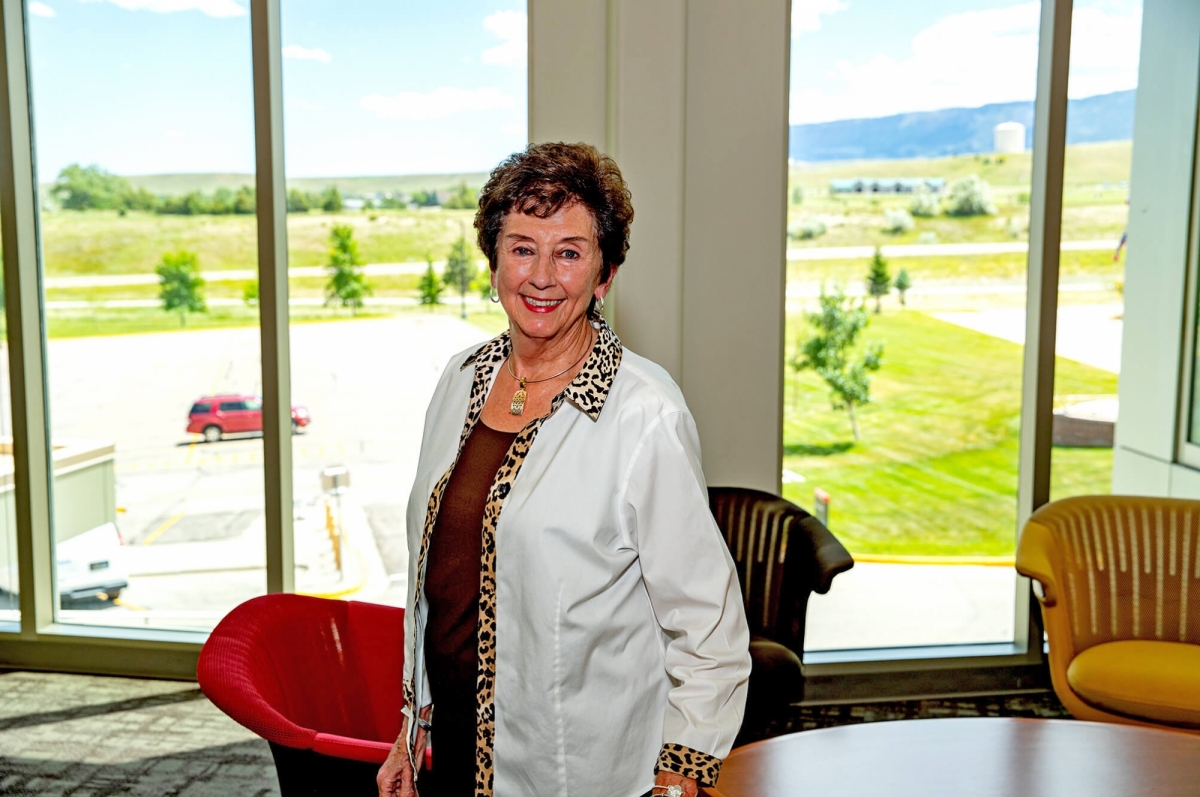 Barbara Crews has been selected to receive the Casper College Alumni Association's 2022 Commitment to Excellence award.
When you first meet Barbara Crews, you are struck by how genuinely nice, sincere, and caring she is. Spend a bit of time, and you notice a slight southern drawl.
Barbara was born in Jena, Louisiana, and was the valedictorian of her high school graduating class in 1955. In grade school, she met her future husband, George Crews. In her sophomore year of college, 19-year-old Barbara and George married.
In just three years, Barbara graduated with a bachelor's in education and then got her master's in education and administration. George was in a five-year program where he earned a bachelor's in geology while playing on the Louisiana Tech University football team.
She began her career in Golden, Colorado, teaching fifth grade. She then became the teaching consultant for Jefferson County, Colorado. As he was about to receive his master's degree, George was offered a job in Tripoli, Libya. "We didn't have money, but we would have almost paid them to go. We were so excited," Barbara said.
They lived in Tripoli for four years until Barbara and their girls were evacuated during the Six-Day War between Israel and Egypt, Syria, and Jordan. "The American Embassy ordered all women and children living in Libya to go to Wheelus Air Force Base for their protection," Barbara recalled.
Before dawn, Barbara and her two daughters were put on a van and taken to an airstrip. There they boarded a cattle transport plane outfitted with seats and took off. The plane landed in Rome. Barbara, 3-year-old Leah, and 3-month-old Laura boarded another plane and landed in New York City the next day.
George was stuck in Libya and not able to come home because of the war. George returned to America in October and flew to Casper for a job interview. He had a layover in Denver and visited with John Haun, his professor and advisor from Colorado School of Mines. Haun encouraged George to pay a visit to Jim Barlow. It turns out that Haun and Barlow were in partnership together and needed to hire a geologist.
George flew back to Louisiana and the next day received a phone call. "He came running into my parent's house, picked me up, whirled me around and said, 'We're going to Casper, Wyoming, with Barlow and Haun!' and that's how we got to Casper," said Barbara. The young family arrived in Casper at the end of Oct. 1967.
Barbara's first job was as an adjunct instructor at Casper College. On Jan. 31, 1969, she became a full-time education instructor. Eventually, she became the associate dean of academic affairs and, most famously, the originator and director of the college's program for high-achieving youngsters, the KEY — Knowledge Enrichment for Youth — program in 1986. Barbara retired from Casper College in 1999 and then from KEY in 2019.
Some might say that Barbara has lived a charmed life, but the educator also knows tragedy. In 1977, at the age of 40, her beloved husband of 20 years died. With the support of her Casper College colleagues and many friends in her church, Barbara decided to stay in Casper.
During her 30-year employment at Casper College, Barbara expanded its programs and helped instructors excel in their jobs. She created KEY and served as its director for an incredible 34 years. Barbara is remembered as much for what she did for Casper College as for who she was and is a genuinely nice, sincere, and caring person.
Barbara Crews will be presented with the Casper College Alumni Association's Commitment to Excellence award during the 2022 commencement ceremonies Friday, May 13.
The Commitment to Excellence award was established by the Casper College Alumni Association in 1991 to honor those who have given exemplary service to and have made a significant difference in the growth and development of Casper College.
Subscribe
If you enjoyed this story, receive more just like it: