Spring 2021 Dean's Honor Roll at Casper College announced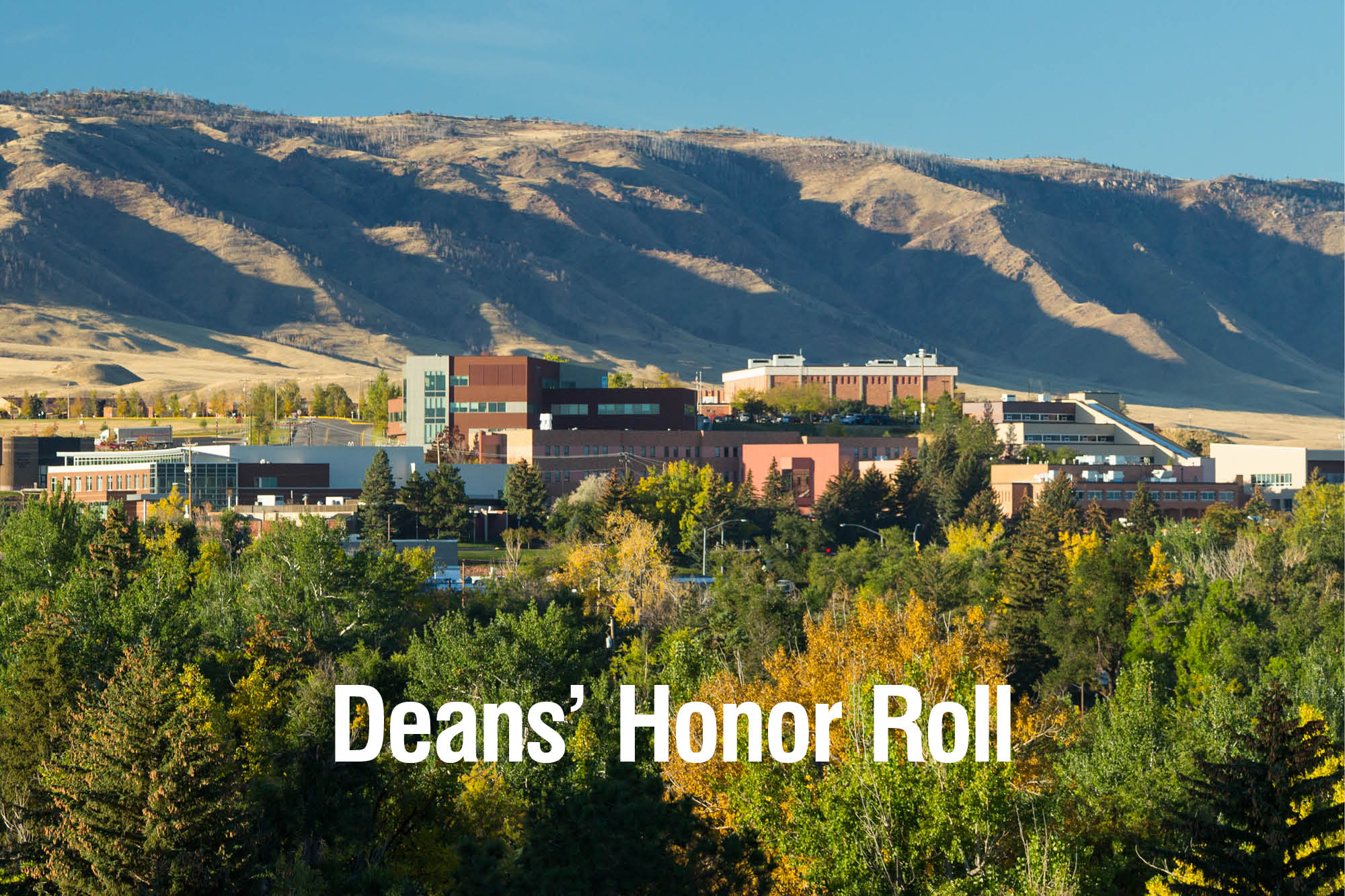 Casper College officials have released the names of the 394 students who made the Dean's Honor Roll at Casper College for the 2021 spring semester. To qualify for the award, a student must have a semester GPA of 3.5 or better. The recognition is for part-time degree-seeking students, those taking six to 11 credit hours per semester, and nondegree-seeking full-time students taking a minimum of 12 credit hours.
Students named to Casper College's Dean's Honor Roll, ordered according to their hometowns, follow. Wyoming students are listed first, followed by students with out-of-state hometowns listed alphabetically by state, then hometown.
Wyoming
Alcova: Keira McMullin and Dustin Smart.
Bar Nunn: Rebecca Barker, Cassity Bracken, Sarah Brown, Makala Bryan, Logan Eggleston, Cortnie Hardee, Joyce Pearson, Haley Rhyan, Emrie Rodrick, Cassie Wiese, and Rachel Wright.
Boulder: Emily Ray.
Burns: Vauda Grizzel.
Casper: Josiah Adwalpalker, Alaynha Aiello, Samuel Airisa, Mariah Alcaraz, Maya Altland, Randilynn Alvey, Kennedy Anderson, Lisa Anderson, Sara Argueta-Acevedo, Hernan Arias-Ruiz, Alexis Arteta, Megan Balas, Shaylee Barelle, Ashley Barkley, Megan Beddes, Ainsleigh Belveal, Presley Bloom, Julia Borrmann, Justin Boyer, Ashlee Braat, Laila Bramson, Surann Breen, Jessica Brenton, Caden Bright, Thomas Brown, Ellyce Brownell, Amanda Buckert, Anna Burton, Rachael Byram, Bryn Catlin, Jared Catron, Sophia Chajon, Alonna Clair, Brenda Claney, Bruce Clifton, Tammy Cobb, Gina Colaw, Morgan Collums, Catherine Conway, James Cooler, Taylor Coomes, Megan Cormier, Brandy Coyle, Britney Crimm, Jill Crossley, Jessica Crutchfield, Kathleen Davis, Jessica Dewey, Maria Diaz Hernandez, Jeremy Duran, Corey Duren, Ashlynn Eads, Evan Eathorne, Lindsey Eidsness, Kelby Eisenman, Luceil Elder, Marissa Engberg, Nathan Eshe, Breck Eskew, Nicholas Fenner, Benjamin Flake, Kaitlynn Flanagan, Maria Flinn, Iryna Fox, Kylie Freese, Laura Gamble, Justin Garriott, Sydney Gassiot, Erin Gazda, Jace George, Mehdy Ghaffari, Melissa Ghaffari, Cayley Gibb, Carson Gilbar, Esteban Gonzalez, Haley Graham, Riley Graham, Cassidy Greer, Melody Haler, Christina Halvorsen, Owen Hansen, Anna Harris, Dustin Harris, Kayalei Hartl, Lindsey Hawkins, Ethan Hecht, Sierra Heide, Krista Helm, Brian Heninger, Huldah Henry, Bobbi Herbst, Brittany Hermon, Emma Hess, Diamond Hett, Lynn Heyer, Trevor Hible, Logan Hilde, Bryce Hindman, Karley Hoelscher, Courtney Hoffman, Jessica Homer, Jennifer Hosey, Anna Hoyt, Kristine Huff, Brooklyn Hytrek, Amanda Ingram, Stephanie Jacobsen, Leah Jensen, Angelica Johnson, Jamia Johnson, Shelby Johnson, Gavyn Jones, Kayla Jones, Moriah Jones, Angela Juarez, Myrtice Judd, Annelise Kalcevic, Elizabeth Kalus, Kali Keene, Amber Kennicker, Wesly Keyser, Guru Raj Khalsa, Donald Klyce, Jennifer Knifer, Hawkins Kopp, Amanda Kunz, Tess Kurka, Turner Lack, Laura Lance, Riley Larkins, Patience Leis, Marissa Leist, Cassie Lifferth, Barrett Lloyd, Nelli Lucus, Candice Lugibihl, Athne Machdane, Anthony MacMillan, Carter Mahoney, Kloie Markve, Hailey Martin, Trinity Martinez, Davion McAdam, Taylor McCabe, William McCain, Jesse McCormick, Maverick McIntyre, Melicia McIntyre, Sarah Mckinney, Darren McNally, Ethan Mead, Rachel Merchant, Michael Millan, Taeron Miller, Morgan Moller, Logan Moncur, Jocelyn Moorefield, Connie Morgan, Emilie Morgan, Halle Morgan, Keenan Morgan, Salem Morin Brecken Morrison, Sierra Moser, Erica Mountain, Peterson Mugo, Jonathan Munday, Nicole Nicely, Holly Niemi Kylie O'Brian, Merav Oshri, Destinee Pabst, Charity Palmer, Jamie Patsie, Kylee Paulson, Caleigh Peak, Jason Peer, Chantel Pena, David Peres, Adam Pickett, Michael Pieper, Kayla Pieren, Natina Pitmon, Shailey Politte, Andrew Portillo, Garret Poste, Carter Quin, Gayle Ramsey, Siera Randolph, Quillan Reed, Christina Reilly, Curtis Reiman, Fawn Ricker, Alyssa Robinson, Jennifer Robinson, Kyle Rockwell, David Saine, Madison Saine, Tamara Salazar, Elissa Sanders, Nathaniel Sausedo, Shelby Schauss, Julianna Schmidt, Robert Schoonover, Jessica Scott, Allison Sellers, Howard Shaw, Jessica Shedden, Theresa Simpson, Amanda Sisco, Kaci Skrukrud, April Smith, Kaelob Sith, Lindsey Sokolowski, Sydney Soliz, Zachary Southerland, Mercedes Spenneberg, Raquel Speth, Gregory Sprecher, Robyn Stack, Andrew Staker, Tanesia Sternhagen, Mary-Virginia Stevens, Kade Taheri, Helaina True, Lauren Tyson, Andrea Vanderbeek, Kenia Varela, William Wallace, Jessica Walsh, Qi Wang, Hannah Weader, Ellie Weibel, Adrian White, Brooke White, Vera Wickiser, Emilee Willard, D'Maerik Wilson, Jaret Wing, Erin Wirrenga, Grace Wolff, Kaden Woods, Chance Wray, Sage Wright, and Tiffani York.
Cheyenne: John Blomstedt, Holly Brennecke, Kenna Iffland, Jackson Leiby, Marissa Molloy, Sierra Olesinski, Christina Pyeatt, and Abbigail Steinhausen.
Cody: Ashley Majusiak.
Cowley: Chad Lindsay.
Douglas: Amber Albat, Taelynn Blaylock, Kristy Cropper, Whitney Fields, Cavan Jurgens, Meghann McAndrew, Emily Skeen, Sage Ware, and Katie Weimer.
Evansville: Robin Alley, Diana Amaro Bahena, Melissa Carter, David Collins, Chavely Cruz Cardenas, Cara Debban, Tatiana Durgin-Brown, Eric Evenson, Abby Hill, Joseph Horn, Carmela Jimenez, Casey Keith, Shantel Lucero, Heaven Mackler, Briahnna Manning, Jackie Martin, Nolan Nachbar, Elisa Payton, Tiffany Rayner, Keith Rouse, Karen Sandoval, and Jeremy Schumacher.
Gillette: Alison Clarke, Madison Hieb, Landon Suchor, and Sharon Wilson.
Glenrock: Stephanie Bean, Megan Fleetwood, Jennifer Hendrickson, April Hiser, Rowena Lytle, Brooke Moore, Nicole Scherman, Morgan Schwindt, and Scott Tombroek.
From Green River: Regan Eslick.
Greybull: Brenna Stanley.
From Hudson: Olivia Finney.
Jackson: John Henley, Matthew McGee, and Keiry Robles.
Kaycee: Heidi Greet and Crosby Taylor.
Lander: Andrew Hill.
Laramie: Colten Clark, Aubrey Ice, Cullan Kirwan, Wacey Lym, Jaime Phan, Hannah Schwechler, and Tanner Stuart.
Lovell: Joshua Farmer, Emily Nebel, and Ashley Trainer.
Meeteetse: Leisa Elliott and Bethany Taylor.
Midwest: Kendell Smith.
Mills: Shawn Bennett, Zephaniah Filer, Brittany Gaines, Chole Haag, Robin Martin, Mary McMillan, Araynne Meacham, Beth Skidmore, Elizabeth Smith, Regine Marie Smith, Sariah St. Clair, Kenneth Vroman, and Ronald Whittaker.
Newcastle Hannah Burrough.
Pinedale: Heidi Gay.
Powell: Lisa Pettengill and Benjamin Wetzel.
Ranchester: Katie Balthazor.
Riverton: Nicole Heidt, Cassandra Looper, Kelly Rutz, and Jody Trehearne.
Rock Springs: Natasha Blust.
Rolling: Hills: Kaylee Jones.
Rozet: Brittney Fousek.
Shawnee: Lane Chaput.
Sheridan: Paige Fort, Robert Kelly, Fielding Phillips, and Kristi Rosenlund.
Story: Heather Watt and Steve Weast.
Sundance: Dallas Johnson.
Thayne: Ceri Chapple.
Thermopolis: Daniel Leonhardt.
Wheatland: Andrew Barrett-Corbin, Caryn Hampton, and Emily Morford.
Worland: Tucker Horath.
Wright: Jalene Detillion.
United States
California
Descanso: Robyn Cox.
Los Angeles: Rebekah Sechrist.
Colorado
Firestone: Thomas Wallace.
Meeker: San Delana Riebold.
Florida
Punta Gorda: Kurt Edwards.
Georgia
Lawrenceville: Paul Kunesh.
Maine
New Harbor: Keith Norcross.
Missouri
Marshall: Blayne Vogel.
Montana
Broadus: Shane Copps.
East Helena: Mariah Norstrom.
North Dakota
Velva: Sadie Dinwiddie.
New York
Mount Vision: Connor Kane.
Ohio
Kenton: Matthew Weaver.
South Carolina
Charleston: Andrea Fournier.
South Dakota
Belle Fourche: Emily Hoard.
Piedmont: Miami Leeper.
Texas
Holland: Garrett Kurtz.
Jourdanton: Brittany Reich.
Subscribe
If you enjoyed this story, receive more just like it: