New class offered for music lovers and majors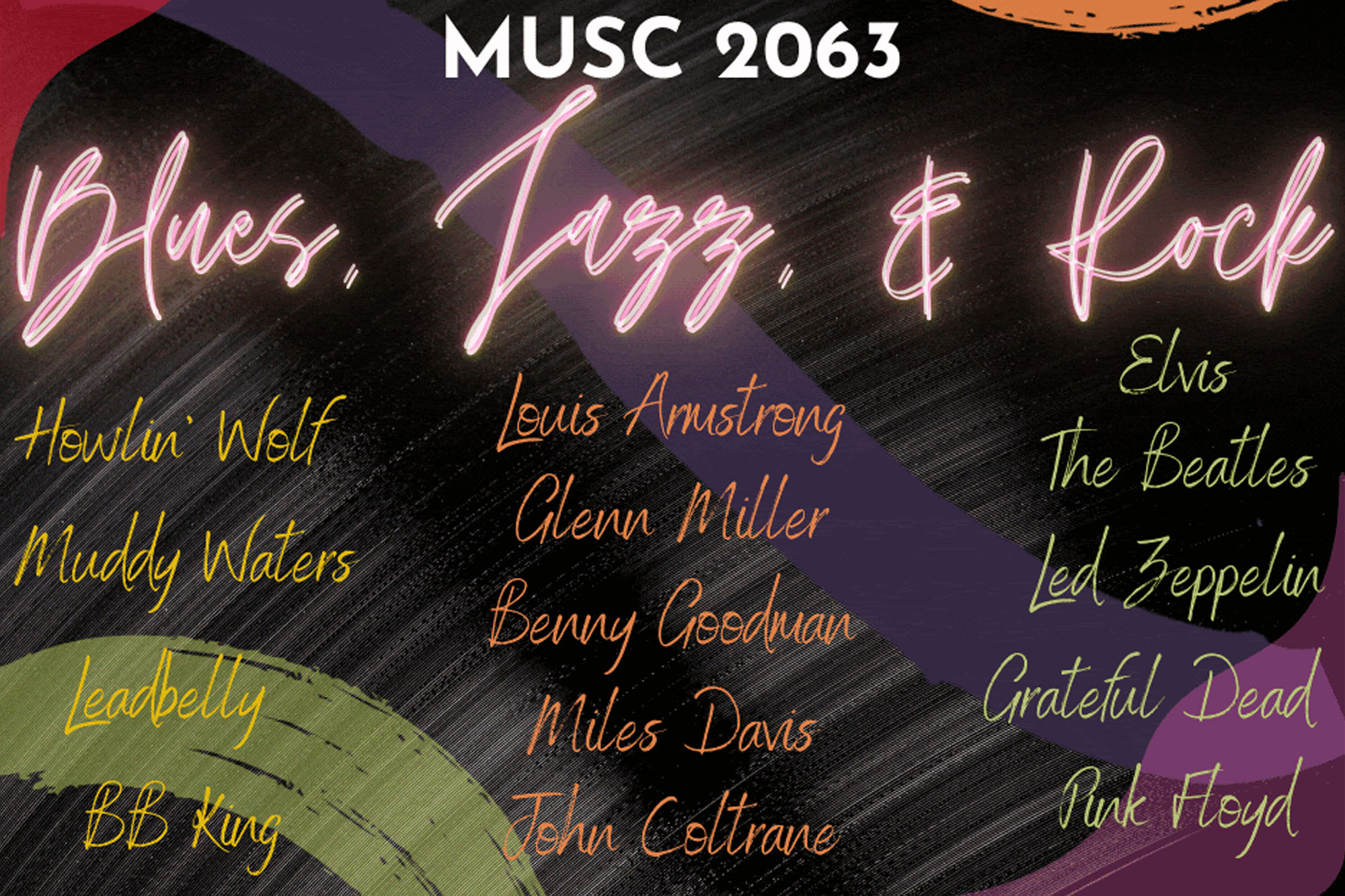 Blues, Jazz and Rock, MUSC 2063-01/N1, is a new class for the fall 2021 semester for anyone with a curiosity to learn about the history of the United States through its popular music.
According to instructor Joshua R. Mietz, DMA, the course will trace the roots of jazz from the colonial slave trade through the American Civil War, where it branches into blues and rock. "We explore Dixieland, ragtime, big band, swing, bebop and East/West Coast jazz during this section of the course," said Mietz.
According to Mietz, the blues section of the course will discuss the necessity of African Americans to relocate from the Deep South to places such as Chicago, Detroit, New York, and Los Angeles early in the 20th century. "We will also discuss the influence the American railroads had on the relocation of people throughout the continent," said Mietz. The blues portion of the course will also cover the art form as it evolved from the plantations of the southern United States and include a discussion of artists, including Muddy Waters, Howlin' Wolf, B.B. King, and culminating with Motown and the transitions into rock and roll.
The final section on rock will look at the genre from its beginnings in delta blues and country and western through British rock, including the Beatles, Rolling Stones, Led Zeppelin, and Pink Floyd, Mietz said. The hippie movement in the San Francisco Bay area, Woodstock, and the current trends in rock will also be covered. According to Mietz, current trends include the effect of recording technology, television, MTV, iTunes, and social media on the transmission of blues, jazz, and rock.
The Blues, Jazz and Rock class is open to students of all majors and community members. In addition, no textbook is needed, and no specific musical knowledge is necessary. The class, worth three credits, will run from 1-2 p.m. Monday, Wednesday, and Friday in the Music Building, Room 104, as well as online. For more information or to register, contact Mietz at joshuamietz@caspercollege.edu.
Subscribe
If you enjoyed this story, receive more just like it: