2021 spring President's Honor Roll at Casper College announced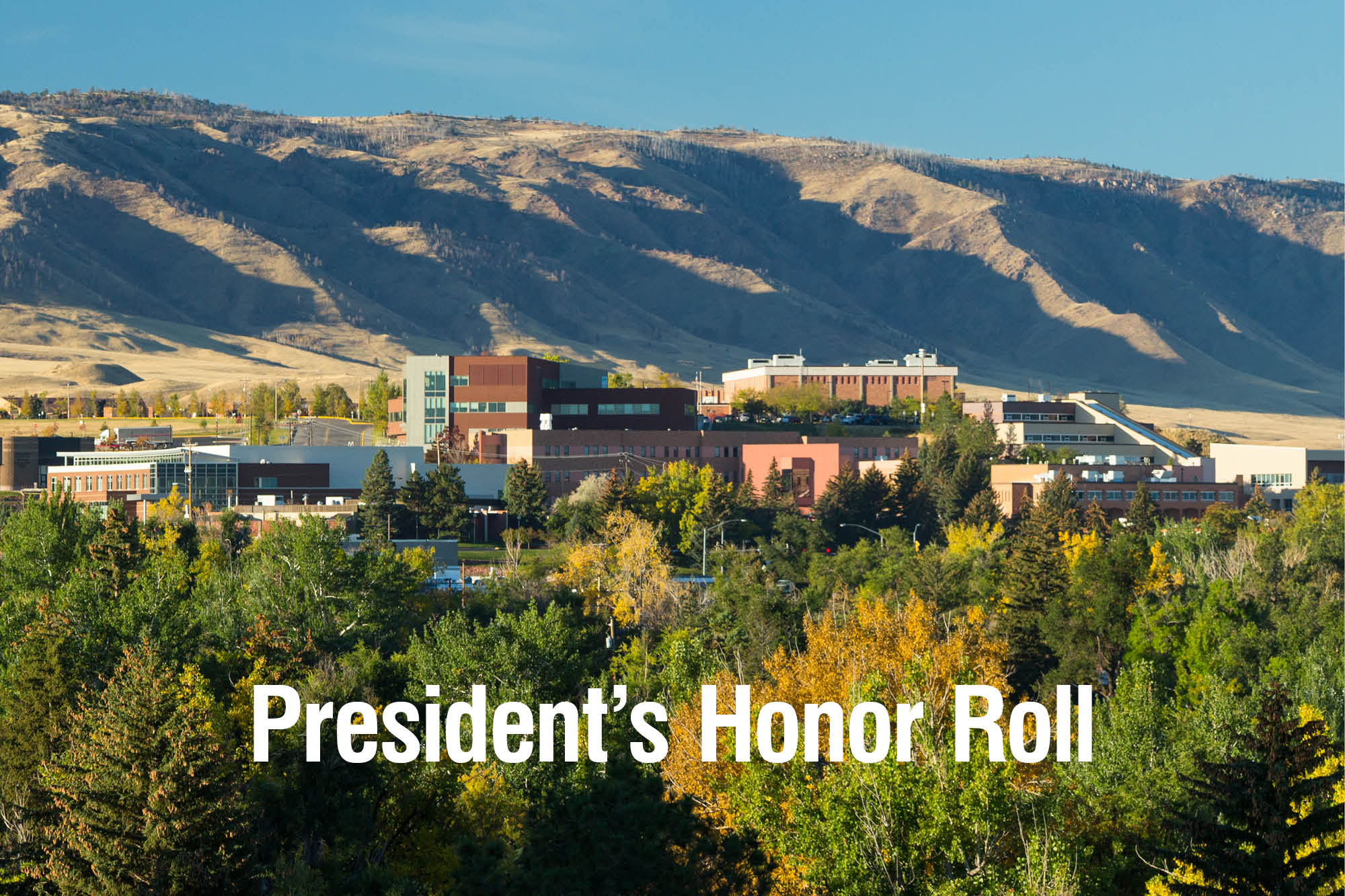 College officials have released the names of the 419 students who made the President's Honor Roll at Casper College for the 2021 spring semester. To qualify, a student must take at least 12 hours and receive a GPA of 3.5 or better.
Students named to Casper College's President's Honor Roll, ordered according to their hometowns, follow. Wyoming students are listed first, followed by students with out-of-state hometowns listed alphabetically by state, then hometown. Finally, international students are listed by home country and hometown.
Wyoming
Afton: Kaylee Burgess.
Alcova: Alysa Bentley.
Bar Nunn: Damen Brewer, Gabriel Heuer, Keith Hoffman, Sydney Holder, Zachary Houghtaling, Catlin Logan, RhiAnna Mahoney, Jenifer Middleton, Ann Miller, and Felicia Rhodenbaugh.
Buffalo: Demi Dobbin and Kristin Klaahsen.
Casper: Brooke Abbott, Christina Adams, Caylee Anderson, Whitney Anderson, Kortnee Andrews, Jaden Arner, Clayton Atkinson, Wyatt Atkinson, Griffin Bailey, Emily Balfour, Stephanie Barella, Kelley Barker, Laney Bartels, Carolee Bates, Alexandra Bath, Katie Bays, Emery Bemis, Mark Bennett, Taylor Berg, Cody Best, Sarah Bhutto, Brandon Birgenheier, Abigayle Bledsoe, Lawrence Boahen, Channing Bohnet, Kaytlin Booth, Jennifer Box, Nathaniel Britt, Sydney Brost, Casey Brown, Ethan Brown, William Brown, Wanda Browning, Emma Brummer, Marcela Caballero, Brooklynn Calkin, Sarah Caneron, Izabelle Cardenas, Kane Carlson, Amber Chadwick, Tanner Christensen, Kahner Christopherson, Annelise Clark, Jamie Cody, Olivia Cole, Ender Collins, Katie Collins, Grace Collister, Clinton Cook, Audrea Cooper, Joshua Corr, Faith Cottrell, Sheridan Cox, Troy Crump, MacKenzie Cummings, Lainey Deacon, Jackson DeCook, Aspen DeLano, Camillo DePaolo, Gabriela DeVoogd, Ryan Dickey, Beau Donelan, Lesley Doney, Stevin Dow, Alexis Dvarishkis, Kirsten Earp, Angela Edwards, Mekhi Embry, WyLee Esau, Jared Even, Peter Fahey, Lane Fanto, Erin Ferebee, Zoee Ferguson, Kyera Fernandez, Taylor Few, Connor Ficken, William Fielder, Ky Fike, Jennifer Foster, Jonathon Franklin, Jaylyn Garfield, Gabrielle Garris, Haley Gibson, Hannah Gilliland, Madison Gillum, Taylor Goodpasture, Krystiana Graham, Alaina Griffee, Megan Griffin, Gavin Grochowski, Abigail Gruner, Sienna Hawk, Dean He, Taylor Hensley, Lyle Hepworth, Destiny Holden, Annicka Hoover, Coral Hourt, Taylor Howe, Connor Jacobsen, Julie Jarrard, Elizabeth Jensen, Megan Jensen, Enrique Jimenez, Emma Kellick, Leslie Kelly, Weston Kennedy, Eun Seon Kim, Chelsie Klone, Kaylen Kott, Shaney Kruse, Mikaeli Lacey, Whitney Lamb, Katlyn Lane, Sara Leach, Leslie LeClair, Hee Lin Lee, Lance Lenhart, Carrie Leyva, Aaron Linard, Henry Lindblad, Eliza Liska, Kady Locke, Morgan Loepp, Nathaniel Loepp, Ryan Loghry, Hannah Long, Kimberley Long, Maria Lopez, Stephen Lovato, Tristan Loyd, Catlyn Lubenow, Isabel Lucio, Sarah Ly, Elizabeth Malone, Danielle Martensen, Jared Martin, Makenna Mellema, Hope Melton, Alexia Mendez, Ana Merchant, Alyssa Meskel, Sye Meyer Anna Michenzi, Stephanie Mielke, Emmy Miller, Alyssa Miner, Danielle Mohr, Cameron Moore, Peta-Gay Moore, Kimberly Moran, Tamara Morrison, Paige Muller, Parker Munsey, Edward Murray, Alexis Muszynski, Alexander Nartey, David Neely, Zoe Neville, Julia Nielsen, Kaitlyn O'Malley, Alanha Osseiran, Kayla Ostrem, Christine Palmer, Charissa Parker, Lela Phillips, Timothy Pike, Lauren Podjun, Cari Pruismann, Keith Reau, Melissa Reilly, Orion Remington, Rachel Retherford, Felicity Reyes, Benjamin Ridgeway, Grace Ritchie, Race Rittenour, Corey Rizzi, Amberly Robertson, Kate Robertson, Mindy Roney, Samuel Sapp, Kamryn Scott, Sarah Scott, Cindee Shepherd, Louis Sierra, Brittany Silva, Regann Sipe, Haleigh Skiles, Melonie Skovgard, Nicole Slagle, Sara Sleep, Randy Sletten, Cheyenne Smith, Jarrod Snider, Ryan Snyder, Cassidy Sorensen, Joel Sorensen, Ryan Sorensen, Kylie Spangler, Faith Steinberg, Hannah Stone, Kylie Sullivan, Teneil Sullivan, Andrew Swain, Jesse Taylor, Mary Teague, Zachary Tenney, Shelby Trott, Alyssa Trujillo, Rachelle Trujillo, Heather Tyler, Siri Ullery, Erin Valentin, Alexandra Vincent, Kleo Vlastos, Emma Von Osterheldt, Angela Wallace, Justin Webb, Catelyn White, Maisy Wilkinson, Tea Jean Williams, Liza Womack, Kyle Woodruff, Violet Wright, Diana Yanez, Matthew Yarger, and Joseph Zettl.
Cheyenne: Annamarie Bailey, Emily Byrd, and Gabrielle Snell.
Cody: Charles Polley and Isaac Taylor.
Dayton: Sierra McCoy.
Douglas: Cody Barney, Denali Bergquist, Abbie Cornett, Randi Hobbs, Lauren Pooley, Amanda Roberts, Joslynn Sauer, and Victor Wimmer.
Dubois: Matthew Codevilla, Lydia Hinkle, and Aaron Mountain.
Evansville: Matthew Bare, Elizabeth Bauer, Dana Berg, Franki Brower, Brooke Johnson, Elizabel Marias, Tesla McConnaughey, Ragin Mosteller, Benny Ortiz, Chloe Riley, and Joshua Schilling.
Farson: Amanda Weaver.
Fort Bridger: Aileen Bugas.
Gillette: Lainee Allison, Destiny Authement, Dylan Cornelius, Rebecca Haskins, Savannah Kramer, Laci Parish, Jacob Peterson, and Emily Stauffer.
Glendo: Christina Mangan.
Glenrock: Brysen Collier, Dalton Davies, Cameron Magee, Ty Makris, Shayna Perez, Shyla Whalen, and Archer Young.
Green River: Drew Gibson, Travis Kloepper, and Sean Rauert.
Greybull: Sadie Harper, Braeden Tracy, and Sydney Tschiffely.
Hulett: Dalton Butler, Emma Jay, and Jhett Letellier.
Jackson: Orion Bergstrom and Edgar Mendoza Perez.
Kaycee: Michelle Chapman and Benjamin Kukowski.
Kemmerer: Charity Chamberlain and Alexis Krall.
La Barge: Trey Christofferson and Paige Nielson.
Lander: Kolbie Erickson, Sabrina Lawrence, and Avery McIntyre.
Laramie: Kenzie Andrews and Roland Wookey.
Leiter: Ashlynn Fennema.
Lyman: Brooklyn Busskohl.
Mills: Laurana Brink, Damond Cottrell, Kelsey Cox, EdwinJay Harvey, Rowan Jackson, Tasha McEvoy, Zachery Obendorf, Tyler Parke, and Kellee Schuerman.
Mountain View: Mindy Eardley.
Newcastle: Daytona Bennett, Jory McFarland, and Markie Whitney.
Pavillion: Tierra Price.
Pine Bluffs: Jason Weller.
Pinedale: Megan Anspach and Kodie Egle.
Powell: Gavin Asay and Karlie McKenzie.
Rawlins: Sadie Forney, Stacey Michel, DeNae Schoel, and Morgan Snodgrass.
Riverton: Diana Christensen, Kodi Christensen, Tamira Marshall, Michael Martin, Makayla Seely, and Payge Smith.
Rock Springs: Brandy Dewar, Tyler Dewey, and William Leibee.
Rolling Hills: Brody Cathcart, Abigail Nunez, and Rebecca Schmidt.
Rozet: Kandace Lumbardy.
Sheridan: Ryan Crowell.
Shoshoni: Gabriel Cash.
Thermopolis: Audrey Axtell, Oran Coyne, and Lisha Xiahou.
Upton: Jamison Nistler.
Wheatland: Elizabeth Crowley, Justin Lema, and Matthew Wilhelm.
Worland: Karla Gaytan, Carlos Pacheco, Elizabeth Voss, and Dani Warner.
Wright: Teresa Meza and Jessica Reyes Castro.
Out of state
California
Hughson: Grant Fern.
Oroville: Catelyn McCardle.
Colorado
Aurora: Jazmine Ames.
Black Hawk: Jakob Duncan.
Brighton: Skylar Lange.
Brush: Amos Bowen.
Colorado Springs: Matthew Tabor.
Longmont: Miranda Pacheco.
Northglenn: Ryker Chavez.
Idaho
Moscow: Brianna Turville.
Illinois
Westchester: Daher Isshac.
Indiana
Jamestown: Tyler Grimm.
Montana
Great Falls: Blaize Wegner.
Nebraska
Burwell: Emily Knust.
Gothenburg: Savannah Peterson.
Harrison: Kalen Lotton.
Lakeside: Shanna Bailey.
Nevada
Jiggs: Anthony Barnes.
New Hampshire
Hollis: Kate Ryder.
New York
Brooklyn: Camira Walters.
North Dakota
Watford City: Nevada Berquist.
Ohio
Millersburg: Taylor Feikert.
Pennsylvania
Halifax: Ashley Dobbin.
South Carolina
Townville: Rachael Skipper.
South Dakota
Belle Fourche: Chantel Kolb.
Edgemont: Kaylen Stearns.
Hermosa: Whitley Heitsch.
Texas
Flint: Lauren Shaffer.
Utah
Heber City: Sydney Hiatt.
Ogden: Abbygail Hudman.
Santaquin: Shelby Nelson.
South Jordan: Hannah Thompson.
Syracuse: Sophia Henley.
Washington
Clarkston: Anna Aarstad.
International
Australia
Melbourne: Emily Achter.
Brazil
Rio de Janeiro: Victor Hugo.
Canada
Quebec: Alexis Lamontagne
Vauxhall, Alberta: Riley Leeson
Roblin, Manitoba: Jules Smyth.
Columbia
Santiago De Cali: Jose Alvarez Esquivel.
Denmark
Vaerloese: Sofie Hauge.
France
Mont-de-Marsan: Kevin Tauzia.
Georgia
Tbilisi: Natalia Otkhmezuri
Indonesia
Jakarta, DKI Jakarta: Natasha Suwisanto
Italy
Vervò Di Predaia, Trento: Matteo Conci.
Pergine Valsugana: Giulia Santuari.
Netherlands
Ursem: Jesper Van Halderen
Nigeria
Lagos: Bright Iheanachor
Serbia:
Trstenik: Jana Gilic.
South Africa
Johannesburg: Keanu Jardim.
South Korea
Siheung: Heejun An
Incheon: Chanhwi Jung
Spain
Bellreguard, Valencia: Esperanza Morales Lopez.
Switzerland
Zurich: Leonard Savora
United Kingdom
Barry, Wales: Jack Pascoe
Subscribe
If you enjoyed this story, receive more just like it: