Wyoming's top teacher to speak on campus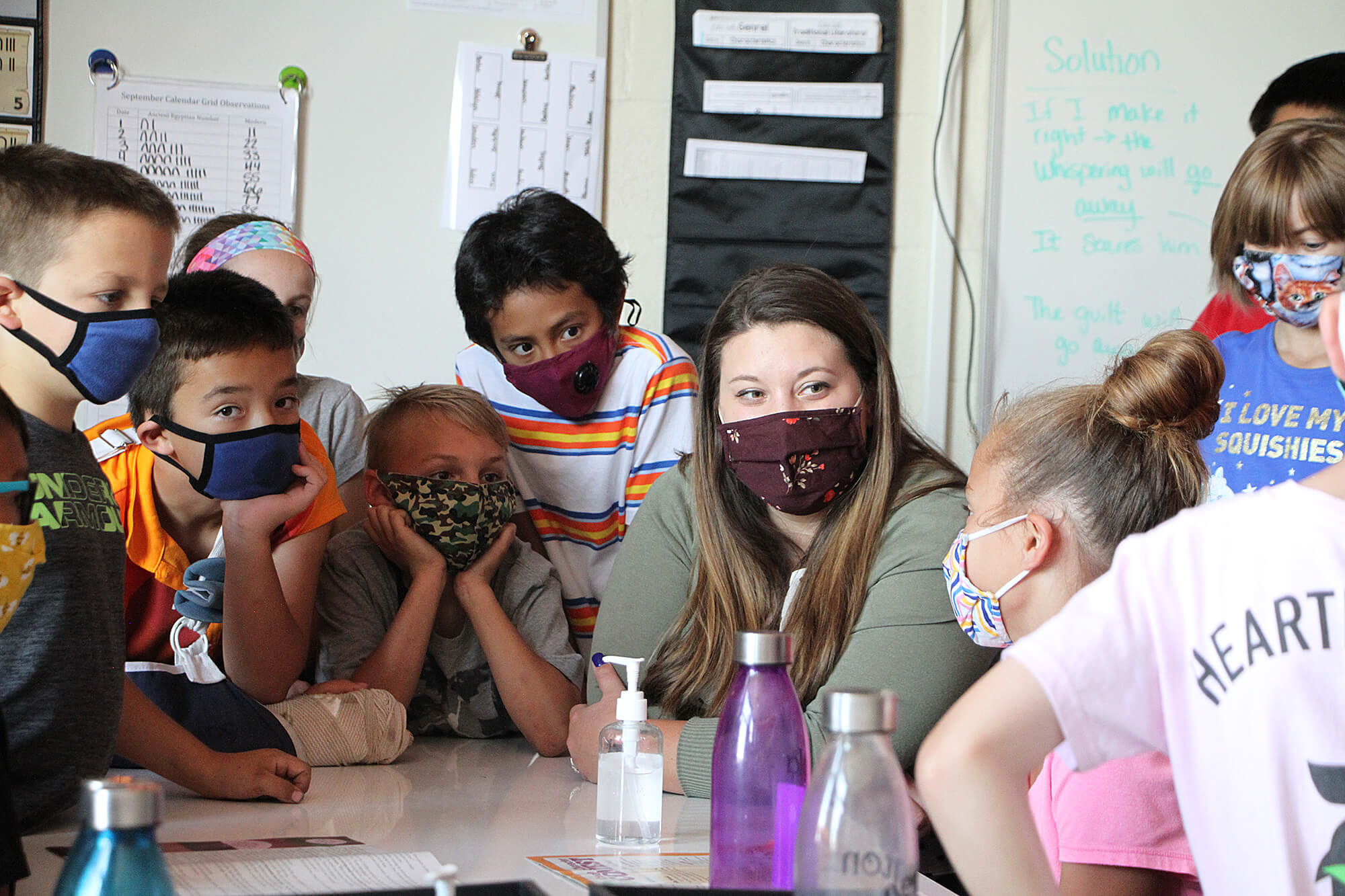 Alexis Barney, center, works with her students at Evansville Elementary School. Photo courtesy Natrona County School District.
Alexis Barney, the 2021 Wyoming Teacher of the Year and Casper College graduate, will present the program "Ringleading Education: A Recipe for Success in the Teaching Circus" Thursday, April 22 at 4 p.m. in the Wold Physical Science Center, the Wheeler Auditorium, Room 103.
The college's education department is sponsoring the program and is encouraging community members as well as all campus faculty, staff, and students to attend.
"Alexis models outstanding teaching practices with her focus on developing relationships with students/families and creating engaging learning experiences for her students," Department Chair Renee Griffith said. "As an institution where teaching occurs every day, we thought everyone on campus would enjoy hearing Alexis and her perspective."
Alexis (Banta) Barney graduated with a degree in elementary education from Casper College in 2014 before transferring to the University of Wyoming at Casper. While at Casper College, she also was a successful part of the college's forensics team. Today, Barney teaches fourth and fifth grade at Evansville Elementary School.
"We are excited to welcome Alexis back to campus," Education instructor Cammy Rowley said. "She was an outstanding student in all of our classes who now is one of the leading educators in the state."
As Wyoming's Teacher of the Year Award winner, Barney was recognized as an expert in her field who guides students of all backgrounds and abilities to achieve excellence. The award criteria also look for someone who demonstrates leadership and innovation in and outside of the classroom walls.
"As educators, we all have different talents and strengths that can be shared in collaboration to leverage our collective strength," Barney said to the Wyoming Education Association after receiving the award. "By doing this, we can enhance the craft of best teaching practices and, more importantly, show our students the value of community and teamwork on a larger scale."
The Wold Physical Science Center is located on the Casper College campus. For more information, contact Griffith at 307-268-2426 or rgriffith@caspercollege.edu.
​
Subscribe
If you enjoyed this story, receive more just like it: