Volleyball 2020-2021: Q and A: Meet Kamille Nate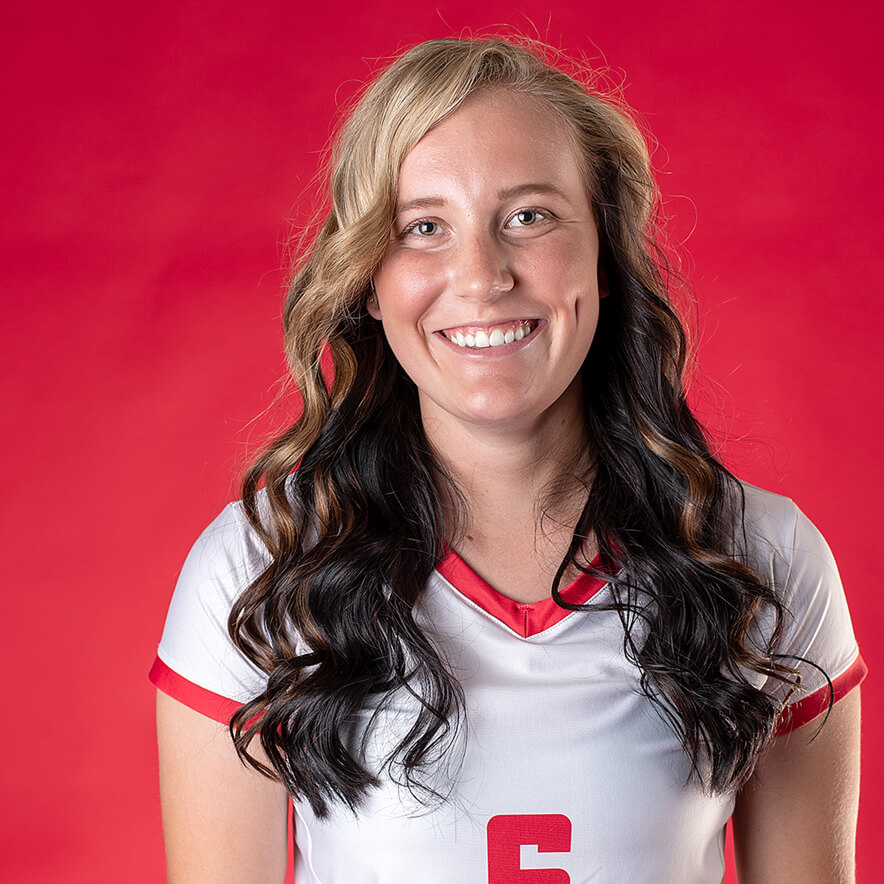 One of seven freshmen on this year's Thunderbird Women's Volleyball team, Kamille Nate is a 5'10" setter. She hails from Cokeville, Wyoming, where she played ball for the Cokeville High School Lady Panthers.
Nate's favorite foods are cheeseburgers and seafood, and her favorite movie is the "Fast and Furious" franchise. Her mentor is Rebecca Nate, and her favorite sports figure is Michael Jordan. When asked, Nate said the one-word description of herself is " … diligent because I don't back down when things get hard, whether physically or mentally. I always try to give my best. Working hard is something you can always do even if the talent isn't always there."
Q: What is your major, and why did you choose it??
A: My major is pre-physical therapy and athletic training. Originally I was just going to go into pre-physical therapy, and while I was here on my visit, I found out that I would only have to take fifteenish credits to get my athletic training as well. Since I graduated high school with 15 credits, it just seemed to all go into line. I chose pre-physical therapy because I had the opportunity to follow around a physical therapist the summer before my senior year and all of my senior year until Covid hit. I just fell in love with the idea that you get to help give people their lives back.
Q: What are your athletic goals this year?
A: My athletic goals this year are to be a good team leader, one of the hardest workers, uplifting toward our team and never downgrading, one of the best setters in our division, and always coachable.
Q: What are your academic goals this year?
A: My academic goals are really just to be engaged in all my classes and to try my very best in all of my classes, always have my assignments done on time, and if I don't understand, then go talk to the instructor or talk to one of my peers in the class.
Q: Why did you come to Casper College, or what drew you to Casper College?
A: I came to Casper College because I first became interested in playing here in my junior year when my aunt invited me to come to a tryout here. My aunt played for Coach Sharman and loved her experience here. I became more interested in coming to Casper when they went above and beyond any other college during my recruitment process, not only athletically but also academically.
Q: What do you think of Casper College as a school and your overall experience this year?
A: In the short time that I have been here, I love the instructors and the fact that they want you to be successful and are willing to help you become successful as long as you put in the effort. I also love the community support and the support from the staff at the college.
Q: Would you recommend Casper College to someone planning to go to college, and if so, why?
A: I would definitely recommend Casper College to anyone planning to go to college for the fact that the instructors actually take an interest in their students, and they want you to be successful and are willing to help you become successful if you put in the effort. I also love the atmosphere here and the people you meet here; everyone is so easy to get along with.
Q: Following your graduation from Casper College, what are your plans for the next several years?
A: After graduating from Casper, I plan to go on and play elsewhere, continue my education in athletic training, and get my physical therapy assistant degree. Eventually, my goal is to be able to do physical therapy on athletes.
Q: Are you hoping to go pro eventually?
A: I don't know if I plan to go pro. That would be an amazing experience if it were to come into sight.
Q: What is your ultimate career goal, and why did you choose this career?
A: My plan is to eventually be a physical therapist and work on athletes, hopefully at the college level. I want to be able to do this because, as an athlete, there are injuries that sometimes make you think your career is over, and physical therapists can give you your playing ability back. I love the fact that being a physical therapist, you can help people. I chose this career because I got hurt my senior year after volleyball season, and I thought that maybe I wouldn't get to play again, and here I am at college, having the opportunity to play volleyball. Also, after watching my mom rupture her Achilles and watching her go through physical therapy, and regaining faith in having a somewhat normal life again.
Q: What are one or two things that you would like readers to know about you that haven't been covered?
A: I absolutely love family, and it is very important to me. They have always supported me even when coming to my games wasn't the easiest task ever. They were always proud of me and always there for me. Besides sports, I love drawing. My favorite is probably pencil drawing.
Subscribe
If you enjoyed this story, receive more just like it: