Basketball 2020-2021: Q and A: Meet Kammie Ragsdale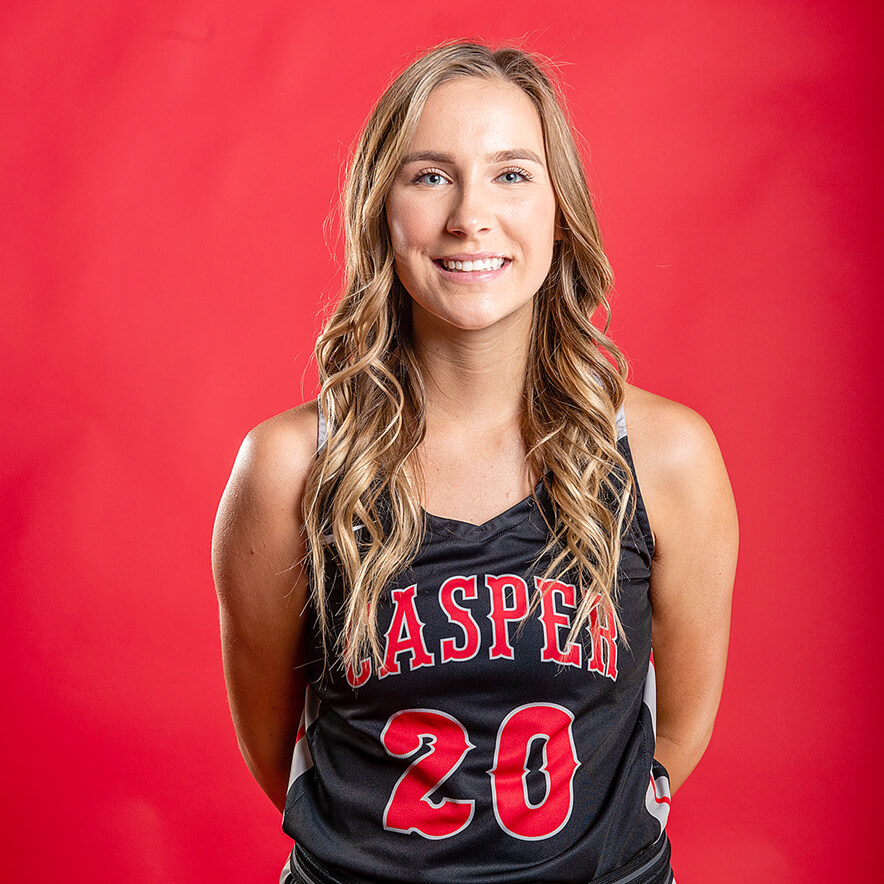 One of five sophomores on this year's Thunderbird Women's Basketball team, Kammie Ragsdale is 6'0" and a guard and forward. She hails from Pine Bluffs, Wyoming, where she played ball for the Pine Bluffs Jr./Sr. High School Lady Hornets.
As a freshman, Ragsdale played in 31 games, had 17 steals, 98 rebounds, and scored 7.8 points per game for a total of 242 points.
Ragdale's favorite food is Chinese, and her favorite movie is "The Heat." Her mentors are her parents, and her favorite sports figure is Muhammad Ali. When asked, Ragsdale said the one-word description of herself is " … optimistic. The reason I pick this word is that I have many people tell me that I am. But when I encounter a situation, I always try to look at the positive outlook on situations than just the negative parts or situations."
Q: What is your major, and why did you choose it??
A: My major is kinesiology and health promotion. I chose this degree because I thought it would fit me the best for my career in physical therapy or something in athletics.
Q: What are your athletic goals this year?
A: My athletic goals for this year are to improve on my personal goals this season and do my best to help our team reach our goals as well.
Q: What are your academic goals this year?
A: My academic goals this year are to do the best I can in all of my classes and achieve my degree at the end of the school year.
Q: Why did you come to Casper College, or what drew you to Casper College?
A: Some of the major reasons why I came to Casper is that I loved the culture here when I came on my visit. Everyone made me feel welcome. I also believed that Coach G. and the other coaches were the best fit for me and helping me improve all-around to move on to the next level.
Q: What do you think of Casper College as a school and your overall experience both last year and this year?
A: Even though last season got cut short and this year is a little different because of Covid, I have had an absolute blast here. I have made life-long friends and have created so many fun and unforgettable memories here.
Q: Would you recommend Casper College to someone planning to go to college, and if so, why?
A: Yes, I would recommend Casper College to them for a few reasons. The facilities here are really nice, for example, the Residence Hall and the Student Union building. The school here, I believe, is one of the best. The teachers are super understanding and want to help you achieve your goals academically.
Q: Following your graduation from Casper College, what are your plans for the next several years?
A: My plans for the next several years are to go on to a four-year school, still play basketball, get my degree in kinesiology, move forward into a physical therapy or chiropractic program, and earn my career.
Q: Are you hoping to go pro eventually?
A: Going pro has not really been in my future plans, but if it did arise to go play at a professional league, I would definitely consider it.
Q: What is your ultimate career goal and why did you choose this career?
A: I don't know for sure my ultimate career goal, but my dream career would be becoming a physical therapist, chiropractor, and possibly a coach as well.
Q: What are one or two things that you would like readers to know about you that haven't been covered?
A: One thing that I have actually been asked is, "would I recommend/or enjoy playing sports in college." I would say I love playing sports in college. It is definitely "like a job," but I love it. I like having my sports schedule that keeps me busy with school as well. I have definitely made life-long friends within my team that have become my family away from home. There are ups and downs, but a lot more irreplaceable memories I have created by playing sports in college.
"Kammie played a key role as a freshman, and I am anticipating her impact to only grow. She is capable of playing inside and on the perimeter, which can create match-up problems for our opponents" said Dwight Gunnare, head coach.
Subscribe
If you enjoyed this story, receive more just like it: