Fall 2020 Dean's Honor Roll at Casper College announced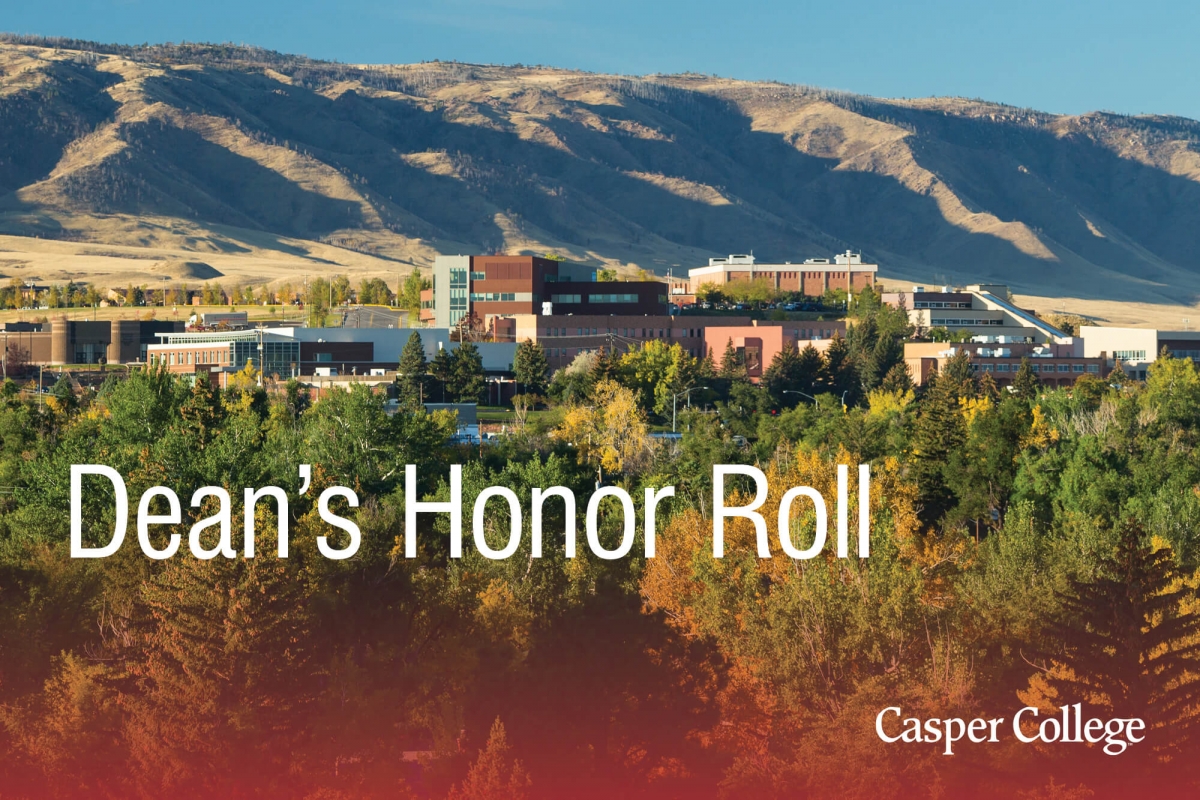 Casper College officials have released the names of the 346 students who made the Dean's Honor Roll at Casper College for the 2020 fall semester. To qualify for the award, a student must have a semester GPA of 3.5 or better. The recognition is for part-time degree-seeking students, those taking six to 11 credit hours per semester, and nondegree-seeking full-time students taking a minimum of 12 credit hours.
Students named to Casper College's Dean's Honor Roll, ordered according to their hometowns, follow. Wyoming students are listed first, followed by students with out-of-state hometowns listed alphabetically by state, then hometown. Finally, international students are listed by home country and hometown.
Wyoming
Bar Nunn: Sarah Brown, Cheyanne Dalgarn, Daniel Garbutt, Jennifer Knifer, Joyce Pearson, Haley Rhyan, Emrie Rodrick, and Rachel Wright.
Boulder: Wilmer Gay.
Buffalo: Carlene Landrey, William Leibee, and Jacob Walter.
Casper: Dwayne Adams, Mersedees Adamson, Richard Adamson, Mason Agor, Matthew Ahrndt, Samuel Airisa, Maya Altland, Randilynn Alvey, Caylee Anderson, Kennedy Anderson, Skye Anderson, Nonalynn Backman, Ashley Balch, Kristina Barela, Katherine Barella, Shaylee Barelle, Braden Barr, Elizabeth Bauer, Sean Baxter, Jerel Bays, Blake Beddes, Ainsleigh Belveal, Presley Bloom, Aaron Bowen, Ashlee Braat, Sydney Brost, Ellyce Brownell, David Bruce, Brandy Bryan, Aydan Bullard, Caleb Bunce, Rachael Byram, Allyson Cardine, Stephen Christensen, Alexis Church, Alonna Clair, Tobee Collins, James Cooler, Jill Crossley, Jessica Crutchfield, Traci Cureton, Tara Daniels, Kathleen Davis, William DeFuentes, Alexis Depaolo, Maria Diaz Hernandez, Jeremy Duran, Madeline Eathorne, Tyler Eickholt, Brittney Eklund, Marissa Engberg, Breck Eskew, Taylor Falzone, Raven Faran, Jessica Felton, Nicholas Fenner, Erin Ferebee, Kaitlyn Filkins, Rebekah Foix, Laura Gamble, Joshua Gardner, Justin Garriott, Sydney Gassiot, Margaret Gazda, Erin Geldien, Kayla Gerken, Kaylee Gilliam, Tamsyn Gorman, Haley Graham, Krystiana Graham, Riley Graham, Derek Green, Abigail Gruner, Melody Haler, Caroline Hansen, Owen Hansen, Madison Hartnett, Robert Hathaway, Krista Helm, Jessica Henman, Taylor Hensley, Breanna Henze, Veronica Hernandez, Logan Hilde, Wendy Hinton, Kora Hintz, Jolissa Holm, Laura Hoversland, Peyton Howery, Brianne Hughes, Michael Hughes, Brooklyn Hytrek, Stephanie Jacobsen, Kaylee, Jeffers, Leah Jensen, Angelica Johnson, Kayla Jones, Myrtice Judd, Naomi Katzmann, Kristine Kear, Jessica Ladwig, Whitney Lamb, Aubre Lassiter, Leslie Leclair, Chace Lemmon, Brittany Levitt, Wynter Lewis, Aaron Linard, Savannah Long, Matthew Lovelett, Athne Machdane, Lindsey Maestas, Nichole Magner, Carter Mahoney, Kloie Markve, Alena Marshall, Danielle Martensen, Trinity Martinez, Kathleen Mayfield, Brandon McCaffrey, William McCain, Isabella McClellan, Sierra McCoy, Delanie McFall, Maverick McIntyre, Kiefer McLemore, Benjamin Medici, Daniel Meier, Makenna Mellema, Victor Mena-Tellez, Jayden Miller, Lea Miller, Peta-Gay Moore, Emilie Morgan, Halle Morgan, Salem Morin, Brecken Morrison, Sierra Moser, Edward Murray, Alexander Nartey, David Neely, Nicole Nicely, Carissa O'Malley, Samuel Orr, Charity Palmer, Shauna Palmer, Kristin Paulson, Caleigh Peak, Jason Peer, Candice Pereda, David Peres, Tory Perritt, Desirea Petty, Kyleigh Petty, Chelsea Phillips, Codi Pingrey, Emma Plett, Ryan Potter, Carter Quin, Gage Raichevich, Gayle Ramsey, Afton Reichenbach, Christina Reilly, Patricia Reynolds, Audrey Roberts, Amberly Robertson, Alyssa Robinson, Jennifer Robinson, Madison Saine, Keyla Salazar, Tamara Salazar, Elissa Sanders, Amberly Sanwald, Tammy Saulsbury, Nathaniel Sausedo, Shelby Schauss, Julianna Schmidt, Sarah Schmitt, Emma Scott, Hannah Scott, Jessica Scott, Sarah Scott, Allison Sellers, Howard Shaw, Breanna Simmons, Elyssa Simpson, Shane Singleton, Amanda Sisco, Kaci Skrukrud, Kaelob Smith, Taylin Smith, Tevyn Smith, Sydney Soliz, Kyleigh Sorensen, Zackary Southerland, Ronald Spangler, Mercedes Spenneberg, Raquel Speth, Chelsea Staley, Ashlie Stephens, Tanesia Sternhagen, Mary-Virginia Stevens, Joshua Stiller, Mary Teague, Madison Tennant, Morgan Thisse, Diana Thomas, Gary Tong, Mirella Torres, Haines True, Helaina True, Heather Tyler, Donald Ubbes, Andrea Vanderbeek, William Wallace, Julie Wamsley, Jessica Watters, Hannah Weader, Ellie Weibel, Megan Weston, Brooke White, Abigail Wilcox, Calen Willadson, Emilee Willard, D'Maerik Wilson, Erin Wirrenga, Erin Wnuk, Kaden Woods, Sage Wright, William Wright, and Aletta Ziehl.
Cheyenne: John Blomstedt, Holly Brennecke, Bradley Buchmeier, Elizabeth Calvert, Joshua Eberle, Isaac Garcia, Qarus Hernandez, Jeremy Kleinhans, Destiny Ladd, Jackson Leiby Jacqueline Leonhardt, Jonathan McGraw, Jesse McIrvin, Casey Mullikin, Sara Pilch, Scott Rockhold, and Gabrielle Snell.
Douglas: Kristy Cropper, Brianna Goodell, Hailey True, and Katie Weimer.
Evanston: Morgan Crompton.
Evansville: Mallory Clark, Tatiana Durgin-Brown, Eric Evenson, Elisa Parton, Sierra Quinn, Karen Sandoval, and Laura Thomas.
Gillette: Madison Hieb, Madison Miller, Gabriella Nisselius, Tiffany Small, Emily Stauffer, and Mary Woodworth.
Glenrock: Marley Andrews, Keegan Cardinal, Alexandra East, April Hiser, Nicole Scherman, and Casey Sebesta.
Greybull: Arlo Averett and Brenna Stanley.
Jackson: Ellen Ewankow, Denisha Garcia, Cameron Hieronymus, and Natalia Pak.
Kaycee: Michelle Chapman and Crosby Taylor.
Lander: Sabrina Lawrence and Tyson Sollars.
Lingle: Keith Gibbs.
Lovell: Ashley Trainor.
Medicine Bow: Adam Barron.
Meeteetse: Leisa Elliott.
Midwest: Tosha Salway and Kendell Smith.
Mills: Tamara Buckles, Kaitlyn Cook, Zephaniah Filer, Brittany Gaines, John Long, Robin Martin, Derek Reents, Kenneth Vroman, and Ronald Whittaker.
Moorcroft: Bradley McKee.
Mountain View: Mindy Eardley.
Powell: Lisa Eaton and Courtney Suko.
Ranchester: Katie Balthazor.
Rawlins: Morgan Snodgrass.
Riverton: Diana Christensen, Thomas Galey, and Jody Trehearne
Rock Springs: Arron Larson.
Sheridan: Robert Kelly, Nathan Motsick, and Jacque Reed.
Star Valley Ranch: Rebecca Christiani.
Thermopolis: Lisha Xiahou.
Torrington: Katie Jackson.
Worland: Hailey Schumacher and Amber Tibbits.
United States
Arizona:
Tucson: Aubrey Byram.
California
Descanso: Robyn Cox.
Murrieta: Isaiah Ford.
Colorado
Boulder: Tyler Laceby.
Brush: Lisa Atkins.
Loveland: Mitchell Ward.
Connecticut:
Portland: Wendy Rawlings.
Illinois
Charleston: Quaid Moore.
Westchester: Daher Isshac.
Missouri
Marshall: Blayne Vogel.
Montana
Billings: Ashlley Nelson.
Broadus: Shane Copps.
East Helena: Mariah Norstrom.
Ekalaka: Kennedy Tooke.
Great Falls: Blaize Wegner.
Nebraska
Scottsbluff: Shawn Benton.
Ohio
Kenton: Matthew Weaver.
South Dakota
Colome: Elizabeth Dixon.
Pierre: Viktoria Fisher.
Subscribe
If you enjoyed this story, receive more just like it: