Two CC players sign letters of intent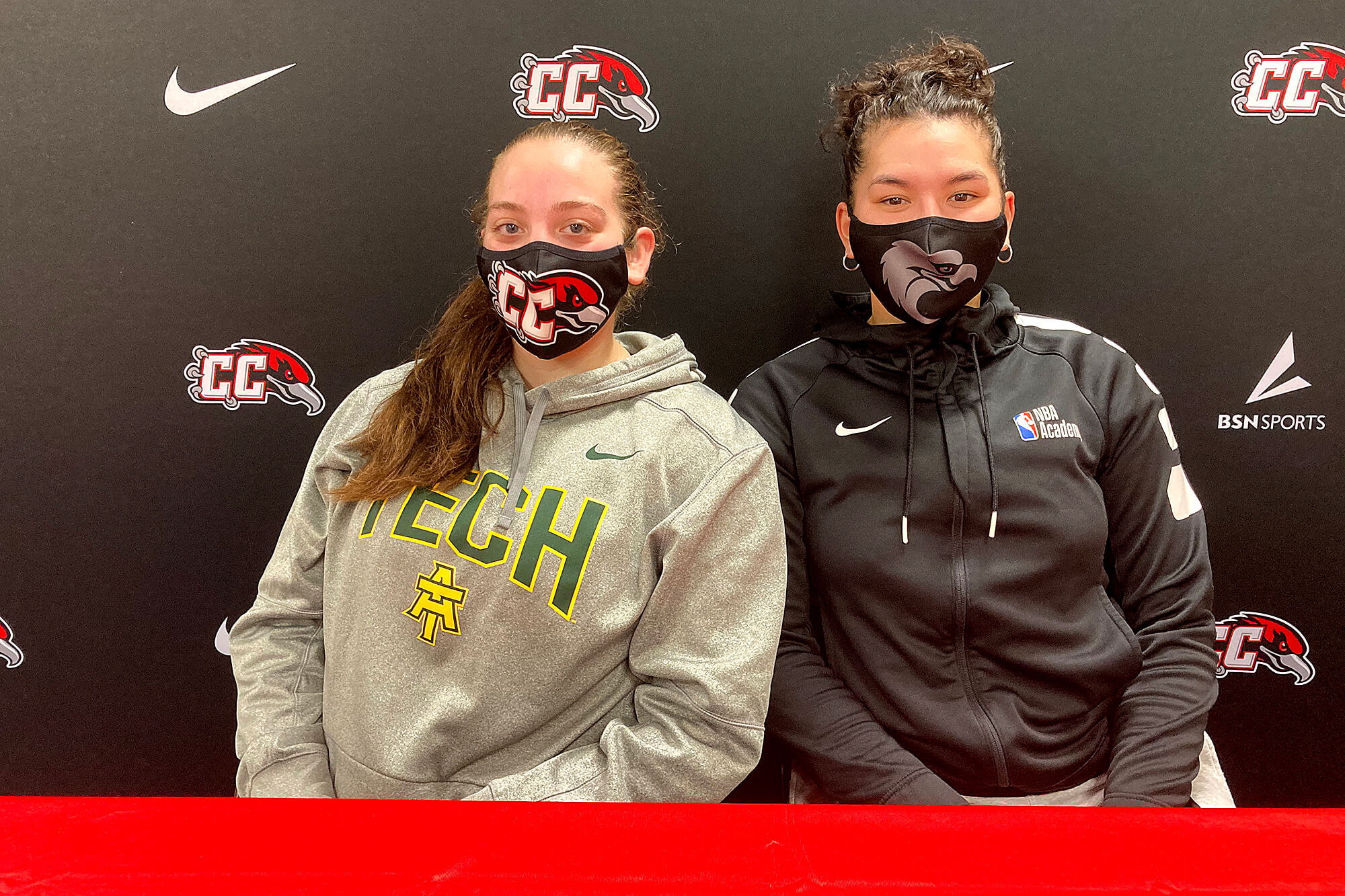 As a testament to their outstanding abilities, two Casper College Lady T-Birds have signed letters of intent to continue playing ball at the university level.
Kobe King-Hawea signed with the University of Texas Longhorns. King-Hawea came to the United States from Point Cook, Australia, to play ball for the Lady Pronghorns of Gillette College. When the athletics programs at Gillette were cut, King-Hawea was quickly snapped up by the Lady T-Birds. "Kobe earned her scholarship last year while playing for Head Coach Liz Lewis at Gillette College. Kobe had a great career with Gillette College. The University of Texas will be getting a very good ballplayer in Kobe King-Hawea. We are really proud of Kobe," said T-Birds Head Coach Dwight Gunnare.
During her time at Gillette, King-Hawea averaged a team-best 20.5 points, 7.3 rebounds, and 5.4 assists. At the end of the season, Gillette was ranked No. 21 in the country with a 28-5 record, in large part thanks to King-Hawea's talent. She also became the program's only first-team-All-American and the only freshman named to the team. When she choose Casper College, King-Hawea found herself in a winning atmosphere with the 2019-2020 T-Birds ranked No. 15 nationally and 29-3 on the season.
According to Dan Olson's Collegiate Girls Basketball Report and the World Exposure Report, King-Hawea is ranked as the No. 1 junior college prospect in the country. "Obviously, we are ecstatic about adding the No. 1 junior college prospect in the country to our existing outstanding recruiting class," said Longhorns Head Coach Vic Schaefer in an interview for the Texas team. "Kobe is a very smart and heady player. She sees the floor and gets her teammates involved, and she will be an impact player," he said.
Marija Bakic signed with Arkansas Tech University. The Danilovgrad, Montenegro, player had an impressive freshman season scoring 10.1 points per game and 5.5 rebounds. "Marija will do very good things at Arkansas Tech University. She has earned her scholarship through her hard work, good basketball play, and outstanding academics here at Casper College. They are getting a very hard-working lady at Arkansas Tech University. We are very proud of Marija," said Gunnare.
Bakic will be playing for Head Coach Dave Wilbers, who has led the Golden Suns for 14 seasons and has a record of 298-93.
Subscribe
If you enjoyed this story, receive more just like it: