Spring 2020 Dean's Honor Roll at Casper College announced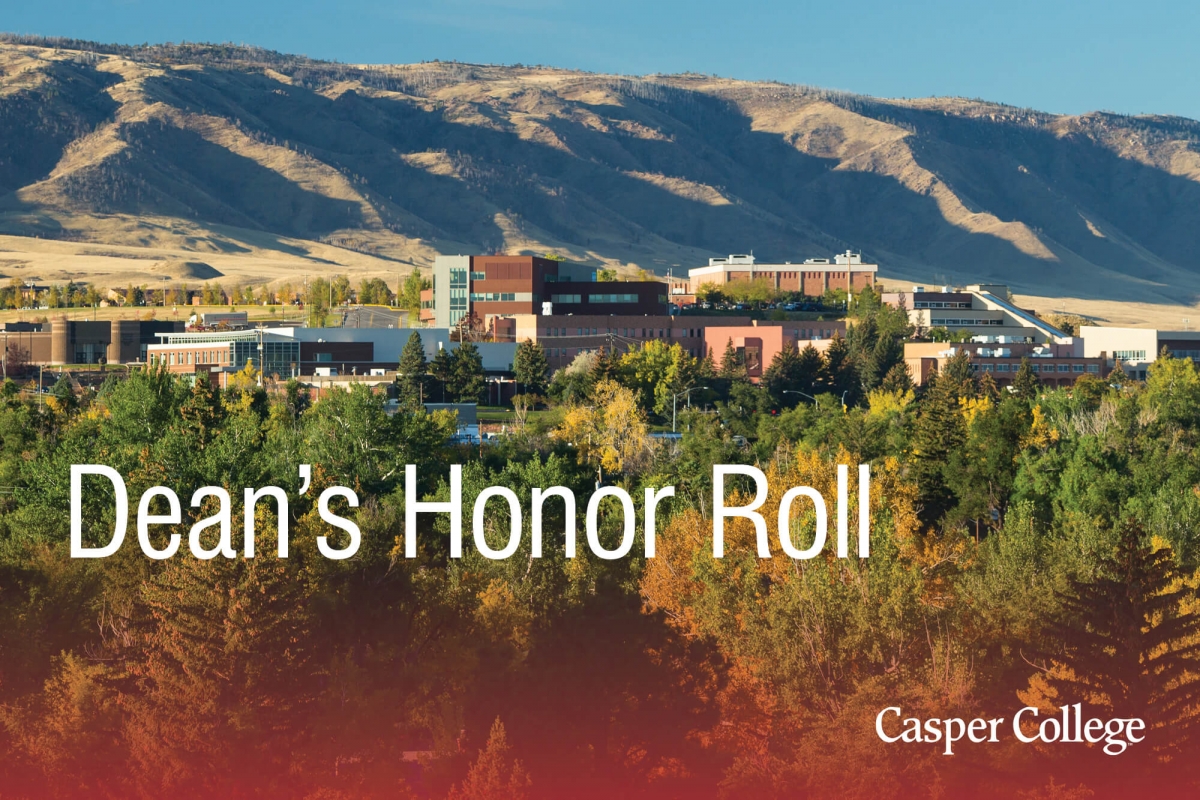 Casper College officials have released the names of the 394 students who made the Dean's Honor Roll at Casper College for the 2020 spring semester. To qualify for the award, a student must have a semester GPA of 3.5 or better. The recognition is for part-time degree-seeking students, those taking six to 11 credit hours per semester, and nondegree-seeking full-time students taking a minimum of 12 credit hours.
United States
From California: Robyn Cox, Descanso.
From Colorado: Jacob Pique, Colorado Springs and Dannell Mayfield, Fort Collins.
From Connecticut: Wendy Rawlings, Portland.
From Idaho: Samuel McFarland, Homedale.
From Nebraska: Shawn Benton, Scottsbluff.
From New Mexico: Travis Hale, Sedan.
From New York: Jenifer Jancus, Yaphank.
From South Carolina: Rachael Skipper, Townville.
From Texas: Jayde Peters, Justin and Federico Galvan, Snyder.
From Washington: Mary-Rose Sweeney, Bellevue; Emily Sulgrove, Colville; and Cullan Kirwan, Poulsbo.
Wyoming
From Afton: Jamie Eckert.
From Bar Nunn: BreeAnn Brumfield, Anna Bucholz, Kristen Cooper, Cheyanne Dalgarn, and Emrie Rodrick..
From Basin: Ana Tharp.
From Boulder: Wilmer Gay.
From Buffalo: Christina Stephenson and Jacob Walter.
From Burlington: Joshua Kirkman.
From Casper: Jamie Abbiatti, Amanda Adair, Christina Adams, Dwayne Adams, Richard Adamson, Yukiko Aguilar, Maya Altland, Cayley Anderson, Kennedy Anderson, Beverly Ankeny, Kati Ansay, Todd Anthony, Sydney Atkinson, Sarah Austin, Freedom Authement, Marina Ayala, Jacob Ayers, Ashley Balch, Shaylee Barelle, Laney Bartels, Jerel Bays, Katilyn Beasley, Kyleigh Beeson, Ryan Beevers, Melissa Behringer, Violet Benardis, Nalani Bennett, Joleen Benson, Joshua Bliss, Richard Bonds, Nicole Borden, Dia Boutte, Ashlee Braat, Emily Bradley, Grace Brauburger, Jordan Brooks, Ellyce Brownell, David Bruce, Jaden Brutsman, Morgan Burgess, James Burk, Gina Cameron, Kane Carlson, Brian Carpenter, Collin Chambers, Clinton Chapman, Andreah Cheney, Savanna Christensen, Alonna Clair, Aaron Clifford, Gina Colaw, Kenidee Cole, David Coleman, Nicole Coleman, Mikayla Colling-McDonald, Sean Collister, Morgan Collums, James Cooler, Audrea Cooper, Ciera Cooper, Tessa Coughenour, Brooklynn Counts, Sheridan Cox, Britney Crimm, Vincent Crolla, Meghan Cruickshank, MacKenzie Cummings, Kathleen Davis, Meghan Dean, Maria Diaz Hernandez, Luke Dierenfeldt, Beau Donelan, Jeremy Duran, Tatiana Durgin-Brown, Bridger Dyer, Kirsten Earp, Maya Eathorne, Caitlyn Edwards, Tyler Eickholt, Olivia Elvestad, Rebekah Foix, Maria Frias, Rylie Garner, Justin Garriott, Sydney Gassiot, Kaitlyn Glynn, Jessica Gonzalez, Marissa Gonzalez, Ashlyn Gracia, Jessica Graham, Krystiana Graham, Riley Graham, Maille Gray, Derek Green, Samuel Griner, Alexes Gronning, Abigail Gruner, Melody Haler, John Hall, Gabriel Halstead, Britnee Hansen, Owen Hansen, Michael Hardy, Cassie Haupt, Brandon Haverlock, Lindsey Hawkins, Alesha Hayes, Davina Heywood-Keller, Logan Hilde, Kylie Hilderbrand, Steven Hill, Tatum Hlavacek, Tucker Horath, Cameron Huber, Erica Hughes, Amanda Ingram, Carson Jackson, Jordan Janski, Leah Jensen, Andrea Jobe, Claire Johnson, Jayla Johnson, Chase Johnston, Kaya Jolley, Kynlee Jolley, Kayla Jones, Myrtice Judd, Naomi Katzmann, Aleczander Kear, Erica Ketchum, Hope Klodt, Kaylen Kott, Trina Krepcik, Taylor Kull, Sara Lamb, Aubre Lassiter, Laural Lawler, Courtney Lillie, Aaron Linard, Amanda Lindahl, Lane Lindsey, Cameron Logan, Ryan Loghry, Hannah Long, Beverly Lorimer, Catlyn Lubenow, Casey Lynch, Cassidy Madrid, Dominique Maestas, Lindsey Maestas, Chelsea Magee, Kylee Magee, Nichole Magner, Kloie Markve, Alena Marshall, Danielle Martensen, Tanner Matthews, Kiffany McClun, Angelique McErquiaga, Peyton McGinty, Sarah Mckinney, Kiefer McLemore, Ethan Mead, Sandra Mena Stuntebeck, Sye Meyer, Amber Milby David Miller, Pete-Gay Moore, Alexei Moreno, Connie Morgan, Halle Morgan, Rachel Muhlbeier, Lydia Neal, David Neely, Jadyn Nelson, Annabelle Nicholson, Trista Nyman, Madelynn Oden, Melissa Oien, Taylor Orndorff, Madison Orr, Destinee Pabst, Samuel Palmer, Shauna Palmer, Jacob Parsons, Amber Patchin, Justin Pederson, Desirea Petty, Chelsea Phillips, Sophia Pickett, Devin Pike, Codi Pingrey, Sahara Plumlee, Bobbi Plummer, Ryan Potter, Dianna Powell, Katherine Powell, Tracy Propp, Rachel Pryor, Traci Raymer, Ella Reed, Nichole Regnier, Afton Reichenbach, Kate Robertson, Elizabeth Romsa, David Saine, Tamara Salazar, Trevor Salcedo, Trish Sanchez, Gabriella Sasser, Rachel Savage, Julianna Schmidt, Max Schmittou, Jeston Schneider, Melody Schneider, John Schoenwolf, Kamille Scudder, Howard Shaw, Haylie Sienkiewicz, Michael Simic, Kortni Simonton, Shaelyn Sims, Amanda Sisco, Jayden Skiles, Justin Smith, Orin Smith, Reuben Soberanez, Lindsey Sokolowski, Dillon Spaulding, Mercedes Spenneberg, Ashlie Stephens, Mary-Virginia Stevens, Emily Stewart, Joshua Stiller, Kylie Sullivan, Taj Sutherland, Jesse Taylor, Taylor Tobin, Gary Tong, Rose Tran, Haines True, Helaina True, Rachelle Trujillo, Kessie Turnbull, Paige Vanhouten, Tilynn Vega-Rush, Lauren Vigil, Shenna Wajenberg, Qi Wang, Liberty Warner, Cassidy Warr, Vera Wickiser, Ashley Williams, D'Maerik Wilson, Katie Wilson, Peyton Wilson, Elizabeth Yang, Jinyu Yin and Matthew Yount.
From Cheyenne: Merab Acosta, Cheyenne Bauer, Holly Brennecke, Ladayna Decker, Terrance Dent, Joshua Eberle, Tamica Edwards, Gabriell Gabel, Isaac Garcia, Joshua Jenkins, Trace Johnson, Jeremy Kleinhans, Britany Loveridge, Jonathan McGraw, Casey Mullikin Scott Rockhold, Robert Sandidge, Hannah Sergent, Jolene Shade, Tayler Shino, Gabrielle Snell, and Luke Talbott.
From Cody: Donald Campbell.
From Douglas: Maggie Connolly, Kaelie Oliver, Jesus Ramos, and Shelby Weeks.
From Edgerton: Aleck Freeman.
From Evanston: Sofya Bratishko and Morgan Crompton.
From Evansville: Nicole Arner, Melissa Carter, Cassie Evans, Mariah Frisby, Carmela Jimenez, Zerina Morrison, Elisa Parton, Chloe Riley, Dari West, and Brooke White.
From Gillette: Colleen Collins, Angelic Gill, Rebecca Haskins, Andrew Leslie, Cindy Ohlson, and Emily Stauffer.
From Glenrock: Amber Bigford, Angela Evans, Hannah Goetz, Andrew LaPointe, Cameron Magee, Caitlin Rancourt, Morgan Schwindt, and Hezekiah Sexson.
From Greybull: Autumn Shafer and Brenna Stanley.
From Hudson: Ryann Koivupalo.
From Hulett: Wade Monnens.
From Jackson: Cameron Hieronymus and Caleb Leibenguth.
From Lander: Sabrina Lawrence.
From Laramie: Kaleigh Beaty and Amanda Morley.
From Lingle: Keith Gibbs.
From Lovell: Ashley Trainor.
From Midwest: Tosha Salway.
From Mills: Kelsey Cox, Brittany Gaines, Austin Locker, Mary McMillan, Miranda Nelson, Cyamber Parker, Stormy Tackett, and Mariah Willis.
From Moorcroft: Bradley McKee.
From Newcastle: Taylor Spain.
From Node: Garrett Wurdeman.
From Pinedale: Randy Edwards and Heidi Gay.
From Powell: Lisa Eaton and Courtney Suko.
From Rawlins: Matti Irvine.
From Riverton: Aubrey Ducharme Brown, Nicole Heidt, and Jaxon Hiatt.
From Rock Springs: Tyler Dewey, Arron Larson, Larissa Olsen, and Jesus Ramirez.
From Sheridan: Frank Fleming, Lucas Giesey, Emily Heizer, Robert Kelly, and Justin Kremer.
From Shoshoni: Jason Thoren.
From Sundance: Thomas Engelhaupt, Dallas Johnson, and Chris Tomford.
From Thayne: Lori Snee.
From Thermopolis: Jared Little.
From Torrington: Katie Jackson, Justin Latta and Brooklyn Tucker.
From Van Tassell: Andie Hubbard.
From Wheatland: Heather Bontrager and Alexis Martinez.
From Worland: Jordan Emmett, Hailey Schumacher, Eslin Shryack, and Amber Tibbits.
Subscribe
If you enjoyed this story, receive more just like it: