2020 spring President's Honor Roll at Casper College announced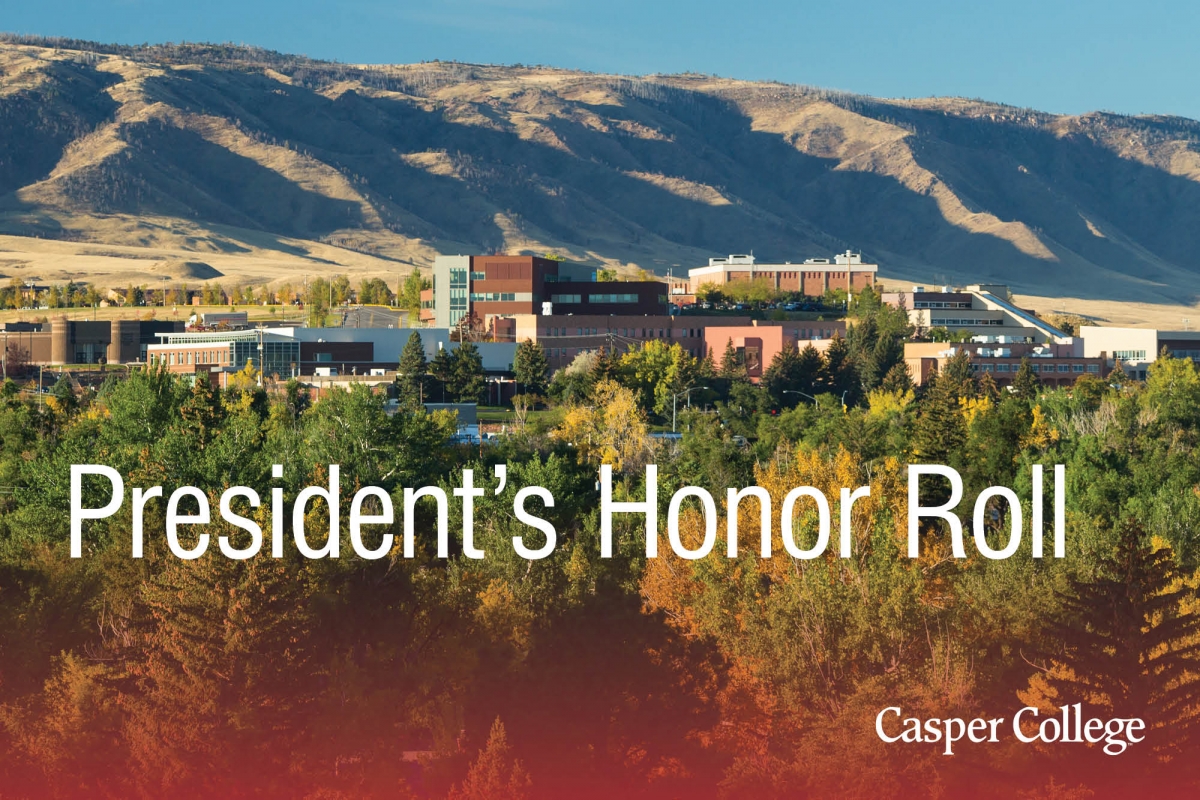 College officials have released the names of the 481 students who made the President's Honor Roll at Casper College for the 2020 spring semester. To qualify, a student must take at least 12 hours and receive a GPA of 3.5 or better. They are:
International
From Melbourne, Australia: Emily Achter.
From Moose Jaw, Saskatchewan, Canada: Milo Laycraft.
From Vauxhail, Alberta, Canada: Riley Leeson.
From Tbilisi, Georgia: Natalia Otkhmezuri.
From Zsombo, Hungary: Reka Soos.
From Herceg Novi, Montenegro: Nada Pluimer.
From Trstenik, Serbia: Jana Gilic.
From Novi Beograd, Belgrade, Serbia: Jovana Jeremic.
From Lleida, Spain: Raquel Ferrer-Bernad.
United States
From California: Jalen Harris, Los Angeles.
From Colorado: Jakob Duncan, Blackhawk, Joshua Greene, Canon City; Temma Monroe, Elizabeth; Thomas Wallace, Firestone; Stratton Wotowey, Fort Collins; Jane Slee, Greeley; San Delana Riebold, Meeker; Ryker Chavez, Northglenn; and Quaid Moore, Strasburg.
From Idaho: Whitney Waddell, Driggs.
From Montana: Kennedy Tooke, Ekalaka; Tysa Oswald, Joliet; Aspen Cotter, Laurel; and Abby Leachman, Toston.
From Nebraska: Emily Knust, Burwell and Bailey Cady, Merriman.
From Nevada: Anthony Barnes, Spring Creek.
From North Carolina: Jennifer Morgan.
From Ohio: Katherine Singer, Elida and Taylor Feikert, Millersburg.
From Oregon: Savannah Knight-Meigs, Eugene.
From Pennsylvania: Sophia Bertovic, Middletown.
From South Dakota: Kathryn Anderson and Tessa Kauffman, Belle Fourche; Kaylen Steams, Edgemont; Zachary Emery, Fairburn; Whitley Heitsch, Hermosa; Natalie Leisinger, Highmore; Bailey Johnson and Juneau Jones, Rapid City.
From Texas: Amanda Cook, Fruitvale; Garrett Kurtz, Holland; and Wyatt Corson-Clostio, Hondo.
From Utah: Abbygail Hudman, Ogden and Hannah Thompson, South Jordan.
From Washington: Anna Aarstad, Clarkston and Lucas Mauro, Seattle.
Wyoming
From Alcova: Dustin Smart.
From Bar Nunn: Brayden Busch, Danielle Busch, Candice Lugibihl, Rhianna Mahoney, and Tiernan Moore.
From Basin: Tayla-Jean Stevens.
From Big Horn: Paul Quinn.
From Buffalo: Taylor Rives.
From Casper: Brooke Abbott, Phillip Accardo, Hannah Adelman, Alaynha Aiello, Samuel Airisa, Parker Albert, Mariah Alcaraz, Drell Amende, Lisa Anderson, Arena Appleman, Maria Arnold, Clayton Atkinson, Wyatt Atkinson, Harold Bailey, Megan Balas, Jennifer Baldwin, Tatianna Baldwin, Madison Ballard, Ashley Barkley, Carolee Bates, Alexandra Bath, Katie Bays, Mylen Bearden, Blake Beddes, Alysa Bentley, Taylor Berg, Lindsay Bergman, Pierce Bernard, Sarah Bhutto, Margaret Biskup, Laura Black, Sarah Blanton, Abigayle Bledsoe, Kaylee Bloom, Lawrence Boahen, Makala Boren, Riley box, Dominique Bragg, Wes Bray, Surann Breen, Jessica Brenton, Nathan Bristow, Nathaniel Britt, Colin Brooks, Wanda Browning, Emma Brummer, Brandy Bryan, Nicole Buchholz, James Burch, Eoin Burd, Alexa Burns, Tyler Buschow, Ian Champion, Annelise Clark, Olivia Cole, Ender Collins, Meghan Compton, Rebekah Conway, Eric Conyers, Sasha Cook, Jessica Cordova, Esmeralda Cortez, Mariha-Ann Cothren, Linda Cox, Autumn Cummings, Connor Custer, Kyndle Cutler, Tara Daniels, William DeFuentes, Taylor Delaney, Aspen DeLano, Camillo DePaolo, Joseph Desuno, Ashlyn Devore, Jacob Dickinson, Avery Doane, Marissa Dockter, Lesley Doney, Elisabeth Dooley, Kassandra Dutro, Madeline Eathorne, Michaela Eddy, Hannah Elkins, Haley Ellingson, Ericka Elton, Wylee Esau, Shantelle Escott, Jared Even, Lynette Fankhauser, Lane Fanto, Erin Ferebee, Kyera Fernandez, Connor Ficken, Marci Florence, Misty Fobar, Sheila Foley, Josephine Fortune, Cody Fritz, Amanda Funderburk, Joshua Gaither, Megan Gardiner, Jaylyn Garfield, Gabrielle Garris, Benjamin Garvin Stephen Gaylord, James Gerhart, Madison Gillum, Ashley Gilstrap, Manuel Gonzalez, Ryan Grauberger, Skylar Gray, Jasmin Guarin, Abbi Handeland, Kaylee Hanisch, Isis Harney, Anna Harris, Molly Harshman, Sienna Hawk, Kyle Haymond, Matthew Hays, Dean He, Sarah Henkle, Jacob Hernandez, Jacob Heyer, Joel Hilde, Matthew Hills, Taylor Hills, Bryce Hindman, Jessica Hodge, Karley Hoelscher, Skylar Holmquist, Annicka Hoover, Kaitlyn Hopkins, Caleb Hopman, Rhonda Hoppa, Taylor Howe, Saaj Hull, Christopher Isennock, Megan Jackson, Mindy James, Morgan Jaquez, Julie Jarrard, Elizabeth Jensen, Megan Jensen, Taylor Jereb, Enrique Jimenez, Shannon Johnsen, Jonathan Johnson, Kellan Johnson, Suzanne Johnson, Basil Jones, Isabelle Jones, Micha Jones, Jessica Keith, Michael Keller, MacKenzie Kern, Sarah King, Revea Kirk, Shaney Kruse, Elizabeth Kuhnel, Turner Lack, Kailey Lambert, Laura Lance, Megan Langer, Sara Leach, Leslie Leclair, Marissa Leist, Lance Lenhart, Kayla Likes, Brandi Little, Sierra Lloyd, Kady Locke, Nathaniel Loepp, Breyannah Long, Fredy Lopez Lopez, Stephen Lovato, Tristan Loyd, Nelli Lucus, Jennifer Ly, Sarah Ly, Marek Madariaga, Maddison Mahlum, Elizabeth Malone, Sierra Martinez, Simon Martinez, Braden Mason, Madison Mayhew, Malia McCarthy, Eric McClay, Sierra McCoy, Morryah McCurdy, Sierra McOmie, Alexia Mendez, Kenzie Merritt, Ethan Miller, Sarah Miller, Alexandra Mills, Collin Minder, Kati Mooney, Kimberly Moran, Tamara Morrison, Sierra Moser, Angela Mossman, Quentin Moter, Erica Mountain, Limpo Mukelabai, Paige Muller, Parker Munsey, Alexis Muszynski, Michael Ogden, Sydney Oliver, Kaitlyn O'Malley, Ryan Opitz, Tiana Ortiz, Devin Palepale, Lucas Patton, Chase Petersen, Abby Phillips, Valeria Pirela, Lauren Podjun, Madelyn Polys, Daisy Quesanda Araya, Keith Reau, Melissa Reilly, Natalie Reimann, Laura Requena, Rachel Retherford, Wesley Rice, Katie Richards, Grace Ritchie, Daniel Roberts, Jolene Rod, Kaelan Rodriguez Nicholas Romango, Daultyn Rux, Braxton Sambrano, Dalicia Sanders, Elissa Sanders, Kaleanna Schadwill, Hannah Scott, Rebekah Sechrist, Lea Shima, Louis Sierra, Theresa Simpson, Regann Sipe, Haleigh Skiles, Kaci Skrukrud, Debra Slaugh, Darwin Smith, Izabelle Smith, Jarrod Snider, Joel Sorensen, Shaelea Spargur, Brock Spiegelberg, Logan Spiegelberg, Michael Stanley, Dana Starken, Garret Steinert, Sebastian Straub-Wolfskill, Madelaine Strayer, Matthew Tabor, Brittany Tarasoff, Zachery Tenney, Kristen Tennyson, Zeth Thomas, Jacob Thompson, Mirella Torres, Shelby Trott, Steven Turman, Siri Ullery, Erin Valentin, Andrea Vanderbeek, Brandon Vega, Alexandra Vincent, Emma Von Osterheldt, Kailey Walker, Michael Walock, Charlotte Watson, Kylie Watson, Amy Wickstrom, Parker Wilson, Olivia Wise, Liza Womack, Violet Wright, Diana Yanez, Kimberley Zeitner, Joseph Zettl, Aletta Ziehl, and Joseph Zook.
From Cheyenne: Emily Byrd, HannahClaire Sutton and Allison Thomas.
From Cody: Mason Smith.
From Douglas: Justus Calliham, Abbie Cornett, Lauren Gates, Brianna Goodell, Lily Hayes, Texi Herrick, Eric Jamerman, Tania Malone, Chaney Moore, Tristin Munsinger, Britney Porter, Nathan Romberg, George Wortham and Xena Zamora.
From Dubois: Matthew Codevilla, Lydia Hinkle and Aaron Mountain.
From Elk Mountain: Kayle Woods.
From Evanston: Kayli Sharp.
From Evansville: Brayden Alberts, Levi Crawford, Chavely Cruz Cardenas, Allison Hansen, Jason Lovell, Briahnna Manning, Debborah Martinez, Tesla McConnaughey, Emmanuel N'tula, Benny Ortiz, Shauna Plunkett, Cari Pruismann, Sierra Quinn, and Amber Rouse.
From Fort Bridger: Aileen Bugas.
From Gillette: Abbey Greenwood, Madison Hieb, Laci Parish, Sydney Robinson, Makayla Tucker, Delaney Werbelow, and Payton Westbrook.
From Glenrock: Corbin Blanton, Dalton Davies, Amber Fulton, Yesenia Hermosillo, Shyann Lacey, Jennifer parker, Shayna Perez, Olivia Sebesta, and Shyla Whalen.
From Green River: Mara Garrett, Andrew Munoz and Sean Rauert.
From Greybull: Sadie Harper and Sydney Tschiffely.
From Guernsey: Nicholas Johnson.
From Hudson: William Coffee.
From Hulett: Austin Butler and Emma Jay.
From Hyattville: Emma Mercer.
From Jackson: Kevin Tzompa.
From Keeline: Taylor Gaukel.
From Lander: Hannah Arnold, Allie Bone, Kiley McConnell, and Colby Winchester.
From Laramie: Kenzie Beyer, Monica Cossitt, Kyle Despain, Kemsley Gallegos, Elizabeth Hiatt, and Roland Wookey.
From Lovell: Bailey Yarger.
From Lusk: Dylan Miller.
From Manville: Timothy Ross.
From Mills: Gabriel Farquhar-Baltazar, Jazmyne Giffrow, Kaylee Hicks, Rowan Jackson, Megan Kennedy, Robin Martin, Tasha McEvoy, Emily Newman, Isabel Reyes, Amanda Rhodes, Kellee Schuerman, DeDe Sievers, Sariah St Clair, and Charles Wilson.
From Newcastle: Kaylee Sweet.
From Pavillion: Tierra Price.
From Pine Bluffs: Kammie Ragsdale.
From Pinedale: Kodie Egle.
From Powell: Gavin Asay, Karlie McKenzie and Brealyn Terry.
From Rawlins: Zachary Anderson, Raquel Baldwin, Teresa Boling, DeNae Schoel, and Stacey Smith.
From Reliance: Alaura Tuft.
From Riverton: Cassandra Looper, Tamira Marshall, Emma Mumme, and Makayla Seely.
From Rozet: Kandace Lumbardy.
From Sheridan: Ashley Thompson.
From Shoshoni: Jason Thoren.
From Thermopolis: Courtney Jeunehomme, Kelly Johnson and Jaden Schierkolk.
From Torrington: Mercedes Hatcher, Quentin Meyer, Taylor Walsh, and Elizabeth Wiand.
From Upton: Miranda Biley.
From Veteran: Cade Herring.
From Wheatland: Andrew Barrett-Corbin, Noah Crowley, Emily Morford, and Rebecca Sowers.
From Worland: Carlos Pacheco, Carly Sanchez, Matthew Sanchez, Kasia Strohman, and Tanner Zimmerman.
From Wright: Jessica Reyes Castro and Selma Saetre.
Subscribe
If you enjoyed this story, receive more just like it: