CC employees and Tate featured in 'Prehistoric Road Trip' on PBS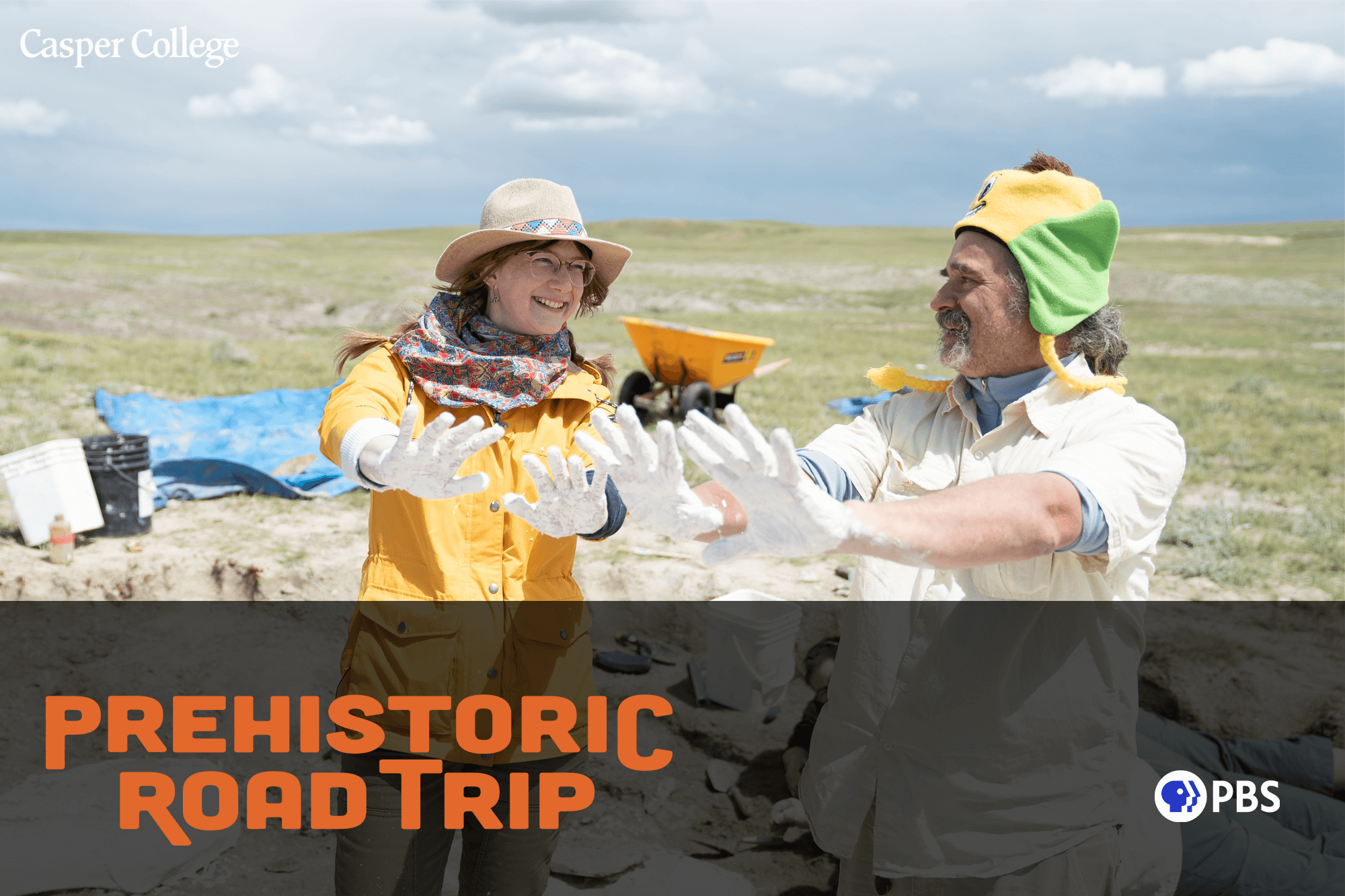 Several Casper College employees, as well as the Tate Geological Museum and the Rex Annex, will be featured in the three-part series "Prehistoric Road Trip" debuting Wednesday, June 17, at 9 p.m. on KCWC-TV/Wyoming PBS.
The series, hosted, written and produced by Emily Graslie, will take viewers to " … the heart of America's fossil country … for a fun and fascinating journey to explore 2.5 billion years of our planet's history. With the intrepid Graslie as host and guide, the series travels thousands of miles to visit some of the most active and dynamic fossil sites in the world," according to information provided by PBS station WTTW in Chicago.
One of the stops made by Graslie and her film crew was at the Tate Geological Museum. They also checked into the Rex Annex for a look at the Tate's T. rex specimen, Lee Rex. While at the Tate, she visited with Melissa Connely, geology instructor, about the museum's collections, pterosaurs, and the Tate's dig site in Como Bluff, Wyoming. Graslie then spent time at the dig site with J.P. Cavigelli, museum collections specialist, and a Tate crew who were removing a Diplodocus fossil. During Graslie's time at the site, the Tate crew discovered other fossil remains, including teeth from an Allosaurus and a Goniopholis.
According to WTTW, Graslie noted that she was " … thrilled that I get to share my love of nature, history, paleontology, and, in general, really old, really dead stuff with the PBS audience." Graslie is known to audiences as the host and creator of the YouTube series "The Brain Scoop." She is also chief curiosity correspondent at Chicago's Field Museum.
The first episode, "Welcome to Fossil Country," will find Graslie embarking " … on a journey through billions of years of Earth history … " where she will meet primitive bacteria, giant reptiles, and other creatures.
The second episode, which will air Wednesday, June 24, is titled "We Dig Dinosaurs." In this episode, Graslie will explore the Cretaceous, when T. rex was dominant. She will also look at what happened to the T rex and other dinosaurs of the era who perished while other life forms survived.
The series will wrap up Wednesday, July 1, with the third episode, "Tiny Teeth, Fearsome Beasts." In this episode, Graslie will drive closer to the present day and discover surprising truths written in the fossil record. Meantime, scientists who study Earth's past will reveal clues about its future.
Besides Wyoming, Graslie also visited the Dakotas, Montana, and Nebraska. Viewers of the series are also encouraged to check out the companion website for original digital content, behind-the-scenes videos, an interactive road trip, and more.
Subscribe
If you enjoyed this story, receive more just like it: