Fall 2019 Dean's Honor Roll at Casper College announced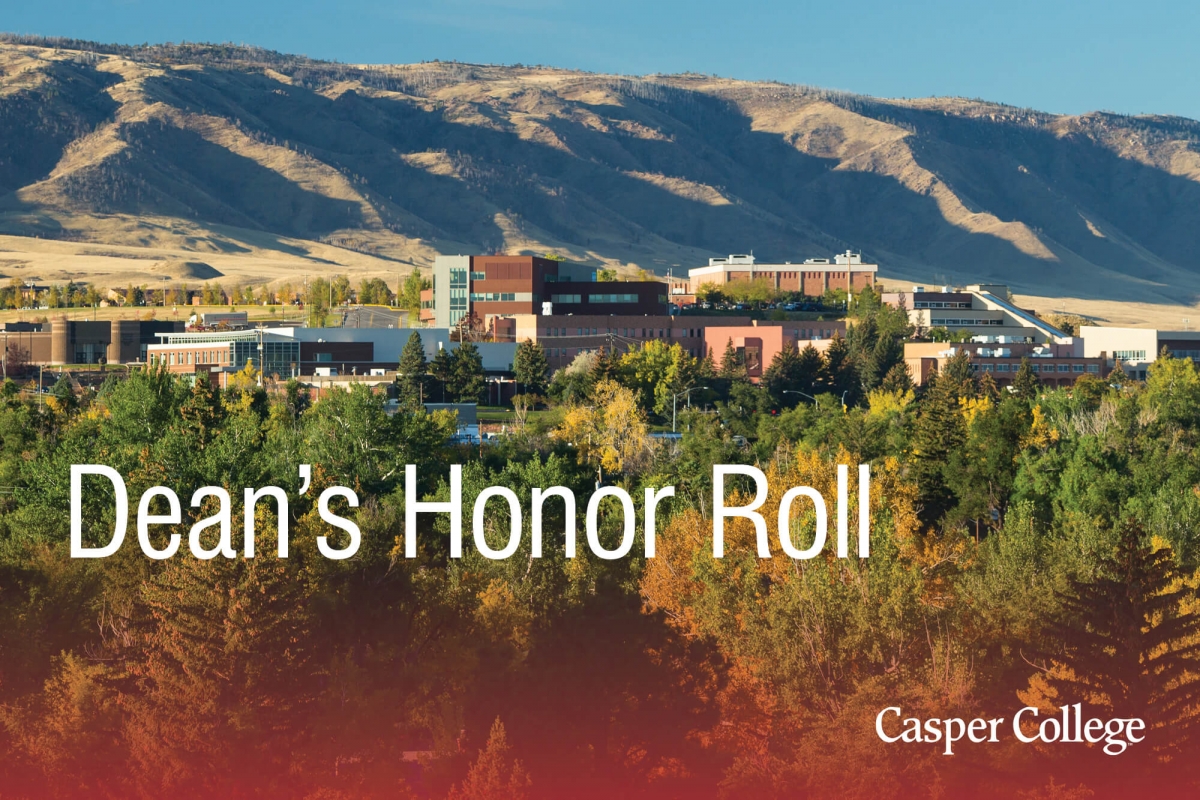 Casper College officials have released the names of students who made the Dean's Honor Roll at Casper College for the 2019 fall semester. To qualify for the award, a student must have a semester grade point average of 3.5 or better. The recognition is for part-time degree-seeking students, those taking six to 11 credit hours per semester, and nondegree-seeking full-time students taking a minimum of 12 credit hours.
United States
From Alaska: Kelsey Lavender, Eielson Air Force Base.
From California: Ronald Enokson, Hanford.
From Colorado: Jacob Pique, Colorado Springs; Jane Slee, Greeley; and Savannah Wallace, Firestone.
From Connecticut: Wendy Rawlings, Portland.
From Idaho: Shane Evans, Victor.
From Montana: Ashlley Nelson, Billings and Tysa Oswald, Joliet.
From Nebraska: Shawn Benton, Scottsbluff; Logan Greenlee, Bartley; and Jeffrey Smith, Harrison.
From Texas: Savannah Connolly, Kemah; Federico Galvan, Snyder; and Belynda Stiles, Houston.
Wyoming
From Afton: McKynzi Erickson.
From Bar Nunn: Emmanuel Afari, Kristen Cooper, Cheyanne Dalgam, Candice Lugibihl, Austin Prentice, Tyler Sweeney, Erin Wirrenga, and Rachel Wright.
From Basin: Ana Tharp.
From Boulder: Wilmer Gay.
From Buffalo: Jacob Walter.
From Casper: Dwayne Adams, Richard Adamson, Mason Agor, Yukiko Aguilar, Alaynha Aiello, Clayton Alleman, Jazmine Ames, Cambra Anderson, Lisa Anderson, Whitney Anderson, Beverly Ankeny, Todd Anthony, Meagan Ashcraft, Megan Balas, Katherine Barella, Shaylee Barelle, Ashley Barkley, Katilyn Beasley, Kyleigh Beeson, Melissa Behringer, Zachary Bertagnolli, Laura Black, Samuel Bleizeffer, Richard Bonds, Nicole, Borden, Dia Boutte, Caden Bright, Leslie Briscoe, Colin Brooks, Brentan Brown, David Bruce, Brandy Bryan, Mellisa Burd, Natalie Burnett, Leanna Buttimer, Jennifer Campbell, Carly Carman, Corin Carruth, Andreah Cheney, Virginia Christensen, Linda Clark, Aaron Clifford, Sean Collister, Morgan Collums, Catherine Conway, James Cooler, Tessa Coughenour, Sheridan Cox, Vincent Crolla, Katie Daigle, Lainey Deacon, Meghan Dean, Terra Deckert, Brianna Degroot, Avery Delaney, Luke Dierenfeldt, Kimberlee Dimick, Rachel Dollar, Jody Downs, Jeremy Duran, Corey Duren, Tatiana Durgin-Brown, Bridger Dyer, Christopher Edmunds, Tyler Eickholt, Hannah Elkins, Isaiah Elston, Olivia Elvestad, Shantelle Escott, Breck Eskew, Amy Fandal, Shelby Foery, Rebekah Foix, Justin Foster, Robyn Frisby, Ryan Gallegos, Jamie Garnier, Justin Garriott, Shannon Garriott, Brandon Goebel, Marissa Gonzalez, Elizabeth Gragg, Krystiana Graham, Riley Graham, Maille Gray, Alexis Green, Derek Green, Lorna Green, Samuel Griner, Abigail Gruner, Matthew Hall, Gabriel Halstead, Carla Hansen, Michael Hardy, Cassie Haupt, Brandon Haverlock, Marc Hayden, Jacob Henry, Bobbi Herbst, Yudy Hernandez Pray, Trevor Hible, Tatum Hlavacek, Michael Hollister, Kaitlyn Hopkins, Bailey Imeson, Jordan Janski, Leah Jensen, Lang Jobe, Jayla Johnson, Chase Johnston, Kayla Jones, Ronan Jones, Myrtice Judd, Naomi Katzmann, Emma Kellick, Shaun Klutts, Trina Krepcik, Taylor Kull, Sara Lamb, Megan Langer, Kimberly Lazar, Brittany Levitt, Kayla Likes, Lane Lindsey, Hannah Long, Tristan Loyd, Cassidy Madrid, Lindsey Maestas, Chelsea Magee, Alena Marshall, Carry Martin, Nichole Martin, Kennedy Marvel, Tanner Matthews, Malia McCarthy, Thomas McClure, Terry McCollum Dean, Sarah Mckinney, Darren McNally, Emily McOmie, Ethan Mead, Sheri Mead, Sandra Mena Stuntebeck, Sye Meyer, Laurissa Miech, David Miller, Jayden Miller, Sarah Miller, Kimberly Moran, Connie Morgan, Bridgette Mosley, Kierra Muehler, Troy Murray, Lydia Neal, Christine Nelms, Maren Nicolaysen, Nicholas Noblitt, Madelynn Oden, Melissa Oien, Richard Orndorff, Taylor Orndorff, Maria Orona, Madison Orr, Sarah Ourth, Tyler Padilla, Charity Palmer, Samuel Palmer, Stephanie Parys, Lucas Patton, Justin Pederson, Desirea Petty, Aaron Pfaff, Chelsea Phillips, James Phiri, Devin Pike, Timothy Pike, Evan Plenger, Madelyn Polys, Michael Pongah, Ryan Potter, Angel Proctor, Preston Propp, Teryn Ramsey, Felicity Reyes, Kellie Reynolds, Jacob Ricketts, Adara Riffel, Lenita Roberts, Kate Robertson, Gabriel Rodriguez, Elizabeth Romsa, Justin Roylance, Travis Rudd, Torin Rueter, Kristin Rush, Sarah Saulsbury, Robert Schlautmann, Max Schmittou, Jeston Schneider, Melody Schneider, Teyonna Sharp, Howard Shaw, Garrett Sheppard, Kevin Siebke, Michael Simic, Timberlyn Slaugh, Johnathan Smith, Orin Smith, Tevyn Smith, Lindsey Sokolowski, Dillon Spaulding, Mercedes Spenneberg, Lacy Spruell, Kelsey Steele, Tanesia Sternhagen, Mary-Virginia Stevens, Emily Stewart, Joshua Stiller, Crystal Stoldt, Jay Swedberg, Mary-Rose Sweeney, Kade Taheri, Luke Talbott, Jesse Taylor, Hailey Terzich, Zeth Thomas, Gary Tong, Antonia Treto, Haines True, Helaina True, Kessie Turnbull, Sara Vega, Tilynn Vega-Rush, Ty Vollmar, Kobie Waddy, Qi Wang, Jessica Watters, Stephanie Webb, Autumn Whipple, Kelsey White, Anastasia Whittle, Amy Wickstrom, Abigail Wilcox, D'Maerik Wilson, Mandy Wishart, Ryan Wolfe, Ronald Yanaga, Jamie Yann, Jinyu Yin, Carter Young, Matthew Yount, and Shannon Zumbrennen.
From Cheyenne: Beth Chalstrom, Joshua Eberle, Isaac Garcia, Joshua Jenkins, Jeremy Kleinhans, Scott Logan, Jonathan McGraw, Casey Mullikin, Joshua Perez, Scott Rockhold, Robert Sandidge, and Austin Vye.
From Douglas: Abbie Cornett, Kaelie Oliver, and Jesus Ramos.
From Dubois: Rachael Mayer.
From Evansville: Brooke Johnson, Jackson McLean, Nolan Nachbar, Elisa Parton, Mark Stark, Ashleigh Suko, Erik Turner, Dari West, and Brooke White.
From Gillette: Rebecca Haskins, Amber MacKenzie, and Kain Morehead.
From Glendo: Christina Mangan.
From Glenrock: Amber Bigford, James Eisele, McKinsey Jenkins, Cameron Magee, Anna Sexson, and Amber White.
From Green River: Sarah Currier and Kelsey Erickson.
From Greybull: Brenna Stanley.
From Jackson: Nicholas Fredricks.
From Lander: Sabrina Lawrence.
From Laramie: Samuel Childress and Alexandra Salas.
From Lingle: Keith Gibbs.
From Lovell: Joshua Farmer.
From Lusk: Kaela Lundstrom.
From Lyman: Kenadee Eyre.
From Midwest: Tosha Salway.
From Mills: Whitney Brood, Kelsey Cox, Sarah Crook, Caryn Hampton, Austin Locker, Robin Martin, and Libby Palmer.
From Moorcroft: Bradley McKee.
From Newcastle: Hannah Burrough.
From Pinedale: Heidi Gay.
From Powell: Courtney Suko and Haley Taft.
From Rawlins: Alexander Hofmann and Rachel Sheller.
From Sheridan: Frank Fleming, Robert Kelly, Justin Kremer, Devin Peterson, and Callie Wilson.
From Sundance: Thomas Engelhaupt, Dallas Johnson, and Chris Tomford.
From Torrington: Justin Latta.
From Van Tassell: Andie Hubbard.
From Wheatland: Heather Bontrager and Tailon Crane.
-30-
Subscribe
If you enjoyed this story, receive more just like it: