2019 Fall President's Honor Roll at Casper College announced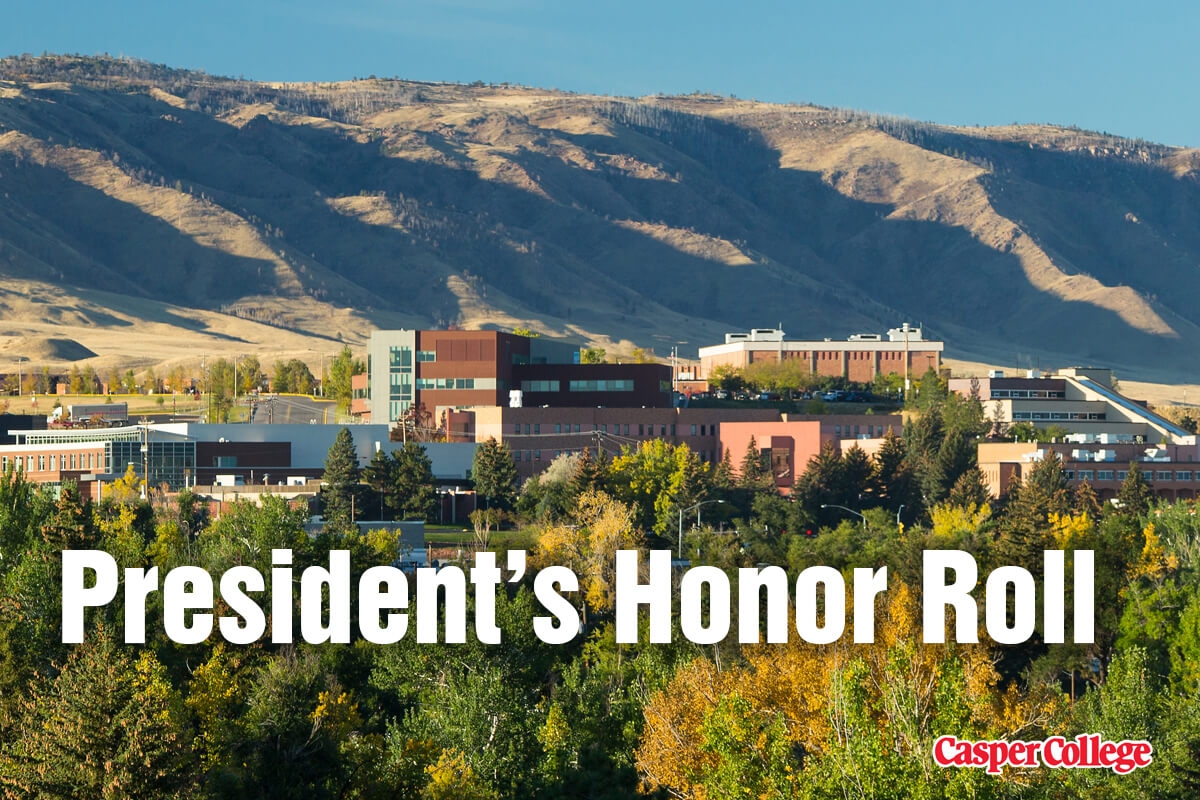 College officials have released the names of the 452 students who made the President's Honor Roll at College for the 2019 fall semester. To qualify, a student must take at least 12 hours and receive a grade point average of 3.5 or better. They are:
International
From Melbourne, Australia: Emily Achter.
From Moose Jaw, Saskatchewan, Canada: Milo Laycraft.
From Trstenik, Serbia: Jana Gilic.
From Lleida, Spain: Raquel Ferrer-Bernad.
United States
From California: Jalen Harris, Los Angeles.
From Colorado: Jakob Duncan, Blackhawk and Thomas Wallace, Firestone.
From Connecticut: Reka Soos, Torrington.
From Florida: Michael Bennett, Crestview.
From Hawaii: Shealyn Oili, Waianae.
From Idaho: Elly Yore, Hageman.
From Illinois: Daher Isshac.
From Montana: Tanner McInerney, Alzada; Kennedy Tooke, Ekalaka; Aspen Cotter, Laurel; and Abby Leachman, Toston.
From Nebraska; Emily Knust, Burwell; Hailey Watson, Chadron; and Racheal Davis, Lewellen.
From Nevada: Anthony Barnes, Spring Creek.
From North Carolina: Jennifer Morgan.
From Ohio: Taylor Feikert.
From Pennsylvania: Sophia Bertovic, Middletown.
From South Dakota: Kathryn Anderson and Tessa Kauffman, Belle Fourche; Kaylen Steams, Edgemont; Zachary Emery, Fairburn; Whitley Heitsch, Hermosa; Natalie Leisinger, Highmore; Bailey Johnson, Juneau Jones, and Alexandra Walters, all from Rapid City.
From Texas: Cole French-Cooper, Colleyville; Garrett Kurtz, Holland and Wyatt Corson-Clostio, Hondo.
From Utah: Abbygail Hudman, Ogden and Hannah Thompson, South Jordan.
From Virginia: Brianna Pellegrino, Suffolk.
From Washington: Anna Aarstad, Clarkston and Lucas Mauro, Seattle.
Wyoming
From Afton: Dustin Smart.
From Baggs: Tyler Englehart.
From Bar Nunn: Keith Hoffman, Rhianna Mahoney, Haley Rhyan, and Joshua Robinett.
From Basin: Tayla-Jean Stevens.
From Buffalo: Taylor Rives.
From Casper: Brooke Abbott, Phillip Accardo, Christina Adams, Hannah Adelman, Parker Albert, Emilia Albright, Kaleb Allen, Caylee Anderson, Cayley Anderson, Danielle Anderson, Patrick Arner, Maria Arnold, Clayton Atkinson, Wyatt Atkinson, Jennifer Baldwin, Emily Balfour, Madison Ballard, Holly Banister, Carolee Bates, Alexandra Bath, Elizabeth Bauer, Mylen Bearden, Blake Beddes, Joleen Benson, Larissa Benson, Dayna Berg, Taylor Berg, Lindsay Bergman, James Bisiar, Abigayle Bledsoe, Makala Boren, Jennifer Box, Riley Box, Nathan Bristow, Nathaniel Britt, Jordan Brooks, Emma Brummer, Tearny Bunner, Kathleen Bush, Madelynn Caracena, Brian Carpenter, Brittney Carpenter, Connor Catus, Ian Champion, Savanna Christensen, Annelise Clark, Hannah Clark, Ender Collins, Eric Conyers, Sasha Cook, Jessica Cordova, Dylan Cornelius, Esmeralda Cortez, Kyndle Cutler, Anthony Deflavis, William DeFuentes, Taylor Delaney, Aspen DeLano, Laura Delano, Camillo DePaolo, Joseph Desuno, Ashlyn Devore, Jacob Dickinson, Marissa Dockter, Lesley Doney, Elisabeth Dooley, Ricky Dougherty, Dante Driskell, Kassandra Dutro, Madeline Eathorne, Shaina Eberly, Angela Edwards, Jerald Elsberry, Wylee Esau, Victoria Etuk, Jared Even, Lane Fanto, Nicholas Fenner, Erin Ferebee, Connor Ficken, Marci Florence, Sheila Foley, Cody Fritz, Amanda Funderburk, Sierra Gallagher, Alan Gardner, Jaylyn Garfield, Zachary Garfield, Gabrielle Garris, James Gerhart, Ashley Gilstrap, Manuel Gonzalez, Allison Goodpaster, Megaera Gosnell, Trey Griffith, Jasmin Guarin, Michael Guile, Lisa Gunyan, Brennan Hagar, Abbi Handeland, Kaylee Hanisch, Allison Hansen, Jena Harris, Molly Harshman, Sienna Hawk, Lindsey Hawkins, Dean He, Sarah Henkle, Hannah Henry, Jacob Hernandez, Texi Herrick, Caleb Hett, Jacob Heyer, Joel Hilde, Taylor Hills, Bryce Hindman, Jessica Hodge, Skylar Holmquist, Annicka Hoover, Caleb Hopman, Saaj Hull, London Hultman, Rayna Januska, Morgan Jaquez, Julie Jarrard, Megan Jensen, Taylor Jereb, Enrique Jimenez, Angela Johnson, Claire Johnson, Jonathan Johnson, Maddox Johnson, Suzanne Johnson, Sidney Johnson-Reeb, Isabelle Jones, Micah Jones, Jessica Keith, MacKenzie Kern, Sarah King, Kaylen Kott, Shaney Kruse, Elizabeth Kuhnel, Bailey Lacey, Kailey Lambert, Laura Lance, Aubre Lassiter, Mercedes Latham, Leslie Leclair, Marissa Leist, Lance Lenhart, Courtney Lillie, Brandi Little, Sierra Lloyd, Stephen Lovato, Nelli Lucus, Adam Lutz, Jennifer Ly, Sarah Ly, Anthony MacMillan, Marek Madariaga, Kylee Magee, Maddison Mahlum, Kyllie Mahoney, Elizabeth Malone, Kloie Markve, Sierra Martinez, Simon Martinez, Braden Mason, Savannah Masters, Madison Mayhew, Brandon McCaffrey, Samuel McCarty, Eric McClay, Morryah McCurdy, Sierra McOmie, Mikayla Mellendorf, Alexia Mendez, Morgan Michael, Ethan Miller, Mark Mitchell, Violeta Montes de Oca, Kati Mooney, Maxwell Moore, Sierra Moser, Paige Muller, Klarissa Mundy, Parker Munsey, Elizabeth O'Brian, Sydney Oliver, Tiana Ortiz, Mark Owens, Christine Palmer, Michael Palmer, Dustin Patik, Jayde Peters, Abby Phillips, Shauna Plunkett, Lauren Podjun, Justin Politte, Daisy Quesada, Paul Quinn, McKinzy Quiroz, Traci Raymer, Keith Reau, Afton Reichenbach, Melissa Reilly, Rachel Retherford, Wesley Rice, Katie Richards, Grace Ritchie, Corey Rizzi, Sharice Roberson, Daniel Roberts, Jolene Rod, Nicholas Romango, Janet Roy, Selma Saetre, Bethany Sagerer, David Saine, Ricardo Salazar, Braxton Sambrano, Elissa Sanders, Kaleanna Schadwill, Bryanna Schiller, Sarah Schmitt, John Schoenwolf, Hannah Scott, Rebekah Sechrist, Gretchen Shutts, Haylie Sienkiewicz, Theresa Simpson, Katherine Singer, Shane Singleton, Regann Sipe, Amanda Sisco, Haleigh Skiles, Debra Slaugh, Darwin Smith, Jarrod Snider, Miranda Sodders, Dakota Sorensen, Joel Sorensen, Shaelea Spargur, Maycie Stack, Dana Starken, Garret Steinert, Howard Stewart, Sebastian Straub-Wolfskill, Matthew Tabor, Zachary Tenney, Jaysie Thomas, Jacob Thompson, Cassandra Tippit, Alaura Tuft, Steven Turman, Lauren Tyson, Siri Ullery, Andrea Vanderbeek, Vincent VanVugt, Brandon Vega, Lindsey Verley, Alexandra Vincent, Emma Von Osterheldt, Kailey Walker, Kevin Walsh, Kolton Washut, Kylie Watson, KrisDawn Wauneka, Cameron Wendling, Robbie White, Elizabeth Wiand, Benjamin Wilder, Maisy Wilkinson, Benjamin Williams, Parker Wilson, Peyton Wilson, Payton Wirtz, Olivia Wise, Liza Womack, Violet Wright, Diana Yanez, Traer Young, Joseph Zettl, and Joseph Zook.
From Cheyenne: Emily Byrd and Kellsey Kimmel.
From Cody: Mason Smith.
From Douglas: Amanda Cook, Derek Cotton, Ryann George-Bevers, Tania Malone, Tristin Munsinger, Lane Nelson, Kyle Parks, Britney Porter, Nathan Romberg, Ryan Russell, and Xena Zamora.
From Dubois: Matthew Codevilla, Autumn Cummings, Lydia Hinkle, and Aaron Mountain.
From Elk Mountain: Kayle Woods.
From Evanston: Katie Cockrell, Tiana Griffith, Kayli Sharp, Alexis Walk, and Jessica Walker.
From Evansville: Matthew Bare, Levi Crawford, Chavely Cruz Cardenas, Dakota Edmondson, Briahnna Manning, Debborah Martinez, Tesla McConnaughey, Benny Ortiz, Cari Pruismann, Danielle Reilly, and Amber Rouse.
From Fort Bridger: Aileen Bugas.
From Gillette: Colleen Collins, Matthew Devries, Madison Hieb, Laci Parish, Sydney Robinson, Makayla Tucker, and Payton Westbrook.
From Glendo: Eric Jamerman.
From Glenrock: Marley Andrews, Virginia Aos, Corbin Blanton, Dalton Davies, Yesenia Hermosillo, Shyann Lacey, Lori Palmer, Jennifer Parker, Caitlin Rancourt, Olivia Sebesta, Hezekiah Sexson, Shyla Whalen, and Archer Young.
From Green River: Sean Rauert.
From Greybull: Sadie Harper and Sydney Tschiffely.
From Hudson: William Coffee and Ryann Koivupalo.
From Hulett: Austin Butler and Emma Jay.
From Hyattville: Emma Mercer.
From Jackson: Sophia Romero.
From Lander: Logann Cooper, Mason Jacobson, Kiley McConnell, and Colby Winchester.
From Laramie: Monica Cossitt, Daniel Dilullo, Kemsley Gallegos, Kendall Pollat, and Roland Wookey.
From Lovell: Bailey Mitchell.
From Lusk: Dylan Miller.
From Mills: Mercedes Hatcher, Kaylee Hicks, Rowan Jackson, Tasha McEvoy, Emily Newman, Amada Rhodes, and Sariah St. Clair.
From Newcastle: Taylor Spain.
From Pavillion: Tierra Price.
From Pine Bluffs: Kammie Ragsdale and Jason Weller.
From Pinedale: Jayde Faler.
From Powell: Sadie Hogan, Karlie McKenzie, and Bronson Smith.
From Rawlins: Shae Belford, Adriel Martinez, Stacey Michel, and DeNae Schoel.
From Riverton: Tamira Marshall, Emma Mumme, and Fontessa Salazar.
From Rock Springs: Andrew Munoz and Larissa Olsen.
From Rolling Hills: Cory Amirault and Abigail Nunez.
From Rozet: Kandace Lumbardy.
From Sheridan: Makenna Balkenbush.
From Shoshoni: Jason Thoren.
From Thermopolis; Mya Holman, Courtney Jeunehomme, Jared Little, and Jaden Schierkolk.
From Torrington: Quentin Meyer and Taylor Walsh.
From Upton: Isabel Nissen.
From Wheatland: Nichole Ayers, Emily Morford, and Matthew Wilhelm.
From Worland: Allyson Klingler, Carlos Pacheco, and Hailey Schumacher.
From Wright: Cole Thomas.
-30-
Subscribe
If you enjoyed this story, receive more just like it: