Basketball 2019-2020: Q and A: Meet Reka Soos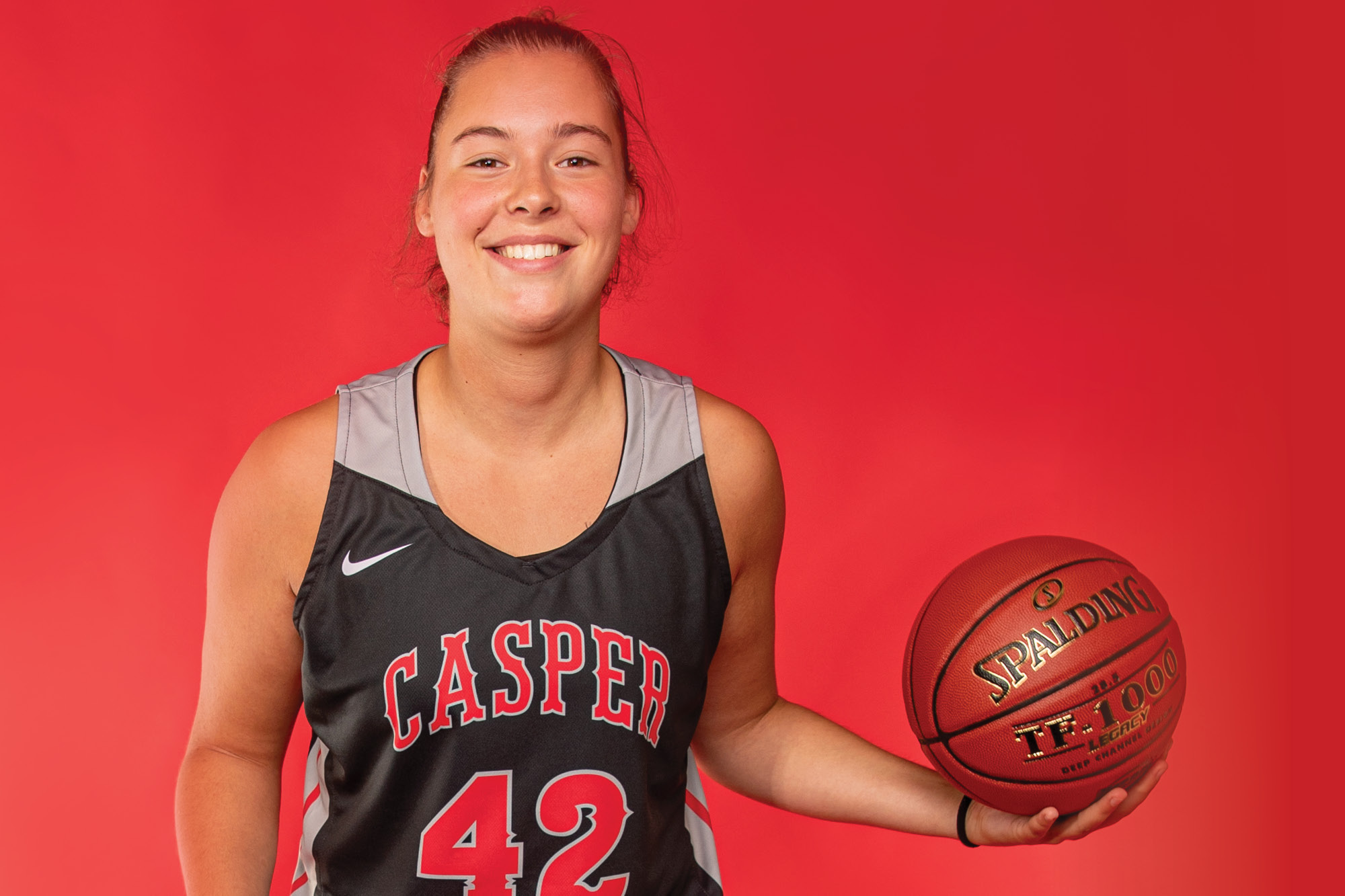 One of six sophomores on this year's Thunderbird Women's Basketball team, Reka Soos is 6'2" and a center. She hails from Zsombo, Hungary, where she played ball for FC Barcelona.
As a freshman, Soos played in 31 games, had four steals, 112 rebounds, and scored 3.3 points per game for a total of 102 points.
Soos' favorite food is pizza and Caesar salad, and her favorite movie is "Spider-Man: Into the Spider-Verse." Her most inspirational person is her dad, and her favorite sports figure is former NBA basketball player Michael Jordan. When asked, Soos said the one-word description of herself is "hardworking."
Q: Why did you choose your major?
A: I wasn't sure what I wanted to study. I have been leaning toward business or cybersecurity, computer programming, and investigating cyber breaches.
Q: What are your goals for this year, both academically and athletically?
A: I definitely want to do good in my classes, both programming and business, so that I can choose a major in either of those at the university where I will go. Athletically, I want to make it to nationals. It is my last year, and I want to finish well, to be better in defense and more aggressive on the court, and have more confidence, which I sometimes feel I lack when I leave Casper.
Q: What are your plans both now and in the future?
A: I want to continue playing basketball in a Division I or II school and focus on my studies and get a bachelor's degree. I probably won't go back to Hungary. I have been living away from home shortly before I turned 17. I always wanted to play in another country, learn a new culture, a new language, and play different styles of basketball. I will either go to Europe or stay in the states. As of now, I can't imagine not playing basketball. If I receive an offer from a good EuroLeague team or the WNBA, I will accept it, but if I am not offered anything, it is not the end of the world, and I have options. I am open. I have been playing basketball since I was 8, which is a long time. I want to find a job and start my life and be an adult.
Q: Why did you come to Casper College, what drew you to Casper College?
A: Here is a funny story. I was going to go to South Carolina Upstate, but I had paper issues with the NCAA. I was about to sign with South Carolina, but couldn't get accepted to do the paperwork. Nerea Baena Criado — Baena Criado is a former Casper College basketball player — and I had been teammates in Spain before she came over here. I had heard how she liked Casper College. I contacted her, and it helped that I knew a player who was playing here. Coach G. contacted me after seeing a tape of me playing. He was nice, the players were nice and Nerea and I got to play together again for a year. It was good.
Q: What do you think of Casper College as a school and overall experience?
A: I like Casper College, and it has been a really good experience for me to be here.
Q: Would you recommend Casper College, and if so, why?
A: Yes. I love the whole atmosphere of the campus and how helpful people and teachers are here. They help all of us on the team catch up when we miss classes. And we are lucky Coach G. is the way he is. For those of us who are far away from home, he understands if we have issues, and you can talk to him about anything. People are different here then they are in Hungary. Here people are so kind and helpful and friendlier.
Subscribe
If you enjoyed this story, receive more just like it: