Women's basketball 2019-2020: Q and A: Meet Mya Jones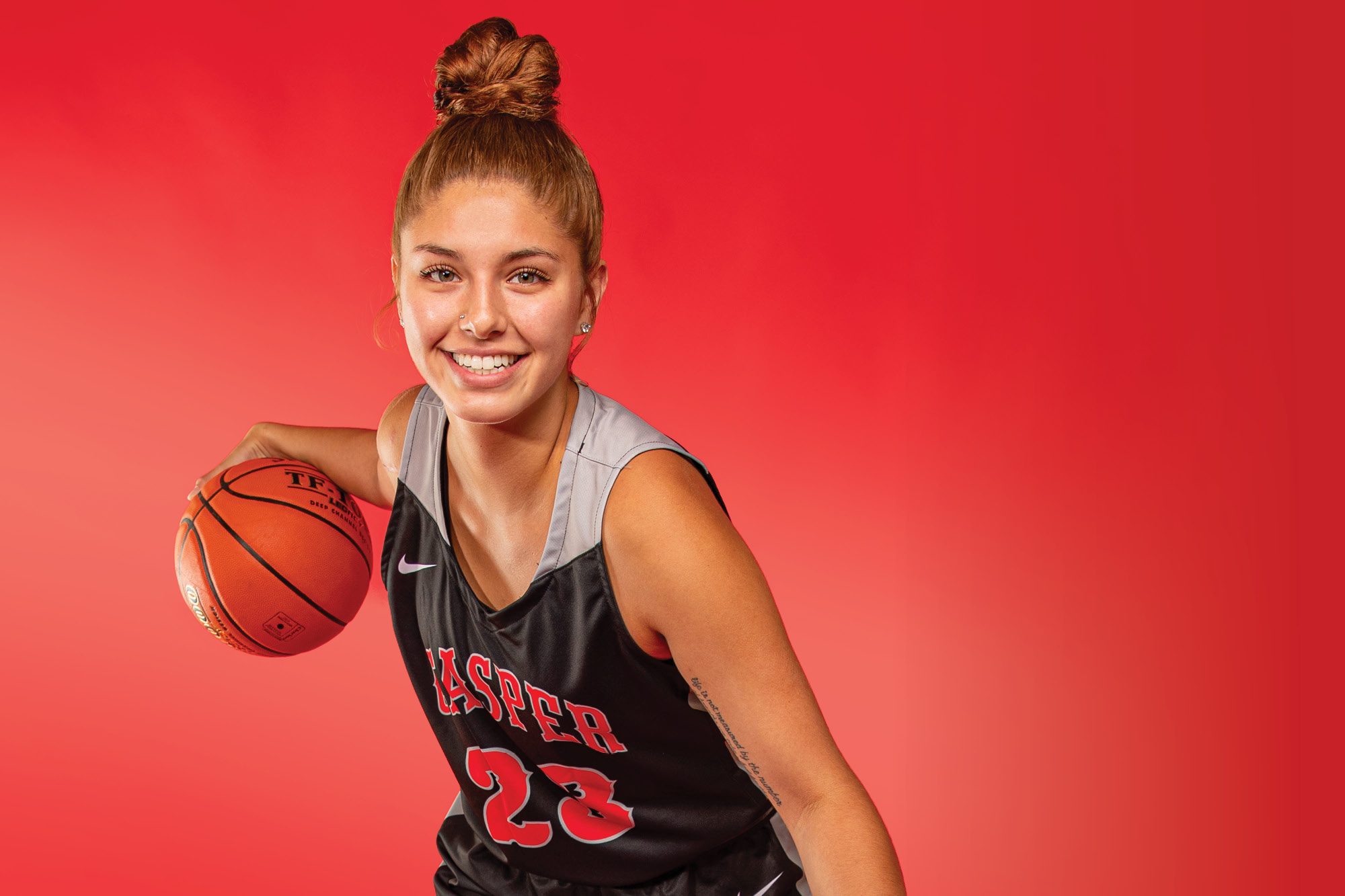 One of six sophomores on this year's Thunderbird Women's Basketball team, Mya Jones is 5'11" and a forward. She hails from Rapid City, South Dakota, where she played ball for the Central High School Cobblers.
As a freshman, Jones played in seven games, had five steals, 38 rebounds, and scored 8.0 points per game for a total of 56 points.
Jones' favorite food is anything spicy, and her favorite movie is "The Teenage Mutant Ninja Turtles." Her most inspirational person is her mom, and her favorite sports figure is NBA basketball player Kobe Bryant. When asked, Jones said the one-word description of herself is "happy."
During the 2018-2019 season, Jones hurt her right shoulder, and it was decided in December that she should redshirt for the rest of the season. Jones admits that she is very nervous about playing again. "I haven't played in a year and a half, and I was out for this year's scrimmages." Recently during practice, she stepped wrong on her left ankle and tore the ligament on the outside and bruised the bone on the inside.
Now in her third year at Casper College, Jones received her degree in general studies this past May. She is currently working on certificates in coaching and sports nutrition. This spring, she plans to begin working on credits toward a bachelor's degree in criminal justice.
Q: Why did you choose your major?
A: I chose general studies so that I could get my general education requirements out of the way. I am now working on my two certificates because I want to do something in criminal justice, but I am not sure what. If I have a coaching certificate, I can help coach anywhere.
Q: What are your goals for this year, both academically and athletically?
A: I want to finish all my classes for the two certificates and then work on criminal justice. I want to be able to make it through the season because this is really my last chance since I already have redshirted.
Q: What are your plans both now and in the future?
A: I hope to be able to get a scholarship at a university, finish up basketball, get my degree in criminal justice, and then get my master's degree. It would be nice if I could play pro ball, but if I keep getting injured, I am going to have to retire.
Q: Why did you come to Casper College, what drew you to Casper College?
A: I decided to come to Casper College after meeting the coaches. They were so nice, and it was very interesting to hear what they had to say. I came to Casper College and met the team, and everyone was so nice and fun. They welcomed me and made me feel a lot more comfortable, and I knew there would be people there for me. Plus, Casper College has a nice campus and really nice dorms.
Q: What do you think of Casper College as a school and overall experience?
A: I really like it. Coming here was a good idea. There are so many people to help you as well as the writing center, library, etc. Casper College has everything I have needed — all the classes and everyone is just really helpful.
Q: Would you recommend Casper College, and if so, why?
A: Yes. Casper College is just a good place to be and has a nice energy about it. Coach G. is just a great person, and this is just a great environment to be around.
Subscribe
If you enjoyed this story, receive more just like it: