Women's Basketball 2019-2020: Q and A: Meet Ashley Tehau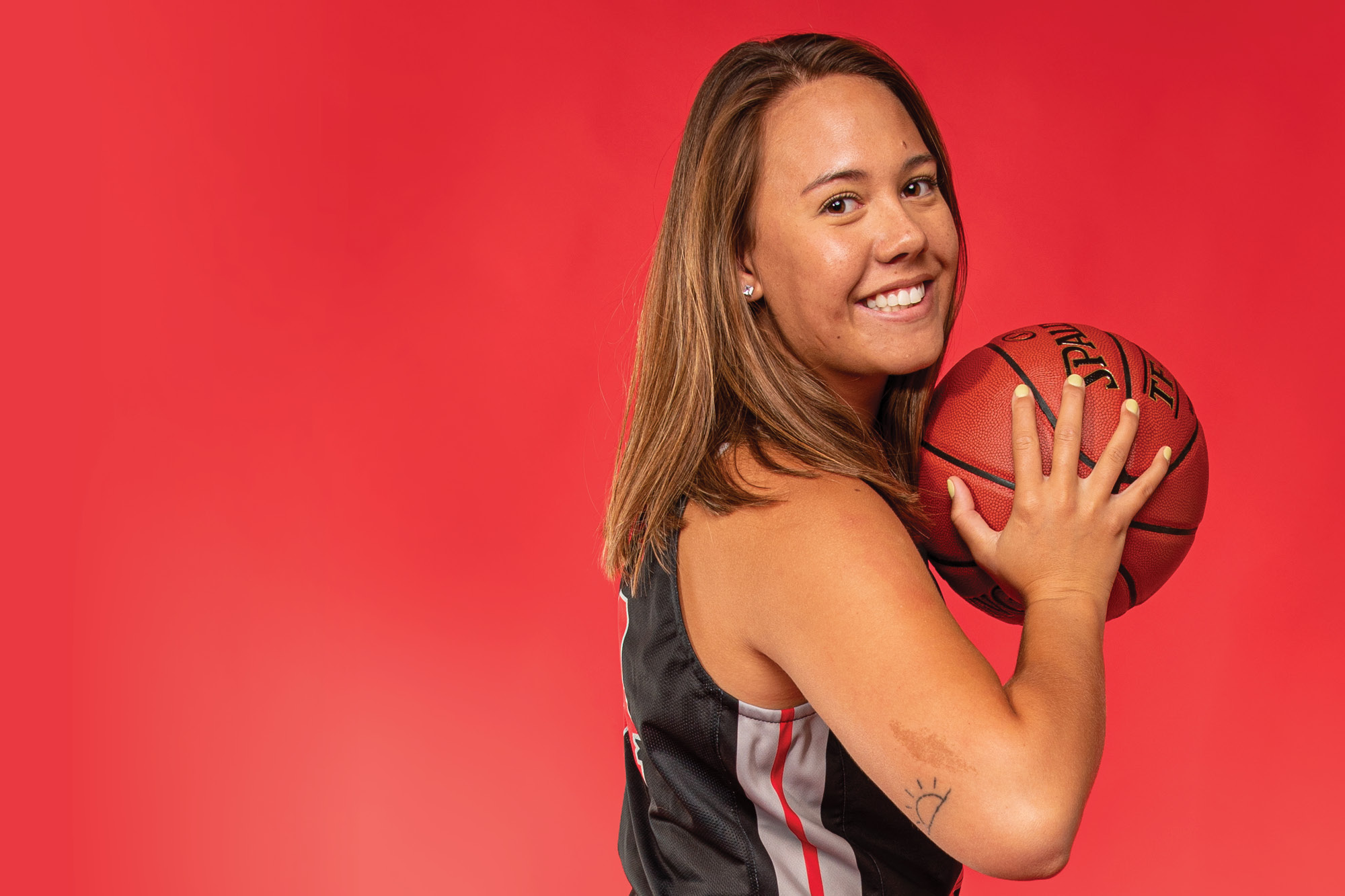 One of six sophomores on this year's Thunderbird Women's Basketball team, Ashley Tehau is 5'7" and a guard. She hails from Kaycee, Wyoming, and Buffalo, Wyoming, where she played ball her senior year for the Buffalo High School Bisons.
As a freshman, Tehau played in 34 games, had seven steals, 50 rebounds, and scored 3.7 points per game for a total of 125 points.
Tehau's favorite food is pancakes, and her favorite movie is "How the Grinch Stole Christmas." Her most inspirational person is her grandpa, Bob, and her favorite sports figure is her mom, former Casper College basketball player Jody Furnival Tehau. When asked, Tehau said the one-word description of herself is "funny."
Q: Why did you choose your major?
A: I chose elementary education because when I was in middle school, I helped Mrs. Orchard a lot in the special education room. It was there that I developed my love for elementary education.
Q: What are your goals for this year, both academically and athletically?
A: I want to pass all my classes, of course, and learn more and be more excited about my major. Technically, I am almost a junior since I started at Sheridan College but didn't play out the full year as a freshman. I was able to come to Casper and play for two years, so I am in a good spot right now.
Q: What are your plans both now and in the future?
A: I want to have fun since I am playing my last year of basketball (Tehau is engaged to Glenrock apprentice electrician Tanner Bopp, and their marriage is set for June 13, 2020). I obviously want to make it to nationals. It will be weird not to be playing sports anymore, but I am ready to move on, stay here, and attend the University of Wyoming at Casper and then get my student teaching done.
Q: Why did you come to Casper College, what drew you to Casper College?
A: I only went to Sheridan for basketball, and after I left the team, I decided to come to Casper College because I had heard good things about the education program and the good job opportunities here. I had no intention of playing basketball. To earn some extra money, I became the manager of the volleyball team. Maggie Justinak, (former Casper College basketball player), saw me in the gym and told me that the basketball team was short on players and that I should talk to Coach G. Maggie and I had played in the all-star game together a year earlier, so after talking to her I decided to talk to Coach G. He told me that he had a spot for me, but wanted me to live in the dorms so that I would bond with the team. I received my room and board for the fall semester and then a full scholarship for the spring semester. This all happened very fast.
Q: What do you think of Casper College as a school and overall experience?
A: I love Casper College and the great family atmosphere. I have made lots of new friends, and my best friends are on my team. It is sad that we only have two years together and that some of my teammates I will never get to see again. But, it is a great experience to be able to play with Europeans and learn their style of play. People at the dorm do a great job, too, and have created a family atmosphere. The Casper College athletic sponsors are great. These people choose to help us, which is an amazing thing. They only know us for two years but want to help us so much. I am really glad that I came to Casper. I have been watching Casper College since I was little and wanted to come here and play. Then when I played ball in high school, I got to play in the T-Bird Gym during state tournaments. But to come to Casper College and play on the basketball team, that is pretty awesome to achieve that.
Q: Would you recommend Casper College, and if so, why?
A: Oh yes, for sure. There is a family atmosphere here; the teachers are very helpful and flexible with their hours. They are understanding and will take time out of their day to help you. I think that it is impossible to fail classes here. If you are a basketball player, definitely come to Casper College. I came here with no confidence, and Coach G. was very positive. He is a great guy to push you and get you to the next level. I am very fortunate to have him as a coach.
Subscribe
If you enjoyed this story, receive more just like it: