Vets organization donates to CC Veterans Club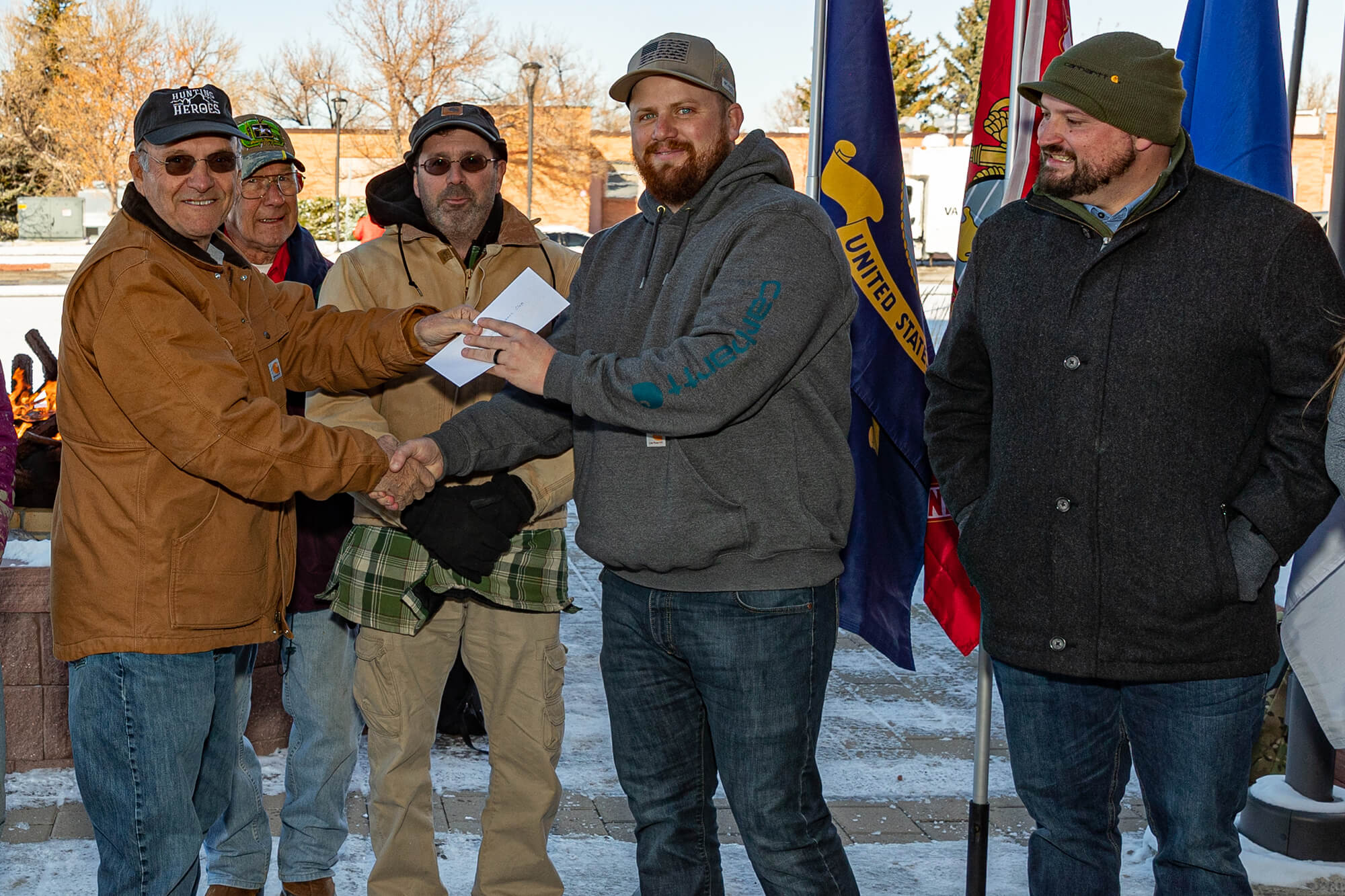 Hunting With Heroes has donated $10,000 to the Casper College Veterans Club.
According to Dan Currah, co-founder of Hunting with Heroes, the group decided to share their earnings from a recently held Thankful Thursday at the Beacon Club. "We have been very lucky as an organization with fundraising. Co-founder Colton Sasser and I approached these guys to help us gather auction items for Thankful Thursday and to help at the event," said Currah. "When I went to Casper College back in the early 1970s, there wasn't a veterans program, and Colton and I both wanted to share and give back to another veterans organization."
"This generous donation will go back to all our student success activities we have here at Casper College for our veterans," said Nicholas Whipps, veteran and international student coordinator. The money will go to the Peer Advisor program, scholarships, the annual trip to the Student Vets of America conference, and upkeep for the club's headquarters on campus. "This donation is really a big deal for us," noted Whipps.
"Working with Hunting for Heroes was a great opportunity for our club members. When they contacted us to help, we jumped at the chance. It was a very positive experience," said Jordan Janski, Casper College Veterans Club president.
The mission of Hunting with Heroes Wyoming is to give back to disabled veterans by honoring them with unique hunting, fishing, and other outdoor experiences. The organization offers a progressive healing environment where disabled veterans are welcome and supported — a community where they can discover hope again, no matter what battles they continue to fight physically or emotionally.
The Casper College Veterans Club is a student-led organization that supports active military and veteran students and their dependents through empowering them and their families to foster collective success and positive campus and community interactions. The Casper College Veterans Club is a partner with the Student Veterans of America. You can find the club on Facebook at facebook.com/CasperCollegeVeterans.
Subscribe
If you enjoyed this story, receive more just like it: