Men's Basketball 2019-2020: Q and A: Meet Tavion Robinson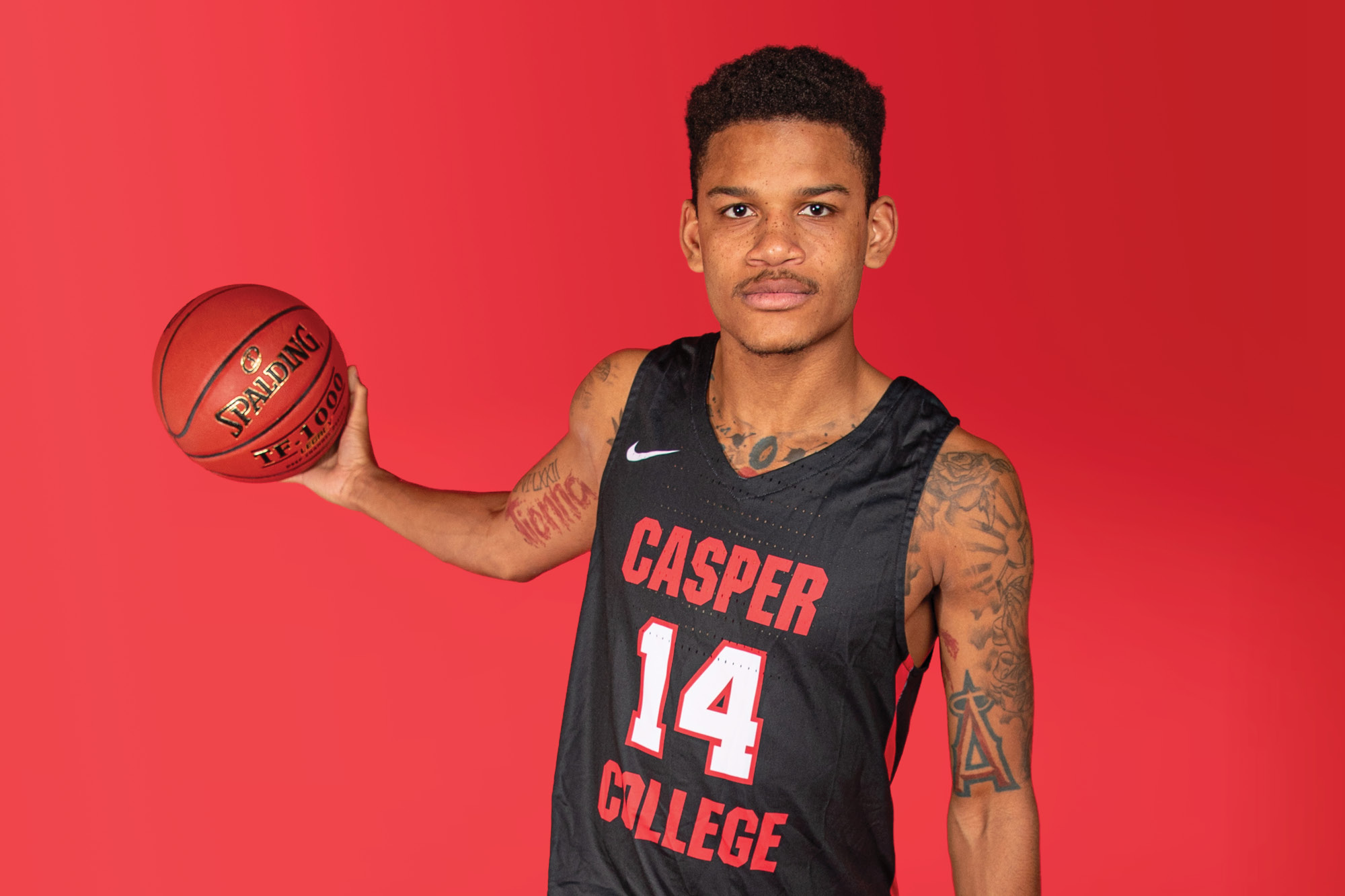 One of seven sophomores on this year's Thunderbird Men's Basketball team, Tavion Robinson is 6'6" and a forward. He hails from Houston, Texas, where he played ball for the Klein Forest High School Eagles.
As a freshman, Robinson played in 24 games, had 24 steals, 163 rebounds, and scored 10.2 points per game for a total of 245 points. During his freshman year, Robinson played for the New Mexico Junior College Thunderbirds.
Robinson's favorite food is chicken and sausage pasta, and his favorite movie is "Triple 9." His most inspirational person is his mom, and his favorite sports figure is NBA basketball player DeMar DeRozan. When asked, Robinson said the one-word description of himself is "funny."
Q: Why did you choose your major?
A: I chose kinesiology because I want to be around sports when I can no longer play basketball. One of the best ways to be around sports is to be an athletic trainer.
Q: What are your goals for this year, both academically and athletically?
A: I want to achieve a 3.0 or higher GPA academically and be named an All-American. Athletically I want (our team) to win both the regional and national tournaments — those are the highest goals that we can achieve.
Q: What are your plans both now and in the future?
A: I want to go play ball at the Division I level and continue my studies in athletic training. I also want to own a trucking company, so I plan to take some business classes. In the future, I would like to have multiple businesses. I also do want to play basketball professionally, either here or overseas. As long as I can play at the professional level, it will be cool. Besides the trucking company, I would also like to own a shoe store, and my sister and I would like to open an activity center for kids in Houston.
Q: Why did you come to Casper College, what drew you to Casper College?
A: I had a previous relationship with Coach Gutting when he was my coach at New Mexico Junior College before he came here. I reached out to Coach G, and everybody here made it feel like a family and showed they cared about me being here and playing basketball.
Q: What do you think of Casper College as a school and overall experience?
A: It has been great so far. Casper is a different view and a different side of the world. Casper College is great because it offers everything I need help-wise. If I have questions, the coaches get me to the right person. Everything is pretty smooth.
Q: Would you recommend Casper College, and if so, why?
A: Most definitely. Casper College has a nice campus, and having been around other juco campuses, Casper's campus is one of the nicest around, and it offers great academics and great sports.
Subscribe
If you enjoyed this story, receive more just like it: